Hurry, before Saint Patricks Day is over! Save with this super easy recipe for gluten-free Irish Soda Bread! Make gluten free Irish soda bread using a blend of grain free flours! Perfect for those on a paleo diet and is very simple to make with buttermilk. It takes less than 20 minutes to make with only 7 ingredients needed. Enjoy extra time sipping on some festive green beer.
How does Irish soda bread taste? It kind of tastes like a combination between a bread and a pretzel! Pretzels are dough boiled in baking soda, and this bread has a lot of baking soda. Soda in the name comes from the baking soda in the bread. It is kind of like sour dough too, but sour dough takes a long longer to make using yeast while gluten free Irish soda bread uses buttermilk.
This post may contain affiliate links. This means if you click on a link and purchase something, I may earn a small commission from it. In the footer of this page is my full disclosure policy.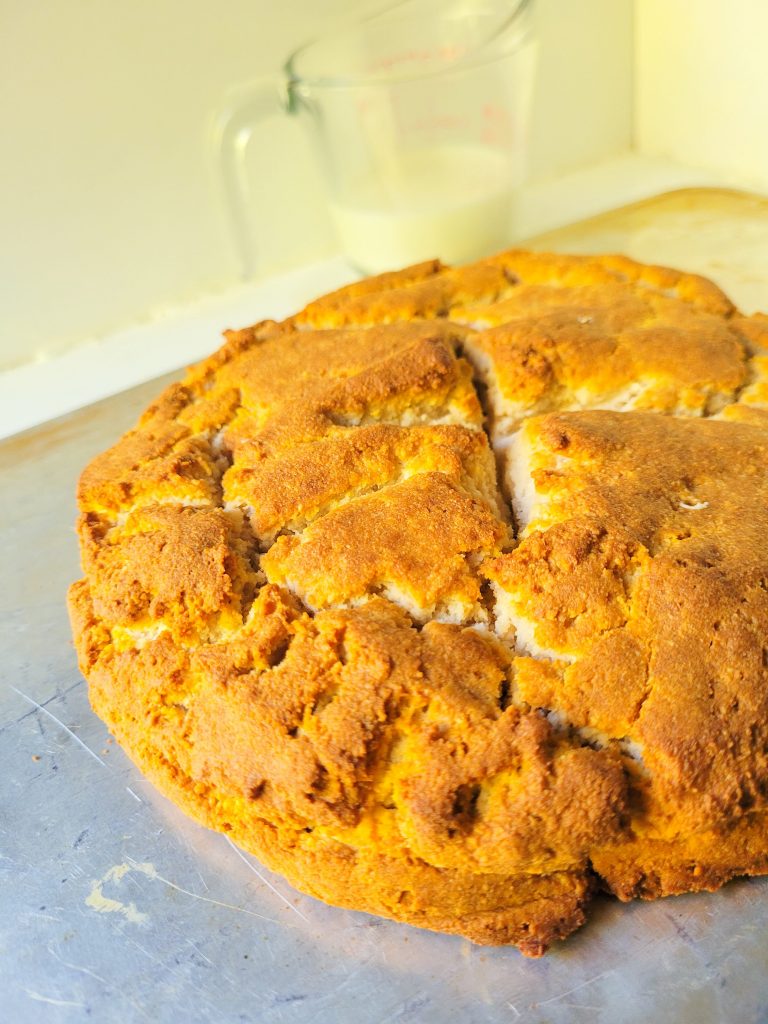 What to serve gluten free Irish soda bread with:
Gluten free Irish soda bread is used for an appetizer or side carb for meals during the time period in which St. Patricks Day takes place. You can make this bread year round for any occasion, but most people do serve Irish soda bread with green beer, shepards pie, corn beef, and cabbage, etc. during the month of March.
How irish soda bread is made:
Irish soda bread without eggs is made relatively easily. You don't have to knead the bread, so this recipe only takes about 20 minutes to make. That makes this a really quick bread recipe.
Bascially, the flour mixture needs to be combined first. This recipe uses a blend of grain free flour compared to using a grain free bread flour mix. That does make it more ingredients you need to have on hand.
Then, the liquid ingredients need to be added so that the flour sticks together. Place on a pan and cut and x on top. Then, bake!
Check out my other bread recipes:
Variations of Irish soda bread
no buttermilk-you can make Irish soda bread without buttermilk if you have a buttermilk substitute. If you did the math, you could use yogurt!
add raisins-this is for gluten free Irish soda bread without raisins, but you can add raisins if you wish!
muffins-you can make gluten free irish soda bread muffins if you baked this recipe in muffin tins instead of a circle.
use beef-you can make this recipe with beer instead of baking soda and buttermilk, but it would have less of a soda flavor.
add caraway seeds-seeds are another ingredient you can add to the bread if you want more of a different texture!
bread flour-there are several grain free/gluten free bread flours you can buy instead of using my homemade blend of flours for this recipe.
regular flour-if you are not gluten free, you can also use wheat flour instead of the gluten free flour blend here
How to store Irish soda bread
fridge-store this irish soda bread almond flour recipe in an air tight container in the refrigerator for up to one week
freezer-can gluten free Irish soda bread be frozen? I have not tried freezing this recipe. If you would like to try it, go for it! Let me know how it goes.
Recipe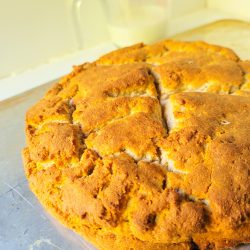 Gluten Free Irish Soda Bread
Super easy way to eat Irish Soda Bread even if you are gluten free! Very simple dump and go recipe.
Ingredients
1 ¾

cups

almond flour

¾

cup

arrowroot flour

⅓

cup

coconut flour

¼

cup

tapioca flour

dash

salt

1 ½

teaspoon

baking soda

½

cup

buttermilk
Instructions
Mix together dry ingredients in a large bowl. Then add buttermilk. Place on a sprayed 9 x 13 baking sheet in a circle. Cut an X in the top with a knife. Bake at 425 degress for about 12 minutes.
---
All information presented on this site is intended for informational purposes only. Nutritional facts listed are a rough estimate and should only be followed as a general idea.