Whether you need a list of kitchen essentials for new home or are just wondering what to buy for kitchen essentials for your first apartment, this kitchen list of items is for you! This post includes what you need for your first kitchen, especially if you are starting off with a small kitchen.
When you are just starting to cook in your first kitchen, you are not going to want to buy a lot of things you hardly will ever use in your culinary supply. Whether you are in college or just starting off in a new place, you probably will not live there the rest of your life. Moving a lot of items takes a lot of time and energy, so having only kitchen essentials is best when stocking your first kitchen. I recently just moved, and it took about 10 trips up 3 flights of stairs with my extensive kitchen gaget collection. This post is devoted to what I wish I had known before buying a bunch of things I do not actually need in the kitchen!
2 years ago, I got my first kitchen, so I am up to date on what kitchen essential items you are going to need. Amazon makes a great cooking supplies store, but you can also find these items most other places food is sold.
This post may contain affiliate links. This means if you click on a link and purchase something, I may earn a small commission from it. In the footer of this page is my full disclosure policy.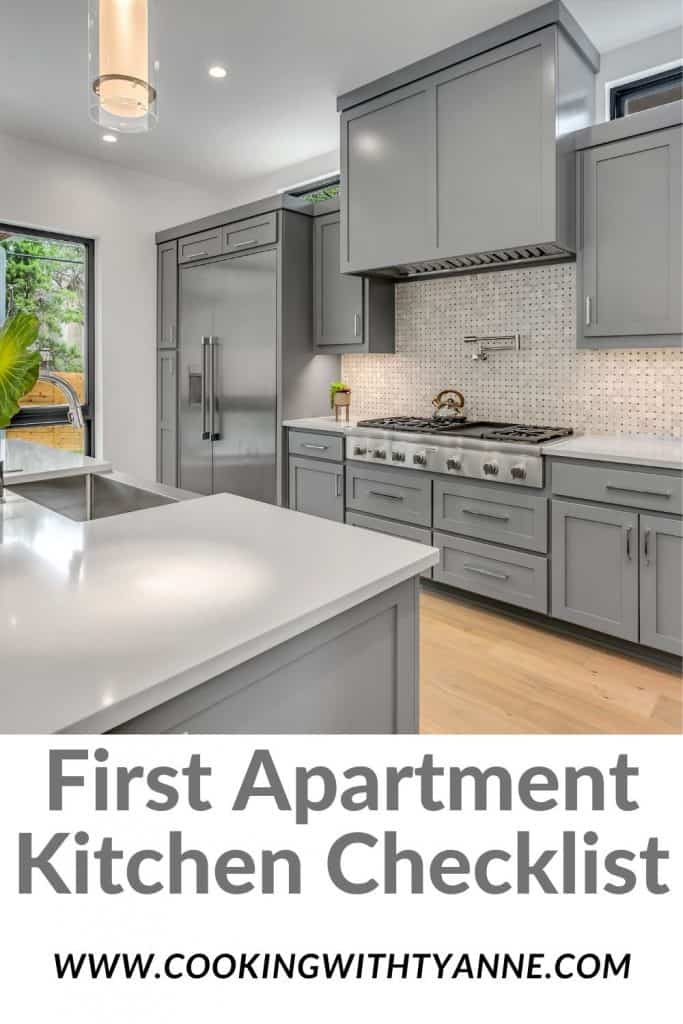 Kitchen Essential Checklist
There are a few categories we are going to include in this kitchen essentials list. First on the kitchen checklist, we will start off with obvious things you will need and the quanities of them. Next on the kitchen supplies list, is kitchen utensils. Then will be the kitchen appliances list. Lastly is the honorary mentions for the list of kitchen items. At the very end I briefly mention how to stock your first kitchen. Stocking is important, but it is more of personal preferences on what you like to eat and how much time you have to cook.
Obvious kitchen list of items
1 x set dry measuring cups
1 x measuring spoons
1 x liquid measuring cups
1 x pizza cutter
1 x meat thermometer
1 x potato masher
1 x potato peeler
1 x medium whisk
1 x can opener
1 x tongs
1 x ice cream scoop
1 x jar grip
2 x mixing bowls
2 x spatulas
2 x wooden spoons
2 x tea towels
3 x pairing knives
3 x big plates
3 x cereal bowls
3 x small plates
3 x washclothes
5 x spoons, forks, butter knives
5 x pot holders or oven mits
ziplock bags-great for freezing/storing leftovers
small set of tupperware-great for lunches
Essential Kitchen Utensils
Knife Set
Knives are a great kitchen utensil and are very essential because chances are you are going to be using knives to cut up meat and vegetables. You do not need a fancy knife set by any means. One big knife, a medium knife, and a small knife will do in addition to pairing knives mentioned in the previous section. This set doesn't come with a holder, but you can just put them in their own designated area in a drawer.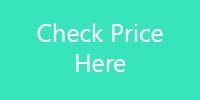 Kitchen Essential Pots and Pans
When thinking of kitchen essentials for first apartment, you are probably not going to be making an entire box of macaroni for 6 people. With that being said, you are not going to be needing any large pots. I recommend a medium pot and a small pot. Small pots are perfect for gravys, pizza sauce, and cooking vegetables. Medium pots are part of this kitchen list of items as they are good for soups and small batches of pasta.

Like the medium and small pots, ideally small, medium, and large pans are necessary. If wanting to make shrimp fried rice, you are going to need a large pan. Medium pans are good for omletttes. Smaller pans are ideal for personal sized meals.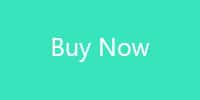 Spatulas
I believe everyone no matter if this is your first apartment or your 23rd apartment, needs these spatulas! These spatulas can go in the dishwasher, do well with heat, and they have thin edges to help scrape even the smallest pieces of soup off the bottom of a pan. They are a apart of this kitchen necessities list for a reason! They come in a variety of colors as well as being reasonably priced.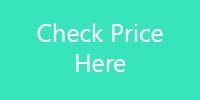 9 x 13 baking sheets
Whether you are baking or cooking, 9 x 13 pans are necessary for putting food in the oven. I recommend buying 2 for the first apartment. They can go in the dishwasher, and do not warp in the oven while baking.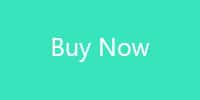 Glass Bowl
Glass bowls are what every kitchen needs when you need to heat something up in the microwave. You can get them in a variety of sizes! I prefer to warm up butter or chocolate chips with the large one because it allows even heating. They are also good for stiring up brownie mix in.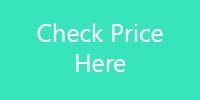 9 x 13 baking dish
The dish version of the 9 x 13 baking sheet previously mentioned makes it on the kitchen list of items needed because it has deep edges to hold in liquid. This is ideal when baking chicken in the oven. Sometimes dark meat like garlic parmesan chicken thighs or meat rubbed in oil can be quite excessive in amount of drippings. You do not want those oils to overflow the pan. Baking it in a 9 x 13 baking dish is always a better idea than using a baking sheet.
Kitchen Appliance Essentials
Which kitchen appliances you need for your first kitchen depends on what your new place comes with and how well the appliances it comes with work. Does your oven not heat evenly? 3 of the places I have lived in have came with ovens that do not cook on one side.
Air Fryer
If your oven doesn't heat evenly or you live in warm weather and do not feel like heating up the whole apartment year round, you can get an air fryer. Personally, I think what every kitchen should have is an air fryer. They can be used similar to a microwave as they do reheating, but it also crisps up your leftover french fries and allows the extra grease to drip off them into the bottom of the pan. Ninja seems to be a brand that has long lasting air fryers. I had a cheaper one in college, but the inside tray coating came off and started sticking to my chicken breast. Not ideal. So far we are a year into using the Ninja, and it has been working well.

Small blender
Another addition to what every kitchen needs list is a blender. You can get this magic bullet mini blender (doesn't take up a lot of space), that comes with a few cups. This is perfect for breakfast smoothies and pureeing any sauces. I thought I would not need a blender for my first apartment, but I wanted one for smoothies and blending chili verde sauce. If you need to blend anyting super fine, this is the blender for you.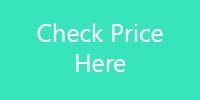 Hand Mixer
I would say stand mixer, but a hand mixer takes up a lot less room. The hand mixer will have to take its place in the kitchen list of items instead. I like this hand mixer because it pretty much fits in any drawer. It comes with a lid to store both the beaters and the whisk attatchment so you never forget where you put them!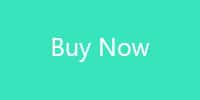 Honorary Mentions to What Every Kitchen Needs List
Cutting Board
I say this as an honorary mention kitchen utensil because you can cut with a knife on a plate. Cutting boards take up space. You already have plates to eat on, so you might as well cut on those. Some people don't like cutting on a plate though due to the plate having raise edges making the knife harder to go down. Or because a plate does not have grooves to hold juice from fruit or blood from meat. If you have those preferences or just prefer a cutting board in general, I recommend using these cutting boards with grooves.

Crock Pot
I consider a crock pot an honorary mention to the kitchen appliances list for a first kitchen because a crock pot generally holds a lot of food. When it is your first apartment, you are likely not going to be cooking for a herd of people to need a slow cooker to make a large meal. Unless you wanted a crock pot to make a large meal and you take the leftovers for lunch throughout the week. They are also heavy and breakable, which is not ideal for moving them up and down stairs.
If you are interested in a crock pot though, Brentwood is a good brand. They come in a variety of sizes. You can pick your size based upon your needs.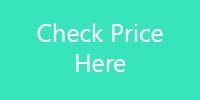 Glass pie plate
Even if you do not think you will be making pies, this can still be helpful to bread chicken or pork chops in. They are wide enough to get breading all over the meat easily. Obviously, if you like to make pie you can also use this glass plate for its actual use.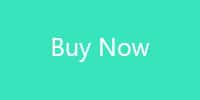 Food Kitchen Essentials
I will briefly touch on how to stock your first kitchen. Buying ingredients like seasonings can be costly when you think you need to buy every single on right away. It can be hard to decide what seasonings to buy when you are learning how to stock kitchen for the first time. I recommend starting off with the basics: salt, pepper, garlic salt, minced onion, cinnamon, and nutmeg. There are a couple of reasonings behind this.
Salt and pepper

Chances are, you are going to want to season your plate with salt and pepper anyway at least a couple of times, so it just makes sense to get it even if you like using other seasonings.

Garlic salt

I love garlic flavor, but sometimes I do not want to buy cloves of garlic. Garlic salt provides an alternative.

Minced onion

When you are starting off at your first apartment, chances are you are not going to be cooking for a lot of people. It can be hard to buy an onion and use it all up before it goes bad when you are not cooking for a big group. Minced onion allows that extra onion flavor without worrying about buying an onion and every using the entire thing.

Cinnamon and nutmeg

There are a lot of desserts that require at least one of these, and a lot of the times, they are listed in pairs.
Freezer Food
How to stock the freezer is going to depend on how much freezer room you have to begin with. Typically, apartments only have a freezer above the fridge, so there is not much room. Start small, and go from there. Only include things you know you will eat within the next week. Examples to start off with: 1 cardboard pizza, maybe a pasta dish, frozen vegetables, and small bags of meat in the types of meats you like. With time you will know how much you eat and how much you can buy to fit in the freezer.
Pantry Items
Basic baking ingredients like flour, powdered sugar, white sugar, brown sugar, canola oil, and cooking spray, are a good start. Peanut butter and nutella are great options for the pantry as well if you are into nut butters. Again, it is going to depend on the amount of pantry space as to how much you are going to be able to buy.
Fridge food
Start off with milk, some fresh fruits and vegetables, cheese, and condiments like ketchup, mayo, sour cream, salsa, and mustard. Usually fridges can hold more than freezers so you can stock these up a bit more. You never know how much condiments you are going to use up, so probably get the smallest bottles possible. Sour cream goes bad a lot more quickly than you think!
Conclusion
I hope that covered everything you wanted to know to put on your kitchen list of items. If you want to see other options of thing you may need, click here. Overall, it really depends on what you like to eat and make, how often you are cooking, and how many people you are feeding. As time goes along, you can buy more supplies as the need arises. Start small and see what you have room for and actually need.