Garlic parmesan chicken is a classic the whole family will love! Only 5 ingredients plus seasonings leaving this recipe the perfect weeknight meal you can whip up in minutes.
This recipe makes the chicken very moist. You can use any chicken part you want like breast, thigh, leg, wing, etc. Click here for an article on how to adjust cook time for different parts of chicken. The time below works perfectly for thighs and legs, but click the article if you want to be sure about other parts of the bird.
This post may contain affiliate links. This means if you click on a link and purchase something, I may earn a small commission from it.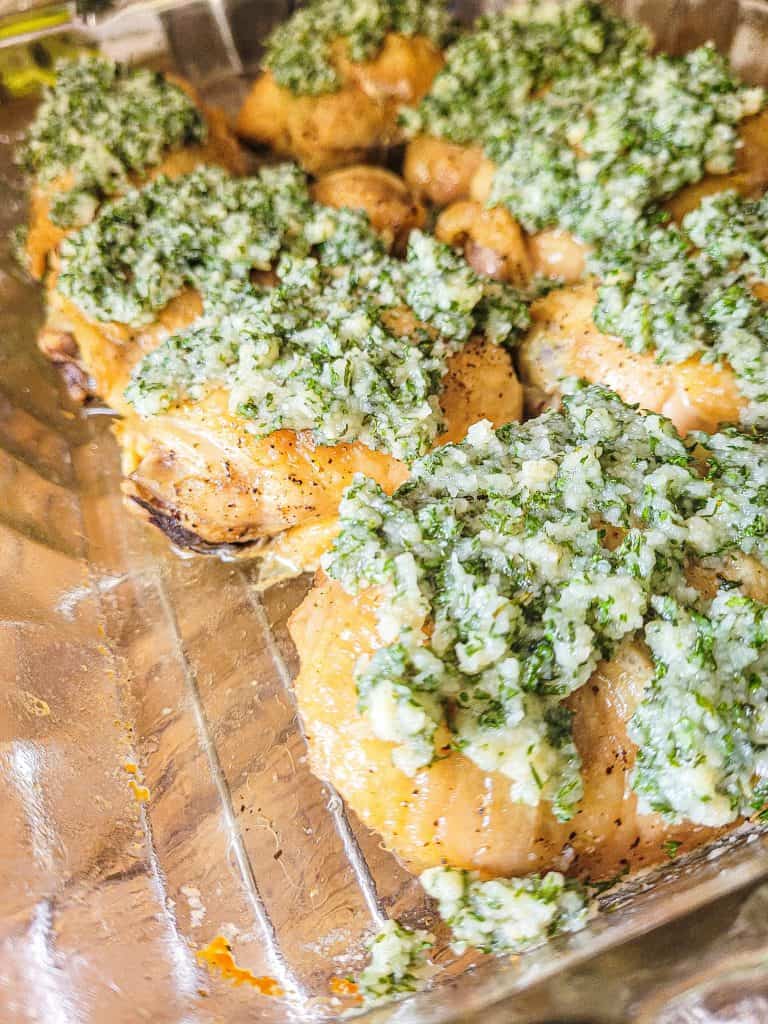 Ingredients to use for this garlic chicken dish recipe:
Chicken - you can use any part of the chicken for this recipe.
Olive oil - Extra Virgin
Parmesan cheese - grated
How to make excellent garlic parmesan chicken thighs:
Season and bake chicken - by placing some seasonings on first, it allows the flavors to get baked into the chicken. While it is baking, you can stir together the sauce. This helps save time
When chicken it done, coat it in the garlic parmesan sauce. Serve!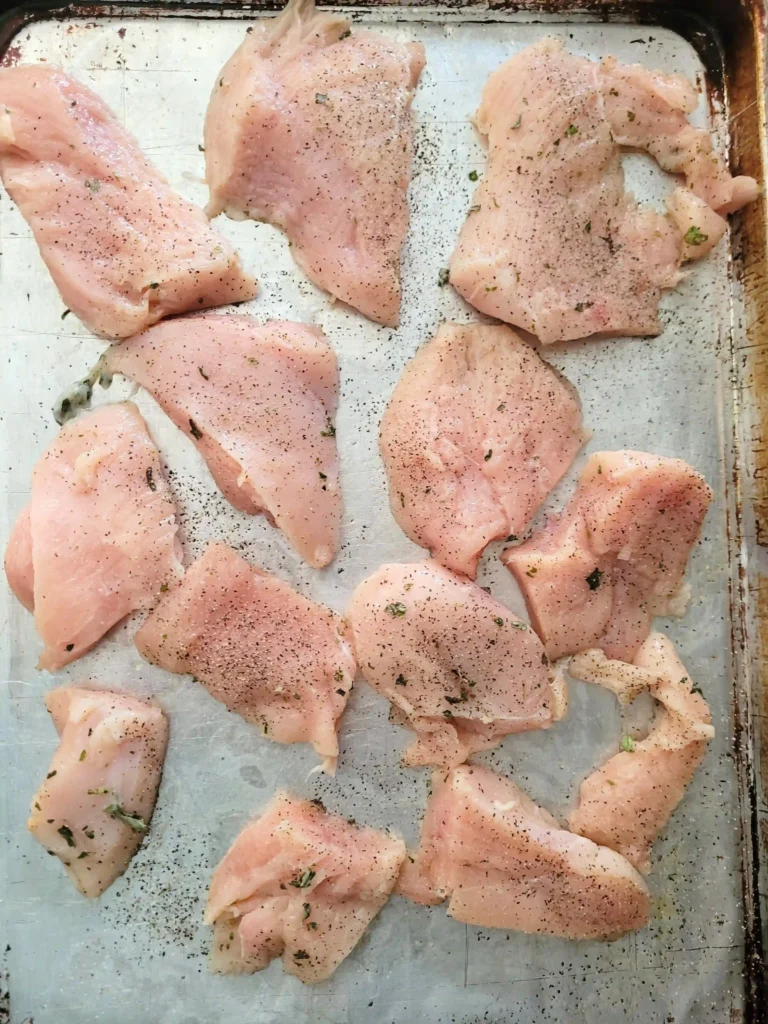 What to serve with oven baked chicken:
Potatoes - My family loves serving mashed potatoes with our garlic parm chicken! You can pour the leftover garlic sauce on the potatoes to make them garlic potatoes, which tastes quite yummy!
Vegetable - Meat and veggies always go well together!
How do I tell if chicken is done?
Temp - With a meat thermometer, you can remove a piece of chicken from heat and insert the meat thermometer. If the chicken temps above 165 degrees Fahrenheit, it is done.
Cutting it open - Without a meat thermometer (I did not have one for years) you can cut a slice of chicken open to see if it is done. If it is white on the inside, it is done. If the chicken is still slightly pink, let cook a bit longer. When using thigh meat, I prefer to cut mine open because sometimes even if it is done, blood can collect on the inside. Cutting it open releases it.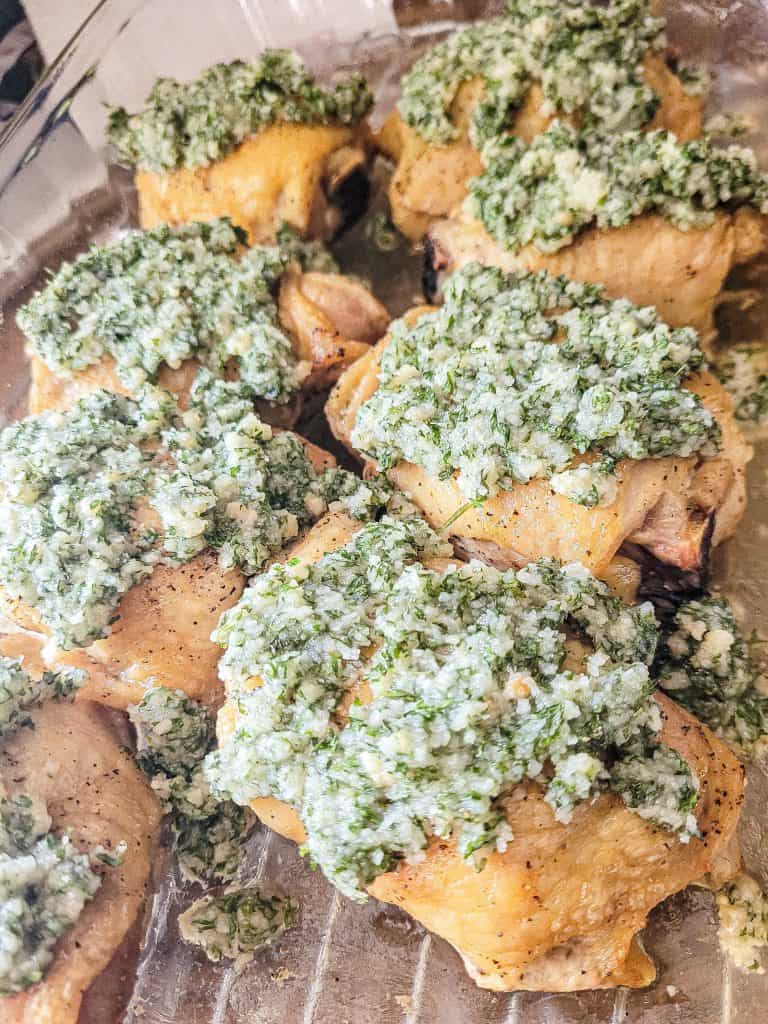 How to store garlic parmesan chicken thighs:
Fridge - store these garlic parmesan chicken thighs in an air tight container in the refrigerator for up to one week
Freezer - this recipe can be a freezer meal! Follow directions as normal and remove chicken from pan and place into a freezer tray with a lid. Once cool, place in the freezer for up to one month. To serve, place it in the oven at 400 degrees Fahrenheit for about an hour or until heated throughout.
Check out my other delicious chicken recipes:
Recipe
Garlic Parmesan Chicken Air Fryer or Oven
You can use any part of the bird for this baked garlic parmesan chicken recipe. This baked chicken recipe should only take about 45 minutes to make.
Ingredients
4

chicken thighs or other part of chicken

seasonings in amounts of your liking: pepper, salt, and Italian seasoning.

⅓

cup

olive oil

⅓

cup

Parmesan cheese

⅓

cup

parsley

2

tablespoon

garlic
Instructions
Sprinkle pepper, salt, and Italian seasoning on both sides of chicken and bake on a sprayed baking dish at 375 degrees for 20 mins or air fry at 350 for 15 minutes. Flip over and bake for another 20 minutes.

During the last half of the chicken baking, mix together oil, Parmesan cheese, parsley, and garlic together in a small bowl.

When chicken comes out of oven/air fryer, coat in the Parmesan/garlic mixture. Place on a plate to cool until cool enough to handle. Serve your Garlic Parmesan Chicken hot.
Nutrition
---
All information presented on this site is intended for informational purposes only. Nutritional facts listed are a rough estimate and should only be followed as a general idea.