This is my go to recipe for homemade alfredo sauce with heavy cream. I love the smell of this creamy pasta alfredo recipe, and it tastes even better than it smells. This great recipe makes about enough for one pasta dish that feeds around 4 people. Can double the recipe if necessary! It only takes about 10-15 minutes to make this easy recipe.
This post may contain affiliate links. This means if you click on a link and purchase something, I may earn a small commission from it.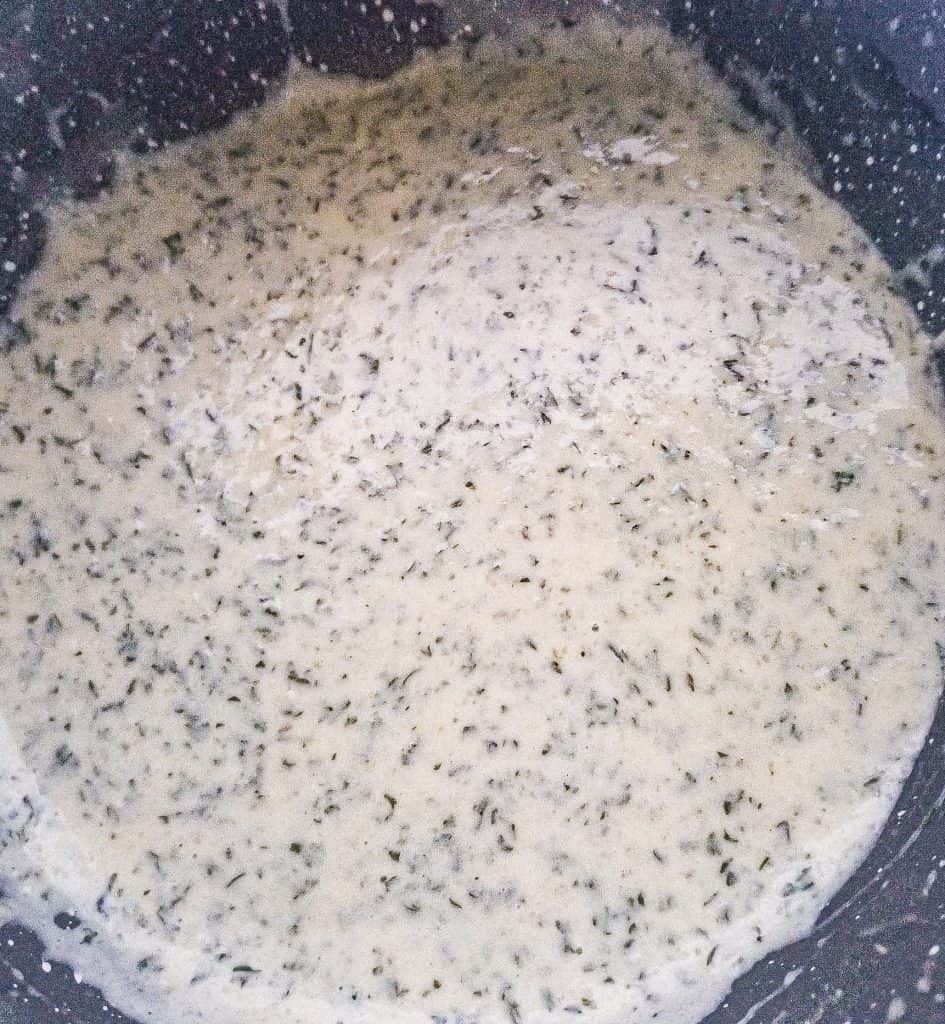 What is Alfredo Sauce?
Alfredo is a white sauce that is traditionally used for pizzas and pastas. Unlike most pasta sauces, alfredo does not contain vegetables. Instead, it uses dairy products as a base. Typical seasonings are garlic, pepper, parsley, Italian seasoning, etc.
Alfredo Sauce Ingredients:
Butter - stick butter
Heavy whipping cream - provides the base, I used a substitute of cottage cheese and milk blended once, and it was a good substitute. It did taste slightly different doing it that way though.
Parmesan cheese - grated or shredded, preferably shredded though. If you are really feeling fancy, you can use parmigiano reggiano.
Foods to Serve with Alfredo Sauce:
This homemade alfredo sauce recipe tastes good wherever a white sauce is necessary! Pasta is one of my favorite ways to use this sauce. Some examples of pasta ideas you can use this sauce in is the following: spaghetti alfredo, shrimp fettuccine alfredo, chicken alfredo pasta, homemade shrimp alfredo, creamy chicken alfredo, etc if you are looking to put it in your favorite pasta!
Other dinner ideas that are not pasta that you can put alfredo sauce in is Garlic Chicken Pizza.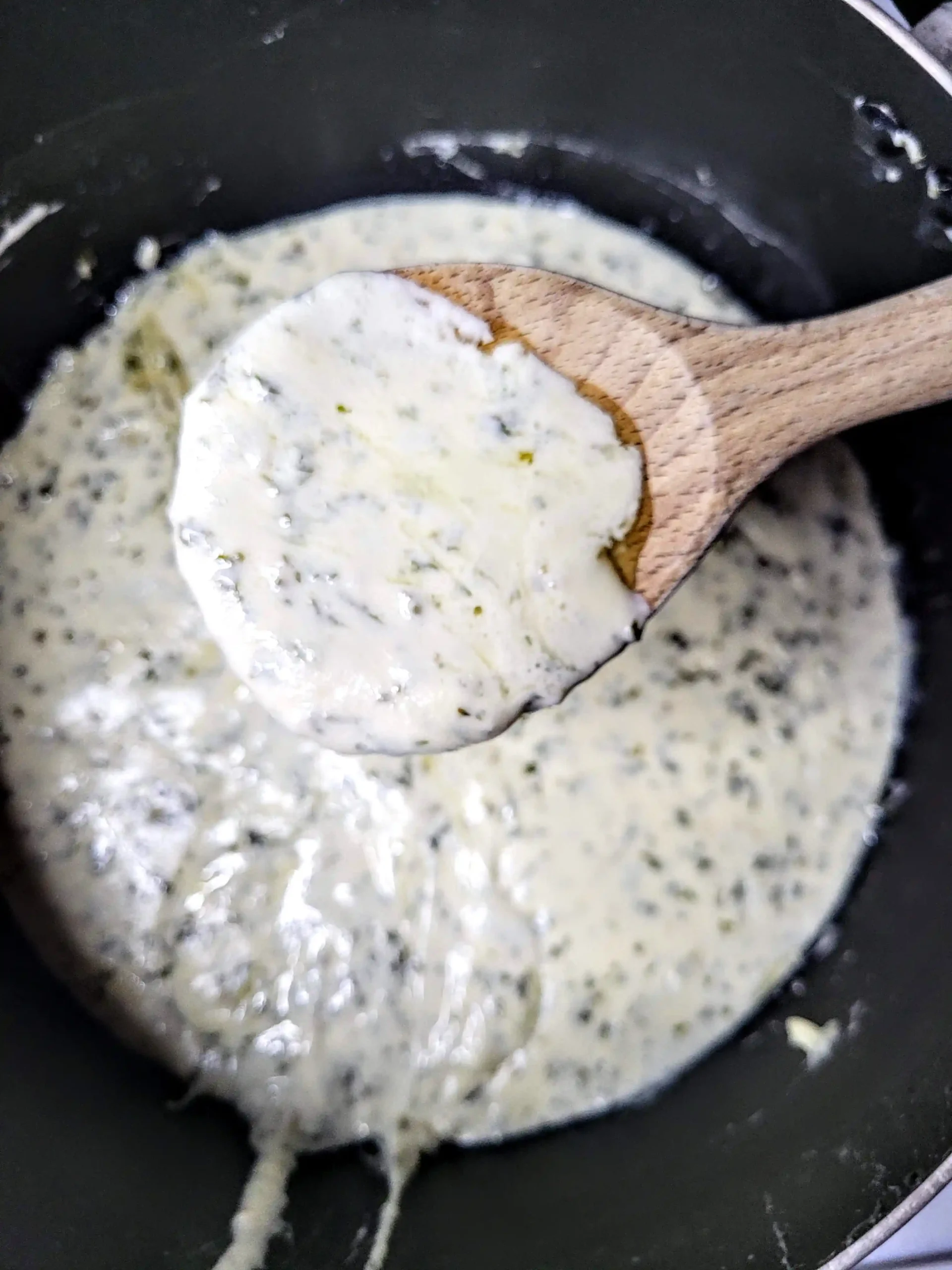 Whipping cream vs heavy whipping cream
Is whipping cream the same as heavy whipping cream? This is a question that often comes up when looking in your fridge trying to decide if you have the right cream or if you do not have the right cream. The main difference between the two is that heavy whipping cream has more fat. With higher fat, you could get a thicker consistency. I think this alfredo sauce recipe turns out better with heavy whipping cream, but as stated below, whipping cream and half and half are fine substitutes as well.
Alfredo Sauce Variations:
Less butter - you could cut down on the butter if you want your sauce to be less fatty
Half and half instead of heavy cream - I rarely have heavy cream on hand, so if you are like me and do not have heavy cream, alfredo with half and half can be just as good. If you do not have half and half either, you can always use milk. It will be a bit thinner using milk though. The parmesan cheese does help thicken it a bit though.
Add garlic - in my personal opinion, you can never have too much garlic!
Add cilantro - in addition to parsley, dried cilantro could be an addition or a substitute
Seasonings - you can season with other seasonings if you would like! Examples of these include salt, pepper, garlic pepper, etc.
How to store alfredo sauce:
Fridge - store this pasta alfredo recipe sauce in an air tight container in the refrigerator for up to one week
Freezer - I have not tried freezing this homemade alfredo sauce recipe. If you would like to try it, go for it! Let me know how it goes.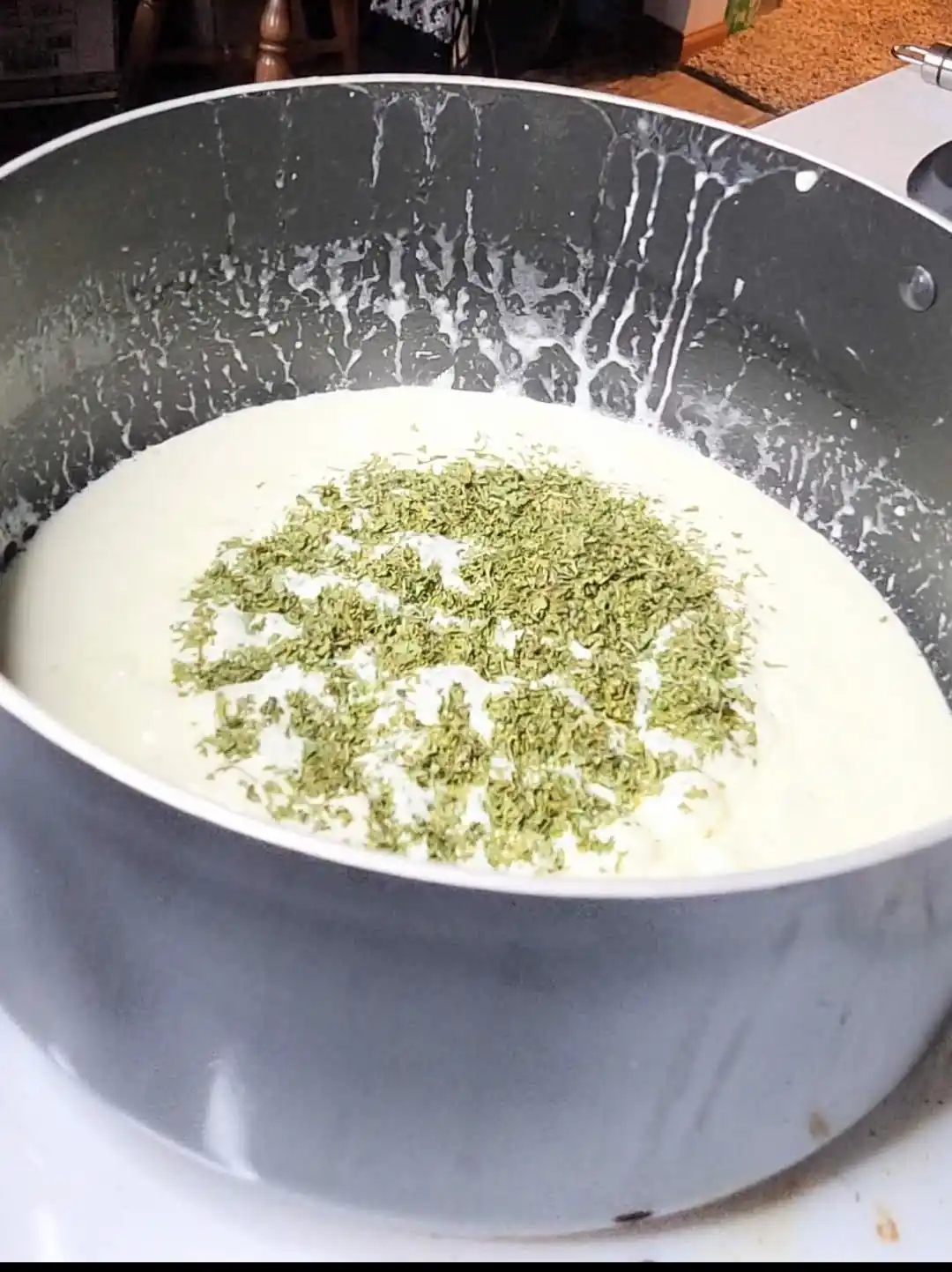 Recipe tips
Use fresh parmesan - freshly grated parmesan cheese will melt easier and be a creamier texture and not as grainy
Don't burn the sauce - like any sauce that is not stirred, it can be easy to stick to the bottom of the pan. Make sure to stir frequently.
Let cheese reach room temperature - room temperature cheese has a heightened flavor and helps melt faster
Use a whisk - whisks help break up clumps. We don't want clumpy cheese for our easy alfredo sauce!
FAQs
What does alfredo sauce taste like?
It tastes like a buttery, cheesy, rich and creamy sauce with garlic and other aromatic flavors.
How do I make my sauce thicker?
To many any sauce thicker, you have to add more of a certain ingredient. Here you can add the parmesan cheese in a larger amount until you find your homemade alfredo sauce to be thick enough. Another option is adding cornstarch, but I would start with parmesan cheese first because cornstarch can get clumpy.
How do I make creamier Alfredo Sauce that sticks to the pasta?
Don't rinse the pasta before adding the alfredo sauce. Instead leave ½ cup of the pasta sauce with the hot pasta in the pot, then add the alfredo sauce. The starch in the pasta water helps the sauce stick.
What do I add to thin out my alfredo sauce?
To thin any sauce, you need more of a liquid. Here you can add more heavy cream. If you run out of heavy cream, another option is using milk or half and half.
Does any pasta go well with Alfredo Sauce?
It is all up to personal preference, but I think any pasta goes with this easy alfredo sauce!
Recipe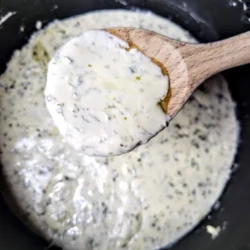 Easy Homemade Alfredo Sauce
I use this homemade alfredo sauce recipe for pasta dishes and pizza. It can work for just about anything though. It only takes about 10-15 minutes to make, so it is not too long to make this from scratch versus buying! No preservatives here.
Ingredients
4

tablespoon

butter

1

cup

heavy whipping cream

1

tablespoon

garlic

¼

cup

parsley

1

cup

Parmesan cheese
Instructions
Melt butter in a small saucepan over medium heat. Once melted add in heavy whipping cream. Let simmer for a few minutes.

After simmering, whisk in garlic and parsley, stir until combined. Shut off heat. Add in Parmesan cheese. Stir, cooking until cheese is melted. Serve.
---
All information presented on this site is intended for informational purposes only. Nutritional facts listed are a rough estimate and should only be followed as a general idea.