When I eat Chinese, Shrimp Fried Rice is my go-to order! A yummy yummy Chinese Shrimp meal. If you are new to Chinese cuisine, you can't go wrong with fried rice! Shrimp and rice go hand and hand with vegetables. Great way to sneak those veggies in. This family favorite fried shrimp recipe serves 6 people.
This post may contain affiliate links. This means if you click on a link and purchase something, I may earn a small commission from it.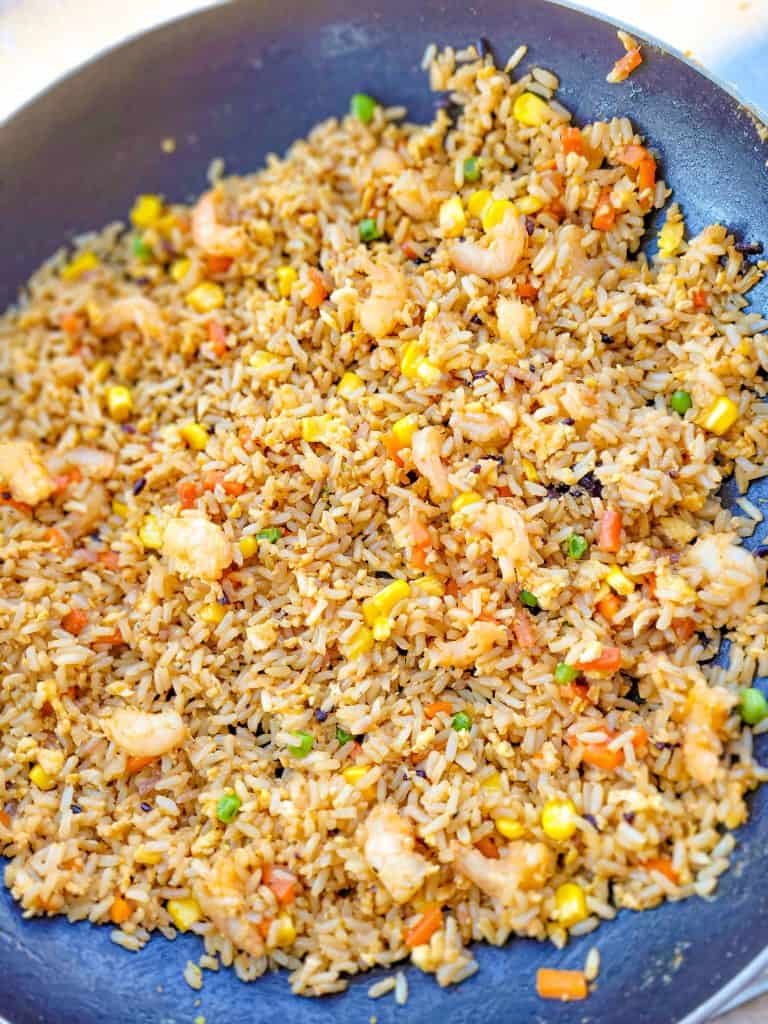 Ingredients to Use For This Seafood Fried Rice Recipe:
Long grain rice - main base of the recipe
Water - helps cook the rice
Shrimp - you can use any size you want but I prefer medium and above
Frozen veggies - provides nutrients
Onion - you cannot have Chinese without onion
Crushed garlic - adds flavor
Eggs - Great way to add protein
Salt and pepper - for seasoning
Soy sauce - You cannot have Chinese without soy sauce
How to Make Chinese Shrimp Fried Rice:
Cook rice days a head of time - I know this requires planning in advance, but it is preferred that the rice is precooked by at least 6 hours. If you try to use fresh rice, it turns out to be too moist. This results in the rice clumping together which does not usually happen in a restaurant.
Fry shrimp and vegetables - the shrimp will be done when their tails start to curl. The vegetables will be done when they are soft. You can add the vegetables when they are still frozen, just break up the clumps first.
Fry the egg - I like to move all vegetables to the side of the pan so the other side of the pan has enough space to evenly cook the egg over medium high heat.
Add back in shrimp and rice - Serve the fried rice when the rice is heated throughout. The frying of everything together gets us that fried flavor.
Tips for the Best Shrimp Fried Rice
Do I REALLY have to use leftover rice?
If you use fresh rice, the rice ends up rather bulky with all the fresh moisture. In restaurants, the rice is never bulky. That is why I opted for leftover rice. If you REALLY wanted to use fresh rice, you can. It just will not taste as similar to a restaurant though. Using ready-to-serve rice would be a better option if you are on a time crunch.
You also need to make sure your rice is cold when you begin to fry it. If it is warm, it will clump together.
Save time using a bag of detailed, fully cooked frozen shrimp as well. Don't over cook the shrimp if you are using precooked shrimp though.
What Does Shrimp Fried Rice Go With?
Crab rangoons, egg rolls, pot stickers, lo mein, anything Chinese would go with this Chinese recipe!
Variations of Chinese Restaurant Shrimp and Rice Recipe:
Protein - if you wanted to make the fried rice a different protein besides shrimp, you can use chicken or beef instead. Tofu is also an option.
Vegetables - you can always add more or less vegetables.
Omit eggs - if you do not like eggs, you can take out the eggs.
More soy sauce - extra soy sauce makes everything taste better! You can add Worcestershire if you run out of soy sauce since the #1 ingredient in Worcestershire sauce is soy sauce.
Sweet - pineapple shrimp fried rice can also be a good option. Just add pineapple to the mix!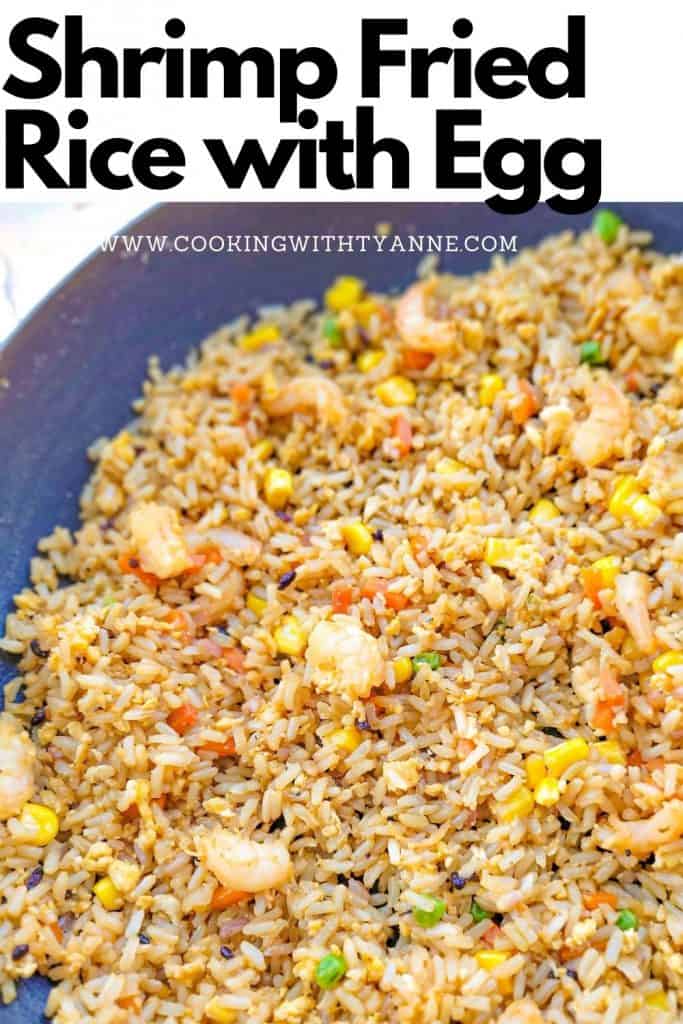 How to Store Chinese Shrimp Fried Rice:
Fridge - How long are Chinese leftovers good for? Store this shrimp fried rice recipe in an air tight container in the refrigerator for up to one week
Freezer - I have not tried freezing this recipe. If you freeze it, let me know how it goes.
Check out my other Chinese recipes:
Recipe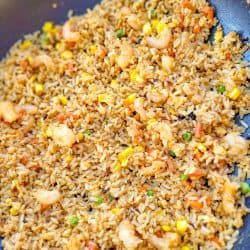 Shrimp Fried Rice Recipe
If you are new to the Chinese cuisine, you can't go wrong with fried rice! Shrimp and rice go hand and hand with vegetables. This shrimp stir fry is a great way to sneak those veggies in. I recommend cooking rice a head of time, by at least 6 hours or using leftover rice.
Ingredients
1 ½

cup

long grain rice

3

cups

water

1 12

oz

bag thawed shrimp

detailed

1 10

oz

bag mixed vegetables

½

small onion, minced

1

tablespoon

crushed garlic

3

eggs

salt and pepper for seasoning

soy sauce
Instructions
Part 1
Pour water into a large pot. Turn on high heat to get the water to boil. While waiting for it to boil, pour 1 tablespoon oil in a large skillet. Add in rice and cook over medium heat while stirring for about 5-7 minutes. This should turn the rice a little golden, do not over cook though or else it gets crunchy.

After rice is done being cooked in pan, transfer to the boiling water. Turn down heat to a simmer and cook for 18-22 minutes. The rice should soak up all the water, if not drain some out. Remove from heat and let rice cool in pot for a few minutes. Once slightly cool, transfer to a sealed container and place in the fridge until ready to make the rest of the recipe.
Part 2
To begin making shrimp fried rice, put 2 tablespoon of butter in a large pan with deep edges over medium heat. Add shrimp. Cook until tails are curled and golden on both sides. Usually takes about 2ish minutes per side. Using a spatula, remove shrimp from pan and place on a plate with a paper towel to absorb oil.

In the same pan, add mixed vegetables. Cook over medium heat until veggies are soft. Add in onion and garlic. Add more butter if needed.

Once veggies are soft, scoop them to one side of the pan. In a bowl, beat the eggs and pour them into one side of the pan. Scramble them. Once eggs are cooked, mix them with the veggies. Add back in shrimp and rice. Stir. Season with salt and pepper. Add in desired amount of soy sauce. Serve your Shrimp Fried Rice with soy sauce!
Nutrition
---
All information presented on this site is intended for informational purposes only. Nutritional facts listed are a rough estimate and should only be followed as a general idea.