An honest blue diamond pan review as seen on tv! Ever wonder if the infomercials on tv are truthful about the pans? Keep reading to find out! We will cover my overall impressions, what I think of the skillet after having it for 3 months, and have a Q&A at the end of this post.
I am not being paid to write this review, it is all my own thoughts and opinions.
This post may contain affiliate links. This means if you click on a link and purchase something, I may earn a small commission from it. In the footer of this page is my full disclosure policy. 
I have been using the pan for about 90 days to do this review on the blue diamond pan. You can see in the picture that it does not have many stratches or marks on it after this much use.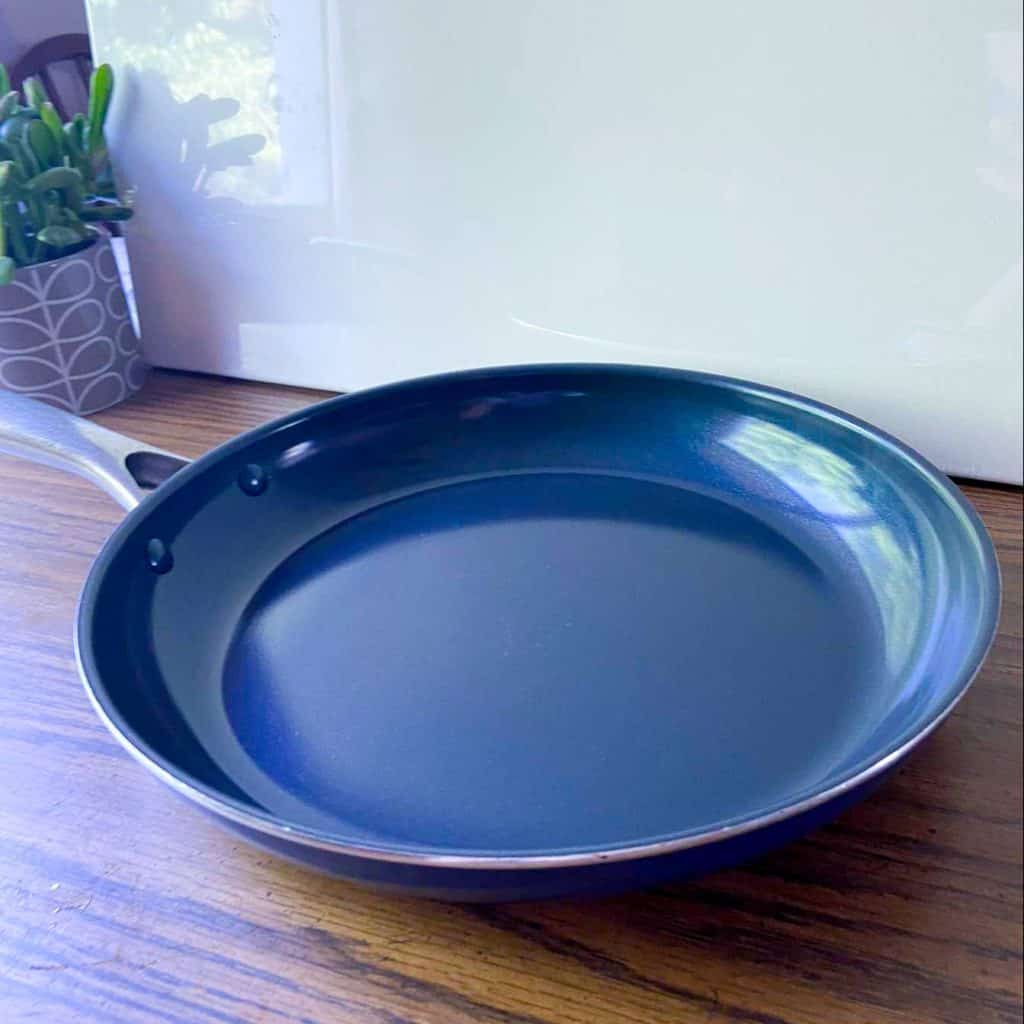 Overall, it has pretty even heating througout the pan. The base is aluminum which allows better heat conduction.
Is the pan actually nonstick? It has excellent non-sticking abilities, but I still recommend putting at least some oil down so it does not have a chance of sticking. You can use less oil and still get it out of the pan. I just would not try cheese in the pan plain. You wouldn't cook without oil normally in any pan. I treat this pan like every other pan.
The pan is oven and dishwasher safe as well.  Hand washing is still recommended for how to clean your blue diamond frying pan just because it is easier on the pan.
That is one of the downsides of the pan. It is advertised that it is dishwasher safe, however, the instructions prefer you to hand wash it? I suppose that is because no one wants to buy a pan anymore that is not 100% dishwasher safe; so they can't say on tv that you should be hand washing it. Another downside is that even though it is advertised that you can use metal utensils, it says you really shouldn't if you want the best results. This means it may not scratch right away, but with time it might if you only use metal utensils on it. Again, treat the pan like every other pan and you will have no issues!
Another downside to the pan is that the handle does get hot like any other pan. It is not always cool to touch, so still count on pointing it away from hot burners when you are cooking on the stove. Like any other pan, do not assume it will be cool to touch.
Where to buy blue diamond pan?
If you want to buy the 12 inch skillet right now on Amazon, click here. 

There are other popular sizes such as the 8" and 9" skillets.
They also have an entire cookware set! For the purpose of this blue diamond pan review, we will be focusing on the pans specifically. If you are interested in learning more about the cookware set, click the image. If you can find it under $100, that is a steal!

Blue diamond pan vs green pan
I also have the green diamond pan. To me there are not much differences between the two. I have not used my green diamond pan as extensively as the blue one. When I do, I will update that section of this post. I know it is not as popular as the blue diamond, but it is still a nice pan!
Popular FAQs about the blue diamond pan
Does blue diamond pan have teflon?
This can be answered along with the question of "what is blue diamond pan made of?" In my research for doing this blue diamond pan review, they make it out of thermolon ceramic on the surface. This is what prevents your food from sticking to the pan. The pan follows FDA guidelines, and the company says this is 100% non-toxic so it is fine for cooking on. The ceramic surface is just the latest alternative to traditional PTFE nonstick coating, which not everyone likes for a variety of reasons. If you want to learn more about what this pan is made of, click here. This article also talks about how the pan has actual diamonds in it! Obviously in a small amount though so you are not getting diamonds in your food or anything.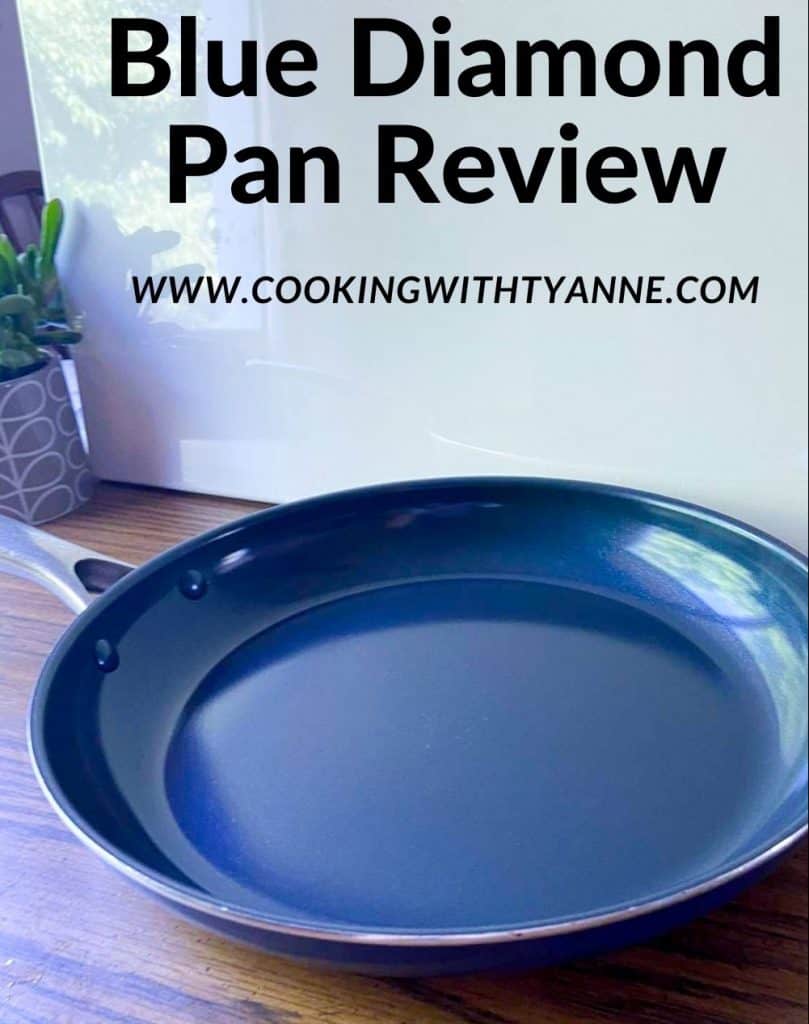 Why is my blue diamond pan sticking?
As all pans go, with use they can begin to stick if they have scratches on the nonstick coating. As mentioned earlier, you do not want to use utensils on the pan that could potentially scratch it even though the infomercial says you can. Blue diamond pan being no longer nonstick can be an issue some people have if there is scratches. A tip for this is to try to re-season it. How to season your blue diamond pan is not a hard process. You can follow this article and see if it helps. My pan does not have any scratches, so I cannot try it on my own pan, but you can try this method on your pan (at your own risk, of course) if you find it to be sticking.
Where is blue diamond pan made?
Blue diamond cookware is made in China.
Conclusion:
To finish us off, is the blue diamond pan good? I like it, and think it is great! It can be disappointing for some people who see the infomercial on tv and then buy that pan and read the directions. If you treat the pan like a normal pan (no metal utensils, handwash it, etc), your pan will last longer than a normal pan. I hope you enjoyed this blue diamond pan review! If you want to check out more of my kitchen product reviews, click here.