Tomato Soup with Tortellini is a great soup for a winter day in the house! You can add extra sour cream if wanting it more creamy. This is one of my favorite soup recipes. If you are unsure of the flavor just because it is a tomato soup base, don't be wary because the tortellini adds to the flavor a great deal! It is not a thick tomato soup base either, so that helps break down the standard tomato base taste. This creamy tomato soup recipe serves about 6 people.
This post may contain affiliate links. This means if you click on a link and purchase something, I may earn a small commission from it. In the footer of this page is my full disclosure policy.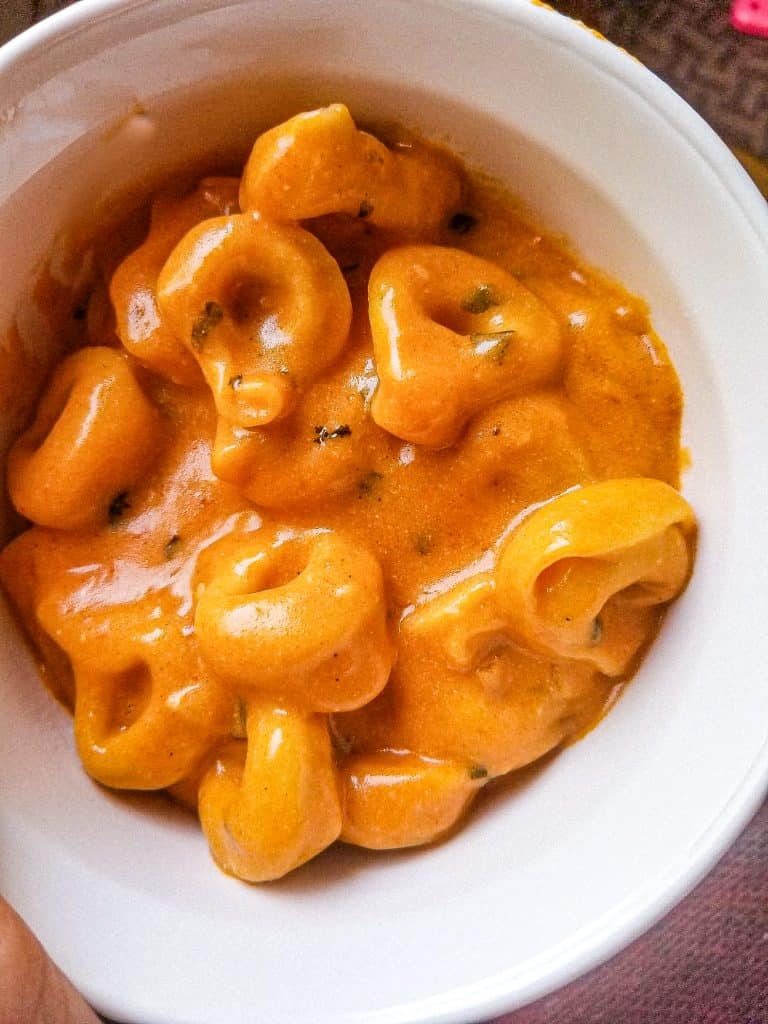 Favorite ingredients for this creamy soup:
butter-tub butter or stick butter works
chicken broth-I make mine out of chicken bullion cubes
heavy cream-provides creaminess
tortellini-you could use homemade but I use store bought
parmesan-makes this creamy parm tomato soup even creamier
basil and cilantro-from my own garden
What to serve with tomato soup:
I like my tomato soup with garlic bread! Click here for a garlic bread recipe. Grilled cheese is also a classic tomato soup side. If you want a topping with crunch, top with garlic croutons!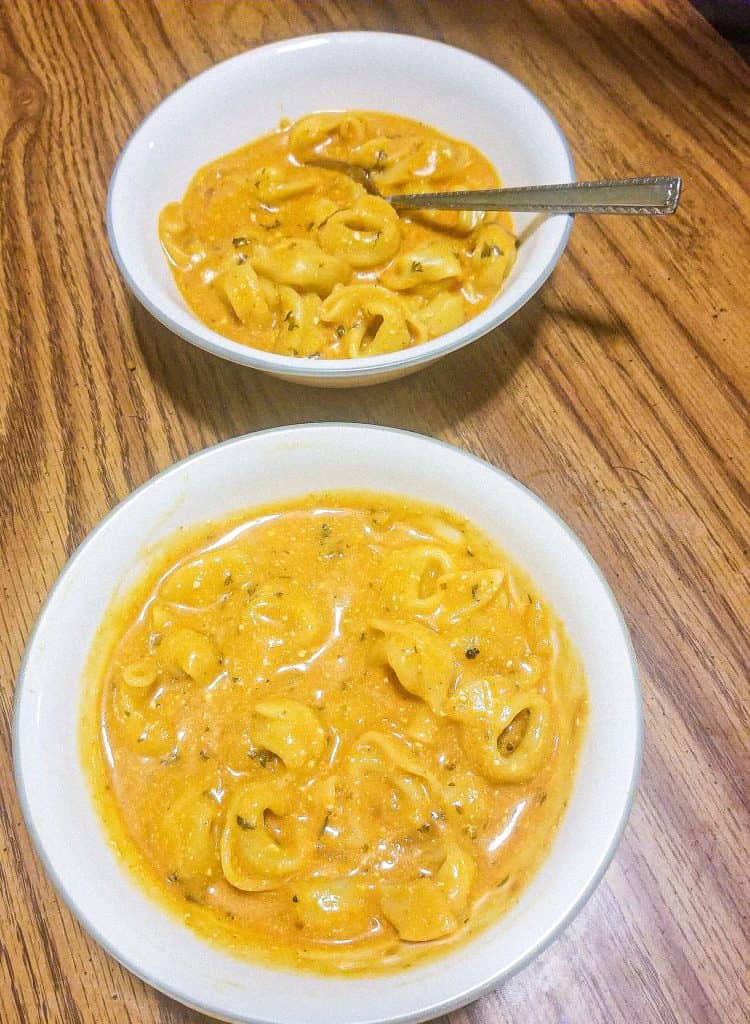 Variations of cheese tortellini soup:
meat tortellini-you can make this a nonvegetarian recipe by adding meat tortellini instead of cheese tortellini
use ravioli-instead of tortellini, you can use ravioli and make this a creamy ravioli soup instead.
more milk or sour cream-this would give the tomato soup a lighter color and it would make it more creamy
milk and sour cream- ½ cup milk and ¼ cup sour cream would be a great substitute for heavy whipping cream
use yogurt-can you put yogurt in tomato soup? You can substitute the heavy cream with room temp plain greek yogurt.
omit basil-you can take out the basil of this soup recipe if you do not like basil. Basil can be a strong flavor for some people.
How to store creamy tomato basil soup:
fridge-store leftover tomato soup in an air tight container in the refrigerator for up to one week
freezer-I have not tried freezing this recipe. If you would like to try it, go for it! Let me know how it goes.
Check out my other delicious soup recipes:
Recipe
Tomato Soup with Tortellini
This easy tomato soup recipe is a great soup for a winter day. Very creamy tortellini soup that does not have a very thick tomato base.
Ingredients
2

tablespoon

butter

¼

cup

chopped white onion

2

tablespoon

minced garlic

1

cup

chicken broth

1

cup

water

2 10.5

oz

cans of Campbell's tomato soup

¾

cup

heavy whipping cream

1 19

oz

package frozen cheese tortellini

¼

cup

basil leaves

¼

cup

cilantro

Salt, pepper, Parmesan cheese, garlic powder/salt

to season
Instructions
Melt butter in a large sauce pan with deep edges over medium heat. Put onion and garlic in the pan, cook until browned.

Add in broth, water, and tomato soup. Bring to a boil for 10 minutes. Stir occasionally.

Stir in heavy whipping cream. Let it simmer for a few minutes on medium. Add in tortellini. Boil for about 5-7 minutes or until noodles are soft and floating. Stir in basil, cilantro, Parmesan cheese, and seasonings. Serve your Tomato Soup with Tortellini hot and with grilled cheese.
Nutrition
---
All information presented on this site is intended for informational purposes only. Nutritional facts listed are a rough estimate and should only be followed as a general idea.