Very easy sweet potato fries to make at home, and healthy too! Not just because these baked fries are made out of sweet potatoes, but that they are baked instead of deep fried. Lots of seasoning involved! There is a way to like baked sweet potatoes even if you do not like sweet potatoes!
This post may contain affiliate links. This means if you click on a link and purchase something, I may earn a small commission from it.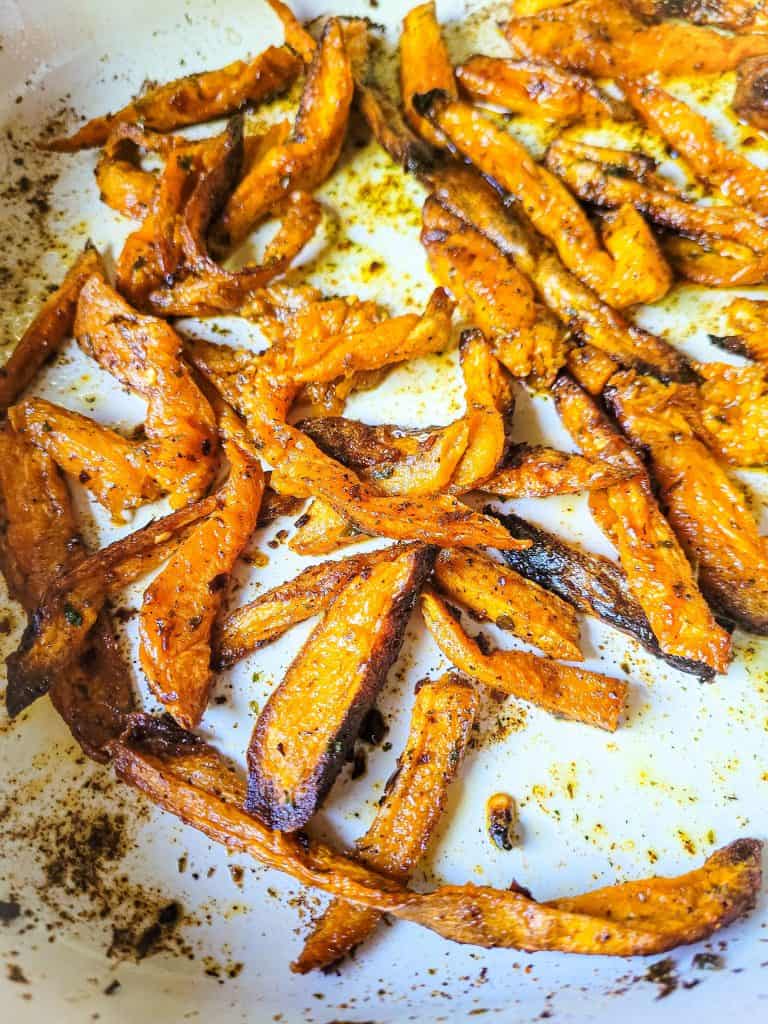 There are a lot of benefits of eating sweet potato fries. You can also grow sweet potatoes at home.
For the people who do not like sweet potatoes:
If you are worried about these tasting funny because they are made of sweet potatoes, don't worry! The thinner you cut the sweet potato fry, the more it tastes like a regular french fry! You can also season them according to your liking as well to give it a more desirable flavor if you are iffy on the sweet potatoes. I like my baked sweet potato fries cut super thin, but you can make them thicker if you want to if you're not scared of sweet potatoes.
How to make:
Peel sweet potatoes - I peeled mine with a regular potato peeler.
Cut sweet potatoes - I slice mine like I would french fries, except I like my sweet potatoes thinner than regular fries.
Soak fries - soaking the fries in water gets the starch off of them. Then, drain water, and dry off the potatoes. Place on sprayed baking sheet. You can lay parchment paper down if you would like. Drizzle with olive-oil. Toss with savory seasonings. Bake according to directions below.
Can I Use an Air Fryer?
An air fryer will work to cook this side dish. Just prepare as normal but air fryer at 375 degrees for about 8 minutes, then flip over. Make sure to not overcrowd the air fryer.
Why Won't My Sweet Potato Fries Get Crispy?
The main reason fries don't crispen up is due to overcrowding while roasting. If you put too many fries close together, they don't cook as evenly. Another reason could be not enough oil. If they are almost done cooking and still not getting crispy, spray cooking spray on top. Bake for a few additional minutes.
What to serve with:
I like to eat my sweet potato fries with veggie burgers! In addition to veggie burgers, regular burgers also pair very well with these healthy fries. BBQ ribs are very tasty with sweet potato fries as well.
How to store these sweet potato wedges:
Fridge - store this potato recipe in an air tight container in the refrigerator for up to one week
Freezer - I have not tried freezing this recipe. If you would like to try it, go for it! Let me know how it goes.
Check out my other potato recipes here:
Recipe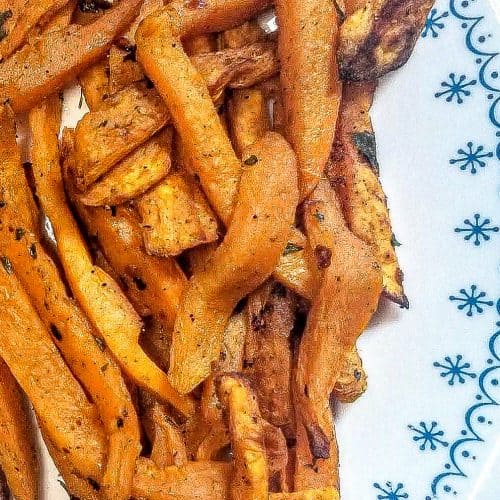 Quick Sweet Potato Fries
Very easy sweet potato fries to make at home, and healthy too! Not just because these baked fries are made out of sweet potatoes, but that they are oven roasted instead of deep fried.
Ingredients
4

medium sized sweet potatoes

3

tablespoon

olive oil

1

teaspoon

of garlic powder, parsley, Cajun, black pepper, salt, red pepper flakes, salt
Instructions
Peel sweet potatoes, and cut them into standard french fry strips; I cut mine about ¼ inch thick. Place into a 9x13 baking dish full of water. Let strips soak about 10 minutes to allow starch to come off. After 10 minutes, drain out water and dry sticks with a wash cloth or towel. Leave sweet potato sticks in the 9x13 baking dish. Drizzle olive oil on top. Toss with a spatula to coat.

In a small bowl, combine the other ingredients. Stir together. Pour on top of sweet potatoes. Stir with spatula to coat evenly.

Spray 3 (or however many you need, I needed 3) baking sheets. Spread out sweet potato sticks among the baking sheets in an even layer. It is okay if they overlap as they do shrink in the oven. Bake at 400 degrees for 12 minutes. Flip over. Then bake for an additional 12 minutes. Serve your sweet potato fries hot!
Nutrition
---
All information presented on this site is intended for informational purposes only. Nutritional facts listed are a rough estimate and should only be followed as a general idea.