Easy Red Enchilada Sauce-Mexican Red Sauce
Usually I buy enchilada sauce, but a few months ago I didn't have any Mexican red sauce on hand. I had to homemake red enchilada sauce instead. It was not too hard to make, and I have been making this easy red enchilada sauce at home ever since!
This post may contain affiliate links. This means if you click on a link and purchase something, I may earn a small commission from it. In the footer of this page is my full disclosure policy. 
You can make this red enchilada sauce as spicy or mild as you want it when you home make it. It allows for more individuality versus coming out of the can. This authentic homemade enchilada sauce recipe makes about 3 cups worth and is 69.54 kcal per serving.
This Mexican red sauce is designed to go over Homemade Enchiladas. It would also taste delicious on Chile Rellanos, Chicken Flautas, and Chicken Tostadas.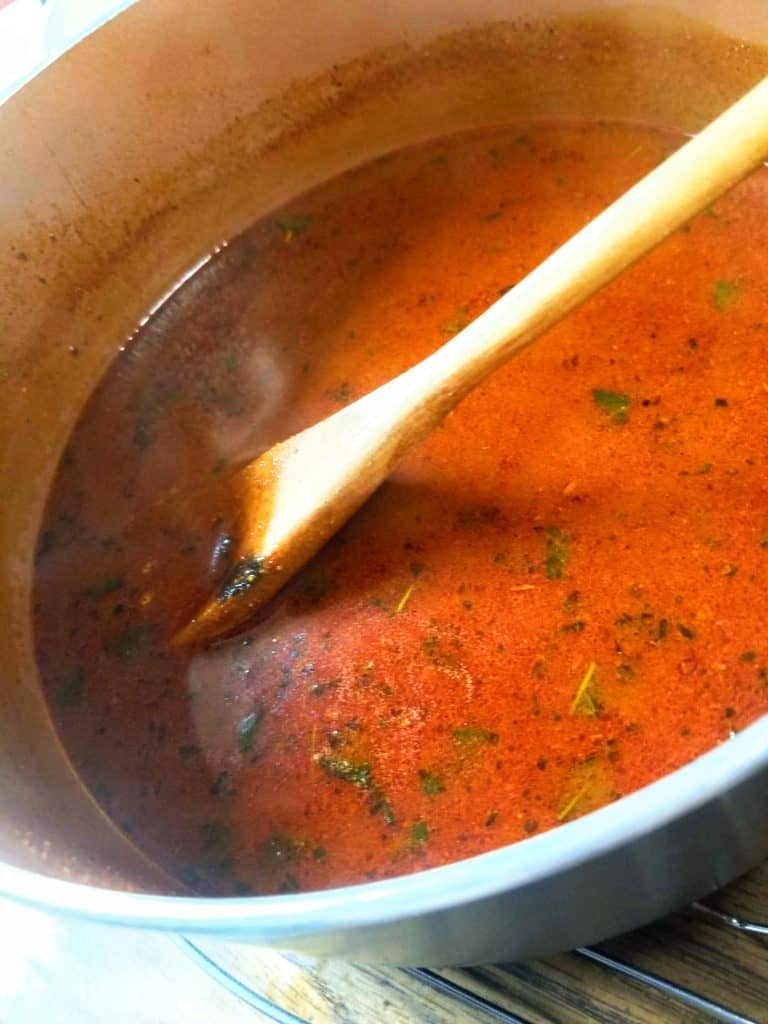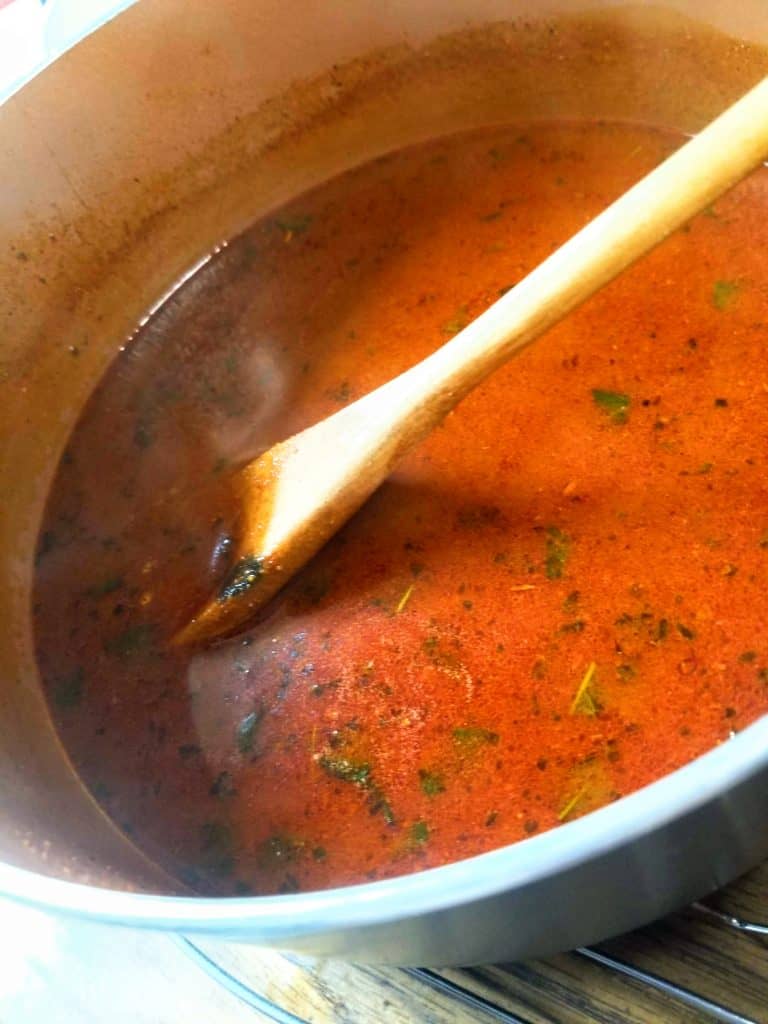 How to make red enchilada sauce:
Stir together flour, oil, and spices. The flour is to make it thicker. If you were to add the flour later (I tried this), it does not make it as thick and ends up more clumpy. That is why the flour is in step 1.
Add chicken broth. This is what makes the sauce a liquid.
Cook the sauce. This way the flavors blend together.
What pot do I use?
Any pot works as long as it is a standard height. The recipe is not for that much liquid, so the pot does not need to be extremely tall. Just make sure it is not the smallest pot you have or else it will probably overflow. I typically use a Michelangelo 3 Quart Saucepan. It is a nonstick sauce pan that I have not gotten anything stuck on yet, so I say it lives up to its name!

Variations of the sauce:
spice-Obviously I am into spice, so I like to add more chile powder than what the recipe calls for. You can also make it more mild by decreasing the chile powder.
liquid-If you want your sauce to be less thick, you can add more chicken broth!
How to store classic enchilada sauce:
I typically just use the sauce right away, but it can be stored in an air tight container in the fridge for about a week.
Is homemade enchilada sauce freezable?
I have not tried it yet, but if you try it, comment below how it goes!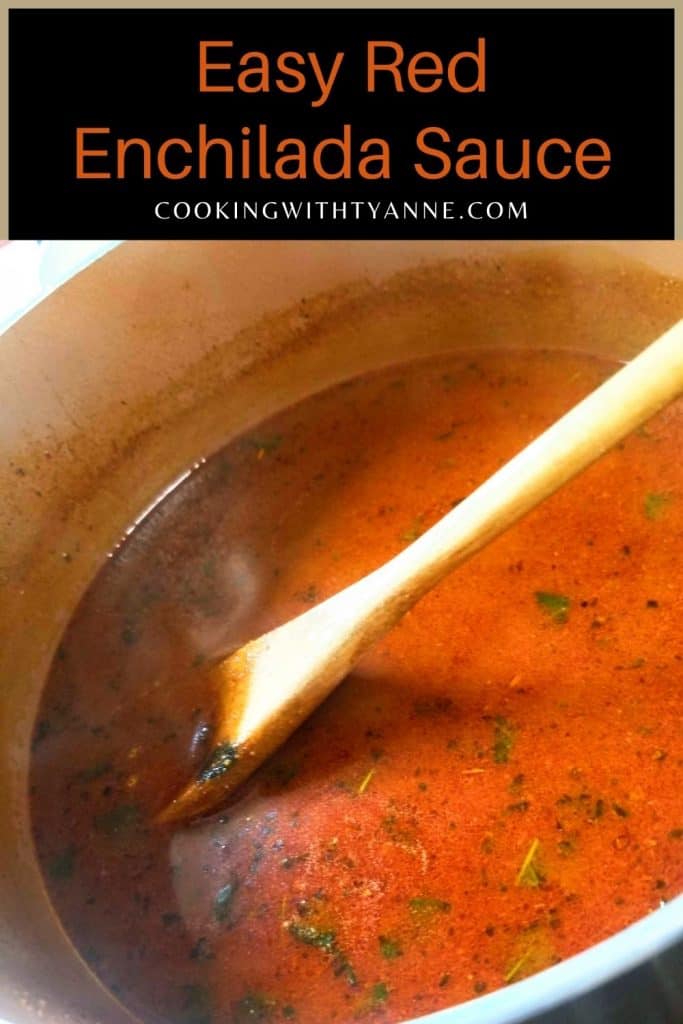 Can I make the sauce ahead of time?
This sauce recipe does not take that long to make, so I personally just make it while my chicken is cooking for my enchiladas. If you wanted to make it a week in advance though you can do that! I do not see a point in myself doing that though because it is so quick to make.
Favorite brands to use for this Mexican red sauce recipe:
flour-Gold Medal
seasonings-McCormick
chicken broth- I made mine with water and chicken bullion cubes. If you want more nutritious homemade chicken broth, click here. Not sponsored, this is just what I like to use.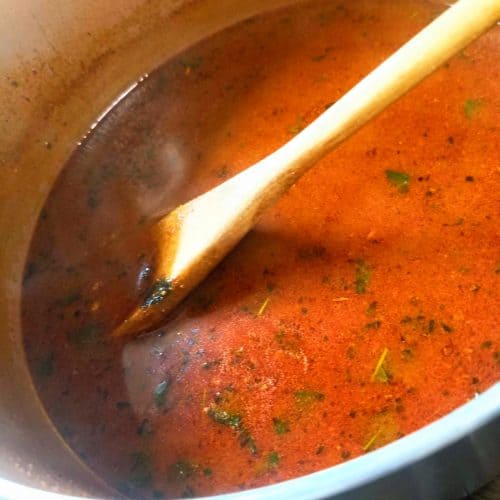 Easy Red Enchilada Sauce
You can make this easy red enchilada sauce it as spicy or mild as you want it. It allows for more individuality being homemade enchilada sauce. You can use this sauce recipe for red chili enchiladas, or any other Mexican dish that needs red sauce!
Ingredients
4

tbsp

olive oil

2

tbsp

flour

3-4

tbsp

chili powder

depending on how spicy you want it

Spices to add at personal preference: oregano, cumin, garlic powder, basil, parsley

3

cups

chicken broth
Instructions
Pour oil into a large pot on medium heat. Stir in flour with a pancake turner. Add in chili powder and spices. Keep stirring constantly to avoid it burning and sticking to pan.

Slowly pour in the chicken broth while stirring to avoid lumps. Cook for about 5-7 minutes. Can add extra water if it turns out too thick for your preference. Serve your Easy Red Enchilada Sauce over homemade enchiladas or any other Mexican dish that needs red sauce!
Nutrition
---
All information presented on this site is intended for informational purposes only. Nutritional facts listed are a rough estimate and should only be followed as a general idea.