Enchiladas are a staple in Mexican cuisine. What is the point of eating enchiladas if there isn't a good sauce? Usually I buy enchilada sauce, but a few months ago I didn't have any Mexican red sauce on hand while making chicken enchiladas. I had to homemake red enchilada sauce instead. It was not too hard to make, and I have been making this easy red enchilada sauce at home ever since! Very simple ingredients in this recipe, no tomato sauce or tomato paste needed! This sauce tastes good on beef enchiladas, cheese enchiladas, chicken enchiladas, and even seafood enchiladas. There is green enchilada sauce, and white enchilada sauce too, but you can never go wrong with red!
This post may contain affiliate links. This means if you click on a link and purchase something, I may earn a small commission from it. In the footer of this page is my full disclosure policy.
You can make homemade red enchilada sauce as spicy or mild as you want it when you home make it. It allows for more individuality versus coming out of the can. This authentic homemade enchilada sauce recipe makes about 3 cups worth.
This Mexican red sauce is designed to go over Homemade Enchiladas. It would also taste delicious on Chile Rellanos, Chicken Flautas, and Chicken Tostadas.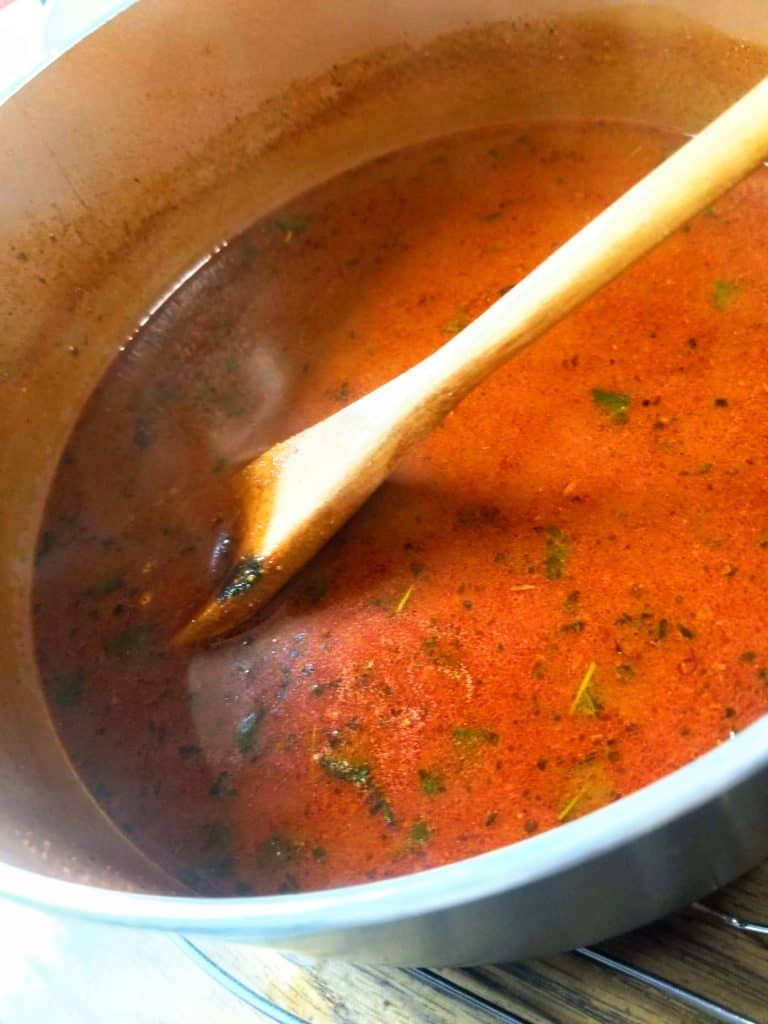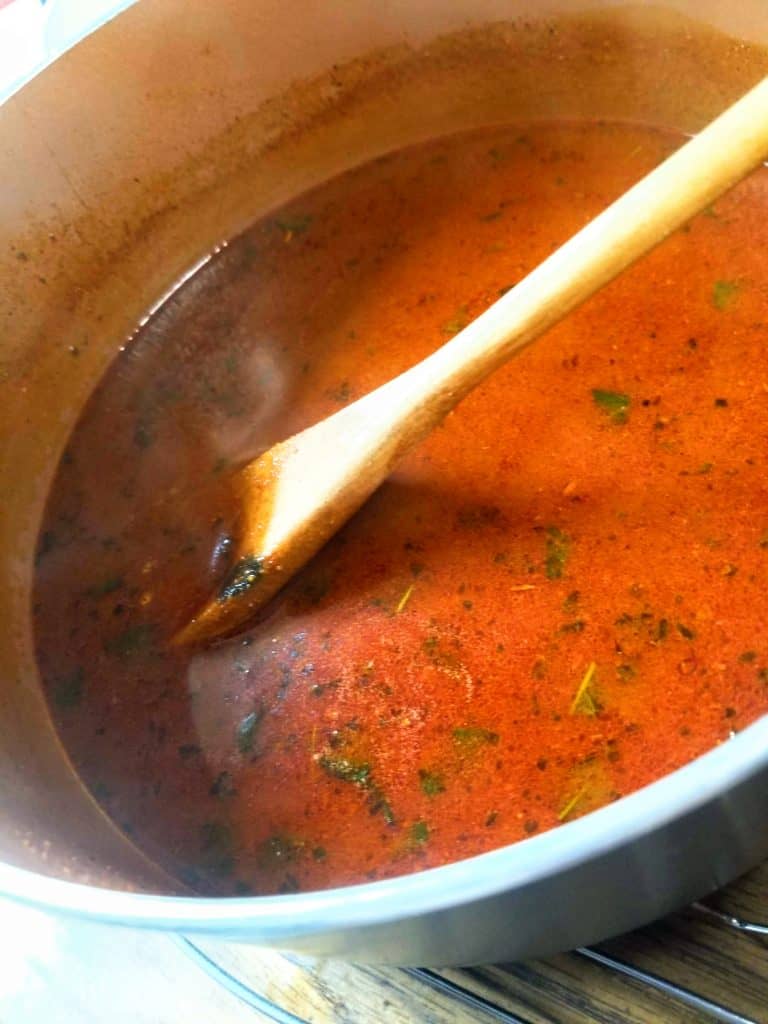 Reasons to love making your own enchilada sauce:
consistency-this sauce is not too thick or thin. If you do find it too be one or the other, the variations section below tells you how to correct it.
spice-no tomato paste is used in this recipe so the flavor comes mostly from the spices. This is part of why making your own sauce is best because there is extra spice flavor.
no preservatives-not that store canned sauce has a lot of nitrates in it, but you know exactly what ingredients are in your sauce making it at home.
no need to plan-you don't have to plan for days ahead of time or make a special trip to the store to prepare for this sauce because the recipe uses common ingredients you can find in your home. If you are out of spicy chili powder (main ingredient), you can easily find it at your local grocery store.
amount-3 cups is plenty for enchiladas and for some reason if that is not enough, you can easily double the recipe.
Favorite brands to use for this Mexican red sauce recipe:
all purpose flour-Gold Medal
seasonings-McCormick
chicken broth- I made mine with water and chicken bullion cubes. If you want more nutritious homemade chicken broth, click here. Not sponsored, this is just what I like to use. 
How to make red enchilada sauce:
Stir together flour, oil, and spices. The flour is to make it thicker. If you were to add the flour later (I tried this), it does not make it as thick and ends up more clumpy. That is why the flour is in step 1. This steps is what makes the roux.
Add chicken broth. This is what makes the sauce a liquid. Do not add liquid all at once or else it could splatter or be more difficult to whisk the clumps.
Cook the sauce according to directions. This way the flavors blend together. Serve with your favorite Mexican dish!
What pot do I use?
Any pot works as long as it can hold about 5 cups of liquid to ensure there is no overflow.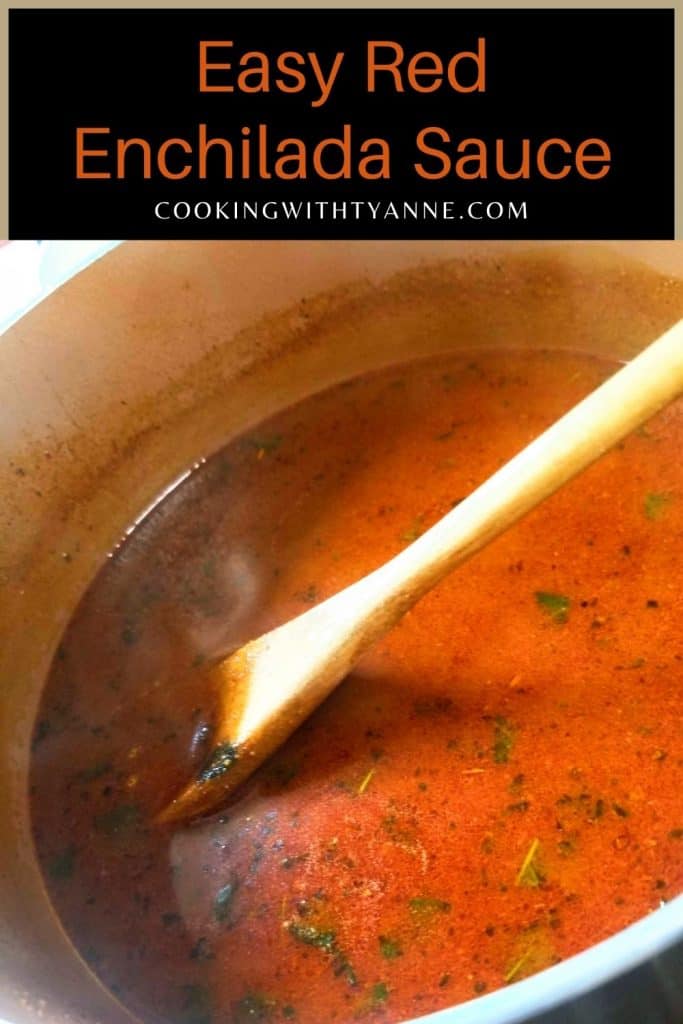 Variations of the spicy sauce:
spice-Obviously I am into spice, so I like to add more chile powder than what the recipe calls for. You can also make it more mild by decreasing the chile powder to suit your spice level.
liquid-If you want your flavorful sauce to be less thick, you can add more chicken broth! If you would like a thicker sauce, let simmer longer.
stock-if making this vegetarian, you can use vegetable stock instead of chicken stock.
How to store:
I typically just use the sauce right away, but it can be stored in an air tight container in the fridge for about a week. This sauce also keeps for up to 3-4 months in the freezer if using a freezer safe container. Do not store in plastic because the red will stain.
FAQs
Can I make this delicious sauce ahead of time?
This sauce recipe does not take that long to make, so I personally just make it while my chicken is cooking for my enchiladas. If you wanted to make it a week in advance though you can do that! I do not see a point in myself doing that though because it is such a quick recipe.
What if I add too much chili powder?
If too much chili powder gets added to the pot by accident, you can increase the amount of chicken stock to mellow out the spice.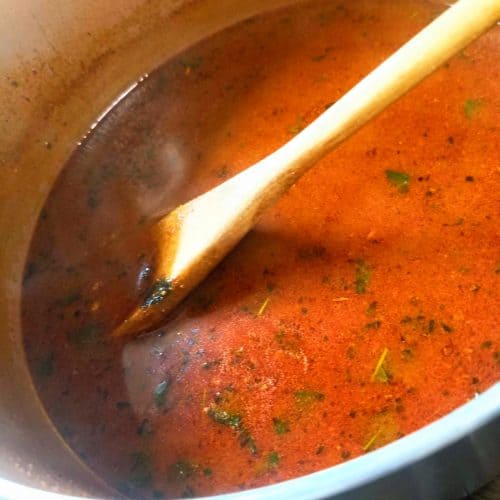 Easy Red Enchilada Sauce
You can make this easy red enchilada sauce it as spicy or mild as you want it. It allows for more individuality being homemade enchilada sauce. You can use this sauce recipe for red chili enchiladas, or any other Mexican dish that needs red sauce!
Ingredients
4

tablespoon

olive oil

2

tablespoon

flour

3-4

tablespoon

chili powder

depending on how spicy you want it

Spices to add at personal preference: oregano, cumin, garlic powder, basil, parsley, onion powder

3

cups

chicken broth
Instructions
Pour oil into a large pot on medium heat. Stir in flour with a pancake turner. Add in chili powder and spices. Keep stirring constantly to avoid it burning and sticking to pan.

Slowly pour in the chicken broth while stirring to avoid lumps. Cook for about 5-7 minutes. Can add extra water if it turns out too thick for your preference. Serve your Easy Red Enchilada Sauce over homemade enchiladas or any other Mexican dish that needs red sauce!
Nutrition
---
All information presented on this site is intended for informational purposes only. Nutritional facts listed are a rough estimate and should only be followed as a general idea.