I had no idea what to call this Chinese chicken and noodles recipe the fist time I made it, so I put off posting about it. Here it finally is! The Chinese noodles are my favorite part. This is a one pot dish, so it is easy to clean up. This Chinese food recipe serves 6.
This post may contain affiliate links. This means if you click on a link and purchase something, I may earn a small commission from it. In the footer of this page is my full disclosure policy.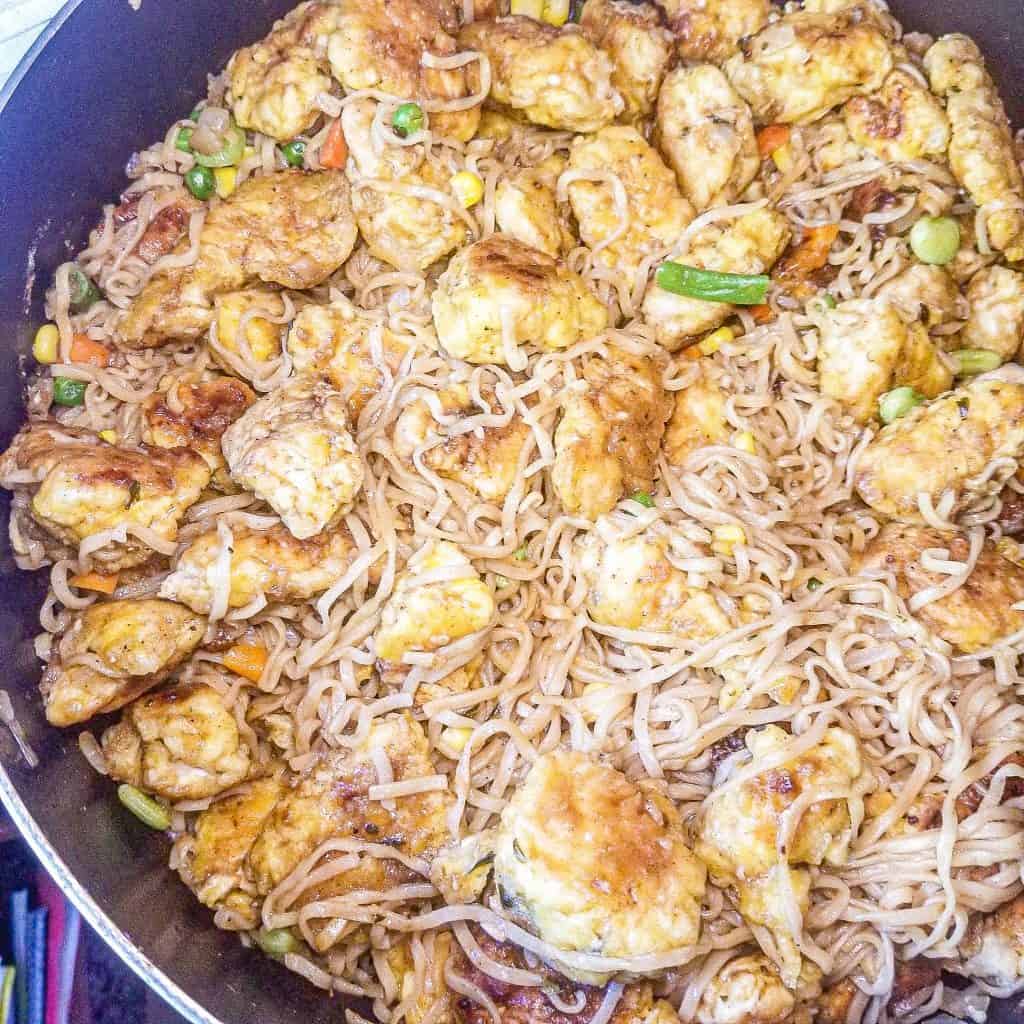 What to serve with Chinese Noodle Stir Fry:
Check out my crab rangoon recipe to go with it! This Chinese chicken and noodles recipe already has the noodles for the side dish, vegetables throughout, and chicken as the protein, so there is not many more food groups you are missing out on. This recipe is similar to my spicy ramen recipe.
What size of pot for this one pot meal?
I like to use a T-fal titanium 12 inch nonstick deep dish skillet! The reason I use a deep dish skillet instead of a large pot is for the allowance of more room for the chicken to cook evenly in this Chinese chicken and noodles recipe. Once the chicken is removed from the pot, it doubles as a pot to boil the ramen noodles in, making it a one pot meal.
Can I make this chicken recipe in advance?
Definitely! You can cook the chicken, and store it in the fridge until you are ready to make the rest of the Chinese chicken and noodles recipe! Just make sure the chicken gets heated throughout before consuming.
Variations of this Chinese chicken and noodles recipe:
Protein - you can swap the chicken out for pork or tofu!
Vegetables - add more veggies if you want more nutrients in your food. Inside of using mixed vegetables, you can also add just a specific vegetable like peas or carrots.
How do I know if my chicken breast is done?
Temp - With a meat thermometer, you can remove a piece of chicken from heat and insert the meat thermometer. If the chicken temps above 165 degrees Fahrenheit, it is done.
Cutting it open - Without a meat thermometer (I did not have one for years, click here to see the meat thermometer I have now) you can cut a slice of chicken open to see if it is done. If it is white on the inside, it is done. If the chicken is still slightly pink, let cook a bit longer.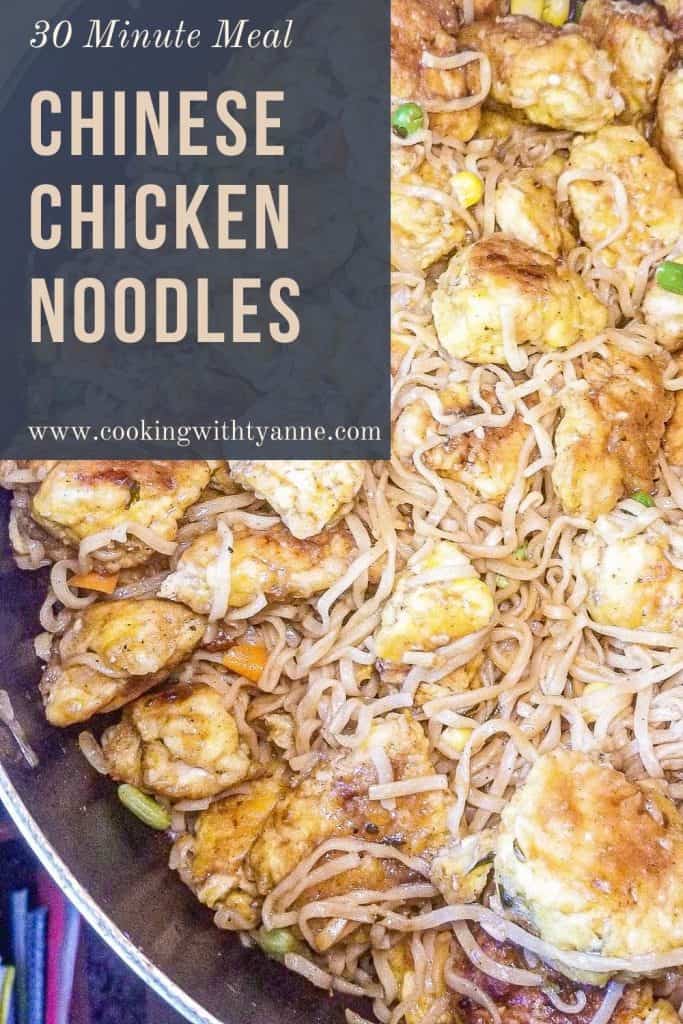 How to make chicken stir fry:
First, cook the chicken-I breaded my chicken. If you do not want to bread the chicken to save time, you do not have to. Just cook it until it is done. Remove chicken from skillet.
Next, fry the onions and garlic-garlic and onions give the dish a lot of savory flavor.
Then, cook the noodles with the onions and garlic
Finally, add chicken back into the pot with the noodles
How to store stir fry leftovers:
Fridge - store this chicken breast recipe in an air tight container in the refrigerator for up to one week.
Freezer - I have not tried freezing this recipe. If you wanted to try freezing it, let me know how it goes!
Recipe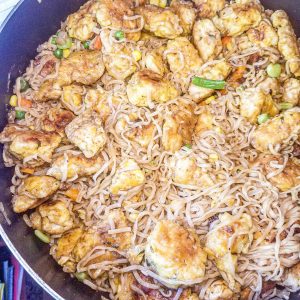 Chinese Chicken and Noodles
I had no idea what to call this Chinese chicken noodle recipe the first time I made it! This Chinese chicken stir fry is a one pot dish, so easy clean up. Tastes great if you want a Chinese meal for supper at home!
Ingredients
2

tablespoon

olive oil

plus more to coat pan

4

chicken breasts

chopped into 1 inch cubes

2

cups

flour

1

tablespoon

of the following seasonings: Italian seasoning, parsley flakes, red pepper flakes, garlic salt, pepper

3

eggs

¼

cup

minced onion

2

tablespoon

minced garlic

4

cups

water

3

packages of ramen noodles

1

cup

mixed vegetables

soy sauce and Worcestershire sauce to taste
Instructions
In a shallow bowl, place the flour and seasonings. Stir. In another shallow bowl, crack the eggs.

Pour olive oil into a large deep dish skillet over medium heat. Roll chicken pieces in flour, egg, and then flour again. Place chicken pieces in the hot skillet filling the entire skillet with chicken. Fry until chicken is golden brown on both sides, then remove chicken from skillet. Repeat until all chicken pieces are cooked. Make sure the pan always has enough olive oil to ensure even cooking of chicken.

In the same skillet, put more olive oil in the pan. Add onions and garlic. Cook until golden brown. Add 4 cups of water, bring to a boil. Once water is boiling, add noodles. Turn down heat to low. Stir noodles occasionally for about 4 minutes.

While noodles are cooking, in a microwave safe bowl, place vegetables. Cook in the microwave for 1 minute. Add to noodle mixture. Stir. Add chicken back in mixture. Stir to coat evenly. Serve your Chinese Chicken and Noodles hot!
Notes
If you feel like there is too much water in your stir fry after you add the chicken back in, you can drain some of the water out. 
---
All information presented on this site is intended for informational purposes only. Nutritional facts listed are a rough estimate and should only be followed as a general idea.