Indulge with homemade vanilla fudge that is melt in your mouth delicious! This easy-to-follow recipe combines 4 pantry staples with its smooth texture and heavenly flavor that satisfies any sweet tooth.
This post may contain affiliate links. This means if you click on a link and purchase something, I may earn a small commission from it. In the footer of this page is my full disclosure policy.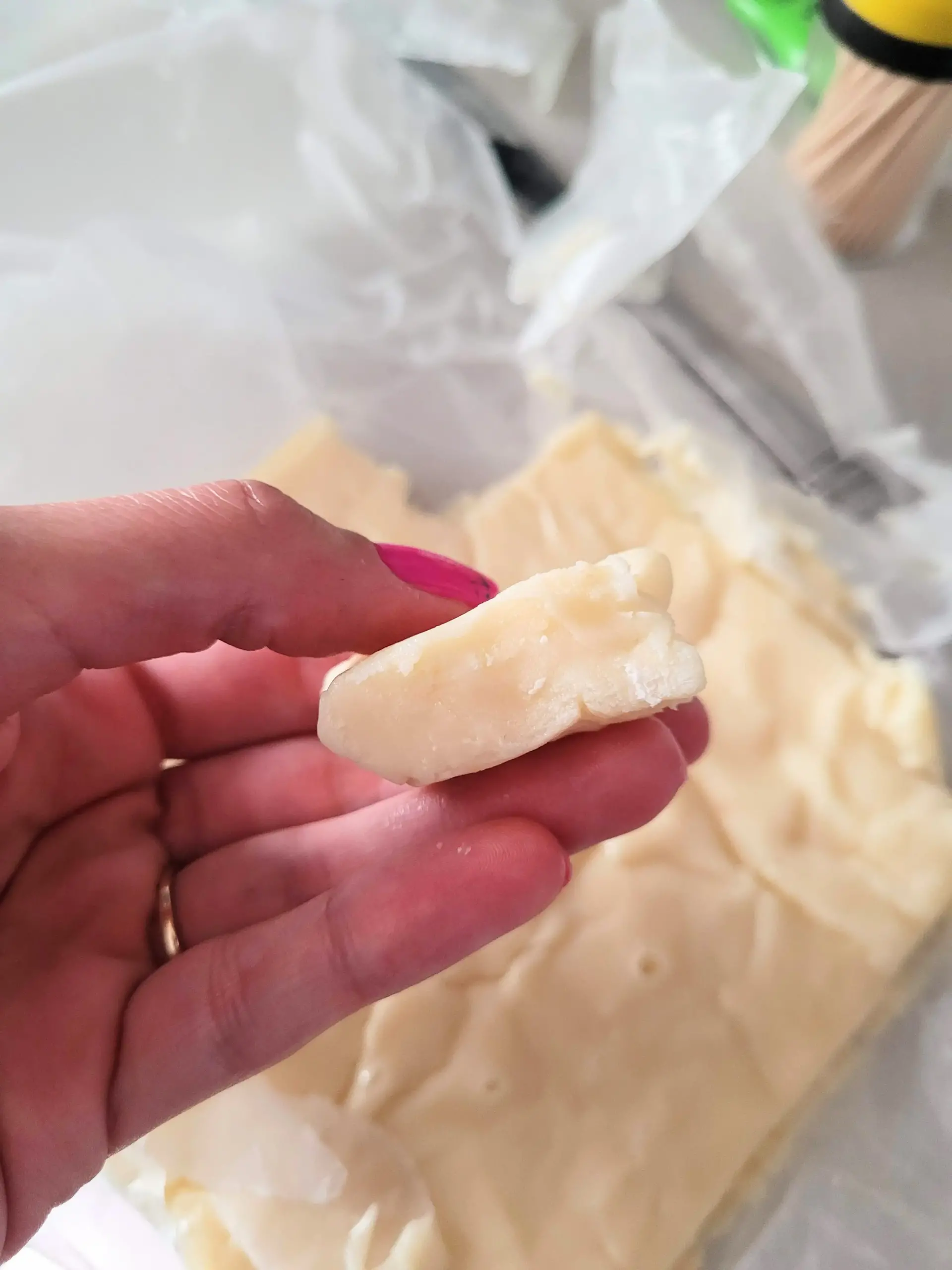 Ingredients for Vanilla Fudge:
White chips - provides sweetness and the main ingredient of the fudge
Sweetened condensed milk - adds density to the mixture and provides sweetness
Corn syrup - adds more sweetness and is clear to ensure a white finish
Butter - adds gloss to the top of the fudge
Equipment You Need:
Pot - helps melt the chips and use as a bowl for combining ingredients
Spoon - stirs the mixture
Wax paper - place in the pan so you can easily lift the fudge out for cutting
8 x 8 pan - use as mold to freeze in
How to Make Vanilla Fudge without Vanilla Extract:
Prepare pan - wax paper needs to be in the pan and cut to the correct length to ensure you will be able to lift the fudge out of the pan to cut it.
Heat ingredients - all ingredients must be heated together until they are a smooth mixture with no lumps.
Pour and cool - pour mixture into the prepared pan and let rest at room temperature. You could move straight to the freezer, however, the pan will be hot from the mixture and that could cause other items in your freezer to heat up and thaw.
Cut - lift pan out of freezer and cut into pieces. Only cut what you are eating right away though as cutting it makes the fudge dry out.
Tips for Making the Best Fudge:
How to make fudge more firm: Using more baking chips would make the fudge more dense. You could go up to 15-16 oz of baking chips.
How to make fudge soft: Using less baking chips will soften up the fudge texture
How to make uniform fudge: Use a pan that does not have curves will help each piece of vanilla fudge be straight lines. To make the top and bottom uniform, gently tap the bottom of the pan a few times on the counter to evenly distribute the mixture.
Low and slow: it is better to cook the fudge on low for a long period of time than it is to overcook too fast.
FAQs:
Can I use the microwave?
Yes, you can prepare this recipe the exact same way by heating ingredients in a microwave safe bowl stirring every 30 second to prevent burning.
Are sweetened condensed milk and evaporated milk interchangeable?
No, sweetened condensed milk is kind of like a syrup-y milk that allows us not to need half and half/heavy cream to make this candy. Evaporated milk is like regular milk that has been heated until part of it evaporates. That would not provide sweetness to this mixture.
Can I adapt this recipe for holiday seasons?
Yes. Because this recipe is white and plain vanilla, you can add any food colorings, flavorings, nuts, dried fruit, etc to be creative for the holiday seasons!
Storage Instructions:
Don't cut all the fudge - only cut the amount of you plan on eating off the fudge or else the fudge will dry out.
Store sealed in cling wrap to prevent dryness in the fridge or freezer.
Other sweet recipes:
Recipe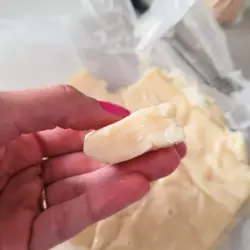 Vanilla Fudge Without a Candy Thermometer
Indulge with homemade vanilla fudge that is melt in your mouth delicious! This easy-to-follow recipe combines 4 pantry staples with its smooth texture and heavenly flavor that satisfies any sweet tooth.
Ingredients
1

tablespoon

butter

12

oz

white vailla chips

14

oz

sweetened condensed milk

1

tablespoon

corn syrup
Instructions
Cut wax paper to fit pan so that the paper is too long for the sides. This will help lift the fudge out of the pan when it is time to cut it. Place wax paper in pan.

Melt butter in pot over medium heat until melted. Add white chips. Allow chips to melt stirring occasionally to prevent sticking.

When chips are mostly melted, add sweetened condensed milk and corn syrup. Stir to combined.

When mixture has no more lumps, pour into wax paper in prepared pan. Smooth out top so the fudge is evenly distributed. Allow to sit at room temperature for at least 15 minutes to cool off before the freezer.

Place in freezer for 30 minutes. When fudge is stiff then it is done. Remove from pan by lifting the wax paper by the edges. Cut off just as much as you are going to eat/serve that day or else the rest of the fudge will dry out. Serve cold/room temp.
Nutrition
Sodium:
113
mg
Calories:
281
kcal
Fat:
12.5
g
Protein:
4.6
g
Carbohydrates:
36.4
g
---
All information presented on this site is intended for informational purposes only. Nutritional facts listed are a rough estimate and should only be followed as a general idea.