Homemade Spicy Ramen Recipe
I love anything spicy, and Ramen noodles is definitely something I only eat spicy. I usually make these homemade spicy ramen noodles a little different every time, depending on the ingredients I have on hand. The variations are endless! This recipe also tastes good when feeling under-the-weather as well. This recipe serves about 2-3 people and is 375.68 kcal per serving.
This post may contain affiliate links. This means if you click on a link and purchase something, I may earn a small commission from it.
Why you should make homemade ramen:
Ramen noodles in the package from the store have a lot of sodium! They may be a cheap college food, but the packages I have say almost 2,000 mg of sodium per serving! That is a lot of sodium considering around 400 mg is considered moderate level of sodium per serving. I find it healthier to try to make my own ramen! If you want to learn more about sodium in your diet, click here.
If you are scared of spice…
Do not be scared of this ramen either just because it is spicy! I did the spicy ramen challenge, and this heat does not even come close to that. Click here if you want to watch the video of my spicy ramen challenge. You can always cut down on the amount of seasonings if you are that scared of spice.
Check out my other soup recipes:
Favorite ingredient brands for this homemade spicy ramen noodle soup:
ramen-Maruchan
chicken broth-I made mine out of chicken bullion cubes and water
hot sauce-I used ghost pepper sauce
red pepper flakes-McCormick, unless I have sample packets from a pizza place I need to use
Variations of homemade ramen:
The flavors you can add to your soup are endless! Here are a few ideas: fresh ginger, scallion, oyster sauce, fish sauce, siracha, soy sauce, carrots, spinach, tofu, egg, pork, chicken, basil, cilantro, sesame oil, etc., just to name a few ideas if you want to flavor your ramen differently.
How to store instant ramen noodles:
fridge-store this soup recipe in an air tight container in the refrigerator for up to one week
freezer-I have not tried freezing this recipe. If you would like to try it, go for it! Let me know how it goes.
Nutrition Facts for this spicy ramen recipe:
Fat 2.79g Carbs 75.74g Sugars 4.65g Protein 14g Sodium 614.34mg Fiber 5.8g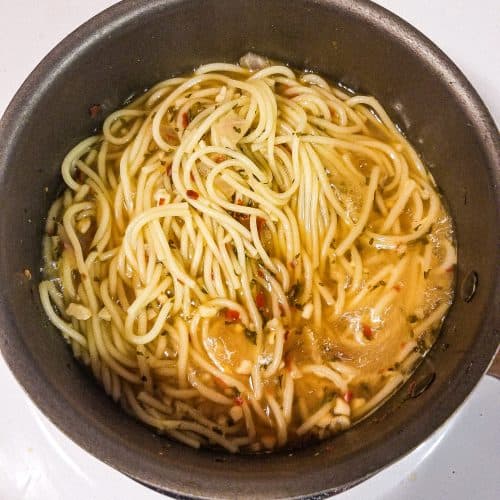 Homemade Spicy Ramen
This can be an instant ramen noodle recipe or made with angel hair pasta. This may be homemade spicy ramen, but you can customize the heat with the amount of spices to add to ramen.
Recommended Products-Click to Buy
Ingredients
2

cups

cooked leftover angel hair pasta or actual ramen noodles from the package

1 1/2

cups

of low sodium chicken broth

1/4

cups

chopped onion

2

tbsp

crushed garlic

2

tbsp

hot sauce

you can add more or less

a few shakes of red pepper flakes

spices to add to ramen to taste: cilantro, parsley, dill weed, cayenne pepper, chili powder, onion powder
Instructions
Boil everything ingredient together except the noodles for about 5 minutes.

After 5 minutes, add in desired amount of noodles. Cook for about 5 minutes if using precooked noodles or until they are soft if using uncooked noodles. Serve your Homemade Spicy Ramen hot!
Nutrition
---
All information presented on this site is intended for informational purposes only. Nutritional facts listed are a rough estimate and should only be followed as a general idea.