This air fryer bacon wrapped hot dogs recipe can also be done in the oven or grill if you do not have an air fryer. Very easy lunch recipe! Air frying hot dogs are my favorite way to cook hot dogs. Using an air fryer gives these air fryer bacon wrapped hot dogs a taste that makes you feel like they just came off the grill.
This post may contain affiliate links. This means if you click on a link and purchase something, I may earn a small commission from it.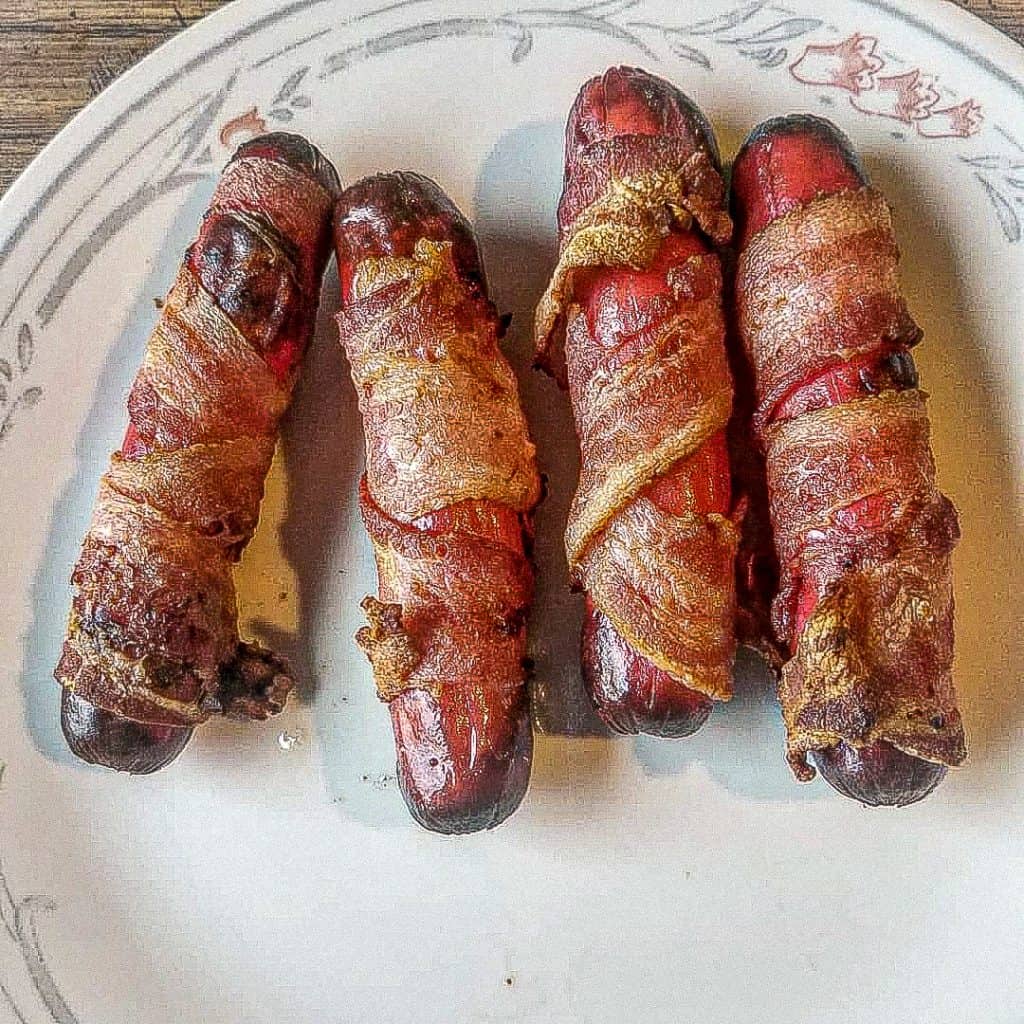 What is a hot dog wrapped in bacon called?
These hot dogs are typically called Danger Dogs by street vendors. Now you can make vendor food at home! Traditionally this meal is deep fried, but there are other cooking methods stated in this recipe that will cut down on the grease of deep frying.
Ingredients to use for this bacon wrapped dog recipe:
bacon-provides smoky bbq flavor. Thinner bacon works best.
hot dog-our main protein source. Polish dogs work too
buns-helps hold the hot dog
condiments-adds flavor on top
That is all you need! You don't need oil or butter since the bacon has enough oil to cook the hot dogs properly.
How to make bacon wrapped hot dogs:
There are a few ways you can make bacon wrapped hot dogs. If you do not have an air fryer, you can make bacon wrapped hot dogs in oven or grill.
How do you stick bacon to hot dogs? Well to make bacon wrapped dogs, first, wrap the hot dog. How do you wrap hot dogs with bacon? First, cut bacon strip in half length wise. Next, starting at one end of the hot dog, begin to wrap bacon around. Try to put bacon as tightly together as possible. Place in basket and fry according to directions.
How to cook bacon wrapped hot dogs in the oven is fairly easy. If making hot dogs in the oven, make sure to wrap the bacon tighter around the hot dog. Using the oven does not allow the bacon to hug the hot dog as much as it does when air frying. Securing bacon with toothpicks is also ideal for using the oven. You will also want to use a pan that will catch the bacon grease. Bacon wrapped hot dogs oven temp is about 375 degrees. Oven bake the hot dogs for about 15 minutes or until the hot dog center is hot and the bacon is crispy.
Bacon wrapped hot dogs grilled is another option. Prepare like normally but grill until bacon is crispy and internal temp of hot dog is hot. Grilled bacon wrapped hot dogs can be super tasty!
How to adjust recipe according to servings:
You can adjust the ingredients depending on how many people you are serving as well. It is one strip of bacon per hot dog. So if feeding 4 people then it would be 4 slices of bacon and 4 hot dogs for ingredients.
What sides go with bacon wrapped hot dogs?
Since this is a bbq style recipe, potato salad, loaded baked potatoes, bacon wrapped jalapenos, etc pair well with this dish.
What condiments pair with bacon wrapped hot dogs:
Can i add cheese on my hot dogs? Yes, sprinkle cheese on top once hot dog is warm and bacon is almost cooked. Cook until cheese is melted (about 2 minutes).
As far as combos go, potato chips and hot dogs are a classic combo! So are French fries. I like to eat my bacon wrapped hot dogs without a bun or anything on top because I feel that the bacon and hot dogs are a strong flavor and do not need anything else! You can put them in a bun with hot dog toppings like ketchup, mustard, relish, jalapenos, sautéed onions and peppers, etc. if you feel like they would taste better that way.
How to store air fried hot dogs:
fridge-store this bacon hot dogs recipe in an air tight container in the refrigerator for up to one week. How to reheat leftover hot dogs is simple. Place in the air fryer until heated throughout
freezer-I have not tried freezing this recipe. If you would like to try it, go for it! Let me know how it goes.
Recipe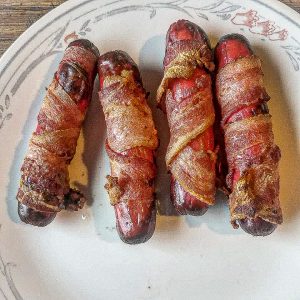 Bacon Wrapped Hot Dogs
Bacon Wrapped Hot Dogs are a very simple, delicious meal! Hot dogs with bacon in air fryer goes a lot quicker than using the oven! This wrapped dog recipe should take no longer than 15 minutes to make.
Ingredients
4

hot dogs

4

strips of bacon
Instructions
Wrap bacon around hot dogs tightly, and place in an air fryer basket. You can use a toothpick to secure it if you would like. Air fry at 350 degrees for about 10 minutes or until as crispy as desired.
Nutrition
---
All information presented on this site is intended for informational purposes only. Nutritional facts listed are a rough estimate and should only be followed as a general idea.