Air fryer twice baked potatoes are a fast way to make baked potatoes! Why twice baked potatoes? They like regular baked potatoes but with bacon and cheese really take the side dish to another level!
This post may contain affiliate links. This means if you click on a link and purchase something, I may earn a small commission from it. In the footer of this page is my full disclosure policy.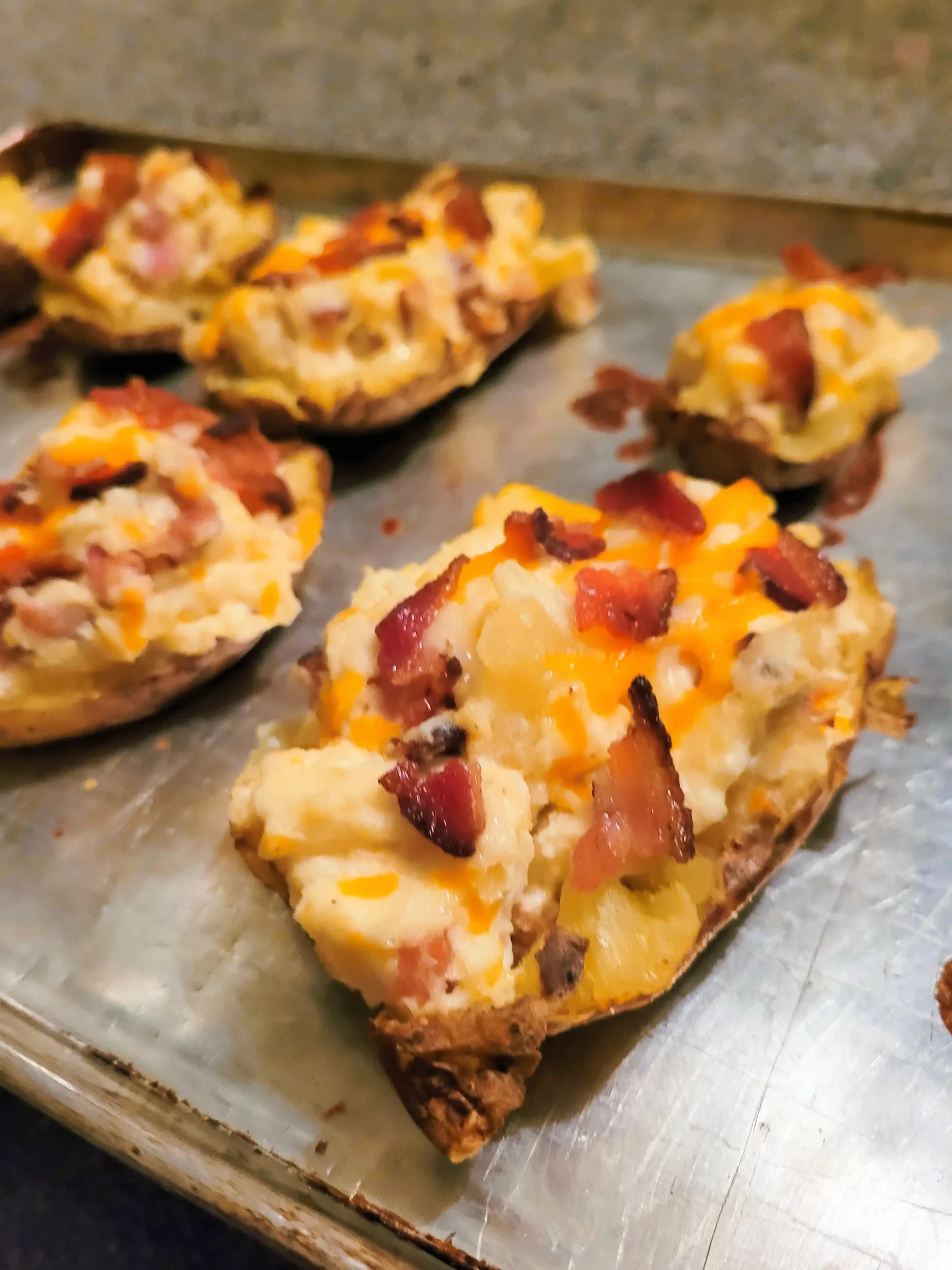 What are twice baked potatoes?
Baking something twice sounds redundant, but it makes sense in this recipe! The potatoes are baked one as baked potatoes, then the insides are scooped out and baked again with other yummy ingredients. Making twice baked potatoes using the air fryer is pretty comparable to loaded mashed potatoes, cheesy hashbrowns, or loaded fries in terms of flavor.
Why you will love this recipe:
Air fryer - no need to heat up your whole house using the oven for this recipe!
Side dish - pairs well with meat, veggies, seafood, pretty much anything!
Ingredients - this recipe doesn't require more than 4 ingredients
Ingredients you will need:
Potato - russet potatoes work best because of the study skin.
Stuffing - cream cheese, cheddar cheese, bacon and spices make up the stuffing portion.
Topping - extra ingredients of cheese and bacon and spices go on top!
How to make twice baked potatoes in the air fryer:
Air fry the potatoes - I like to coat mine in olive oil and add some salt and pepper to them. Make sure to stab enough holes in the potatoes so they don't explode!
Scoop out insides - I use a knife and cut a border around the edges of my potato that is split in half. This makes it easier for me to scoop out because then the skin doesn't break by force. You can use a hand mixer to mash the potatoes to be more fluffy.
Add ingredients to insides - this is what makes the potatoes really good. Place all in a large bowl and stir.
Stuff and bake again - this will help melt the cheese. The cheese will already be somewhat melty by the heat of the potato insides, but this will really allow the flavors to blend more.
How to cook in the oven?
This baked potato recipe can be made in the oven if you do not have an air fryer. It will just take twice as long. Follow the same directions but just use the oven instead of an air fryer and baked on a sprayed 9x13 baking sheet.
Tips for the best twice baked potatoes:
What are the best potatoes to use?
Even though some people might argue that golden potatoes taste better, russets still have sturdier skins and are best for twice baked potatoes.
How do I prevent the skins from falling apart?
Make sure to poke holes in your potato while cooking the first time so the potato doesn't explode through the skins. The holes are made small enough with a fork that they still allow the skin to stay intact enough to hollow out the inside later.
You don't need to scoop out the whole inside of the potato and have it just be skin left. Doing so would lose some of the shape. You can leave a hint of potato in the inside to help the baked potato stay in the shape of a baked potato.
Why is my potato gummy?
Potatoes can get gummy if they are baked for too long. Make sure to lower the cooking temperature cooking the second time around. The second cooking time is just to blend the flavors together, not to cook the potato.
Can I use leftover potatoes?
You can make this with leftover baked potatoes preparing the same way, obviously you do not have to recook the entire potato in step 1 though.
Variations of stuffed air fryer potatoes to try:
Add butter - this recipe is for air fryer twice baked potatoes without butter, but if you wanted to add butter to the inside contents of the potato skin for extra flavor, you can do that
Add milk - twice baked potatoes without milk does make the blend of the inside contents a bit harder. You can add milk for easy stirring.
Extra cream cheese - more cream cheese is definitely an option for more creaminess!
Add sour cream - this recipe is for twice baked potatoes without sour cream, but you can add sour cream for extra creaminess as well.
Omit cream cheese - you can take out the cream cheese and add sour cream for a more cost effective option
Make vegetarian - bacon is not for everyone. You can still make this potato recipe without bacon and have it taste good.
Serve and Top with:
Potatoes and steak, pork chops, and pulled pork go quite nice together! Almost like how they are served at a steakhouse. Shrimp and potatoes also pair well for a more elaborate dinner.
Top the potatoes with the inside stuffing toppings like bacon, cheese, and cream cheese. You can add sour cream, chives, scallions, etc, if you would like as well.
Can you make twice baked potatoes ahead of time?
Yes, prepare potatoes to be cooked for the second round, but then place in the fridge in a sealed container until ready to heat for the final round of baking.
How to store twice baked potatoes with Philadelphia cream cheese:
Fridge - store this twice baked potatoes with cream cheese recipe in an air tight container in the refrigerator for up to one week. Reheat in the microwave or air fryer until heated throughout.
Freezer - can twice baked potatoes be frozen? Yes you can put the potatoes in foil and freeze them. Let thaw in the fridge and reheat in the air fryer!
Recipe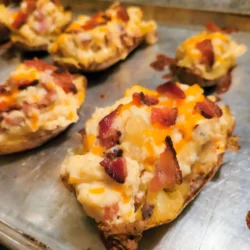 Air Fryer Twice Baked Potatoes
Air fryer twice baked potatoes are an excellent side dish to accompany any meal.
Ingredients
4

russet potatoes

8

oz

cream cheese

1

cup

cheddar cheese

+ extra for garnish

½

cup

cooked, crumbled bacon

+ extra for garnish

1

teaspoon

of each: salt, pepper, garlic salt
Instructions
Using a fork, stab each potato all over to create vents. Place in air fryer basket. Air fry for 15 minutes at 400 degrees or until fork can easily penetrate through the potato. If using the oven, bake at 400 degrees for about 25 minutes.

When potatoes are cooked, cut each potato in half. Along the edges of the potato skin, cut a border in the inside of the cooked potato. This will help the skin not break while scooping out inside contents.

Using a spoon, scoop out inside of potato contents and place in a bowl. Add remaining ingredients. Stir until combined. Using a spoon, stuff potato skins with mixture from bowl. Sprinkle extra bacon and shredded cheese on top. Place back in the air fryer (you might need to do this in batches) at 350 for about 5-8 minutes or until cheese on top is melted. If using oven, bake at 350 for 10-12 minutes.
Nutrition
Sugar:
4.45
g
Calories:
527.98
kcal
Fat:
37.96
g
Protein:
16.28
g
Carbohydrates:
31.64
g
---
All information presented on this site is intended for informational purposes only. Nutritional facts listed are a rough estimate and should only be followed as a general idea.