I love spicy foods, but I am not a fan of the texture of an entire jalapeno, so I was a little hesitant to make these Bacon Wrapped Jalapenos air fryer. I ended up really enjoying this pepper popper appetizer though. It does not taste like eating a whole jalapeno!
These easy jalapeno poppers are a great appetizer if you are feeling something savory with a hint of spice. You can air fry these whole stuffed jalapenos instead of the oven too! At the time of first making this bacon wrapped jalapenos air fryer recipe, I did not have an air fryer so I used my oven.
This post may contain affiliate links. This means if you click on a link and purchase something, I may earn a small commission from it.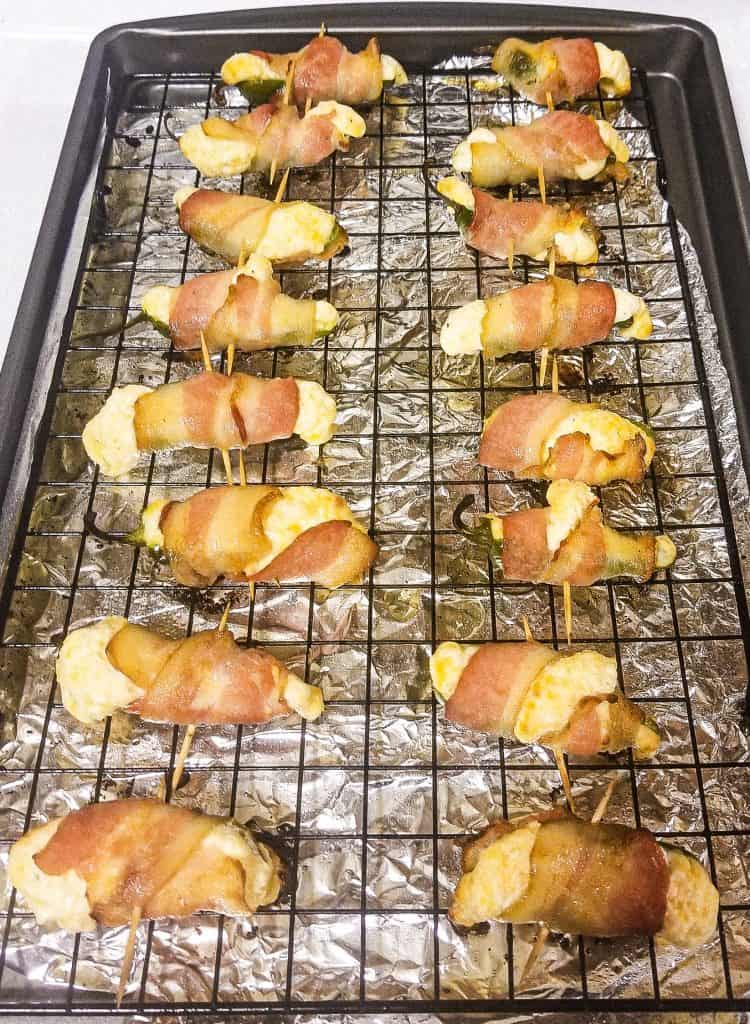 What to serve after this bacon jalapeno appetizer:
carbs-I like eating carbs after this spicy appetizer because I think it cuts down on the heat if my mouth is a little on fire still.
protein-burgers or steak tastes excellent after eating these cream cheese jalapeno poppers
Will I notice a difference in my pepper poppers using the air fryer or using the oven?
Yes, you will notice a difference when using the air fryer compared to the oven. The bacon clings to the jalapeno better on the air fryer. With using the oven, the bacon does not take the shape of the jalapeno as well. The air fryer also make the bacon more crispy. Regardless of which ever heating appliance you use, it will still taste excellent. I have tried both and it worked out well.
An air fryer would make them more crisp and cut down on cooking time by at least half. If you need reasons to get an air fryer, click here.
Variations of these bacon wrapped jalapenos air fryer recipe:
omit bacon-you can make this a vegetarian appetizer if you take out the bacon!
change up the spices-the spices listed are the spices I like to personally add. If you want to spice the cream cheese mixture your own way, go for it!
change up the cheese-you can add in ricotta or fresh mozzarella or any other cheese to the cream cheese mixture to change it up in this bacon wrapped jalapenos air fryer recipe.
How to make bacon wrapped jalapenos poppers not spicy:
Not everyone likes spice, which is very unfortunate if you're like me who would enter a chili pepper eating competition and having to cook for people who like things more mild. Luckily, it is a pretty easy fix to get rid of most of the spice: deseed the jalapeno for the ones who do not like spice, and leave the seeds in for the ones that like spice.
Deseeding the jalapeno does work! I take all the seeds out of my jalapenos when I made this bacon wrapped jalapeno recipe, and no one in my family complains that their mouths are on fire.
If you want more heat, just leave some seeds in!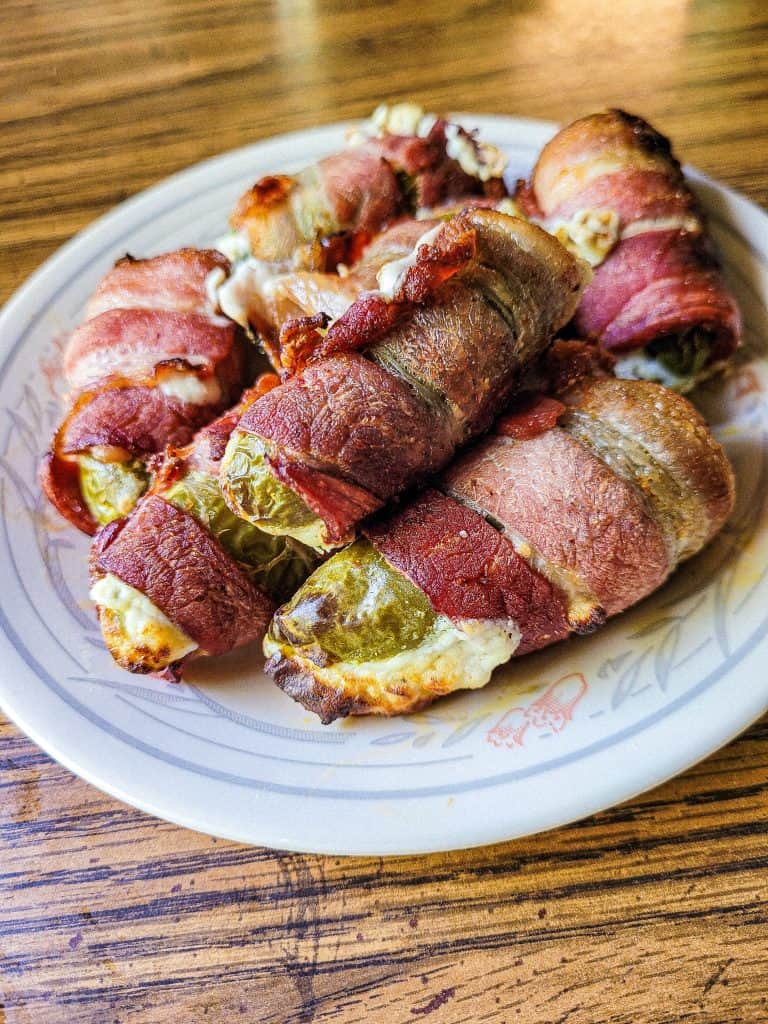 How to store bacon wrapped jalapeno poppers:
fridge-store this appetizer in an air tight container in the refrigerator for up to one week
freezer-I have not tried freezing this bacon wrapped jalapenos air fryer recipe, but if you wanted to try it, go for it! Let me know how it goes.
Check out my other recipes with jalapenos:
Recipe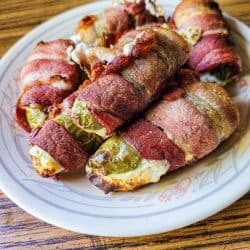 Bacon Wrapped Jalapenos
Bacon Wrapped Jalapenos in the oven! Spicy and savory in every bite of these easy jalapeno poppers.
Ingredients
8-10

small jalapenos

6

oz

block of cream cheese

16-20

strips of bacon

seasons to add at the amount of your choosing: salt, pepper, Italian seasoning, celery salt
Instructions
Cut jalapenos in half length wise and de-seed them.

Mix together cream cheese and seasonings in a small bowl.

Using a small spoon, scoop up some cream cheese mixture and scoop into a jalapeno.

Wrap the jalapeno in bacon and secure with a tooth pick.

Place stuffed jalapenos on a wire rack on a baking sheet or in the air fryer if going that route.

Bake at 400 degrees in the oven for about 15 mins or until the bacon is crispy. If air frying, air fry for about 5-7 minutes or until bacon looks done. Serve your Bacon Wrapped Jalapenos warm!
---
All information presented on this site is intended for informational purposes only. Nutritional facts listed are a rough estimate and should only be followed as a general idea.