Potato salad is a quite delicious side dish no matter the occasion! What is deviled egg potato salad? It is like regular potato salad but has boiled eggs in it. Deviled eggs and potato salad have the same base of mustard and mayo so combining the two concepts is quite easy. This recipe is made best with cold, leftover boiled potatoes.
This post may contain affiliate links. This means if you click on a link and purchase something, I may earn a small commission from it. In the footer of this page is my full disclosure policy.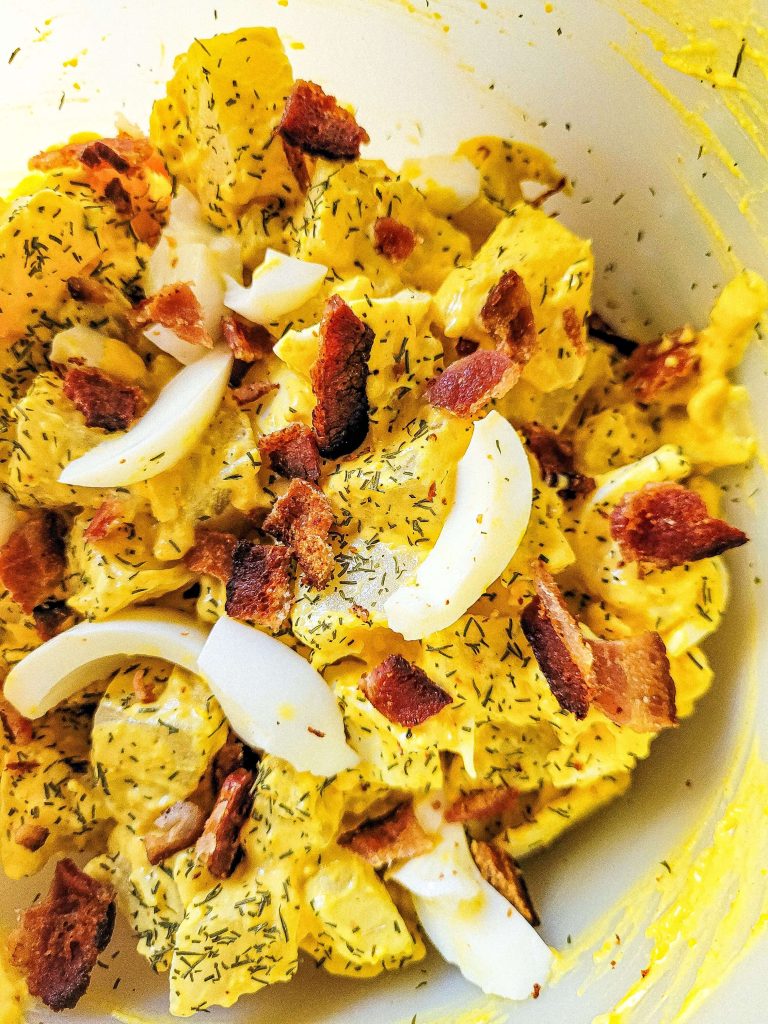 Ingredients for deviled egg potato salad:
Potatoes - need to be boiled, cooled, and cubed
Mayo - the creamy part, I prefer real mayo but miracle whip is also a dressing option
Mustard - what makes the salad yellow
Dill pickles - provides a crunch
White vinegar - what makes it taste like egg salad
Bacon - optional but does provide protein and a smokey flavor
Boiled eggs - adds an egg salad touch
How to make deviled egg potato salad:
Combine all ingredients except eggs - eggs have to go last or else they break apart
Cut eggs - cut eggs using an egg slicer or use a knife to cut in strips, add to mixture
Let chill - the chilling is necessary as it just tastes better chilled!
What potatoes do I use for potato salad with eggs?
Yellow potatoes are best if you want a softer potato bite. Russets are less expensive though and would also work just as good.
What to serve with Deviled Egg Potato Salad?
Any holiday food goes great with potato salad. Prime rib, ham, steak, fried chicken, etc, you name it, all go with it! Potato salad also is a great option for a picnic as well. It goes great with hot dogs, baked beans, macaroni salad, and rolls.
Tips for making excellent Deviled Egg Potato Salad with Dill:
How do you make deviled egg potato salad is fairly simple, but there are some tips for making it taste excellent:
Cooled potatoes - it can be easy to miscalculate time and boil potatoes for egg salad
Homemade pickles - store bought pickles taste good in potato salad, but homemade pickles really take the cake! I have an amazing pickle recipe posted on my website.
Taste test - different people like their seasonings differently. If you wanted to taste test your deviled egg potato salad as you go along, that would ensure it will be the best to your taste buds.
Variations of deviled egg potato salad with pickles:
Omit pickles - pickles aren't for everyone. You can omit them if you would like or add sweet relish instead.
Add bacon - deviled egg potato salad with bacon is pretty good! Adding bacon gives it a smokey flavor. It also provides more protein.
Omit mayo - if you don't like mayo then you can make a substitue with sour cream instead. It might take a little more tangy.
Different seasonings - you can use any seasonings you want to this recipe to customize it to your own taste.
FAQs
Can You Make Deviled Egg Potato Salad Ahead of Time?
Yes, potato salad tastes best when it is made ahead of time by at least an hour and has had time to chill. Do not make several days in advance though or else the bottom can get watery.
How to boil eggs for potato salad:
Boil eggs as usual. Usually I place my eggs in a large pot and pour in enough water to cover the eggs fully. Turn pot on high heat. Once boiling, set timer for about 15 minutes. When the timer goes off, remove from heat and drain the hot water out. Pour cold water over the eggs. Let eggs cool in water. Peel.
How long is deviled egg potato salad good for?
Deviled egg potato salad lasts about 5 days in the fridge in a sealed, air tight container. I would not recommend freezing this recipe because the mayo might separate.
Check out my other salad recipes:
Recipe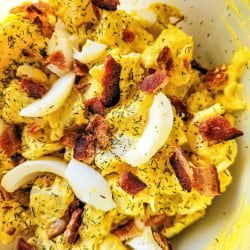 Deviled Egg Potato Salad
Deviled Egg Potato Salad is perfect for any holiday gathering or picnic!
Ingredients
5

russet potatoes

boiled, cooled, and cubed

¾

cup

mayo

¼

cup

mustard

2

tablespoon

white vinegar

1

dill pickle

chopped

3

cooked bacon crumbled

optional

½

tablespoon

of each: salt, pepper, celery salt, dill

6

boiled eggs

cooled
Instructions
In a large bowl, gently combine all ingredients except for boiled eggs.

On a cutting board, cut boiled eggs in strips width wise. Add to large bowl mixture and gently stir to combine.

Cover bowl with a bowl cover and place in the fridge for about 30 minutes to let flavors marinate. Serve deviled egg potato salad cold.
Nutrition
---
All information presented on this site is intended for informational purposes only. Nutritional facts listed are a rough estimate and should only be followed as a general idea.