Chicken nuggets in air fryer are a great way to keep your kids eating their favorite foods, but without the preservatives and nitrates processed chicken nuggets have. What these chicken nuggets are made of is NOT that disgusting pink slime. These chicken nuggets are dairy free and have no bread crumbs. Since these chicken nuggets are without bread crumbs, they taste similar to chicken nuggets like chick fil a or McDonalds.
This post may contain affiliate links. This means if you click on a link and purchase something, I may earn a small commission from it. In the footer of this page is my full disclosure policy.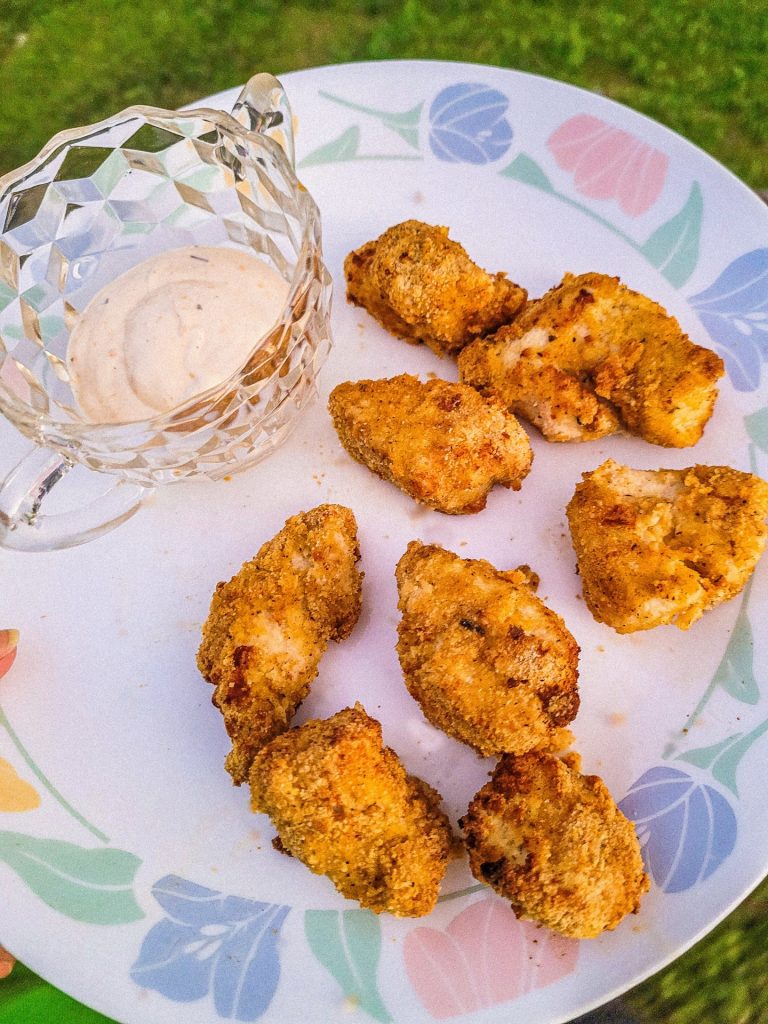 What to serve with air fryer chicken nuggets:
Chicken nuggets and chips go hand in hand! Kids really like chicken nuggets and fries from McDonalds, so why not make fries and chicken nuggets for kids at home with less preservatives? If you want to live more on the healthier side, corn or cooked carrots can also be side dishes to accompany these chicken nuggets in the air fryer as well.
Dipping sauces are also a good idea to serve with chicken nuggets. Common dipping sauces include: ketchup, mayo, sriracha, mustard, sweet and sour sauce, etc.
Check out my other chicken breast recipes:
How chicken nuggets are made:
Making chicken nuggets in air fryer is not a complicated process.
pour ingredients into respective bowls-there will be 2 ingredient bowls used for this chicken nuggets in air fryer recipe.
coat chicken in flour mixture-let chicken set aside 5 minutes to set from mixture. This will help the flour soak up moisture from the chicken.
coat chicken in egg mixture-this will help the flour stick
roll chicken in flour mixture again-let chicken set an additional 5 minutes to allow flour mixture to set
air fry chicken-the chicken nugget internal temp after air frying should be above 165 degrees. How long to air fry chicken nuggets? I like to air fry for about 4 minutes per side.
Variations of chicken nuggets
gluten free-you can make gluten free chicken nuggets by slightly modifying this chicken nuggets in air fryer recipe.
using the oven-not everyone has an air fryer, but chicken nuggets baked is a good alternative if you are one of those people still without an air fryer.
cornflakes-you can still make chicken nuggets without bread crumbs by adding crushed cornflakes instead if you want your nuggets more crunchy. Chicken nuggets with cornflakes do not taste as sweet as you would think.
grilled-grilled chicken nuggets can also be an option. I would recommend cutting your chicken in strips if you are wanting to use the grill instead. This will make it easier to pickup with grilling tools. Prepare like you would as if you were using the air fryer for chicken nuggets, but place on the grill instead. Cook until golden brown on both sides and cooked throughout.
pound the chicken-pounding the chicken before cutting it into smaller pieces would give you more of the traditional fast-food style chicken nugget look.
add extra flour-when your nuggets get one resting the 2nd time, you can sprinkle remaining flour on top of them for additional coating if you want to.
How to tell when chicken nuggets are done in air fryer:
I know my chicken nuggets are done in the air fryer when they are golden brown on both sides. To be 100% sure they are done, I also like to cut one open within the batch and see if there is any pink in the center. If there is, then I put the chicken nuggets in the air fryer for another 2 minutes. If you have a meat thermometer, you can also just temperature check the chicken nuggets in air fryer. When they are done, they will temp above 165 degrees. The good part about chicken nuggets compared to other parts of the chicken is that they do cook a lot faster being in smaller pieces.
How to store chicken nuggets:
fridge-store this chicken nuggets in air fryer recipe in an air tight container in the refrigerator for up to one week. Chicken nuggets can be reheated if you just pop them in the microwave after being in the fridge.
freezer-this nugget recipe can be a freezer meal! Allow fully cooked nuggets to cool. Once cool, place in a single layer on a 9 x 13 baking sheet and freeze until froze all the way through. Then, place in a freezer container or bag until ready to reheat and eat. You can air fry frozen chicken nuggets to reheat them.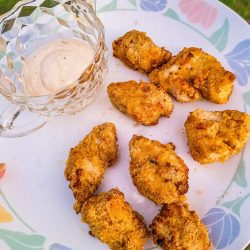 Chicken Nuggets in Air Fryer
Kids love chicken nuggets, so why not make them at home! Homemade chicken nuggets that taste like fast food nuggets are a family favorite.
Ingredients
3

cups

chopped chicken breast

1 ½

cup

flour

2

eggs

1

tablespoon

each of the following spices

chili powder, celery salt, thyme, basil, oregano, garlic powder
Instructions
Preheat air fryer to 400 degrees

In one bowl beat egg. In another small bowl, stir together flour and seasonings. Roll chicken breast in the flour mixture and let set on a plate for about 5 minutes for the flour to soak up the moisture.

After 5 minutes, roll chicken cubes in egg mixture and back into the flour mixture until fully coated. Let set another 5 minutes on the plate.

After rest time is up, place chicken cubes into sprayed air fryer basket. Air fry chicken nuggets for about 4 minutes each side or until they temp at 165 degrees and are fully cooked throughout.
---
All information presented on this site is intended for informational purposes only. Nutritional facts listed are a rough estimate and should only be followed as a general idea.