Chicken patty in air fryer is a family favorite! No more spending money on expensive bags of chicken patties when you can make them at home for less than half the price. This recipe is for how to make chicken patty from scratch, so no preservatives here! Chicken patty on a bun is a childhood favorite meal. At the end of the recipe, there is directions on how to freeze the patties for future use.
This chicken patty in air fryer post may contain affiliate links. This means if you click on a link and purchase something, I may earn a small commission from it. In the footer of this page is my full disclosure policy.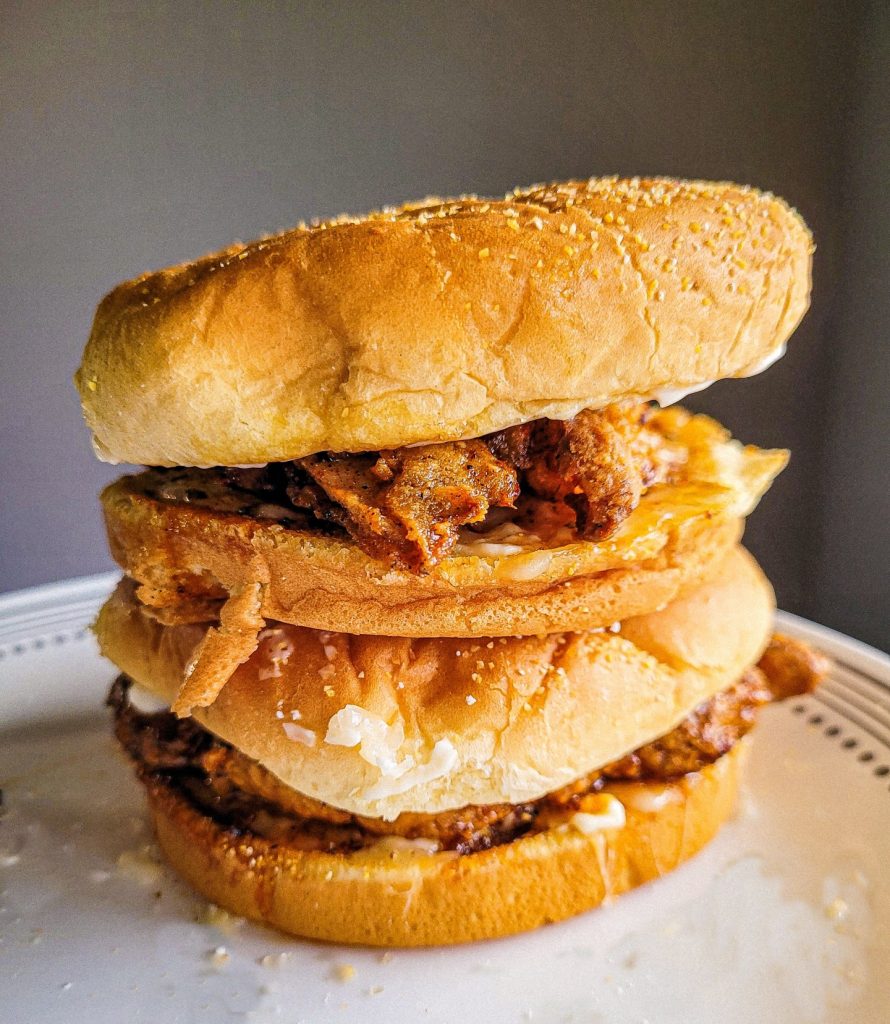 Check out my other chicken recipes:
How to make chicken breast go a long ways:
Chicken breast can get expensive, so I try to make my chicken breast go a longer ways than normal. To do this, I put the chicken in a sealed plastic bag and pound the chicken with a meat mallet. The plastic bag helps contain the chicken juices. This helps keep counters clean and allows more of a peace of mind that there is not going to be chicken bacteria in the kitchen.
Pounding the chicken makes the breasts bigger allowing more volume of chicken. You could easily make 2 patties out of each chicken breast if you pounded them thin enough. Then, I remove the chicken from the plastic bag and cut the bad parts off. Finally, I cut the chicken breast in half. Then I make the rest of it according to the chicken patty in air fryer recipe directions.
What goes with chicken patty sandwiches?
I think the most obvious choice a chicken patty in air fryer goes with is french fries. This is kind of like a McDonalds meal at home without as much grease. If your air fryer is big enough, you can make them in the air fryer too. Tater tots, potato chips, mashed potatoes, etc are also options to serve with your air fried chicken patty. Vegetables such as brussel sprouts, green beans, or asparagus can also be a great side.
How to cook chicken patty in air fryer:
pour ingredients into respective bowls-there will be 2 ingredient bowls used for this chicken patty in air fryer recipe.
coat chicken in flour mixture-let chicken set aside 5 minutes to set from mixture. This will help the flour soak up moisture from the chicken.
coat chicken in egg mixture-this will help the flour stick
roll chicken in flour mixture again-let chicken set an additional 5 minutes to allow flour mixture to set
air fry chicken-the chicken patty internal temp after air frying should be above 165 degrees.
Variations of chicken patty on a bun:
add egg-you can make this a chicken patty and egg sandwich by adding a fried egg to the top of your chicken patty.
buttermilk instead of egg-buttermilk can be a substitute to help the flour stick to the chicken instead of making chicken patty with egg.
add bread crumbs-this chicken patty without bread crumbs recipe can be made with bread crumbs if you really wanted to. Instead of going back into the flour mixture after the egg mixture, drench patties in bread crumbs instead. How to bread chicken without crumbs is pretty similar to breading a chicken patty with crumbs, just change the last step.
use the oven-this recipe is for a chicken patty in air fryer, however, not everyone has an air fryer. If you happen to be one of those people, just bake your chicken patty in the oven instead. Chicken patty oven temp is about 375 degrees and cook time is probably about 20 minutes.
How to store chicken patties:
After cooking the chicken patty in air fryer, I like to place the leftovers in an air tight bag and put in the fridge. They typically stay good in the fridge for about a week.
Can I freeze the chicken patty? If wanting to make this a substitute for every day Tyson chicken patties, place fully cooked patties in a single layer on a 9 x 13 baking dish. Freeze them until they are hard. Then, place in a bag or air tight container and store in the freezer until ready to eat. To reheat, place patty in the microwave for about 60 seconds or until heated throughout.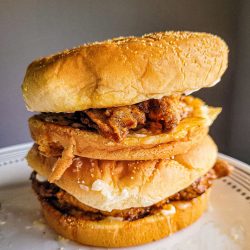 Chicken Patty in Air Fryer
Chicken patties in the air fryer taste super yummy no matter the time of day.
Ingredients
4

chicken breasts

pounded ¼ inch thick and cut in 2

1

egg

1

tablespoon

hot sauce

1

cup

flour

1

tablespoon

of the following spices

oregano, paprika, basil, garlic powder, and thyme
Instructions
Preheat air fryer to 400 degrees.

In a small bowl, beat egg and hot sauce together. In another small bowl, stir together flour and spices.

Roll chicken breasts in flour mixture. Let then rest on a plate for 5 minutes. Then, roll in egg mixture, and then roll back in flour mixture again. Let rest for an additional 5 minutes.

Place chicken breasts in the sprayed air fryer basket for about 8 minutes each side. Serve chicken patties from air fryer by themselves hot or on a bun with lettuce, mayo, tomatoes, or any other toppings you desire.
---
All information presented on this site is intended for informational purposes only. Nutritional facts listed are a rough estimate and should only be followed as a general idea.