Baked Herb Chicken can be made with or without cheese! This is a 30 minute meal that only requires 4 ingredients excluding the spices! This recipe can be a freezer meal as well.
This post may contain affiliate links. This means if you click on a link and purchase something, I may earn a small commission from it. In the footer of this page is my full disclosure policy.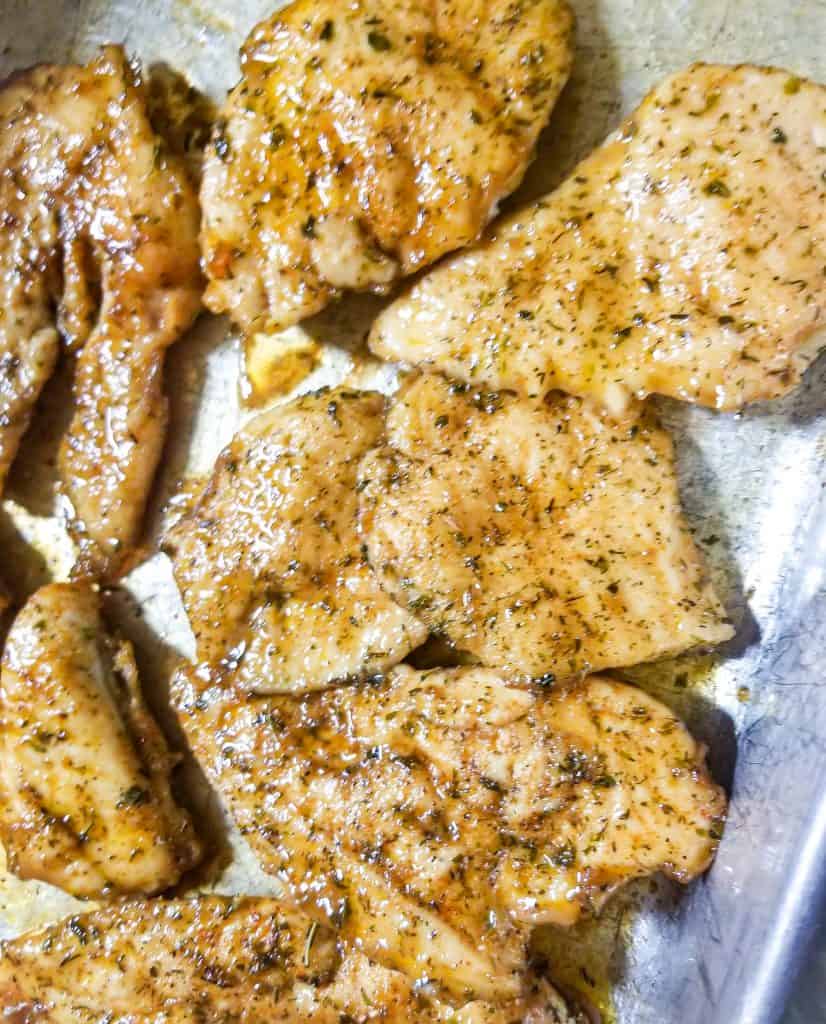 Ingredients:
Chicken - for the directions, we will be using chicken breast. This recipe can be made with other parts of the chicken such as chicken quarters, but the cook time will be longer for those
Olive oil - helps herbs stick to chicken
Brown sugar - adds a little bit of sweetness
Herbs - provide the herb flavor and title of recipe
How to cook:
Make herb mixture - stir together brown sugar and herbs in a small bowl.
Rub oil - rub chicken breasts with olive oil mixture to help herbs stick
Sprinkle herbs - sprinkle herb mixture on both sides of the chicken breast. Rub in with your hands.
Bake - bake chicken breast until it temps at 165 degrees.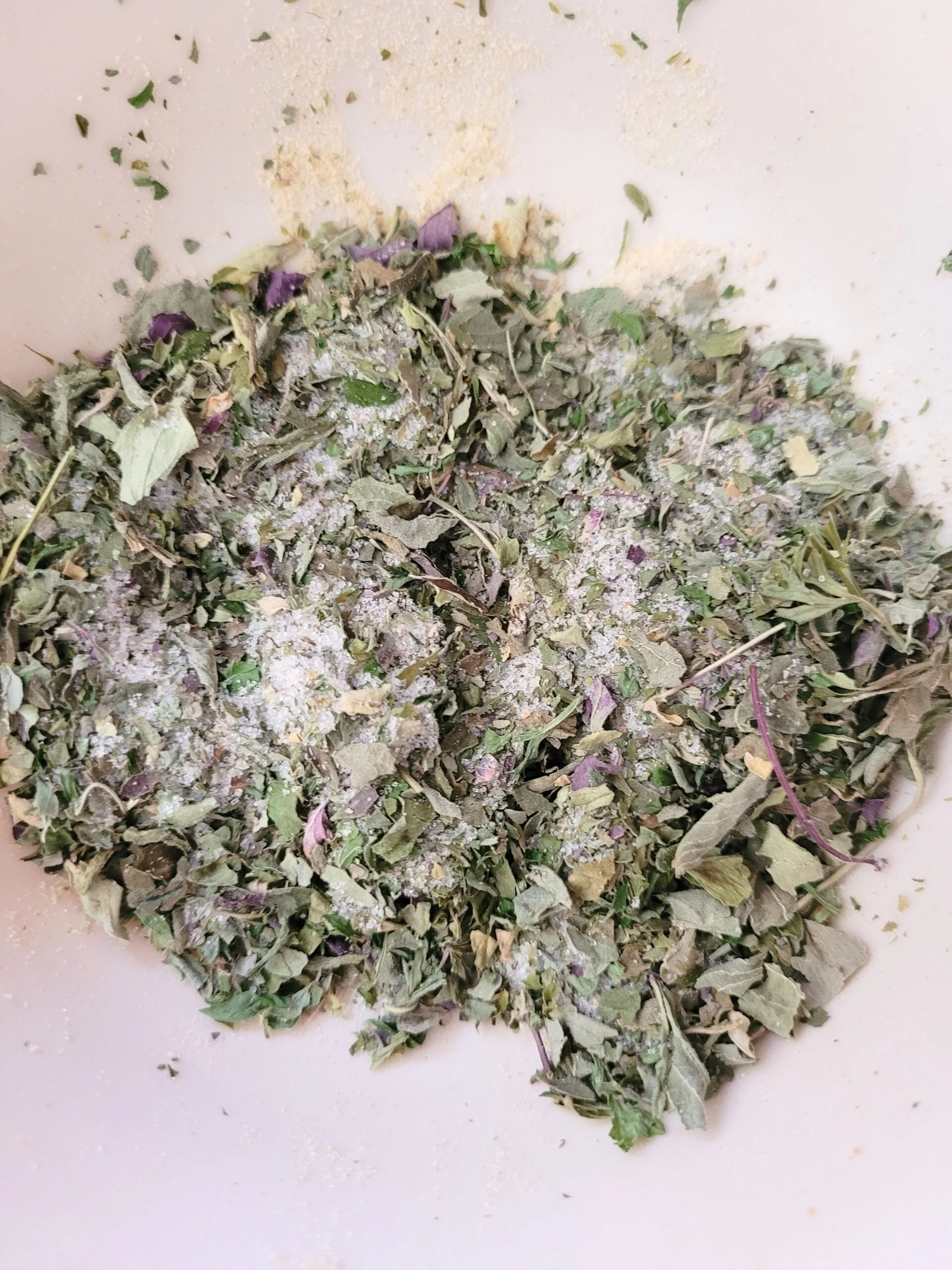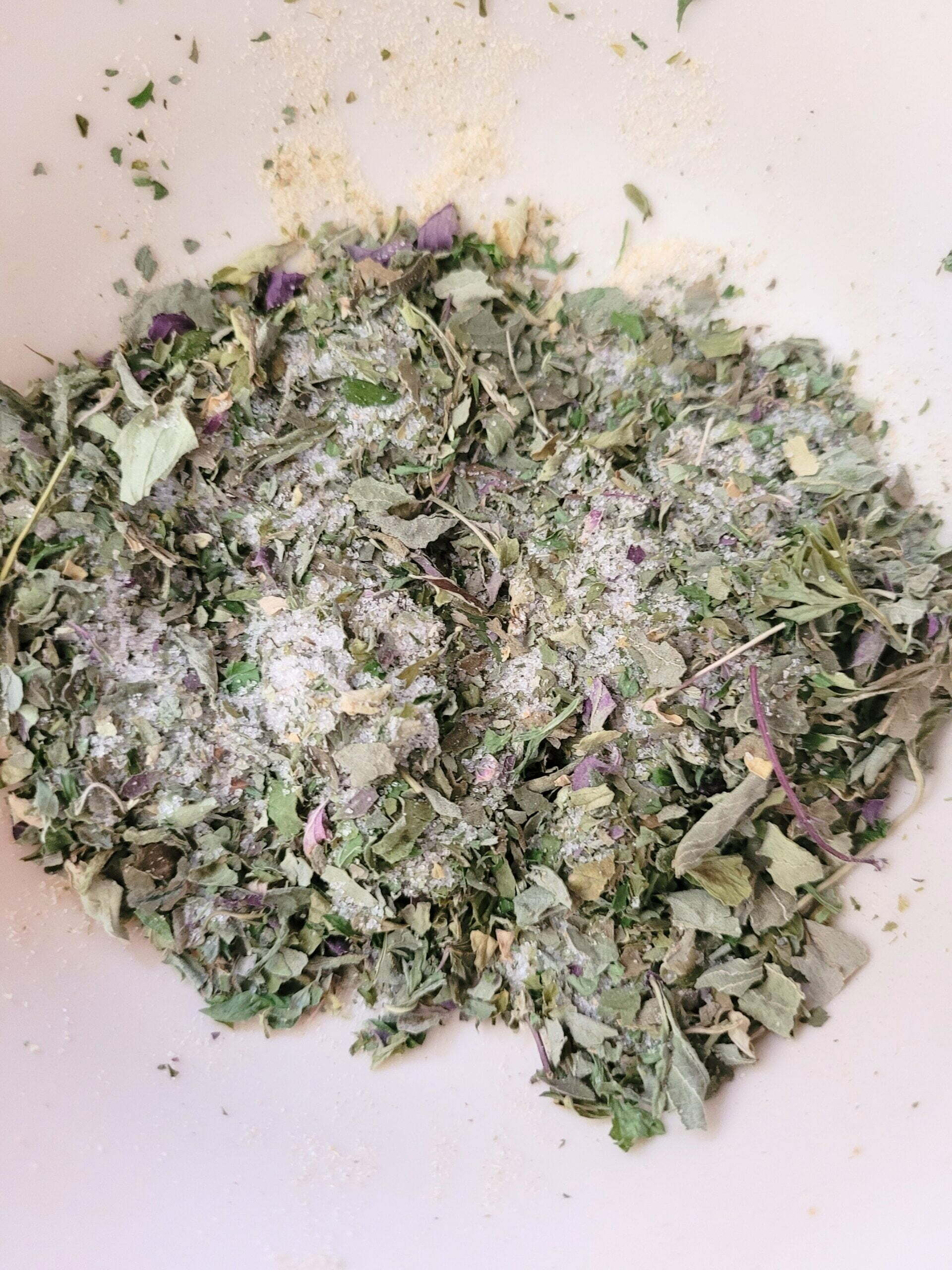 What kind of pan do I need?
I recommend placing this baked herb chicken in a 9 x 13 baking dish that has edges. It does get a lot of oil in the bottom of the pan, so having taller edges on this dish helps it from overflowing. It would most likely not overflow if using a regular 9 x 13 baking dish, but in order to take it out of the oven with the oil in the bottom of the pan, I just find it easier to do it this way.
If you wanted to use a drip pan with an elevated rack, you can also use that as well.
What to serve with herb garlic chicken:
I like to serve this 30 minute meal with some form of potato and/or vegetable! Potatoes could include French fries, baked potatoes, sweet potato fries, hashed browns, and the list is endless! Vegetables like brussels sprouts, green beans, peas, etc would also pair well.
How to know if my chicken is done:
To tell if the chicken is fully cooked, can be done in the following ways:
temp-With a meat thermometer (click here to see the one I recommend), you can remove a piece of herb chicken from heat and insert the meat thermometer. If the chicken temps above 165 degrees Fahrenheit, it is done.
cutting it open-Without a meat thermometer (I did not have one for years) you can cut a slice of chicken open to see if it is done. If it is white on the inside, it is done. If the chicken is still slightly pink, let cook a bit longer.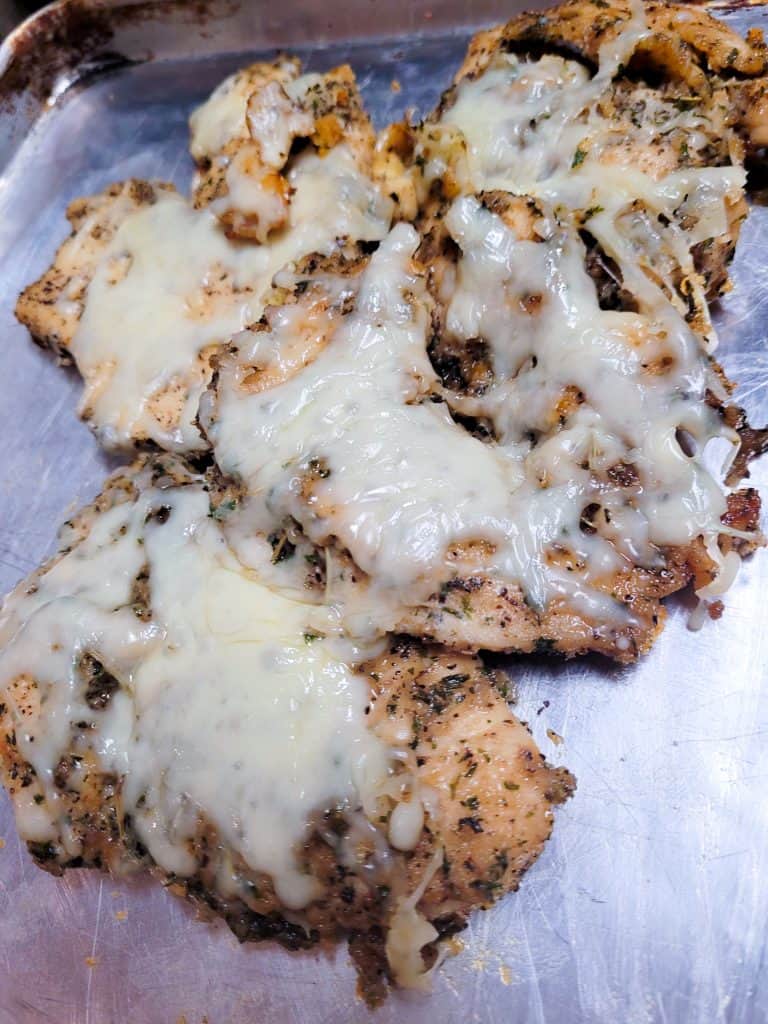 Variations of herb with chicken:
Omit cheese - As seen in the first picture, this herb chicken looks pretty good without cheese! Cheese does add more flavor, but omitting the cheese cuts down on calories if that is something you are into.
Cut chicken into fillets - this would result in more chicken for more people.
Pound chicken - you can pound the chicken out to make a little chicken go a longer way by making it bigger.
Other cheese - you can use cheddar or another cheese besides mozzarella if you so wish.
Add other spices - if there is a spice I did not mention, you can use that as well! The more herbs and spices, the better!

How to store chicken with herbs:
Fridge - store your herb chicken in an air tight container in the refrigerator for up to one week. Recently, I have been using the glass ones that are all the same size so they stack better. If you can get a set of these for under $25, you are in luck!
Freezer - chicken with herbs can be a freezer meal! Just bake as usual, and let cool. Then, place in a freezer safe container. Reheat by letting thaw in the fridge for a few hours. Place on plate in the microwave for about 1-2 minutes or until heated throughout. You can always add a few drops of water on top as well to prevent dryness.
If you like this chicken recipe, check out my other chicken recipes:
Recipe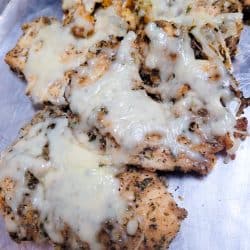 Herb Chicken in Oven
This Herb Chicken breast recipe is a 30 minute meal and would pair well with veggies. Simple recipe as it only requires 4 ingredients excluding spices!
Ingredients
4

chicken breasts

1

cup

mozzarella cheese

Olive oil for drizzle

1

tablespoon

brown sugar

¼

teaspoon

of the following spices:

¼

teaspoon

thyme, garlic salt, oregano, parsley, salt, pepper, basil, rosemary
Instructions
Spray a 9x9 pan with cooking spray.

In a small bowl, mix together sugar and all the spices, so there are no more clumps.

Rub the chicken breasts with the oil. Then, rub them with the spice mixture. Place in the sprayed baking pan. Cook at 425 degrees for about 15-17 minutes.

When baking time is up, test to see if they are cooked throughout by taking the temperature with a meat thermometer. It should read 165 degrees or more. If they are not fully cooked yet, put back in oven for a few minutes. If they are cooked throughout, sprinkle cheese on top of chicken and broil on low for about 3 minutes. Serve your Herb Chicken hot.
Nutrition
---
All information presented on this site is intended for informational purposes only. Nutritional facts listed are a rough estimate and should only be followed as a general idea.