This baked Cajun Chicken is so moist and topped with the perfect amount of cheese. This breaded chicken breast recipe only requires six ingredients. This is one of the best chicken recipes I have ever made. You could probably use other parts of the chicken if you don't have any chicken breast on hand.
I actually made this a freezer meal for my parents when I was making frozen meals for them for when I left to go back to college. They loved it, so this recipe is freezer friendly.
This post may contain affiliate links. This means if you click on a link and purchase something, I may earn a small commission from it.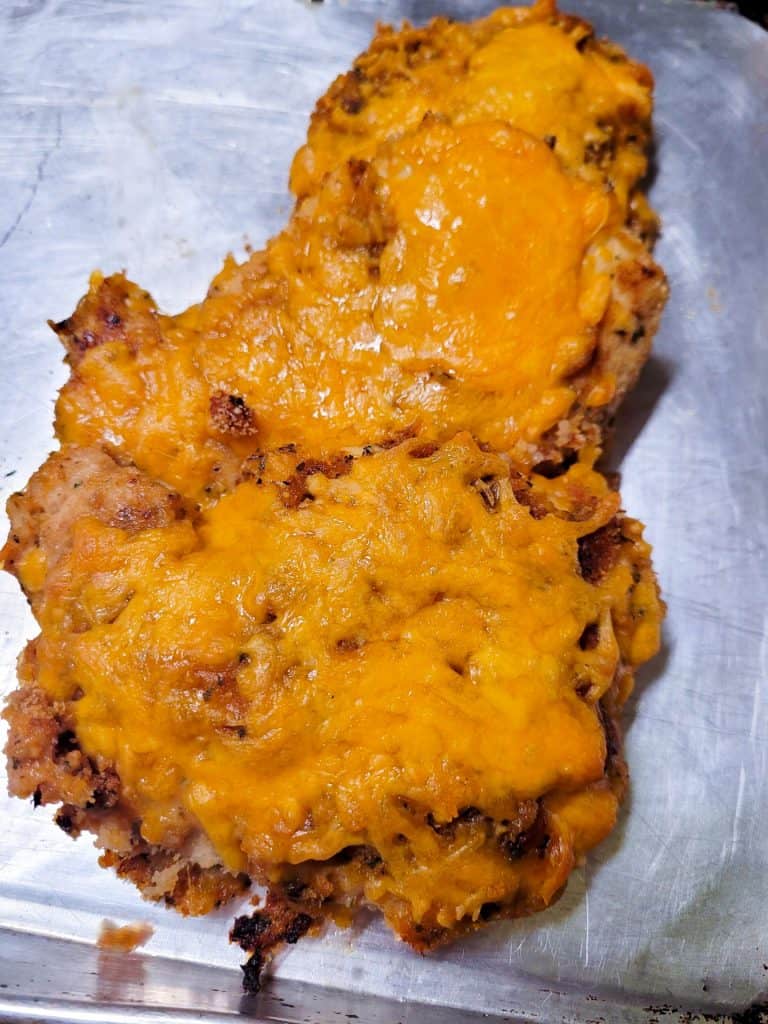 This recipe is similar to my chicken breast recipes: Chicken Francese, Herb Chicken, and Garlic Parmesan Chicken
Chicken breast - Tyson or buying local! We have been buying local lately and saving a lot of money by going that route.

Mayo and cheese - mayo helps the cheese stick

Parsley and Cajun - for seasoning

Bread crumbs - for texture, you can make your own! I make mine out of saltines or Ritz crackers
How to make excellent Baked Cajun Chicken:
Stir mixtures together - The mayo mixture keeps chicken moist and the coating from falling off. The coating is what gives the baked Cajun chicken flavor.
Roll chicken - roll chicken in mayo mixture then roll in bread crumb mixture.
Bake - bake until chicken temps at 165 degrees.
Tips and FAQs
How do I know when my baked cajun chicken is done?
Temp - With a meat thermometer, you can remove a piece of chicken from heat and insert the meat thermometer. If the chicken temps above 165 degrees Fahrenheit, it is done.
Cutting it open - Without a meat thermometer (I did not have one for years) you can cut a slice of chicken open to see if it is done. If it is white on the inside, it is done. If the chicken is still slightly pink, let cook a bit longer. I highly recommend using the cutting method if cooking chicken thighs. Sometimes thighs can hold in blood. By slicing them open, it releases the blood.
What to serve chicken breasts with?
Mashed potatoes, french fries, corn, green beans, anything a starch or vegetable.
What does Cajun taste like?
Cajun is kind of spicy like chili powder and smokey like paprika with aromatic flavors like garlic and onion.
When do I put the chicken on the pan?
When the pan is sizzling hot. Do not put the chicken on any earlier than when the pan is ready to cook the meat.
Can I use chicken thighs?
Yes, you can use chicken thighs, just make sure to adjust the cook time as it might take longer. Also, poke holes in the top of the thighs as they cook so the fluids under the skin can drain out.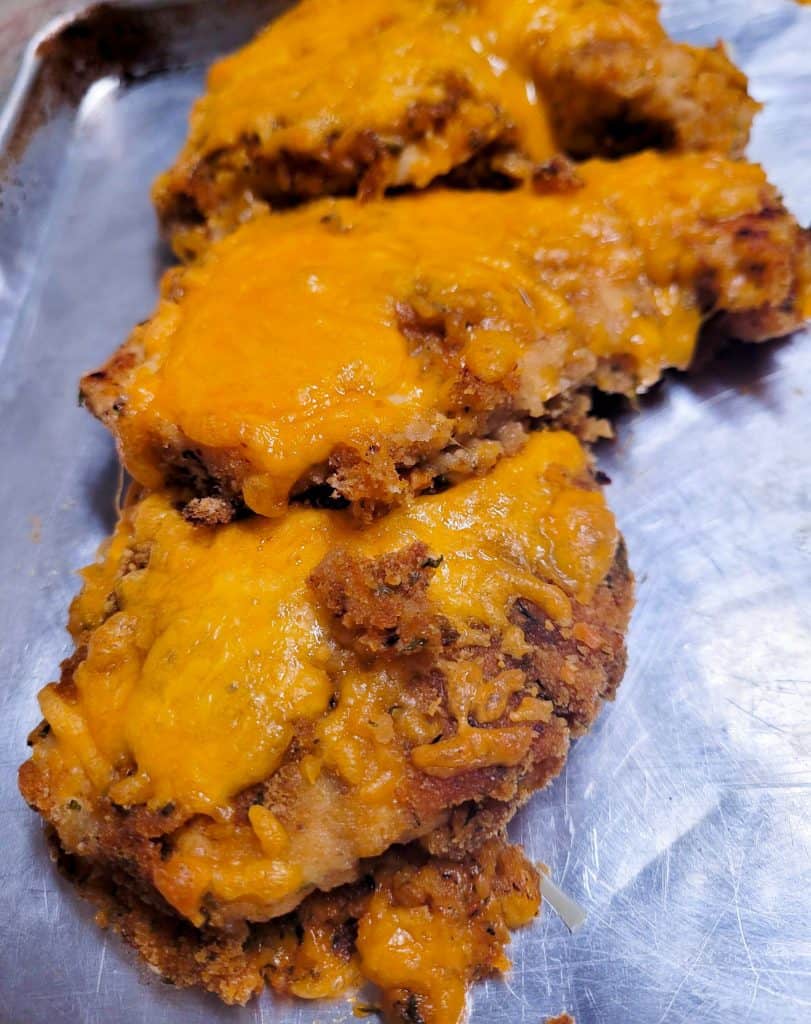 Variations of this Baked Cajun Chicken recipe:
More cajun spice - If wanting more flavor, shake more cajun powder on!
Use different cheeses - if wanting more than just cheddar cheese, try other cheeses!
Cooking method - you can air fry these or fry them in a skillet instead of baking. Just make sure that they are cooked thoroughly.
How do I store Cajun Chicken?
Fridge - store this chicken breast recipe in an air tight container in the refrigerator for up to one week
Freeze - this recipe can be a freezer meal! Follow directions as normal and remove chicken from pan and place into a freezer tray with a lid. Once cool, place in the freezer for up to one month. To serve, place it in the oven at 400 degrees Fahrenheit for about an hour or until heated throughout
Recipe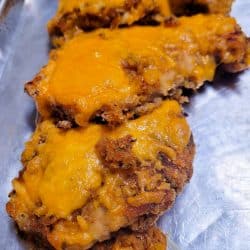 Cajun Chicken Breasts
This moist Cajun Chicken is a 30 minute meal, and it baked in the oven! This is an easy cheese and chicken breast recipe for dinner. Requires only 6 ingredients.
Ingredients
3

lbs

thawed chicken breast, in large fillets

1

cup

mayo

3

tablespoon

Cajun seasoning

¾

cup

cheddar cheese

plus extra for the top

¼

cup

parsley

plus extra for garnish

½

cup

bread crumbs
Instructions
In a small bowl, stir together mayo, Cajun seasoning, and parsley. In a separate bowl, combine cheddar cheese and bread crumbs.

Using a knife, spread this cream mixture on the chicken breasts evenly coating them. Sprinkle both sides with bread crumbs/cheddar cheese mixture.

Place chicken breasts onto a sprayed baking sheet. Bake at 425 degrees for exactly 20 minutes or until cooked thoroughly. Chicken should temp at 165 degrees when done. Do not over bake. Serve your Cajun Chicken Hot.
Nutrition
---
All information presented on this site is intended for informational purposes only. Nutritional facts listed are a rough estimate and should only be followed as a general idea.