The rosemary really adds to this Creamy Chicken and Mushrooms dish! Only one pot used the whole time, so it definitely saved me time on dishes. Even if you don't like mushrooms, I know you will love this garlic mushroom chicken. I am not big into mushrooms, but I still enjoyed this dish! Baby bella mushrooms work best here. This garlic mushroom chicken recipe serves about 4 people.
This post may contain affiliate links. This means if you click on a link and purchase something, I may earn a small commission from it.
This chicken breast recipe is similar to Chicken Francese, Chicken in White Sauce, and Bacon Wrapped Stuffed Chicken
Favorite brands to use for this recipe:
chicken breasts-we have been buying locally from a butcher. This has saved us a lot of money!
flour-this will coat the chicken
butter-stick butter
mushrooms-the whole or precut ones
chicken broth-I make mine with bullion cubes and water
seasonings-McCormick
corn starch-this will help thicken the sauce
Parmesan cheese-also helps thicken sauce
heavy cream-provides a creamy base
Variations of garlic mushroom chicken:
air fryer chicken-the stove is not always necessary to cook chicken. You can easily air fry the breaded chicken in whole pieces and have them fully cooked in 10 minutes. Then, cut up the breaded chicken fillets to put in the sauce.
oven bake chicken-this will take a bit longer, but using the oven is another way to cook chicken.
more or less garlic-I don't believe there is such thing as too much garlic! If you want to add more garlic than me, you definitely can! If you are not a garlic lover though, you can always reduce the amount.
add more spices-I have quite a few spices in this dish. If you want to add even more spices you think are delicious, go for it.
reduce spices-Since I have a lot of spices in this dish, it can be a bit flavorful for some. If that sounds like you, decrease the spice amount.
substitute heavy cream-I hardly ever have heavy cream on hand. If you don't either, you can use a substitution recipe. If you need a substitute, click here.
vegetables-you can add tomatoes, spinach, or even olives to the gravy for more health beenfits and flavor.
more parmesan-adding more parmesan can definitely be an option!
Overview of how to make creamy chicken and mushrooms:
bread and cook the chicken-this is vital to do before making the sauce since it is a one pot meal.
cook garlic and mushrooms in same pan-then remove them and place on the same plate as the chicken
make white sauce-this will be your base
Add remaining ingredients, then dump chicken and mushrooms back to white sauce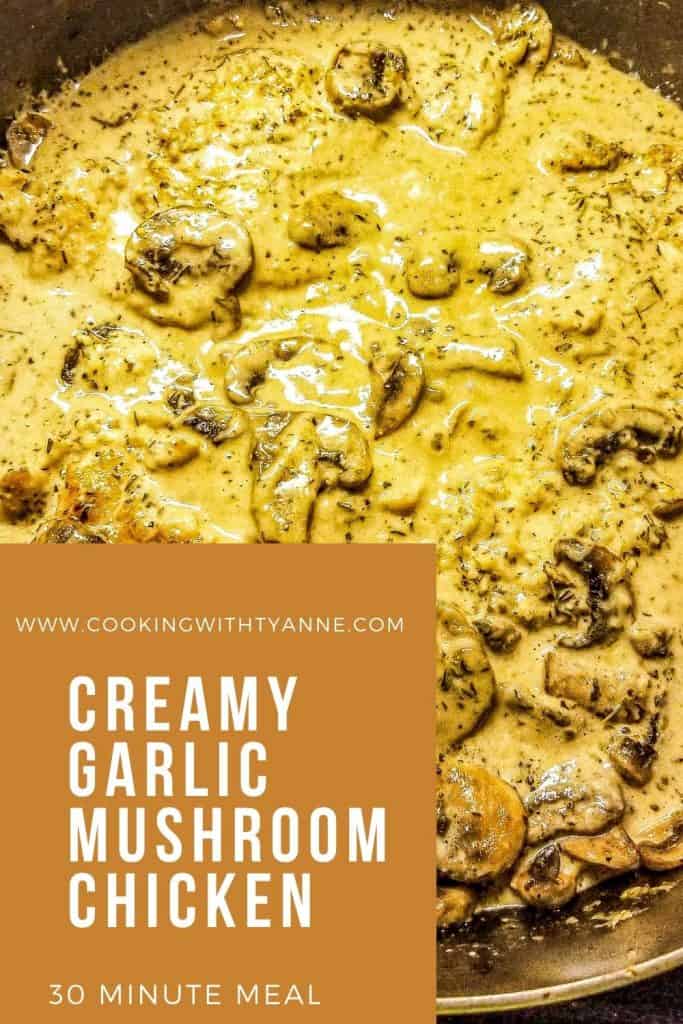 FAQs about Chicken in Mushroom Gravy
Can I make this mushroom chicken recipe in advance?
Yes, there are parts of this garlic mushroom chicken recipe you can make in advance to save time later.
chicken fillets-you can always cook the chicken fillets in advance before making the rest of the mushroom sauce.
mushrooms-cut mushrooms into slices in advance.
How to know when chicken is done?
You know chicken is done when the meat thermometer temps at 165 degrees or higher. You can also check for doness by a chicken piece in half and seeing a fully white inside with no pink.
Do I cut the stem off the mushrooms?
You can skip the step of cutting the stem off your mushrooms. The stem softens as the gravy cooks and you hardly know it is there!
How to cook chicken evenly:
By tenderizing meat with a meat mallet until it is the same thickness throughout before cutting, ensures that there is not going to be pieces of chicken getting done faster than others. To tenderize, place a few chicken breasts in a plastic bag and seal the air out. Hit chicken with meat mallet until the chicken is all the same thickness.
How to store chicken with mushroom sauce:
fridge-store this creamy parmesan garlic mushroom chicken in an air tight container in the refrigerator for up to one week. Reheat leftovers in the microwave.
freezer-I do not recommend storing this skillet chicken with mushroom sauce in the freezer due to the heavy cream content.
What to serve with creamy chicken and mushrooms:
I really like making mashed potatoes with this recipe! Since the dish has a mushroom sauce, you do not need to make a gravy for the mashed potatoes. French fries would also be excellent because they can be dipped in the sauce. If going the veggie route, broccoli or brussel sprouts would be healthy.
Recipe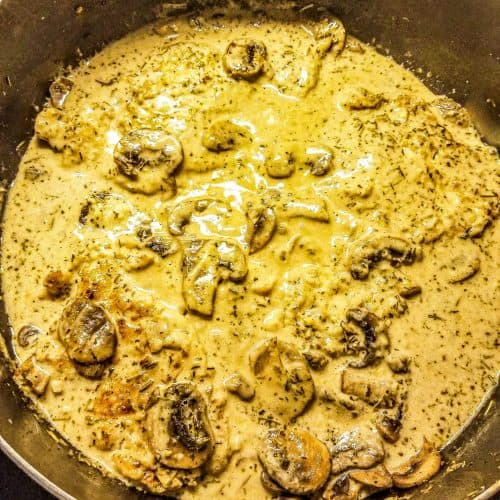 Creamy Chicken and Mushrooms
The rosemary really adds to this Creamy Chicken and Mushrooms dish! Only one pot used the whole time, so it definitely saved me time on dishes. Even if you don't like mushrooms, I know you will love this dish. I am not big into mushrooms, but I still enjoyed this dish!
Ingredients
2

medium chicken breasts

pounded into about ¼ inch thickness

¼

cup

flour

garlic salt and pepper to season

2

tablespoon

olive oil

4

tablespoon

butter

8

oz

chopped mushrooms

2

tablespoon

garlic

1

cup

chicken broth

½

cup

water

1

teaspoon

of each: thyme, rosemary, oregano, Italian seasoning, and basil

2

teaspoon

corn starch

1

tablespoon

lemon juice

1

tablespoon

spicy mustard

¼

cup

parmesan cheese

½

cup

heavy cream

2

tablespoon

parsley
Instructions
Place flour, garlic salt, and pepper in a shallow bowl. Roll chicken breasts in flour mixture. Place olive oil in a large sauce pan with deep edges over medium heat. Add in chicken breasts. Cook chicken breasts until golden on both sides. They should be done when a meat thermometer reaches 165 degrees. Take chicken out of pan and place on a plate.

Add butter to same pan. Let melt. Add mushrooms and garlic to pan. Cook until mushrooms are soft. Replace mushrooms and place on chicken plate.

In the same sauce pan as before, add chicken broth, water, thyme, rosemary, oregano, Italian seasoning, basil, corn starch, and spicy mustard. Stir. Bring to a boil.

Add parmesan cheese, heavy cream, and parsley. Stir. Reduce to medium heat. Add back chicken and mushrooms into the sauce pan
---
All information presented on this site is intended for informational purposes only. Nutritional facts listed are a rough estimate and should only be followed as a general idea.