Chicken breast stuffed with spinach artichoke dip, wrapped in bacon=Bacon Wrapped Stuffed Chicken. 3 of the best flavors (spinach, artichokes, and bacon) in 1 dish.
This recipe is a healthy and delicious dinner idea for any night of the week.
The spinach artichoke stuffed chicken is a great dish to make if you're on the lookout for something light, but still satisfying. This dish is perfect for any night of the week, as it's easy to prepare and cook in about a half hour. It depends on how fast you are at wrapping chicken! Spinach artichoke stuffed chicken can also be prepped in advance, so it's perfect if you're hosting a party or have guests coming over.
This spinach artichoke stuffed chicken recipe serves 6.
This post may contain affiliate links. This means if you click on a link and purchase something, I may earn a small commission from it.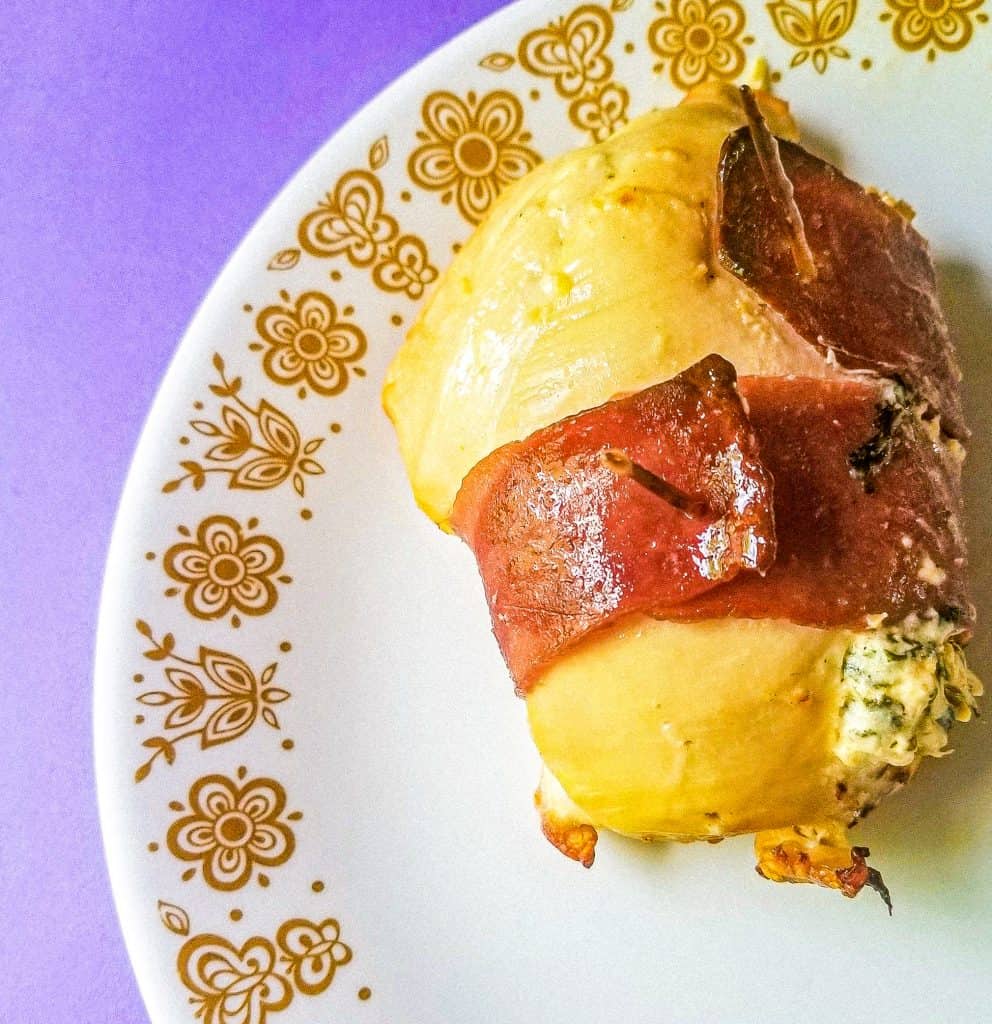 Main ingredients to use for this chicken breast wrapped in bacon recipe:
spinach-I use fresh spinach
cream cheese-I like to use the name brand here.
artichoke hearts-marinated artichokes work best
bacon-For this recipe I used Jenny O Bacon turkey. Not sponsored, but I think this is the best turkey to use for this bacon wrapped chicken recipe. They have a resealable package so I liked that part as well. I just like turkey bacon because it does not cook as stiff. Any bacon would work though.
Helpful tips for stuffed chicken breast
use large chicken breasts-small chicken breasts do not stuff as nicely so it would be very difficult to try and make the filling fit.
cutting the breast properly-I found that by cutting open the thickest part of the chicken breast, works a lot better than trying to cut open the edge of the thinnest part of the breast to stuff it. You can also butterfly the breast and stuff it that way if you like to butterfly your meat.
using turkey bacon-Pork bacon can sometimes get too stiff in the oven. Turkey bacon remains nice and chewy though after baking. That is why I prefer turkey bacon for wrapping chicken breast in this spinach artichoke stuffed chicken recipe.
What to serve with spinach artichoke stuffed chicken:
There are so many flavors in this chicken dish, that it can be hard to even think about a side dish by the time the chicken is in the oven. You can make stuffed chicken with brussel sprouts if you want a green side. I prefer to eat this dish with a vegetable or french fries. A canned vegetable is quick and easy to heat up and french fries do not take long to cut and cook.
Variations of this spinach stuffed chicken recipe:
omit artichokes-not everyone likes artichokes, and spinach and cream cheese taste great together without it if you do not like them or do not have them on hand
omit bacon-bacon is not necessary to make the filling stay in! You can cut back on calories by not wrapping the chicken in bacon.
more garlic-you can never have too much garlic!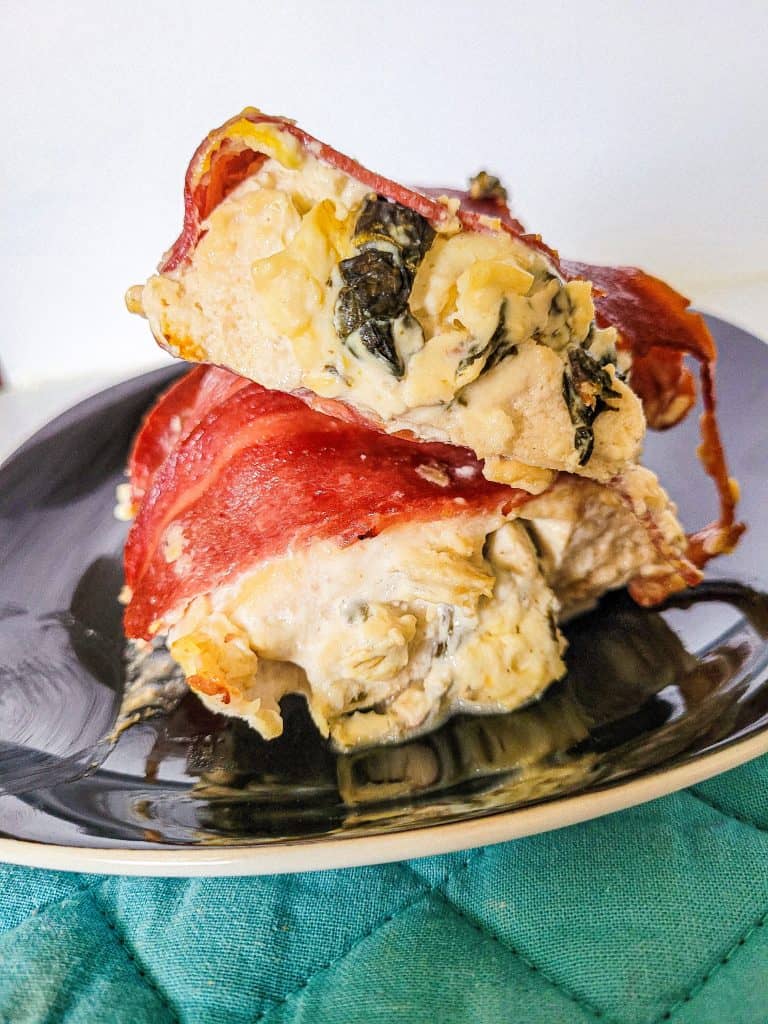 FAQs
Can I use frozen spinach?
Yes, just make sure it is fully thawed and patted dry so it won't release water during the cooking process.
What if stuffing with spinach falls out?
It is okay if a little stuffing falls out while cooking. You can always pin the chicken together with more toothpicks.
What if I am feeding kids?
You can make child sized portions by cutting the chicken in half.
How do I reheat spinach artichoke stuffed chicken?
Place stuffed breast on a plate and cut in half. Heat in the microwave at 30 second intervals until heated throughout.
How do I know when my chicken breast is done?
temp-With a meat thermometer, you can remove a piece of chicken from heat and insert the meat thermometer. If the spinach artiochoke stuffed chicken temps above 165 degrees Fahrenheit, it is done.
cutting it open-Without a meat thermometer (I did not have one for years) you can cut a slice of chicken open to see if it is done. If it is white on the inside, it is done. If the chicken is still slightly pink, let cook a bit longer.
How can I store this chicken breast dinner?
fridge-store this bacon wrapped stuffed chicken breast recipe in an air tight container in the refrigerator for up to one week
freezer-I have not tried freezing this chicken recipe. If you freeze it, let me know how it goes!
Check out my other recipes for chicken:
If you like this spinach artichoke stuffed chicken, then you will like my other chicken breast recipes: Herb Chicken, Garlic Parmesan Chicken, and Cajun Chicken.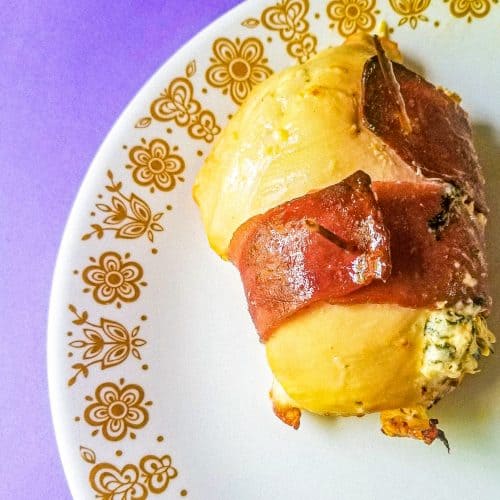 Bacon Wrapped Stuffed Chicken
Spinach cream cheese stuffed chicken wrapped in bacon brings all of the best flavors together! Oven baked chicken recipe so there is no grease from the skillet. Spinach cream cheese stuffed chicken breast is sure to satisfy all your cravings.
Ingredients
6

thick chicken breasts

2

cups

spinach

2

tablespoon

garlic

16

oz

cream cheese

7

oz

chopped artichoke hearts

2

tablespoon

hot sauce

2

tablespoon

green chilies

optional

salt and pepper to taste

12

strips of bacon
Instructions
Slice each chicken breast open on the straight side of the breast so create a pocket. Do not cut too close to the bottom or top or else you could cut a hole all the way through. This would lead to the filling coming out, which is the opposite of our goal of it staying in.

In a large skillet, put some olive oil or artichoke marinade oil in the skillet over medium heat. Add the spinach, cook until dark green. Add remaining ingredients, except chicken and bacon. Keep stirring until cream cheese is melted.

Begin stuffing the chicken breast with the cream cheese mixture using a spoon. I put a heaping tablespoonful in each breast because mine were really big, you can adjust your amount according to your chicken size. I used my fingers and tried to get the mixture into every area of the pocket in hopes that it would not escape while cooking.

Wrap the breast with 2 strips of bacon, making sure to cover the mixture opening. Secure bacon with toothpicks. Repeat with remaining chicken breasts.

Bake chicken breasts on a sprayed baking sheet for about 30 minutes at 425 degrees, flipping halfway through. Serve this Bacon Wrapped Stuffed Chicken warm.
Nutrition
---
All information presented on this site is intended for informational purposes only. Nutritional facts listed are a rough estimate and should only be followed as a general idea.