Chicken Francese or Chicken Francaise
recipe! This chicken dinner idea is very well seasoned. Wine is not an ingredient in this recipe, so if you do not have wine on hand, do not worry! You can still make chicken francese without wine! This chicken recipe is kind of a long recipe written out, but it should not take longer than
45 minutes to make
! This Chicken Francese recipe serves about 6 people.
This post may contain affiliate links. This means if you click on a link and purchase something, I may earn a small commission from it.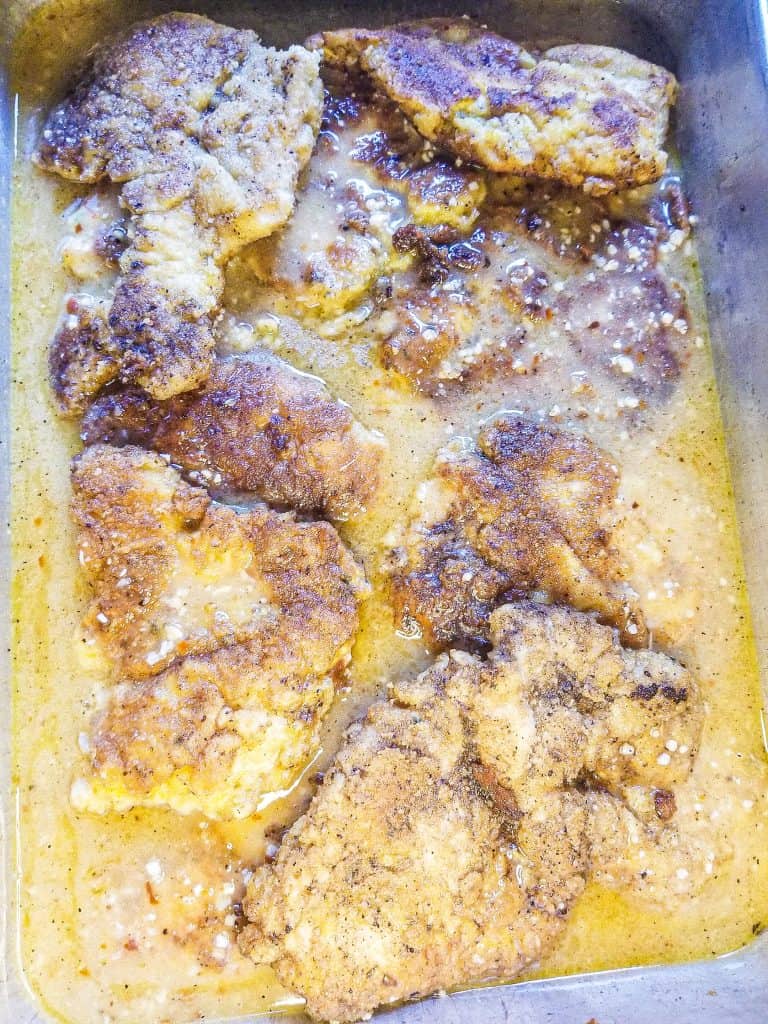 What is chicken francese?
Chicken francese is a parmesan coated chicken breast recipe that has an herb chicken broth sauce on top.
Main ingredients to use for this chicken meal:
chicken breast-I buy locally. I don't thaw mine until I am ready to use it. I just pop it in the microwave for 4 minutes each side. Cooking frozen chicken does not have to be hard! You can also opt for putting a bag of chicken in the fridge to thaw over night. However, I find that there is more risk of leaks this way.
oil-this prevents the chicken from sticking. Add more as the chicken cooks if needed to prevent sticking.
flour-this will soak up moisture from the chicken so the egg/parm mixture will stick better
Parmesan cheese-the first time I made this I used the shredded parmesan, however, the others times I have made this, I used the grated parmesan. Of the two, I prefer the shredded, however, grated is also a good second!
chicken stock-I make mine out of chicken bullion cubes
lemon juice-any lemon juice would work here, you can even squeeze your own!
How to make this chicken francese recipe:
Coat and fry the chicken. This is important because it gives the chicken a nice crisp flavor.
Make the gravy. The gravy is what adds juice to the chicken.
Pour gravy over chicken.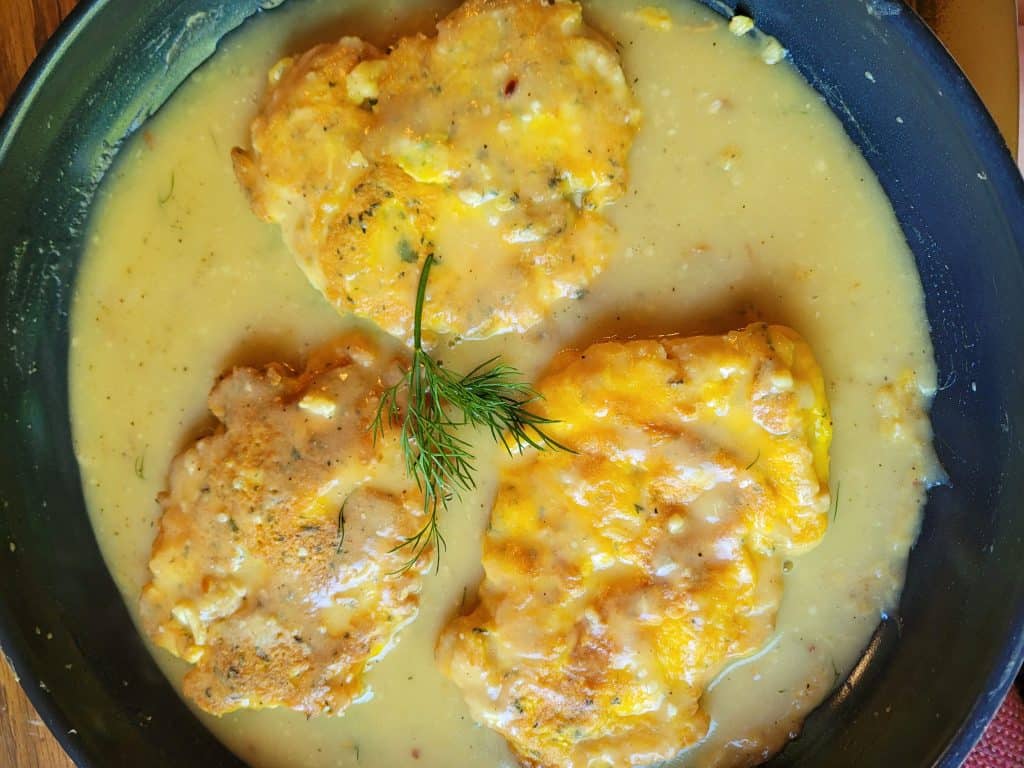 What to serve with Chicken Francese?
Mashed potatoes are an excellent choice to go with this chicken! The sauce makes a great gravy.
Click here
for a mashed potato recipe.
How to Store Chicken Francaise?
This chicken breast recipe can be stored in the fridge for up to one week. Reheat by warming up the chicken breasts by themselves in the microwave until mostly warm. Then, gently pour gravy on top. Warm up until both gravy and chicken are heated throughout, about 2 additional minutes.If making this into a freezer meal, I recommend just frying the chicken, and freezing it. When ready to eat, thaw out and heat up the chicken, make the gravy, and pour the gravy on top.
Check out my other best chicken recipes:
Recipe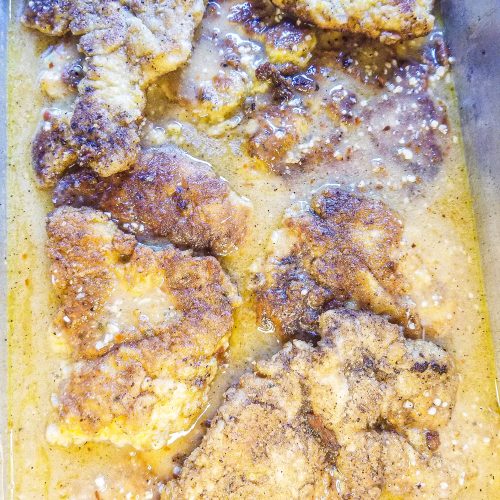 Chicken Francese
Very intense flavors in this Chicken Francese or Chicken Francaise recipe! This boneless chicken breast recipe, should take no longer than 45 minutes to make.
Ingredients
2.5

lbs

chicken breast

1

cup

flour

seasonings at own preference: salt, pepper, garlic powder

4

eggs

¼

cup

fresh shredded Parmesan cheese

¼

cup

parsley

butter

2

tablespoon

garlic

2

teaspoon

red pepper flakes

2

tablespoon

flour

2

cups

chicken stock

3

tablespoon

lemon juice
Instructions
1. Defrost chicken in the microwave, if frozen. Cut each breast in half length wise to cut down on thickness. Place each breast, a few at a time, in a gallon ziplock bag. Pound chicken breast in bag with mallet until it is about less than a ½ inch thick.

2. Place flour into a shallow pan. Add seasonings at your own preference. stir. In another shallow dish, add eggs, Parmesan cheese, and parsley. Stir.

3. Place a large pan over medium heat and melt about 2 tablespoon of butter in it.

4. When butter is melted, take a chicken breast and roll it in the flour mixture. Transfer it to the egg mixture and coat the breast evenly. Transfer it to the hot frying pan. Repeat with remaining chicken breasts until pan is full.

5. When the chicken breasts in pan are brown on bottom, flip over. When both sides are brown, transfer to a sprayed 9x13 baking dish and keep in warm oven. Repeat frying process with remaining chicken and put cooked chicken in warm oven.

6. After all chicken is fried and staying warm in the oven, start making gravy. In a large sauce pan over medium heat, add 2 tablespoon of butter. Add garlic and red pepper flakes and let simmer until light brown. Add in the 2 tablespoon flour, stirring until golden brown. Add in chicken broth, lemon juice, and 2 more tablespoon butter. Bring to a boil. Season to taste.

7. Remove chicken warming in the oven and pour the gravy into the 9x13 sauce pan with chicken. Serve this Chicken Francese warm.
Nutrition
---
All information presented on this site is intended for informational purposes only. Nutritional facts listed are a rough estimate and should only be followed as a general idea.

Very intense flavors in this