This creamy Chicken in White Sauce is great by itself or with potatoes, rice, or pasta!
I actually came up with this recipe by accident because I had two recipes open on my browser. One recipe was already started, and then I must have accidentally clicked on the other browser without knowing it. I had made a combination of both recipes, and here we are! This chicken white cream sauce recipe serves 5. It should take no longer than 30 minutes to make this chicken in white sauce recipe.
This post may contain affiliate links. This means if you click on a link and purchase something, I may earn a small commission from it.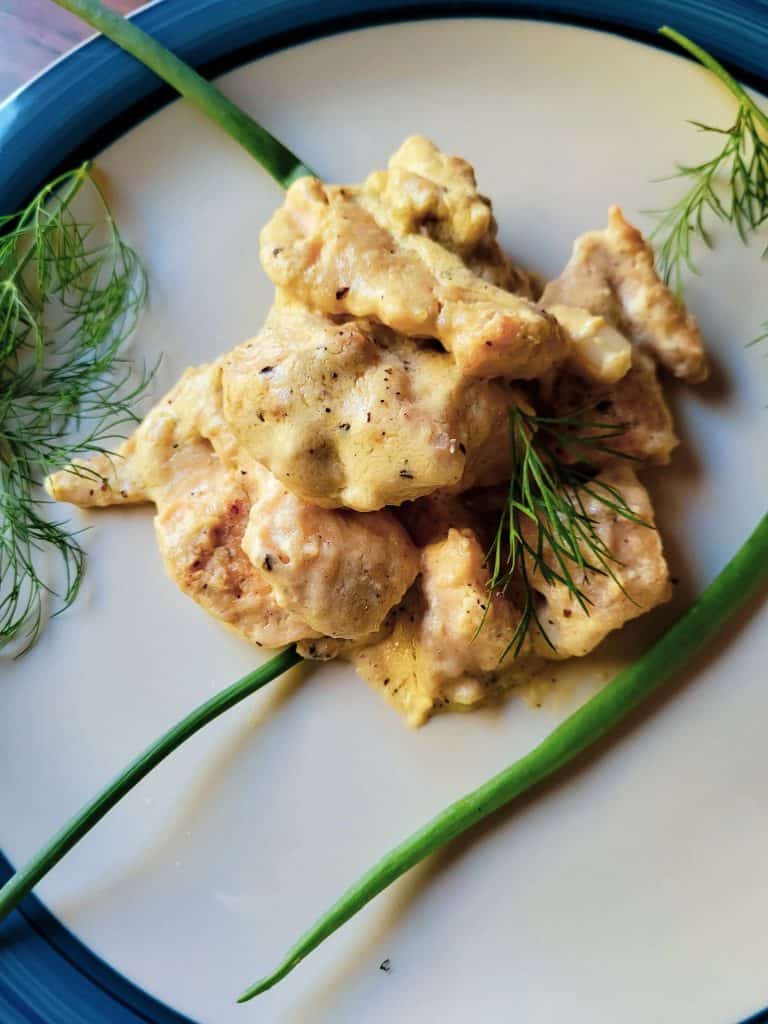 This recipe is similar to Chicken Francese, Chicken and Mushrooms, and Garlic Parmesan Chicken
Best ingredient brands to use for this easy chicken in white sauce recipe:
chicken-the main protein of the dish
flour-gives the chicken a coating
chicken broth-I use the chicken bullion cubes to make mine
cream cheese-provides creaminess
sour cream-also provides creaminess
oregano and basil-add flavor
How to make excellent Chicken Breast with White Sauce:
Coat chicken breast pieces in flour, and fry them in olive oil. This will give the chicken crispiness.
Make the sauce by combining the rest of the ingredients. Let simmer and serve!
How to tell if the chicken breast is done:
To tell if the chicken in white sauce is fully cooked, can be done in the following ways:
temp-With a meat thermometer, you can remove a piece of chicken from heat and insert the meat thermometer. If the chicken temps above 165 degrees Fahrenheit, it is done.
cutting it open-Without a meat thermometer (I did not have one for years) you can cut a slice of chicken open to see if it is done. If it is white on the inside, it is done. If the chicken is still slightly pink, let cook a bit longer.
Can I cook the chicken ahead of time?
Definitely! Just cook the chicken, let it cool, and place it in the fridge until you are ready to make the sauce if you are going to make it within one week. If going to make it in longer than a week, freeze the chicken in the freezer and thaw out before using and finishing the chicken in white sauce.
Variations of basic white sauce:
more cream cheese or sour cream-adding additional cream cheese or sour cream would make the sauce extra creamy!
omit basil-some people do not like basil, if you happen to be one of those people, you can take it out and it would not affect the flavor too much.
add additional seasonings-you can season this recipe with any seasonings you feel is necessary that I did not mention as well!
How to store this chicken and white sauce:
refrigerate-Using an air tight container, store chicken in white sauce in the fridge for up to one week
freeze-I have not tried freezing this chicken recipe, but if you would like to try it, let me know how it goes!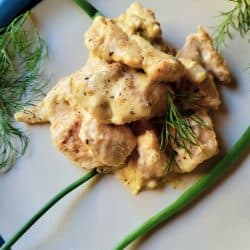 Chicken in White Sauce
Chicken in white sauce recipe with no wine and no cream! This is an easy chicken breast recipe for dinner that is a 30 minute meal.
Ingredients
4-5

largely chopped chicken breasts

1

cup

flour

3

cups

chicken broth

1

tablespoon

minced garlic

1

small onion, minced

8

oz

cream cheese

4

tablespoon

sour cream

1

tablespoon

oregano

1

tablespoon

basil

olive oil for frying
Instructions
Pour flour in a small bowl. In a large deep dish pan, pour in 2 tablespoon of olive oil. Roll chicken slices in flour. Place in pan with oil. Heat until golden on both sides and cooked throughout. Remove chicken from pan and place on paper towels to absorb oil.

In same pan, pour in chicken broth, garlic, and onion. Stir, cooking over medium heat until garlic and onion start to simmer. Add in cream cheese, sour cream, oregano, and basil. Keep stirring until most lumps are gone. Add chicken back in. Cook until chicken is heated throughout. Serve this Chicken in White Sauce with pasta, potatoes, rice or by itself!
---
All information presented on this site is intended for informational purposes only. Nutritional facts listed are a rough estimate and should only be followed as a general idea.