February 2021 Blogging Recap
This post may contain affiliate links. This means if you click on a link and purchase something, I may earn a small commission from it.
My first month of blogging recap since it has officially been one month since I submitted my sitemap to google! I have obviously been blogging on wix before this, but I consider this to be my first official month of blogging since I am taking it more seriously on wordpress and blogging "properly" now. In this First Month of Blogging Recap post, I am going to be sharing my stats on mostly my website since it is the newest, some changes I have made, goals for next month, and advice for you.
This is just for educational purposes only and geared towards blogging for beginners. If you are interested in starting your own blog this may be of use to you as to what to expect in your first month! I am going to use this to look back on how far I have came. I suggest you do the same for your first month of blogging, even if you do not continue to recap every month after that because it is fun to look back on.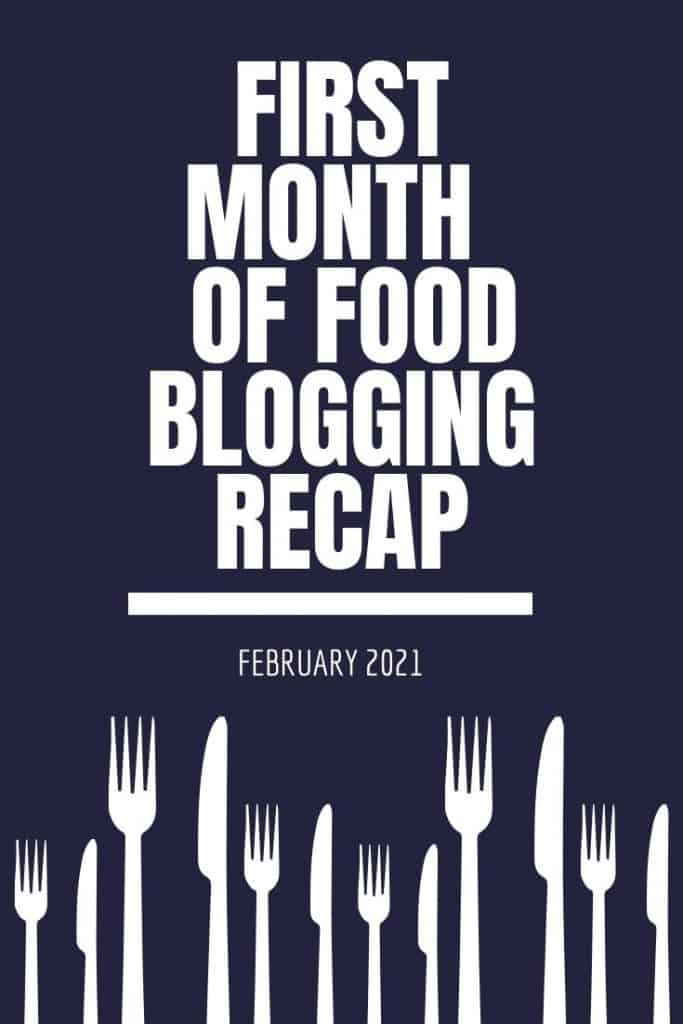 Blog Traffic

Considering I was only getting 113-140ish views on wix each month, I would say that is not too bad for my first month of blogging. Not enough to get into mediavine, but still good! My goal is to get into mediavine by December 2022.
98 published posts-I switched from wix so I had quite a few to move over in the months of December-January.

 only published 6 of those in the past month though

total views for February: 807

several hundred more than what I got on wix, yay!

new users-345

3x more than what I got on wix

sessions-451
most viewed recipe-Strawberry Cream Cheese Bread Loaf

Pretty good considering I just published it.
Instagram Stats
I have been slacking, but yet not slacking on Instagram for the past month. Trying some new features on Instagram lately, so it has been hit or miss. It is so hard to keep up with all the platforms, that I have been pushing my account to the backburner ~slightly~
posts in past month-9

I honestly thought I posted more

followers-2,615
Most views-Tomato Soup with Tortellini

1,280 views, which is double what the other posts views for the month were
Facebook Stats
I have had my cooking account on Facebook for about a year now. My account has grown exponentially in the past month. I sometimes do restaurant reviews, and that really helped out my account! The restaurant shared my post, and I got several extra views from that. I also joined 4 new Facebook groups, which I talk about below.
posts-9 new this month
reach-2,431
engagements-264
page likes-24 new
Pinterest Stats
I have not done anything with Pinterest besides pin people's content from my Facebook groups in the past month. I thought that I was going to have to change all my old pin urls to match my new site, but that was not the case because of rich pins copying the data. Took a lot of emails to figure that out though so I will work more on Pinterest next month now that I know that information. Obviously my stats are down because of that, but I still got a few link clicks.
followers-19 total
engagement-122
impressions-2.67k
link clicks-44

not sure why it has a different number than my google analytics but we will go with it
Sources that led to my website
There is a few sources that gave my website traffic during my first month of blogging, but I wanted to touch on a few of them: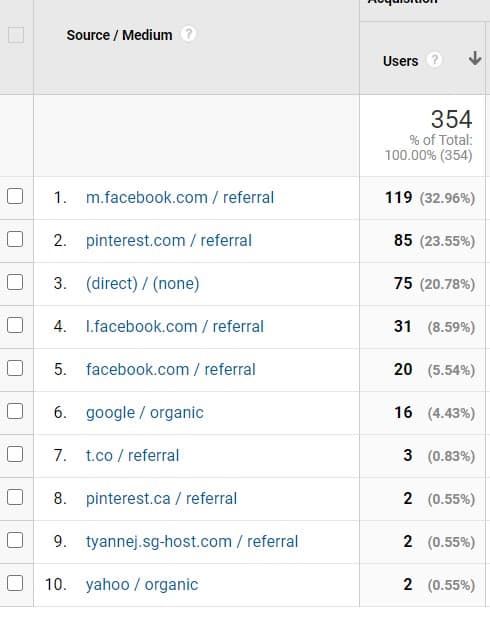 Facebook-Not surprising this was my #1 source of traffic.

I joined 4 new Facebook groups to share my recipes in. I try to share all my new posts from my own page on there, as well as older recipes with pictures every day. It does seem to be paying off, so I would recommend trying to join Facebook groups with like minded people if you have a blog. Facebook allows a direct link to your website within the post, so more people can easily click it. Maybe someday Instagram will catch up and have that same feature as well!

Pinterest-Great form of traffic, if I used it more often.

85 does not match up with my 44 link clicks my Pinterest account says it has, but that could be from people clicking on the link in my Pinterest bio to my home page versus from an actual pin? Maybe?

Either way, I am thankful for this traffic considering I have done almost nothing with Pinterest in the past month.

Organic-16 clicks may not sound like a lot, but it is quadruple the amount I was getting with wix!

This could be because I expanded the length of each post, and tried to implement more keywords in there. Having a recipe plugin and using Yoast SEO probably did some good as well.
Have I made any money in the past month blogging?
No, and I am okay with this. If I made money with this site, I would be calling this post my "First Blogging Income Report" and not my first month blogging recap. I chose not to use AdSense because I hear it slows down your site, so I am going to wait until I have enough views to get into an agency that pays more. How to make money blogging is different for everyone.
There are not any published posts for my affiliate programs yet. I am an Affiliate for a wine and hard cider making kit called Brewsy, but I have not finished (it is fermenting right now) making the wine recipe yet. The hard cider is already made, but I want to be able to compare the wine and hard cider experiences before publishing. If I published the posts, I might get more affiliate sales.
Goals for next month
Post to Pinterest every day

I neglected that this month like I explained earlier, but next month I will be better on track.

Continuing with Facebook groups

I have interacted with some amazing accounts in these groups, and have generated several ideas from them. Not to mention all the link clicks.
Changing cover photo to direct to my email sign up link-this may help direct traffic to my email list button

Collabs on Instagram

I am participating in several collabs in the upcoming months. This helps give me ideas on new recipes to create, and a group to support each other in.
I also plan to have 3,000 followers by the end of next month. The way to get more followers, is by posting quality content.

1-2 new posts a week

I have almost 100 posts on my website, so I do not feel the need to keep pumping them out rapidly.

Look into new affiliate programs

Taking Make Your First Affiliate Sale email course from The She Approach gave me confidence to try to find more affiliate programs. I will look for more affiliate programs after I publish the posts I am currently an affiliate for.
Maybe become an Amazon affiliate?

I do not personally order off of Amazon, but I know a lot of my kitchen supplies I use and got as gifts definitely came from there.

Reach out for more sponsorships

Overall, I just need to reach out more for sponsorships. There are products I use every day that would probably sponsor me if I just initiate. I avoided doing this for the past month because I did not know what to tell them for my website statistics because it was so new. If I keep putting this off because I am not "ready", I will never be ready then.

Look at some new courses

Making Sense of Affiliate Marketing is a course I am considering buying.
Easy SEO Revamp is another course I might buy in the future. This course goes through how the posts rank on the google search console and looks at the keywords. I have not had my blog for very long to be ranking very high right now, so I am going to give it time. I will look into more information about this course for the future.

Invest in a paid recipe plug in

There are features I would like my free recipe plug in to have, but in order to get them I have to pay for them. I am debating between upgrading from WordPress Recipe Maker to the paid version or going to WP Tasty. WP Tasty costs a little more, so I am going to do some research. I might make a post about this decision later on.
Blogging tips to give after first month of blogging:
In my first month of blogging, I have learned a few things I think everyone should implement at first:
Join Facebook groups-those groups have helped me with so many ideas for the past month. Just google Facebook groups for ___ and it will pop up. I looked at how many posts a day there were and how many overall people were in the group before joining.
Button that links to landing page on Facebook-I had no idea where to put my landing page so people could sign up for my email list. In one of my Facebook groups, someone said to put it as a button at the top of your page! Pin a post with a link to your landing page to the top of your account as well.
Take a Pinterest course-I took Pinteresting Strategies with Carly Campbell, and I have learned a lot! I am going to implement the techniques she shares next month when I get my Pinterest account back up and running.
Join free email courses-I have taken 4 of these in the past week. Some of them are repeat information I already know, but others give me a boost of info I need in the right direction.
I will not make one of these reports every month, but maybe every quarter I will! I hope you learned something from this amateur blogging post, or gave you some ideas for your own blog.