We used to have macaroni bowls every Friday at the East Campus dining hall freshman year of college. If you're not in college eating this at the dinning hall, you can make this easy mac n cheese at home!
This is an individualized recipe, so everyone can make their own bowls to their own preference. This means if someone you are cooking for wants southern mac and cheese, they can add Cajun to theirs. If someone else wants smoked mac and cheese, they can add bacon to their own. If another individual wants buffalo mac and cheese, they can add buffalo sauce to their bowl. When the seafood lover wants shrimp and crab mac and cheese, they can whip it right up! When the health addict wants cauliflower mac and cheese, they can add cauliflower and other vegetables to theirs. With this recipe, all of those macaroni bowls are options, plus endless more! No one has to settle for what pasta someone else wants. Everyone gets what they desire.
This post may contain affiliate links. This means if you click on a link and purchase something, I may earn a small commission from it.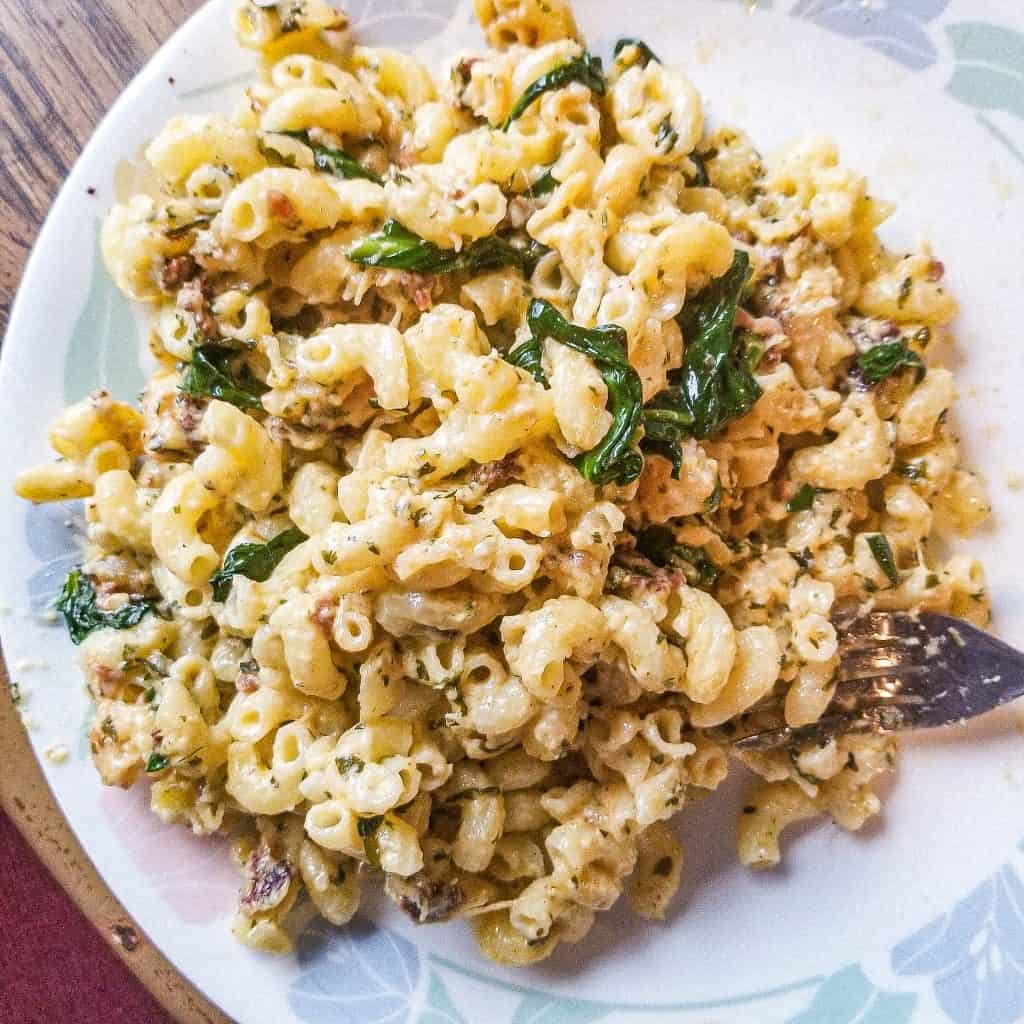 My college macaroni bowl topping order at the dining hall: mozzarella cheese, pepper jack cheese, chicken, sausage, shrimp, garlic salt, Italian seasoning, cayenne pepper
My topping order when I make this mac n cheese at home: chicken, shrimp, bacon, garlic, spinach, artichokes, mozzarella cheese, pepper jack cheese, cajun seasoning, italian seasoning, cayenne pepper, chili powder
If you like this pasta recipe, check out my other pastas: sausage tomato pasta, sausage and spinach pasta, spinach and artichoke lasagna, and bacon shrimp pasta.
Below are a few ideas for ingredients to add to your macaroni bowl! Anything else you can think of probably will taste good too! You have to experiment and see what works best for you.
Necessary ingredients for homemade mac and cheese:
cooked noodles-I use Barilla, not sponsored, they are just the first brand I bought when I learned you can make mac and cheese at home!
milk
cheeses of your choosing
Other possible macaroni in a pot toppings:
bacon
shrimp
ham
pork
chicken
hot dogs
sausage
pepperoni
crab
pesto sauce
Alfredo sauce
marinara sauce
four cheese sauce
hot sauce
sour cream
ranch
blue cheese dressing
teriyaki
onion
mushrooms
spinach
tomatoes
carrots
beans
broccoli
cauliflower
corn
Easy homemade mac and cheese optional seasonings:
cayenne pepper
chili powder
garlic powder
garlic salt
red pepper flakes
oregano
Italian seasoning
turmeric
Parmesan cheese
salt
pepper
Tips for making homemade mac n cheese:
if wanting macaroni and cheese more creamy-use more milk
grate your own cheese-buying shredded cheese kind of saves some time, but grating your own block cheese over the skillet makes the cheese more gooey!
if bowl overflows, get a plate-sometimes after cooking the bowl of pasta together in the skillet, depending on the amount of cheese added, it can really expand over the bowl it started off in! If the macaroni overflows the bowl, place it on a plate.
make creamy mac and cheese dairy free-a dairy free milk can be used instead of cows milk if you so wish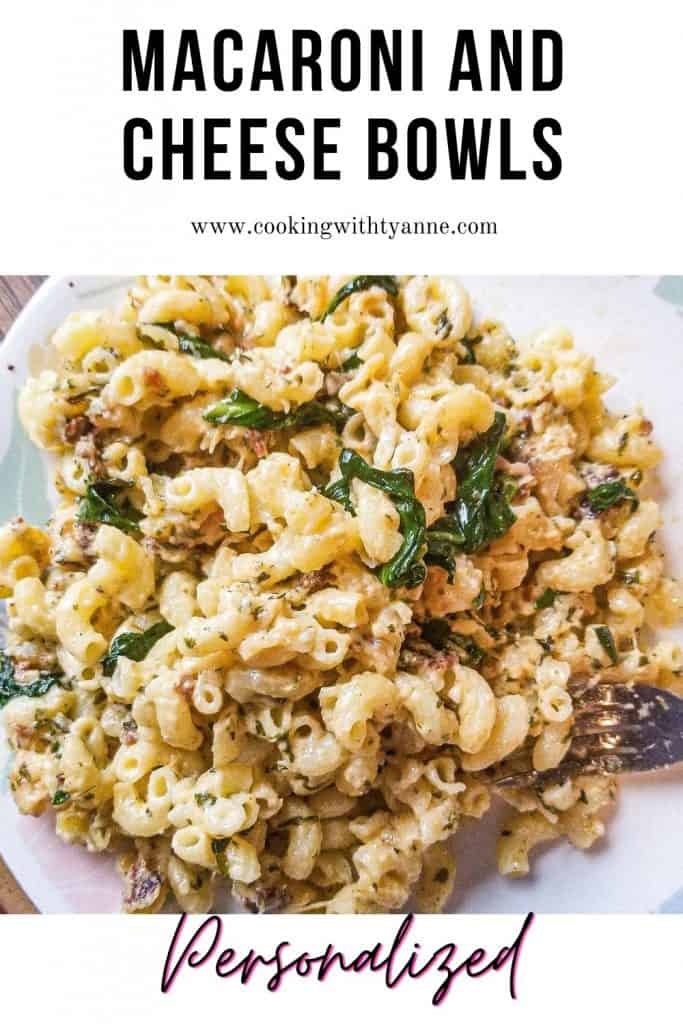 How I set up my homemade macaroni and cheese stations:
At the dinning hall, the cooks had it separated out into a pasta station, cooked meats station, a vegetable station, a sauce and toppings station, and the workers put the cheese, spices, and milk in themselves while they cooked it. Students just had to say which combo of cheeses they wanted.
At home, I try to set it up fairly similar. Taking inventory of what possible ingredients you have on hand to add to pasta is a necessity before beginning to make it! Inquiring the pasta preferences of your guests is also ideal so you know how many people like hamburger in their pasta before cooking a whole pound of hamburger when only 1 person wants hamburger.
First, I cook all my meats ahead of time and place them on a platter. I try to cook enough meats so that everyone in my family has enough meat for their bowls.
Next, I get bowls set up to put the chopped vegetables in.
Then, I try to chop my vegetables while I am waiting for my pasta to get done boiling.
Also, while waiting for the pasta to boil, I get out any sauces and spices I think someone might want on their macaroni.
Finally, I get out the cheeses I have on hand and milk.
How to store leftover macaroni:
Sometimes while making individualized pasta bowls, you add too many toppings and cannot eat it all! I always store my leftover bowl covered in plastic wrap in the fridge. I have not tried freezing these pasta bowls. If you want to try it, let me know how it goes!
Recipe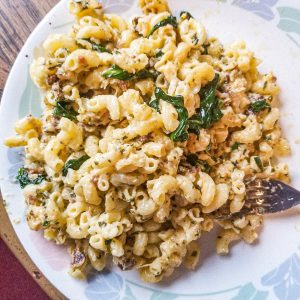 Personalized Macaroni Bowls
We used to have macaroni bowls every Friday at the East Campus dining hall freshman year of college. If you're not in college eating this at the dinning hall, you can make this at home! This is an individualized recipe, so everyone can make their own bowls to their own preference.
Ingredients
cooked noodles

milk

toppings
Instructions
Assembly
Pour ¼ cup of milk into a large skillet over medium heat. Add about ½ cup of cheese of your choosing. Stir the milk and cheese together until it is stringy and melted.

While waiting for cheese to melt, in a regular cereal bowl, fill it with your desired amount of noodles and toppings and seasonings. Be sure to leave about an inch of space in the bowl, as when the ingredients get mixed with the cheese, they tend to expand and over flow the bowl if it gets too full.

When cheese is melted in the skillet, throw bowl of noodles and toppings into the skillet with the cheese. Stir together to heat throughout and blend flavors. Your personalized mac and cheese bowl should be cooked in about 2-3 minutes.
---
All information presented on this site is intended for informational purposes only. Nutritional facts listed are a rough estimate and should only be followed as a general idea.