It has been one year since moving my blog from wix to wordpress, so I consider this my first year blogging. In this post I will share my stats over the year, changes I am going to make, and goals for the upcoming year.
This is just for educational purposes only and geared towards blogging for beginners. If you are interested in starting your own blog this may be of use to you as to what to expect in your first year! Everyone's first year will look different though. I am going to use this to look back on how far I have came. I suggest you do the same for your first year of blogging because it is fun to look back on to see how much you have grown over time.
This post may contain affiliate links. This means if you click on a link and purchase something, I may earn a small commission from it. In the footer of this page is my full disclosure policy.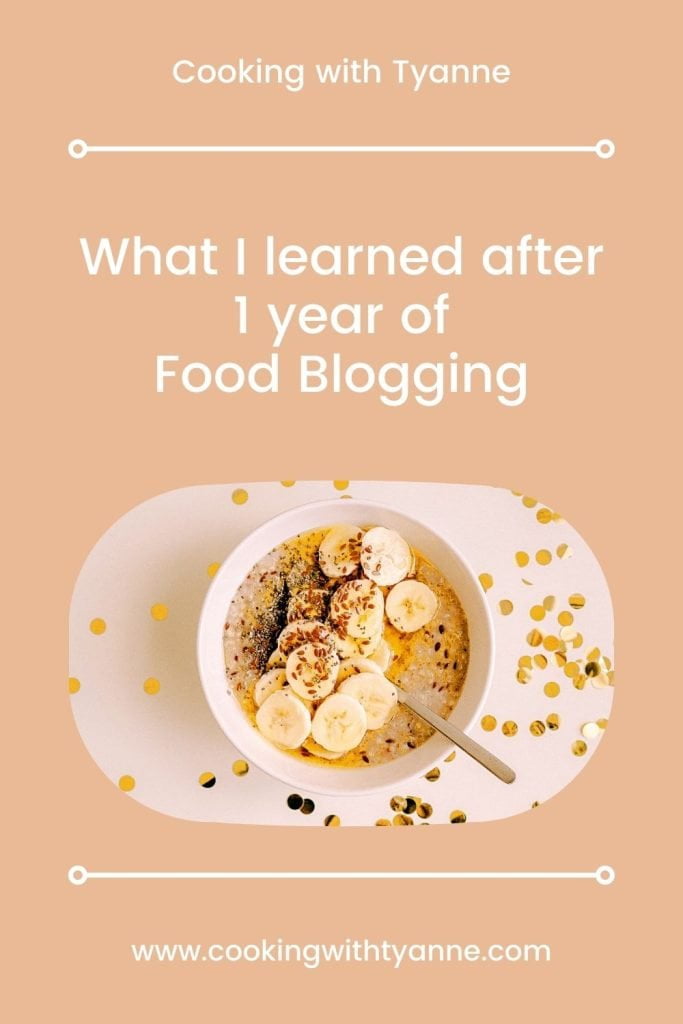 Blog Traffic
A year ago in January, I only had 451 sessons, so I say we did pretty well on improving that! Although, I did not achieve my goal of getting into Mediavine because of my poor keyword choices. When I moved from Wix to WordPress, I used Google Keyword Planner instead of a paid keyword tool like Ahrefs. Now I am back tracking and redoing my keywords.
165 published posts-that is up 67 from last year
Total sessions for 2021-49,758. About 30,000 was social media traffic
December sessons-9,574, about half was social media traffic
Top 5 recipes:
Instagram Stats
A year ago I said I was putting Instagram on the back burner to figure out more stuff with my website. That is still true to this day, but I have gotten more into reels. I am still working on it.
post in past month

6-I haven't put a lot of time into Instagram because hardly anyone actually goes to the Link in bio to click the link to go to my website. I put more time into Facebook and Pinterest.

followers

2,909-Literally been a standstill for about a year now.

most views

My most viewed reel is about 6,100
Facebook Stats
I have really grown on Facebook this year. Unfortunately, just because I have a lot more followers, doesn't always mean that Facebook shows my followers my posts. That is why Facebook groups are still a vital source of sharing.
posts-Butterfinger Dessert is my highest at 53,000 views. It really depends on what group accepted my post at what time. My reach typically ranges from 2,000-35,000 impressions.
page likes- 538, This is up over 400 from last year.
Pinterest Stats
A year ago, I had not taken a Pinterest course yet. This year I took a Pinterest course and I paid someone to audit my Pinterest 4 months after I took the course. This helped grow my impressions by 100%. If you need someone to audit your site, I recommend hiring www.serpfit.com.
followers-127
engagement- 32,920 for 2021

8,340 in December, up 36%

impressions- 443,780 for 2021

90,000 in December, up 12%

link clicks for 2021-2,000 clicks on average a month
Sources that led to my website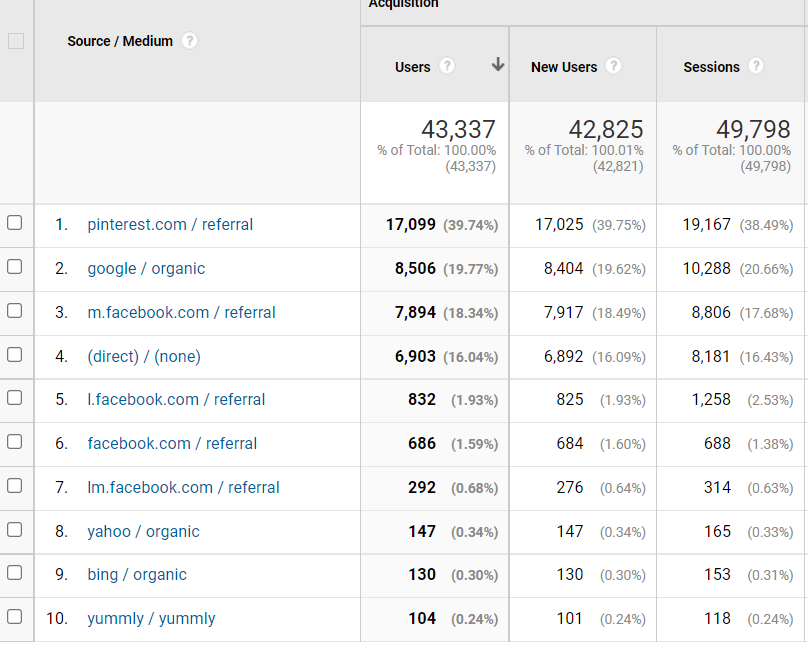 Pinterest-great form of traffic

Everyone has their own opinion on if Pinterest is worth it or not. Being my #1 source of traffic, I say it is well worth it for me. This changed since Facebook was my #1 source of traffic last year.

Google/organic traffic

I am very proud I made this my #2. This means that my SEO skills and my paid site audit is worth it since it is growing. 8,500 is a lot more than the 16 clicks I had a year ago.

Facebook-Groups really help!

I am pretty sporadic when it comes to posting on Facebook, so having it be the 3rd highest is pretty good.
Money to be made
I created my first product this year to sell, my cookbook Deliciously Fresh Freezer Meals. I have made over $500 with it, so I say it is doing well. It could be better, but when it is your first product, there are a lot of unexpected bumps to work out along the way. It is an evergreen product so I am going to continue to promote it this year. Ways I am going to sell it are: stores, booksignings, farmers markets, amazon, etc.
I am apart of some affiliate programs, but the payout has been very little this year while my traffic was very slim in the beginning months. I will rejoin Amazon Associates when I have over 20,000 sessions a month.
Goals for the year
Get into mediavine by December

This is an attainable goal as I have quite a few articles that I redid the keywords for and 30 articles published in the month of September that still need time to be crawled. This will help not only grow my traffic in general, but increase my organic traffic.

Continue with social medias

I am going to stick with my Pinterst, Instagram, and Facebook accounts and try to grow them. Tiktok I will figure out sometime.

Get to 200 posts

This means publishing 35 new posts this year. I published over 60 posts last year, so I say that is pretty doable.
Blogging tips to give after first year blogging
proper keyword research

As stated earlier, I did transfer my website over from wix and I retitled all my recipes using Google Keyword Planner. I wish I had paid the $7 week long trial of Ahrefs though. This would have helped me be ahead instead of having to back track and rekeyword 100 posts.

pay someone to help

Courses are nice and all if you really new to a program, but sometimes paying someone is more helpful. I could have spent a lot of money on courses, took the course, and then implemented new SEO and Pinterest strategies. However, I chose to pay someone to audit my site and Pinterest and they told me exactly what I was doing right and wrong. This saved me a lot of time instead of taking a course and then trying to decide what works and doesn't work for my accounts.
Conclusion
I hope you enjoyed my 2021 first year of blogging recap! Everyone's first year looks different, but it is fun to look back and see how far you have came.