This easy strawberry kiwi smoothie is a great way to get your fruits in. You probably would not eat this much fruit plain, but put it in a smoothie and you're good to go! Measurements in this strawberry kiwi fruit smoothie are not exact as it is mostly a guide to your personal preference!
This post may contain affiliate links. This means if you click on a link and purchase something, I may earn a small commission from it. In the footer of this page is my full disclosure policy.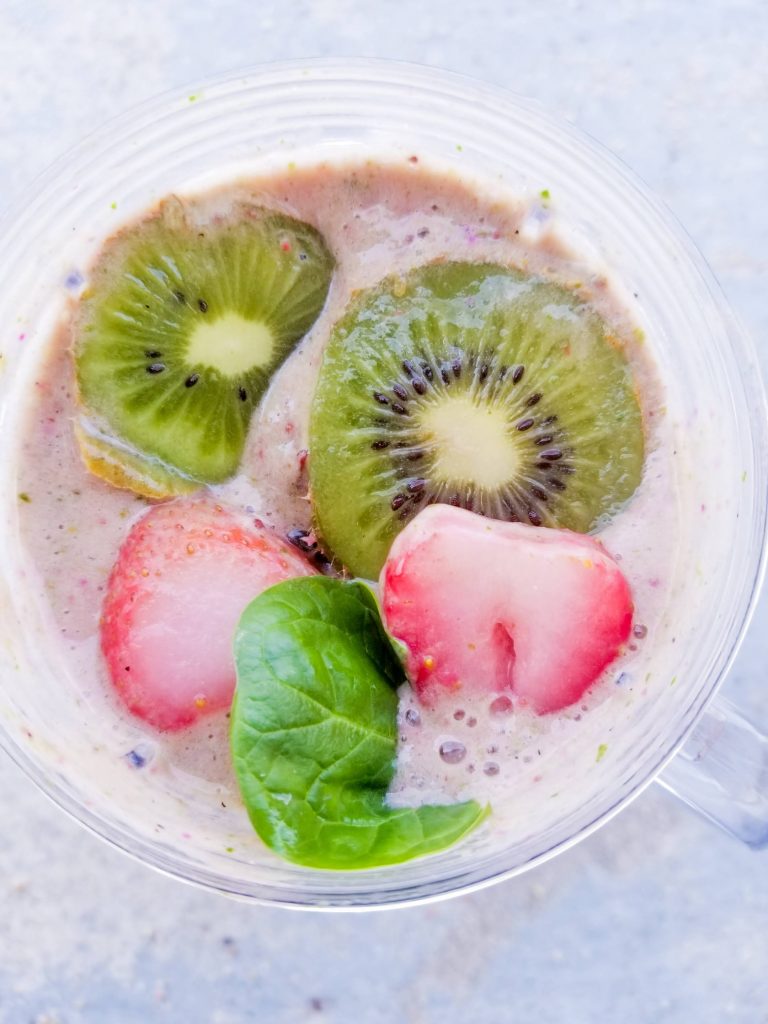 When to eat smoothies:
If you have not hopped on the smoothie train yet, what are you waiting for? Smoothies are an excellent way to get in fruits and vegetables you would not normally eat by themselves. By drinking your nutrients, you get in a lot more volume of fruits and vegetables as well.
Some people start off their day with a smoothie and other people use it as a healthy snack. Smoothies with protein powder can be a meal replacer as well which makes it a strawberry kiwi smoothie for weight loss.
Check out my other smoothie recipes
What blender to use for fresh strawberry kiwi smoothie?
I bought my magic bullet used, and it was one of the best decisions I have ever made! The smoothie cup is the perfect size for a smoothie. It blends extremely fast as well, and it is not super loud unless adding ice. This easy smoothie recipe makes a 12 oz ninja bullet smoothie.
I fill my cup to the brim with fruit before blending. This gives me a very dense smoothie. Sometimes I even add more fruit after the first blend to make it more dense. You can use less fruit or more milk if you want it more liquid-y.
Variations of this Strawberry Kiwi Smoothie Recipe:
Add peaches-Peach season is a good time to make strawberry kiwi peach smoothies. Prepare the same way but only use 1 kiwi instead of 2 and add half a peach instead.
Add raspberries-If your raspberries need used up, take out a few strawberries and add raspberries instead to make this a strawberry raspberry kiwi smoothie
Go dairy free-you can make this strawberry kiwi smoothie with almond milk and with no yogurt (or use coconut yogurt) if trying to go dairy free. If you do not have dairy free milk on hand and still want to go dairy free, then try adding a juice like orange juice instead. This liquid will help the smoothie blend.
Add protein-adding protein powder helps you stay full longer! The same can be done by adding chia seeds to make a strawberry kiwi chia smoothie.
Make it thicker-adding ice to your smoothie will help it become not only more cold, but enhance the thickness as well.
How to store a Strawberry Kiwi Smoothie
I like to eat my smoothies as soon as I make them! If I find that I cannot finish the whole smoothie in one sitting, I place my cup in the fridge until I am ready to finish it. I have never tried freezing a smoothie before, but there are plenty of articles on how to freeze a smoothie for later.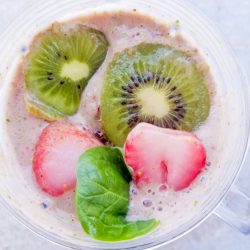 Strawberry Kiwi Smoothie
Strawberry kiwi smoothie is a good way to get in your nutrients. Tastes amazing any time of day!
Ingredients
6

whole

strawberries

2

kiwis

with or without skin

1

cup

milk or almond milk

½

cup

yogurt

any flavor works
Instructions
Fill smoothie cup half way with strawberries. Then, add kiwi and yogurt. Fill cup halfway with milk. Blend until smooth. Decorate your strawberry kiwi smoothie with chia seeds and/or whipped cream!
---
All information presented on this site is intended for informational purposes only. Nutritional facts listed are a rough estimate and should only be followed as a general idea.