Is a smoothie a healthy breakfast option? A smoothie is a good option no matter what time of day! I eat smoothies all the time. This strawberry blueberry smoothie is a simple smoothie recipe is one of my go-to recipes for smoothies since it is made with the three main fruits I keep around. These measurements are not exact as I do not measure for smoothies. Estimating is best!
This post may contain affiliate links. This means if you click on a link and purchase something, I may earn a small commission from it.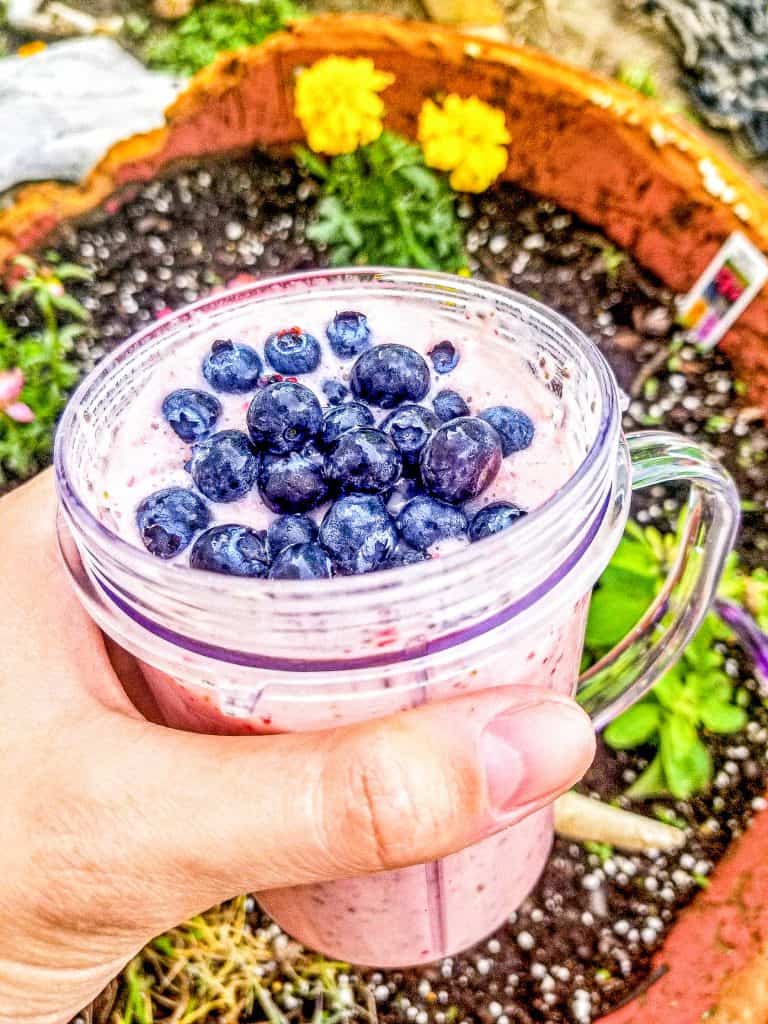 Ingredients:
Banana - adds a nice creamy texture
Blueberries - frozen makes the smoothie more cold, but you can also use fresh
Strawberries - main pink color
Orange juice - adds hint of orange flavor but also liquid to help smoothie blend
How to fill the strawberry blueberry smoothie blender cup:
I fill my cup to the brim with fruit before adding milk and blending because I have a single serving cup. This gives me a very dense smoothie. Sometimes I even add more fruit after the first blend to make it more dense. You can use less fruit or more milk if you want it more liquid-y.
If your blender is bigger, try using the measuring units on the side to judge how much fruit and liquid you are putting in.
Easy strawberry blueberry smoothie variations:
The fruit options are endless when it comes to smoothies! If you have a fruit laying around your house that you need to use up, definitely try it in a smoothie! I am never afraid of trying new smoothie options. Smoothies are easy to add new fruits to.
Omit fruits you do not like - if you do not like bananas, you can take it out of this recipe, and add more blueberries or strawberries instead.
Spinach - this is an unpopular opinion, but I like to add spinach to my smoothies if I am trying to use up my spinach. Honestly, you can barely taste it. Great option if you are trying to get more greens in.
Seeds - I usually eat my smoothies without seeds, but you can add chia seeds for extra nutrition and thickness.
What is a good blender for smoothies?
I bought a ninja bullet off of Mercari, and it was one of the best decisions I have ever made! The smoothie cup is the perfect size for a smoothie. It blends extremely fast as well, and it is not super loud unless adding ice. This strawberry blueberry smoothie recipe makes a 12 oz ninja bullet smoothie.
How to store homemade smoothies:
I tend to eat my smoothies right away! If I find that I cannot finish the whole smoothie in one sitting, I place the cup in the fridge until I am hungry enough to drink the rest. How long can a smoothie last in the fridge? Probably only around a day or so or else they start to change consistency.
Typically, I do not freeze smoothies as they tend to not taste as fresh while coming out of the freezer. If you wanted to freeze your strawberry blueberry smoothie, you definitely can though!
Check out some of my other best smoothie recipes:
Recipe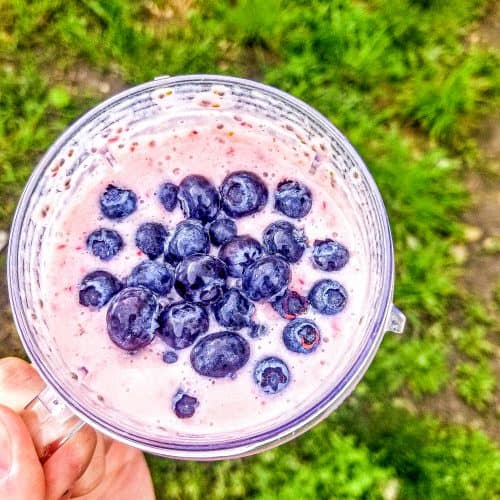 Vegan Strawberry Blueberry Smoothie
Strawberry blueberry smoothie without yogurt makes this healthy smoothie dairy free! This easy smoothie recipe serves 1.
Ingredients
Rough estimate of ingredients
1

banana

½

container

about 1 cup of blueberries

5

whole strawberries

I don't cut mine

¾

cup

orange juice
Instructions
Place banana in the smoothie container. Pour enough blueberries in so that the cup is about half full. Fill the rest with strawberries so that it is full to the top. Add enough orange juice so that the container is about half full of liquid. Blend until smooth. Decorate your Strawberry Blueberry Smoothie with berries and/or whipped cream on top!
---
All information presented on this site is intended for informational purposes only. Nutritional facts listed are a rough estimate and should only be followed as a general idea.