Soft croutons booming with garlic buttery flavor in this homemade croutons from bread recipe. Perfect way to use up that stale bread sitting on the counter! This is a baked recipe, so you can put all your croutons in a single layer on a baking sheet and bake at the same time. It take less than 15 minutes to make. These taste way better than the ones out of the package any day.
This post may contain affiliate links. This means if you click on a link and purchase something, I may earn a small commission from it. In the footer of this page is my full disclosure policy.
Main ingredients to make recipe for homemade croutons:
Crusty bread - you can use fresh bread, but ideally older bread lacking moisture is best. You could use a gluten-free bread if you are gluten-free. French bread, artisan bread, or rye bread would also work.
Olive oil and melted butter - these both soak the bread to make it flavorful throughout.
Garlic powder and Italian seasoning - provides flavor.
How to make croutons from sliced bread:
Cut bread - the bread needs to be cut into smaller pieces. I chose to cut my slices of bread into 9 squares on every slide. It is up to you on how big or small you want to cut them depending on what size you want the croutons to be. Place bread cubes in a bowl.
Combine remaining ingredients in a measuring cup - combining these ingredients separately ensures that the flavors are blended together throughout
Pour mixture over bread - this will allow the bread to soak up the flavor
Bake bread - baking the bread until golden brown will allow the croutons to get more crispy, but still allowing them to stay soft on the inside.
Recipe tips:
Bite sized - each slice of bread should be cut into 9 cubes, which are less than 1 inch diameter. You can tear the bread apart instead of cutting it.
Stove top - if you do not want to heat your oven up, you can make these on the stove, sataeeing in a pan with the same ingredients
Even drizzle - make sure the spice mixture gets evenly coated on the bread pieces or else it will be unevenly seasoned and parts will look faster than others having different oil contents
Variations of homemade seasoned soft croutons:
Use buns instead of bread - some people eat their bread faster than their buns. Making homemade croutons out of buns will allow those buns to get used up.
More garlic powder - if you want your garlic croutons to have a stronger garlic flavor, you can add more garlic powder.
More Italian seasoning - if wanting additional flavor, adding more Italian seasoning will help.
Omit red pepper flakes - the red pepper flakes is so low in amount that most people hardly know they are there. If you have strong taste buds, and do not like spicy-ness, feel free to omit them.
Longer baking time - baking longer result in more of a crispy flavor
Less salt - fixing over salted croutons can be hard. If you put too much salt on, try adding more seasoning to balance the flavor out or just try less salt next time.
Smaller bread cubes - small croutons go good with small salads. If you that is the aesthetic you are going for, cube your bread in small pieces.
Buttery homemade crouton uses:
These soft buttery croutons taste great on salads! They add a nice buttery flavor to the lettuce or spinach. You can also eat them plain, one of my favorite snacks. Some people like to dip croutons in a sauce such as ranch or eat them with squash soup.
How to store homemade soft croutons:
Fridge - store this soft croutons recipe in an air tight container at room temp for up to one week
Freezer - I have not tried freezing this recipe. If you would like to try it, let me know how it goes.
Recipe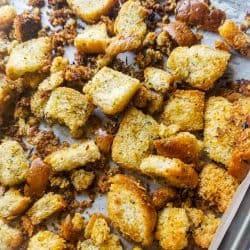 Easy Garlic Butter Croutons
Soft homemade croutons booming with garlic buttery flavor in this homemade croutons from bread recipe. These croutons are made in the oven and take less than 15 minutes to make. These taste way better than the ones out of the package any day. 
Ingredients
5-8

slices

crusty bread

¼

cup

olive oil

¼

cup

melted butter

1

tablespoon

garlic powder

2

tablespoon

Italian seasoning

dash

salt

1

teaspoon

black pepper

1

teaspoon

red pepper flakes
Instructions
Using a pizza cutter, cut each bread slice into 9 cubes. Place these in a large bowl.

Dump remaining ingredients into a measuring cup. Stir. Pour onto bread cubes. Stir with rubber spatula to evenly coat with the buttery/oil mixture.

Bake on a 9 x 13 baking sheet lined with parchment paper at 375 degrees for 5 minutes. Remove from oven, and stir croutons around. Bake for an additional 5-8 minutes or until toasted to your desired perfection. Serve with salad or eat plain.
---
All information presented on this site is intended for informational purposes only. Nutritional facts listed are a rough estimate and should only be followed as a general idea.