This garlic hummus recipe is a quick lunch idea! Tastes great on pita bread, crackers, and can even be eaten plain. Garbanzo bean dip can be a really quick lunch idea. Even if you do not like beans, you will still like this hummus recipe!
This post may contain affiliate links. This means if you click on a link and purchase something, I may earn a small commission from it.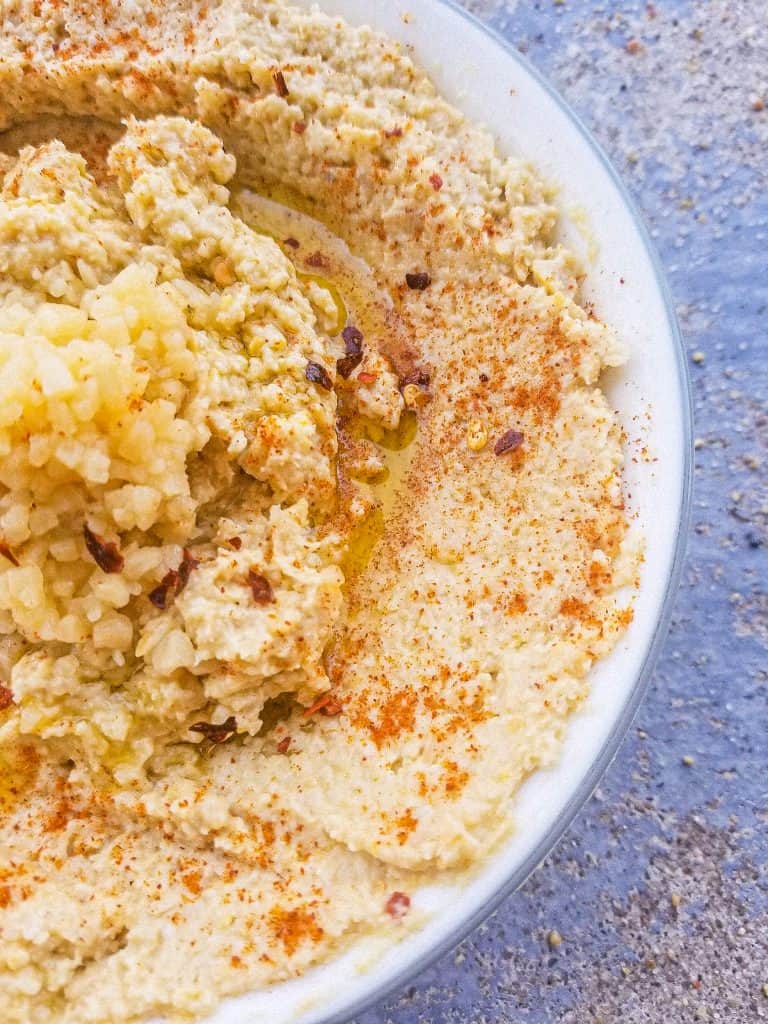 What to eat with garlic hummus:
Fried pita bread in butter tastes amazing to dip in this garlic hummus! If you do not have pita bread on hand, you can eat it with chips if you are interested in eating hummus by itself. If wanting to to put it in something, wraps and sandwiches taste excellent with garlic hummus on them!
Since this is more of a lunch or snack, if you are interested in other lunch ideas to have with hummus check out my following recipes: egg salad, bacon wrapped hot dogs, and mozzarella sticks. 
How to make garlic hummus without tahini?
I have found myself trying to find a way to make garlic hummus without tahini multiple times. I have tried omitting the tahini, and it just does not taste the same! The solution to not buying an $8 jar of tahini I will only use for hummus is to make my own tahini! It is cheap to make as it only cost about $3 for a pound of sesame seeds. It is much more affordable to make tahini yourself than to go to the store to buy some. You already have the equipment to make tahini if you are trying to make hummus, so you might as well make that too. This is the best tahini recipe.
What goes into making homemade garlic hummus?
chick peas-blended chick peas is the base of the dip. This is also the most nutritious part. Chickpeas can also be called garbanzo beans. That is why hummus is sometimes referred to as garbanzo bean dip. Garbanzos are the hummus beans.
tahini-this makes this hummus sauce more thick and smooth
garlic-the main flavoring ingredient
olive oil-this also helps the hummus dip be more smooth
water-this helps the chick peas blend more easily
seasonings-have to season for flavor!
Variations of this easy garlic hummus recipe:
basil-adding basil to make garlic basil hummus would be tasty! There are always varitaions of hummus with basil
more or less hot sauce-in my opinion, you can never have too much hot sauce. If you are into hot sauce as well, definitely add more to your garlic hummus recipe. If you are the polar opposite, you can decrease the hot sauce amount or just omit it entirely.
add spinach-spinach would be a good add for extra nutrients!
add artichokes-stiring in some artichokes can be quite delicious as well.
more or less garlic-this garlic hummus recipe requires 4 tablespoon minced garlic, but if you want more or less, go for it!
more water-adding more water can help with the processing of the chick peas since it can be a bit too thick for the food processor at times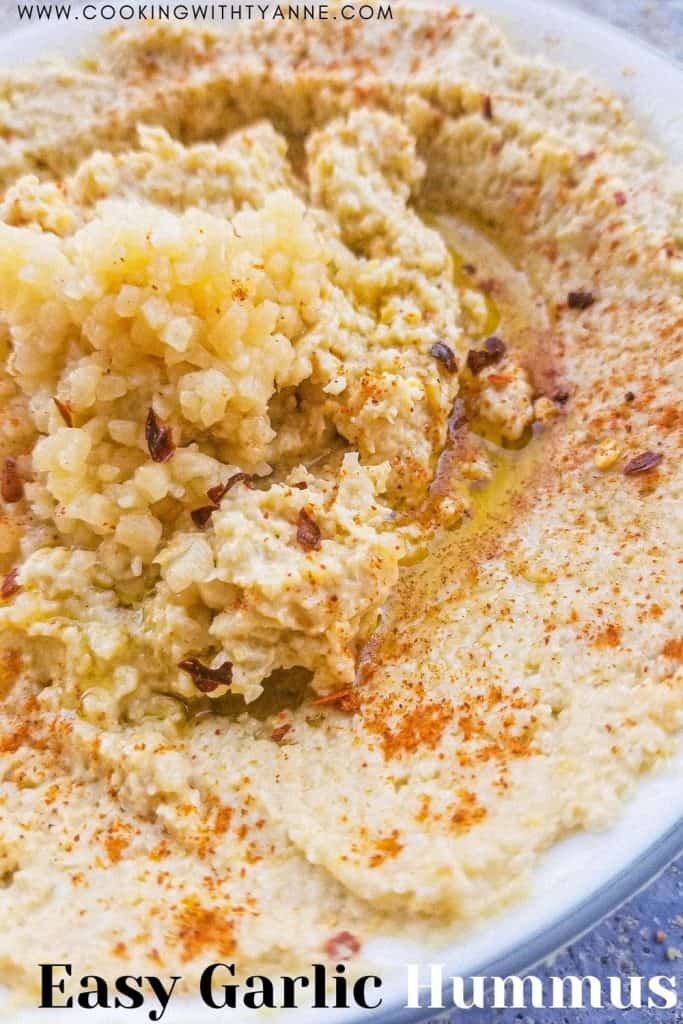 How to make best garlic hummus recipe:
grind chicken peas and water in food processor-this will help turn the beans into a smooth substance. The water helps make it less dry, making it easier on the food processor. Remove beans from food processor and place into a serving bowl.
blend tahini and lemon juice-this will whip the tahini and make it slightly more fluffy.
stir tahini/lemon juice and blended chick peas together-you can do this in the food prosessor or in the serving bowl.
add remaining ingredients-I always stir these in so that way they are not being blended into even smaller pieces.
How to store garbanzo bean dip recipe:
fridge-store this garlic hummus with tahini in an air tight container in the refrigerator for up to one week
freezer-I have not tried freezing this recipe. If you would like to try it, go for it! Let me know how it goes.
Recipe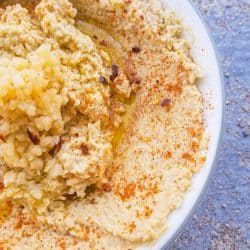 Garlic Hummus Recipe
this garlic hummus recipe is a quick lunch idea! Tastes great on pita bread, crackers, and can even be eaten plain.
Ingredients
14.5

oz

can chicken peas

cooked and rinsed

3

tablespoon

water

¼

cup

lemon juice

½

cup

tahini

4

tablespoon

minced garlic

4

tablespoon

olive oil

1

teaspoon

cumin

1

teaspoon

salt and pepper

1

teaspoon

red pepper flakes

3

tablespoon

sriracha
Instructions
In a food processor, process chickpeas and water until ground extremely fine. Remove, and place in a medium sized bowl.

Blend together tahini and lemon juice for about 2 minutes in the food processor. Add to bowl chickpeas are in.

Stir together chickpeas and tahini mixtures. Add in remaining ingredients. Add any additional seasonings to taste.

Place your garlic hummus in the fridge to set for 15 minutes before eating, or you can serve the hummus right away!
---
All information presented on this site is intended for informational purposes only. Nutritional facts listed are a rough estimate and should only be followed as a general idea.