Whether you want to cut carbs or just don't want to make or buy a pie crust, this crustless apple pie recipe is for you! This pie can be made from beginning to end in about 45 minutes. It is also a one pot dessert! Perfect to whip up if you have an excess amount of apples on hand. This easy apple pie recipe serves about 8 people.
This post may contain affiliate links. This means if you click on a link and purchase something, I may earn a small commission from it.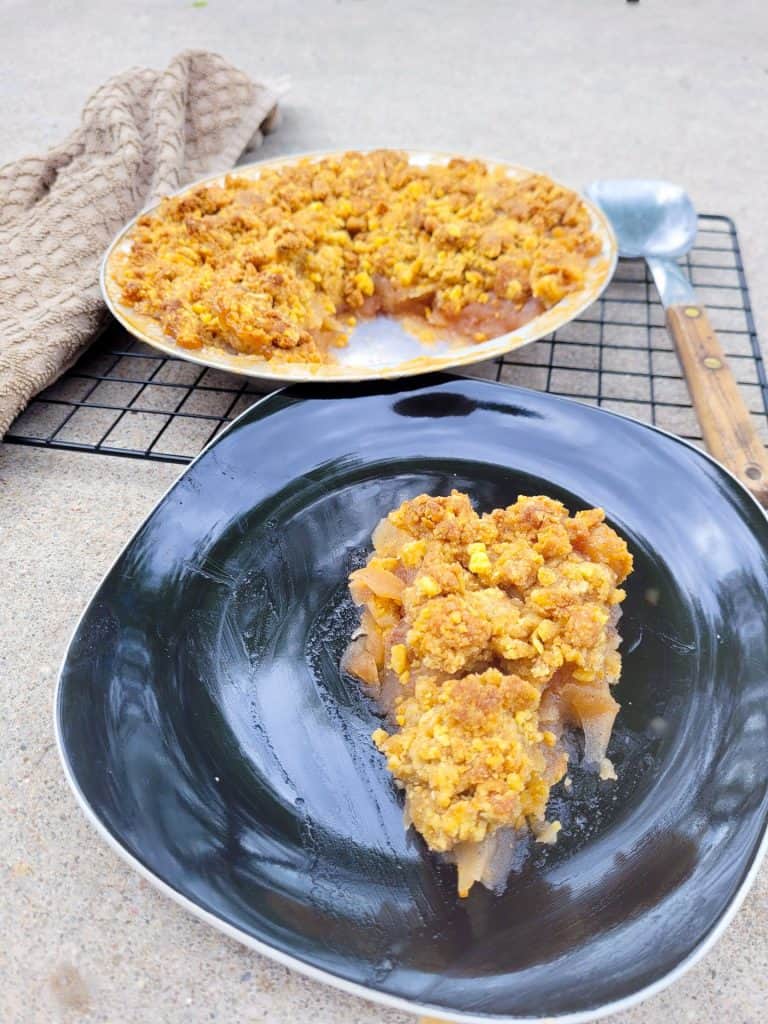 This recipe is most similar to my Mulberry Pie and Crustless Pumpkin Pie recipes.
What pie pan do I use?
A metal or glass one works best! These are not as flimsy as the aluminum ones. I personally used the glass ones as shown in the pictures.
Favorite ingredient brands to use for this crustless apple pie recipe from scratch:
*apples- I used granny smith, but other kinds of apples would also work. Some people like tart half and the other half of their apples less tart to balance out the flavor. To see if the apples you have are compatible with apple pie, click here.
*white sugar and brown sugar-C&H Cane Sugar
*cinnamon-McCormick
*baking powder-Clabber Girl
*butter-Crystal Farms
*flour-Gold Medal
How to make good pie with crumb topping:
make filling-boil apples, water, cinnamon, and sugar to blend the flavors together. This step also helps the apples soften. Pour apple mixture in a sprayed pie dish.
make crumb topping-in same previously used pot (one pot recipe!) combine butter, flour, brown sugar, and baking powder. This allows the crustless apple pie crumb mixture to form. At first it may seem like how will this form crumbs, but after a while it starts to form.
Sprinkle crumbs on apple filling. Bake!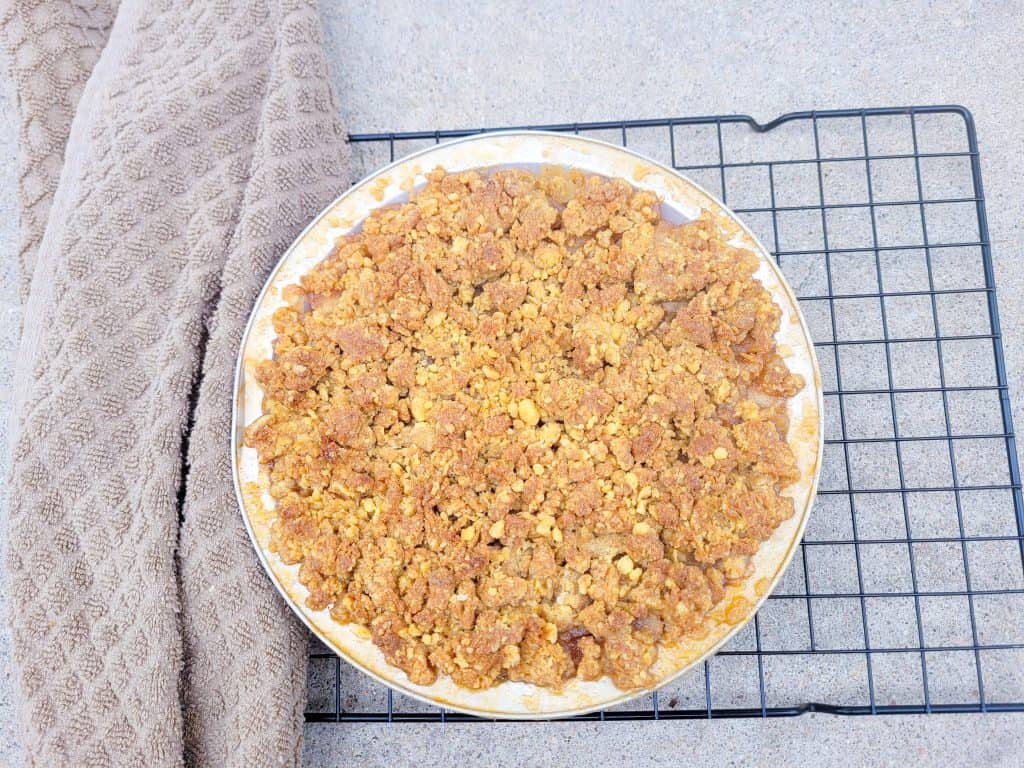 How to serve no-crust apple pie:
Whipped cream! Some people love so much whipped cream that people ask "would you like an apple pie with that?" because their dessert is less than their whipped cream!
You can also serve with ice cream and make it no crust apple pie ala mode.
How to store apple pie with fresh apples:
fridge-my family always stores every fruit dessert in the fridge for up to one week. We typically put a lid or saran wrap on pie so it does not taste like the fridge.
freezer-I have not tried freezing this crustless apple pie before. I do not see a problem with doing so though. If you would like to try it, let me know how it goes!
Crustless Apple Pie
Whether you want to cut carbs or just don't want to make or buy a pie crust, this crustless apple pie recipe is for you! This apple pie with crumb topping is just enough to give you the flavor of a traditional apple pie, without the carbs. An easy homemade apple pie that can be made in about 45 minutes.
Recommended Products
teaspoon measuring spoons
Ingredients
6

medium sized granny smith apples

cored, peeled, and sliced into thin slices

½

cup

sugar

1

teaspoon

cinnamon

¾

cup

water

1

cup

flour

½

cup

brown sugar

1

teaspoon

baking powder

½

cup

melted butter
Instructions
In a medium sized pot, place apples, sugar, cinnamon, and water and stir to combine flavors. Let simmer oven medium heat until apples are soft.

Pour apple mixture into a sprayed standard-sized pie pan.

In the same previous used pot, melt the butter over low heat. When melted, stir in flour, brown sugar and baking powder. It should form little clumps. Spread these clumps over top apple mixture in pie pan.

Bake at 350 degrees for 30 minutes or until juices are bubbling. Serve your Crustless Apple Pie with whipped cream or ice cream!
Nutrition
---
All information presented on this site is intended for informational purposes only. Nutritional facts listed are a rough estimate and should only be followed as a general idea.