This garlic chicken pizza can be an easy dinner idea the whole family will enjoy! Garlic, mozzarella, chicken & pizza are all tasty, so why not throw them together? This should take no longer than 30 minutes to make if your chicken is precooked. This homemade chicken alfredo pizza serves about 8 people.
This post may contain affiliate links. This means if you click on a link and purchase something, I may earn a small commission from it.
Ingredients:
Dough - a dough mix would work. You can make your own pizza dough as well.
Sauce - you can use store bought, but I also like making my own alfredo sauce.
Chicken breast - We have been buying from a local butcher. I oven roasted my chicken instead of frying it.
Cheese - I use shredded cheese. Shredding cheese yourself makes it more gooey!
Herb seasoning - for the herb look on top
How to make chicken pizza with garlic sauce:
First, precook pizza dough - This is important because the dough will have a harder time getting cooked throughout if you just slapped the dough on the pan and just started adding toppings without somewhat cooking the dough first.
Second, cook onion and garlic - this step is vital to do while the dough is precooking because if it is not ready to be put on the pizza immediately after the dough comes out of the oven, this would delay the cooking time. Sometimes if cooking time is delayed so much, it causes the dough to not cook right. It is important to throw all the toppings on immediately after the dough comes out of the oven from precooking.
Next, coat chicken in onion and garlic - this is important because 1. It warms the chicken up if you precooked your chicken a while ago and 2. It gives the chicken a more garlic flavor. How to add garlic to pizza is with the onion!
Then, add sauce, chicken mixture, and then remaining toppings when pizza is done precooking.
Finally, bake the pizza until cheese is melted or is warm in the center if you touch your finger to it. Serve your chicken garlic pizza hot!
Variations of homemade white pizza:
More meat - you can always put more meat of any sort on the pizza such as ham, Canadian bacon, pork bacon, beef, etc.
Add vegetables - you can add all sorts of vegetables to this pizza and it would still be tasty! Some examples include green bell peppers, mushrooms, tomatoes, spinach, broccoli, artichokes, etc.
More garlic - in my personal opinion, you can never have too much garlic on anything.
More cheese - the more cheese the better!
Omit meat - you can make this a vegetarian pizza by omitting the meat
How to make white pizza sauce:
Store bought or homemade alfredo sauce works in this recipe. One time I made Alfredo sauce and I forgot to add Parmesan cheese *sigh*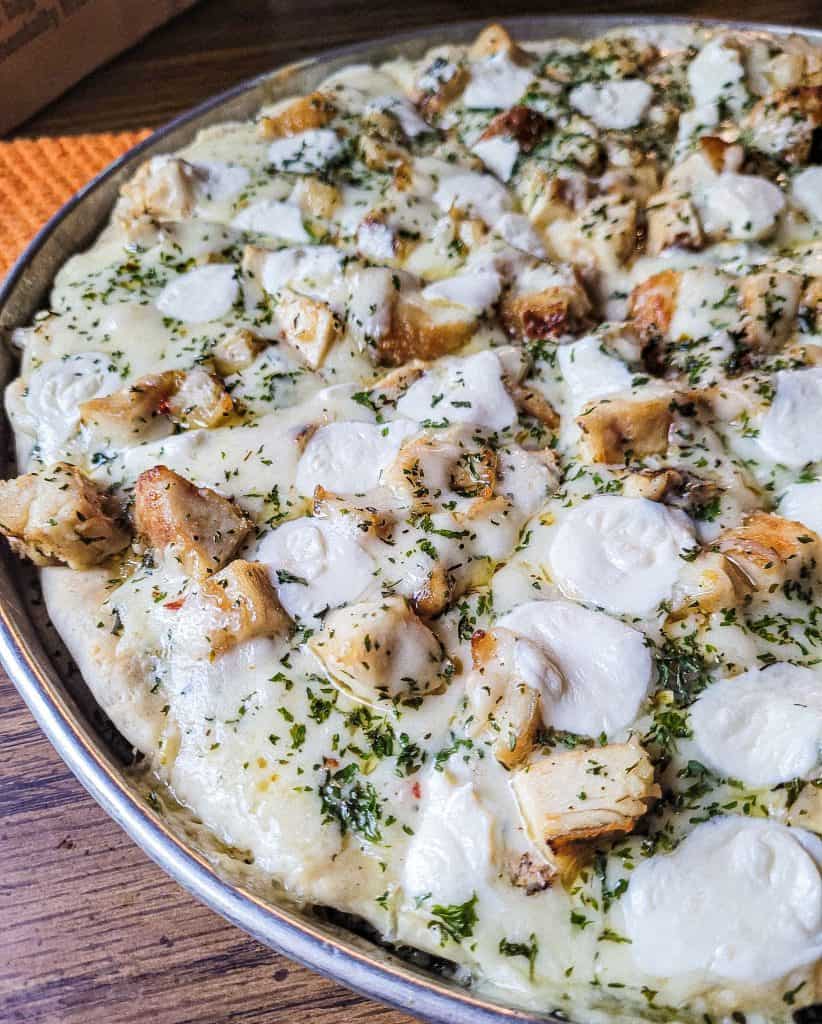 How to store:
Fridge - store pizza in an air tight container in the refrigerator for up to one week
Freezer - I have not tried freezing this chicken alfredo pizza recipe. If you would like to try it, go for it! Let me know how it goes.
More yummy pizzas:
Recipe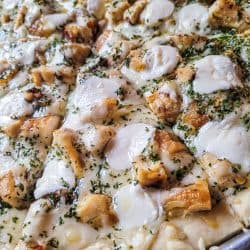 Garlic Chicken Alfredo Pizza
Homemade pizza dinner idea using baked chicken breast, crushed garlic, and alfredo sauce.
Ingredients
1

store bought pizza crust

1 15

oz

can alfredo sauce

2

cups

chicken breast in one inch pieces

2

tablespoon

butter

¼

cup

chopped white onion

2

tablespoon

crushed garlic

about 1 cup of Swiss cheese

+/- if desired

about 1 cup mozzarella cheese

+/- if desired

herb seasonings for top: garlic salt, thyme, and/or oregano
Instructions
Precook pizza dough according to package instructions (for mine, it said to bake for 10 minutes at 400 degrees). While cooking, melt butter in skillet. Add in white onion and garlic. Cook until golden brown. Throw in chicken in skillet with onion and garlic to warm it up (if not warm already) to blend the flavors.

When pizza is done precooking, remove from oven and add Alfredo sauce. Spread chicken/onion/garlic mixture over Alfredo sauce. Sprinkle desired amount of cheeses on top. Add in desired amount of seasonings to boost flavor.

Finish baking according to crust directions. For my crust, it said to bake for 6 minutes at 400 degrees or until cheese is melted. Remove from oven, and cut and serve your Garlic Chicken Pizza.
Nutrition
---
All information presented on this site is intended for informational purposes only. Nutritional facts listed are a rough estimate and should only be followed as a general idea.