Spicy chicken enchiladas with shredded chicken is a 30 minute meal the whole family will love! Super easy weeknight dinner that you can top with all your favorite Mexican food toppings. This cheesy chicken enchilada recipe serves about 8-10 people.
This post may contain affiliate links. This means if you click on a link and purchase something, I may earn a small commission from it.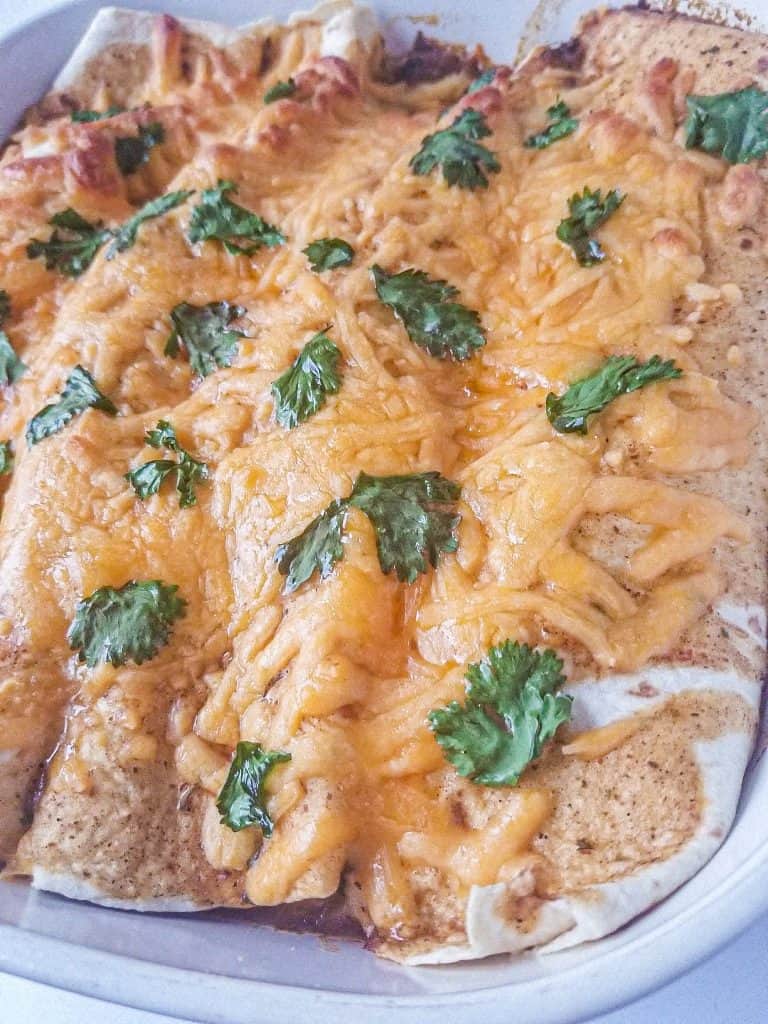 Ingredients:
Tortillas - whatever is on sale, I use burrito size for this. Other sizes work too. You can also make your own tortillas from scratch.
Chicken - I use the kind in a bag so that it is easier to thaw. I just cook the breasts at 400 degrees on both sides, then chop and shred it. If you want to make ground chicken enchiladas so it resembles hamburger more closely, you can.
Cheese - Crystal Farms, any flavor works-I usually use cheddar though
Sauce - El Paso brand, or homemade. I used red sauce to make red chili enchiladas as shown in the pictures, but you can use any color of sauce you want.
How to make shredded chicken enchiladas:
Gather warmed stacked tortillas on a plate-ensure your tortillas are not frozen if you freeze yours. I swear we are like the only family that freezes tortillas, but if you happen to be like us, make sure the tortillas are no longer frozen. You can do this by wrapping them in a towel and putting them in the microwave for 20 seconds or until soft.
Begin adding chicken to a tortilla. Then, add cheese. You can add as much cheese and chicken as you want, just make sure your enchilada closes.
Roll your tortilla like you would roll a rug-I have been rolling my tortillas burrito style, but I recently learned that they are just as effective at keeping the chicken in by rolling them like a rug. This means less work on my part!
Place rolled tortillas in a sprayed 9 x 13 pan.
Pour sauce on top, and bake! Enchilada oven temp should be 400 degrees.
Recipe variations
Sauce - you could put any sauce you want on these chicken enchiladas. Chicken makes it easy to diversify the sauces with. You can use red sauce, green sauce, creamy cheese sauce, etc.
Cream cheese - cream cheese can be melted in a skillet with the chicken. This would create an extra creamy taste.
Chicken enchilada casserole toppings
The toppings for chicken enchiladas are endless. Some of my favorites are guacamole, sour cream, salsa, scallions, extra cheese, black beans, avocado, refried beans, rice, cilantro, red onion, etc.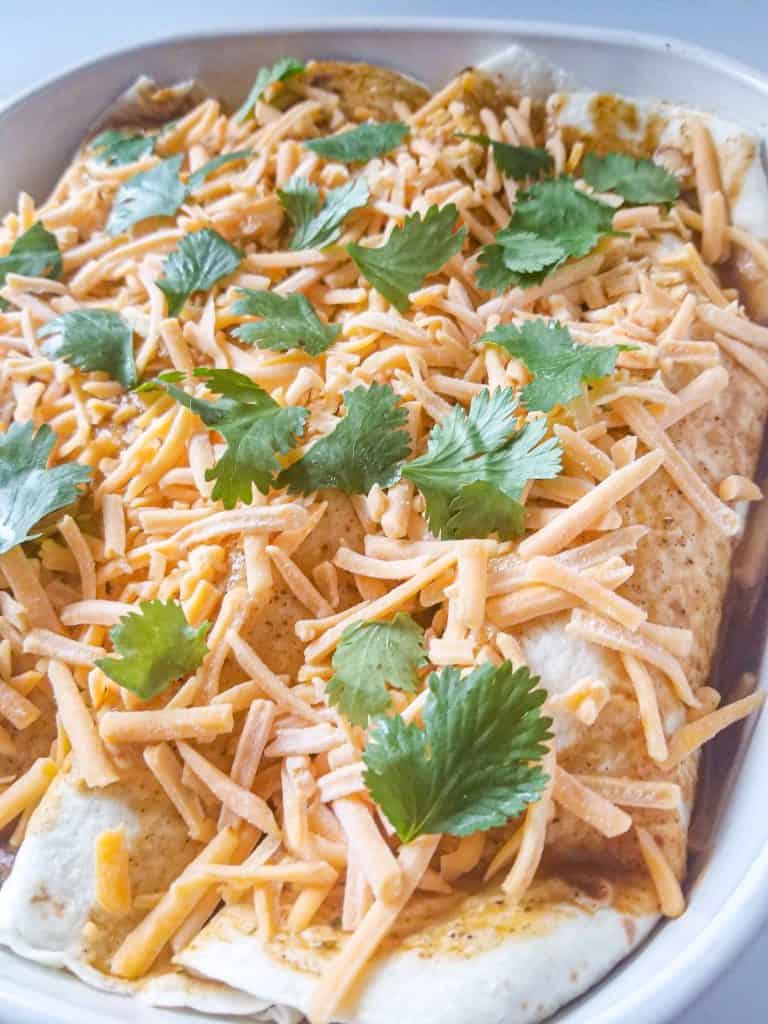 What to serve with chicken enchilada bake?
This chicken cheese enchilada recipe pairs well with rice and beans.
If you want a dessert to go with this easy chicken enchilada casserole that is also easy, check out my Baked Churro recipe.
Best Tips for Lazy Chicken Enchiladas
Rolling - place the filling on one side of the tortilla instead of putting it in the center
Make ahead - prep the enchiladas according to the recipe but refrigerate instead of baking right away. Store in the fridge for up to 3 days ahead of baking.
Corn vs Flour tortillas - which ever kind of tortillas you want to use, you can use. Corn is more traditional but flour holds shape better with the sauce.
How to store this chicken breast recipe:
Fridge - store these cheesy chicken enchiladas in an air tight container in the refrigerator for up to one week
Freezer - this recipe can be a freezer meal! Follow directions as normal and remove chicken from pan and place into a freezer tray with a lid. Once cool, place in the freezer for up to one month. To serve, place it in the oven at 400 degrees Fahrenheit for about an hour or until heated throughout.
Recipe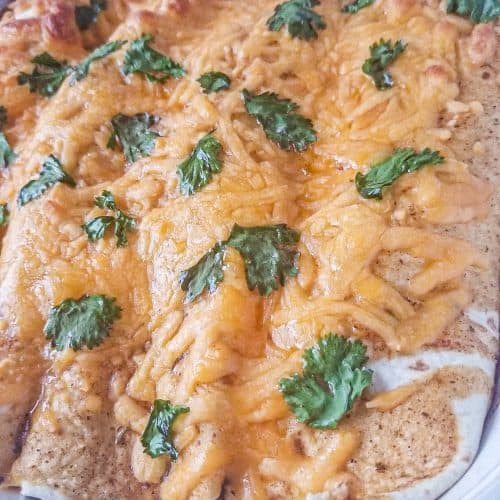 Cheesy Chicken Enchiladas
This easy chicken enchilada casserole is the most easy enchilada recipe you are going to find! These chicken cheese enchiladas only require 4 ingredients. You can also make this recipe into chicken enchiladas with red sauce or chicken enchiladas with green sauce.
Ingredients
10-12

flour tortillas

3

cups

cooked shredded chicken breast

4

cups

shredded cheese of choice

16

oz

Red or green enchilada sauce
Instructions
Warm up chicken if it is not warm already. Make sure tortillas are thawed and soft as well.

On one side of a tortilla, in a straight line, place as much chicken as you desire, I usually do about a tablespoon or 2. Place desired amount of shredded cheese on top the chicken.

Roll tortilla up. Do not enclose edges like a burrito as that is not traditional.

Place rolled up tortilla in a sprayed 9x13 deep dish pan. Repeat until chicken and tortillas are all used up.

Pour enchilada sauce on top the enchiladas. Pour remaining cheese on top the enchilada sauce. Bake at 400 degrees for about 15-20 minutes or until cheese is melted on the top. Cut and serve your Easy Chicken Enchiladas with salsa, sour cream, and guacamole!
Nutrition
---
All information presented on this site is intended for informational purposes only. Nutritional facts listed are a rough estimate and should only be followed as a general idea.