Moist blueberry pound cake in a loaf pan with lemon frosting is super tasty! Probably one of the most astecially pleasing desserts you can make with entry level baking skills. This simple dessert is perfect for the perfect celebration. So what are you celebrating? Get your Blueberry Pound Cake to do the work for you! Every day feels like Friday when you can whip up some mess-free baking delight. Add some blueberries on the top and you'll be set for the whole week. Yes, baking does take patience, but with the right recipe it doesn't have to take all day. This Blueberry Pound Cake recipe is so easy to make from scratch, 15 minutes of prep time is all it takes.
This post may contain affiliate links. This means if you click on a link and purchase something, I may earn a small commission from it. In the footer of this page is my full disclosure policy.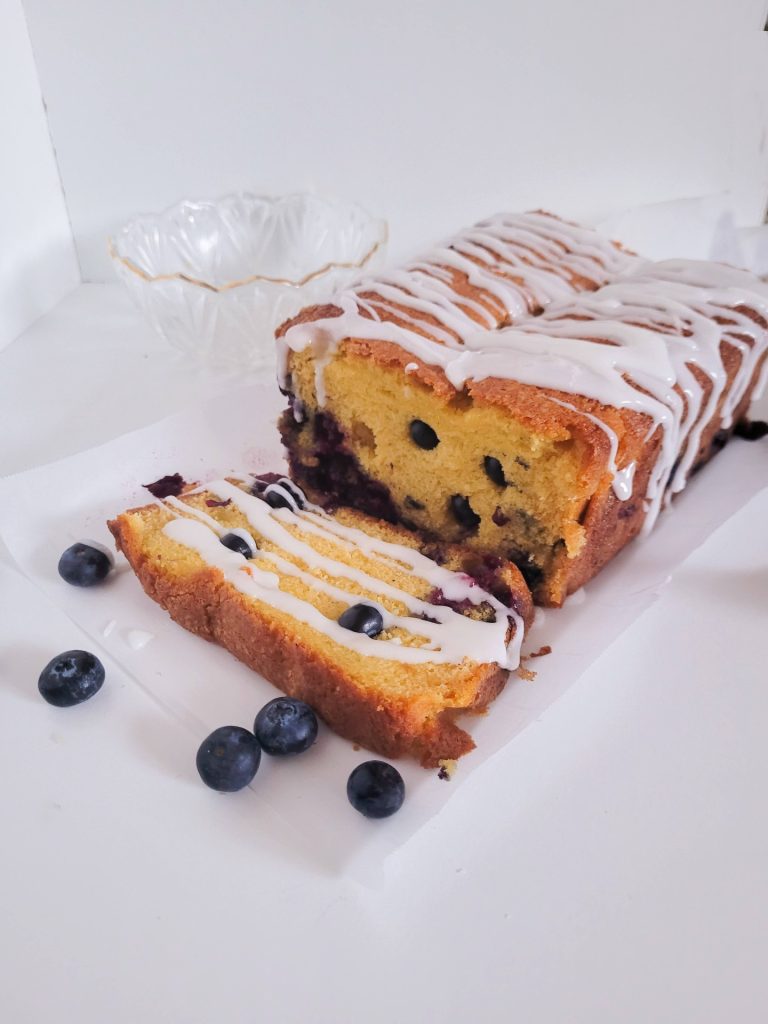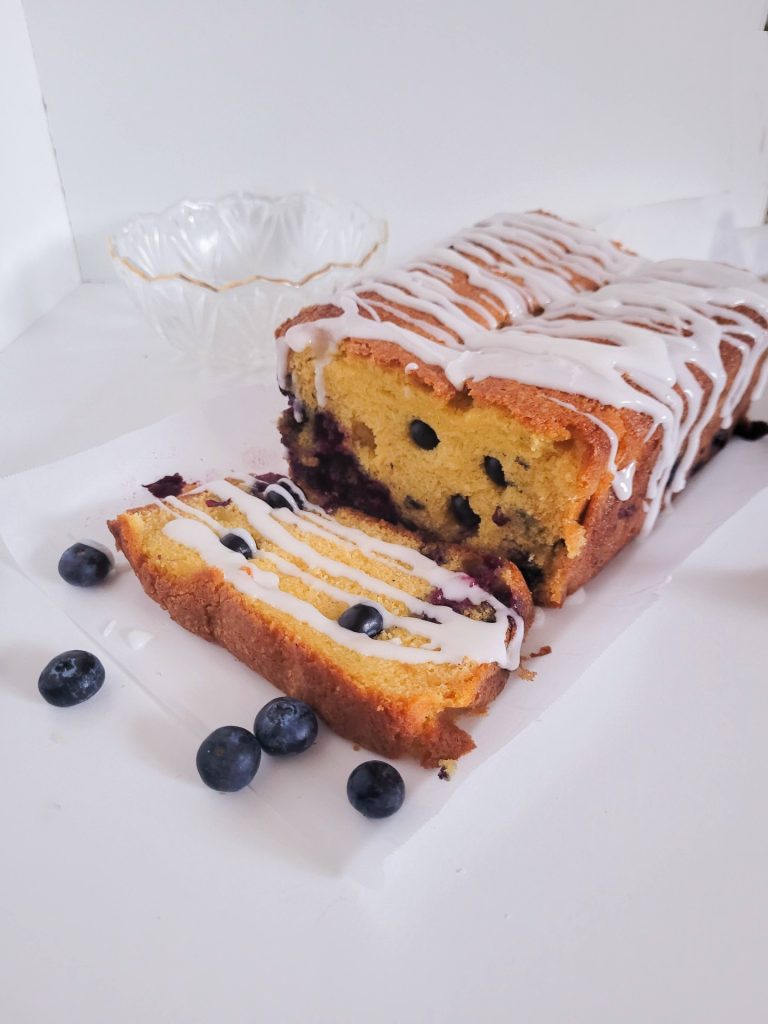 Overview of the steps to how to make blueberry pound cake:
lemon and milk-when you put lemon juice and milk together, you are basically making this blueberry pound cake with buttermilk since lemon juice and milk is buttermilk.
wet ingredients-mixing the wet ingredients together first allow air to be beat into the mixture and fluff up the sugar and butter.
dry ingredients-the dry ingredients being mixed into the wet ingredients creates the batter
stiring in blueberries-carefully stiring in the blueberries as opposed to mixing allows for the blueberries to not pop open and dispurse their juice all over the mixture.
Check out my other cake recipes: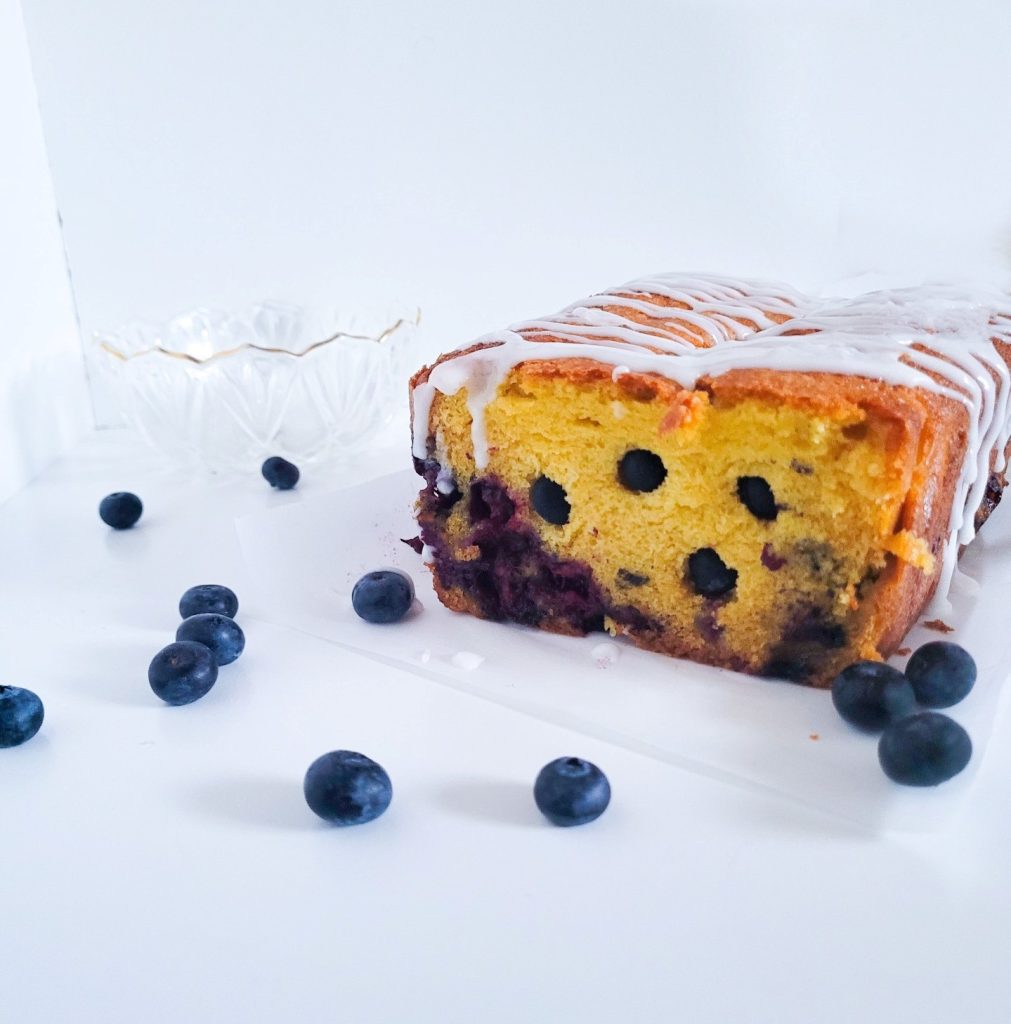 Variations of moist blueberry pound cake with icing:
no frosting-you can omit the frosting if you want to cut back on calories. The frosting adds an extra sweet taste and is astetically pleasing
different frosting-you can use cream cheese frosting, vanilla frosting, buttercream frosting, etc if you don't want the extra lemon flavor from the lemon icing.
no lemon flavor-if you just wish for this to be a blueberry pound cake, you can omit the lemon ingredients.
more fruits-if you want to add more nutrients besides the blueberries, other berries such as raspberries and black berries can also be used.
How to store blueberry pound cake:
fridge-store this blueberry pound cake in an air tight container in the refrigerator for up to a week. Does blueberry pound cake need to be refridgerated? I personally store everything with fruit in the fridge even if it is a baked good.
freezer-I have not tried freezing this recipe. If you would like to try it, go for it! Let me know how it goes.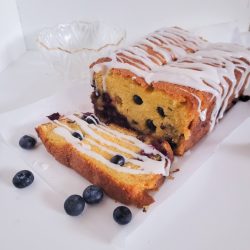 Blueberry Pound Cake
This simple blueberry pound cake dessert is perfect for the perfect celebration.
Recommended Products
hand mixer or stand mixer
Ingredients
⅓

cup

milk

1

tablespoon

lemon extract

1

tablespoon

lemon juice

1 ½

cups

white sugar

1 ½

cups

butter

3

eggs

2

cups

flour

¼

teaspoon

baking soda

dash

salt

1

cup

blueberries

4

tablespoon

lemon frosting
Instructions
In a measuring cup, measure out the milk. Dump in the lemon extract and lemon juice. Set aside.

In a mixer, beat together butter and sugar until fluffy. Add in eggs and continue to mix until well combined. Add flour, baking soda, and salt and stir. Pour in milk/lemon mixture and stir until mixed throughout. Gently fold in the blueberries.

Prepare loaf pan by spraying it with nonstick spray. Cut rectangle square of parchment paper and place in loaf pan. Make sure there is enough parchment paper on the edges so you can lift it out later. Spray parchment paper with nonstick spray.

Pour batter into parchment paper in the loaf pan. Bake for 50 minutes at 325 degrees. Bake an additional 10 minutes at 350 degrees.

To check if the blueberry pound cake is done, insert a toothpick into the cake. If it comes out clean, then it is done. If not, allow a few extra minute to bake and then test again.

To serve, lift pound cake out of pan by pulling up the parchment paper. Place on a plate. Cut and serve with frosting.
---
All information presented on this site is intended for informational purposes only. Nutritional facts listed are a rough estimate and should only be followed as a general idea.