Garlic and vegan butter are a great pair in this vegan naan bread recipe without yogurt! Naan with no yogurt is crispy and flakey on the outside, and puffy and pillow-y on the inside. I made this to use as pizza dough for individual sized pizzas for my family. You can use this dough for just about anything though! This garlic naan bread recipe makes about 5 servings and is 393 kcal per serving.
This post may contain affiliate links. This means if you click on a link and purchase something, I may earn a small commission from it.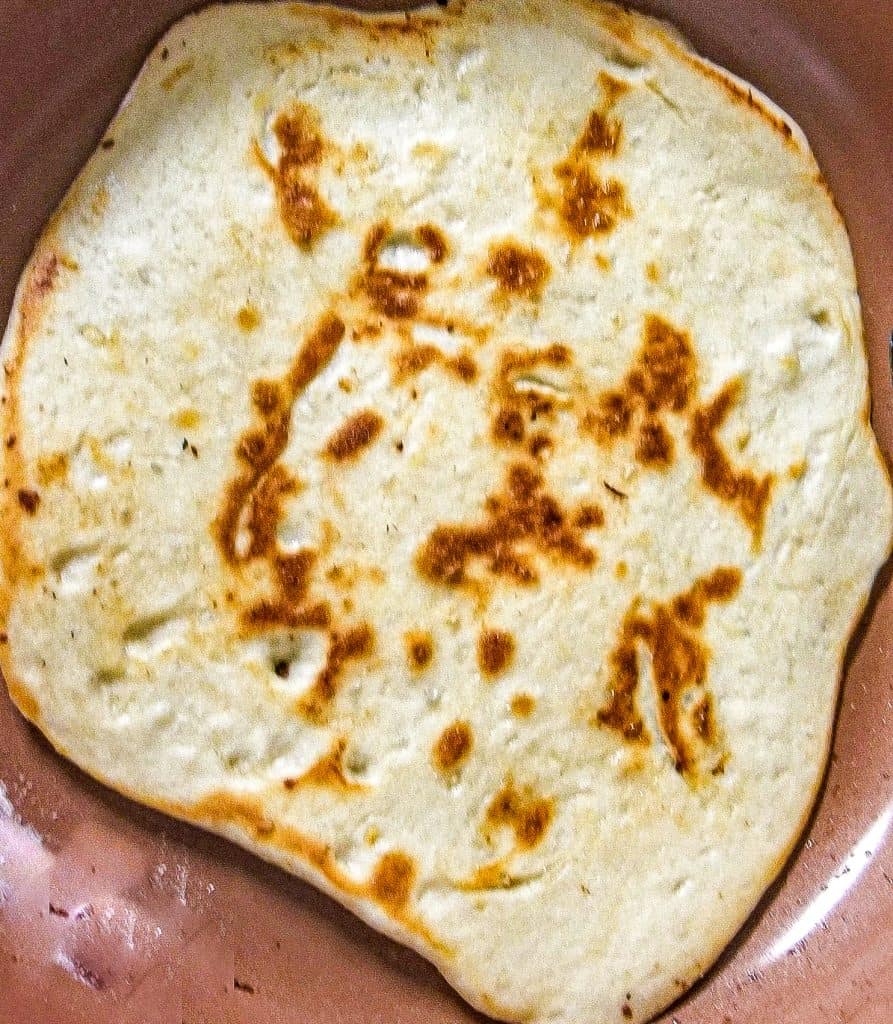 What is naan?
Naan is an Indian food flat bread made of flour, yeast, sugar, and water as basic ingredients. It can also be cheese stuffed and dipped in garlic butter.
What is the difference between pita and naan bread anyway?
Naan bread is more of a thicker dough. If you want to make wraps out of Naan bread, it will not bend as nicely as pita bread would. There are so many ways to use Indian Bread. Pita bread is a thinner dough which makes it more ideal for wraps. Pita bread is a lot easier to break apart as well for dipping sauces.
When thinking about the pita vs naan debate, you have to decide what you are using the bread for. Choose the bread that works best for your use.
Ingredients for homemade naan bread:
Instant yeast - Red Star Quick Yeast is one of the best yeast brands out there
Almond milk - If you don't want to make vegan naan bread, you can use cows milk
Flour - Gold Medal
Butter - any butter or vegan butter should work here
How to make naan bread:
Small bowl - you can also use a measuring cup, but combine WARM water with yeast. I let mine sit until it is bubbly.
Large bowl - dump contents of small bowl into a large bowl along with the almond milk, flour, sugar, and salt. Stir until well combined.
Knead dough - knead on a floured surface just until it starts to become elastic and pull back. Make sure it is no longer sticky as well. If still sticky, add more flour while kneading.
Oil bowl - you can use the same bowl as before, just be sure to oil it. Place the dough back in the bowl. Cover with a damp towel in a warm location for about an hour or until doubled in size.
Punch down dough and divide out into however many bread flats you need. I divided my dough into 5 balls.
Roll out each ball with a rolling pin until they are about ¼ inch thick. They do tend to rise a little in the pan so do not worry that they are too flat.
Make garlic butter and brush one of the bread flats with it.
Fry the garlic butter naan breads until golden brown. While frying make sure to brush the side with garlic butter that does not have any butter on it already. Flip over. You can also brush this new top side again with garlic butter if you choose so. Continue until all dough balls are used. Make a stack of naan bread to keep warm.
Serve!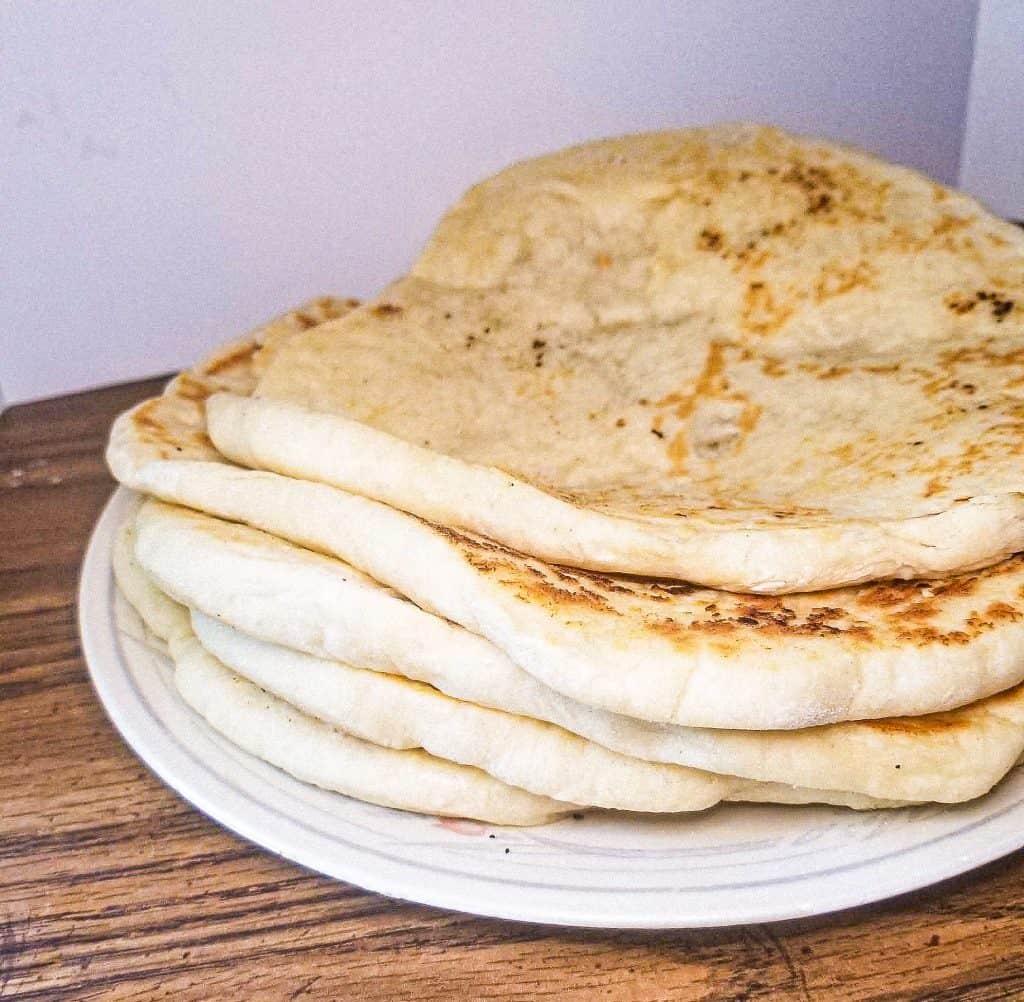 Tips for making homemade naan bread:
Allow yeast to get frothy - when making bread, I always allow time to ensure my yeast is frothy in the warm water before adding other ingredients. Sometimes if it does not get frothy, this could mean there is something wrong with the yeast and it will not rise as good as it should.
Make sure dough has doubled in size before punching it down - depending on how warm the area you are setting your dough in is, the Indian Bread dough could double in size a lot sooner or a lot later than what the recipe calls for. If the dough still has not doubled in size after an hour, allow to rest at least another 15 minutes to see if it just needs more time. If nothing changes in those 15 minutes, then proceed with the recipe anyway. If it does rise more in those 15 minutes, allow it to keep rising until doubled in size.
Use cows milk - If you do not have almond milk, you do not have to miss out on making naan bread. Just use cows milk instead.
Dry dough - if you think the dough is dry when first beginning to need, do not add water. It should change to a sticky dough after a while. If it still is not sticky after about 5 minutes, then add a hint of water.
Preheat pan - before putting the first dough slab in the pan, make sure pan is hot. Sprinkle some water droplets on pan to ensure it is hot enough. It will be hot enough when water droplets sizzle.
Cover balls - since frying your dough one ball at a time, place a damp towel over remaining balls to prevent them from drying out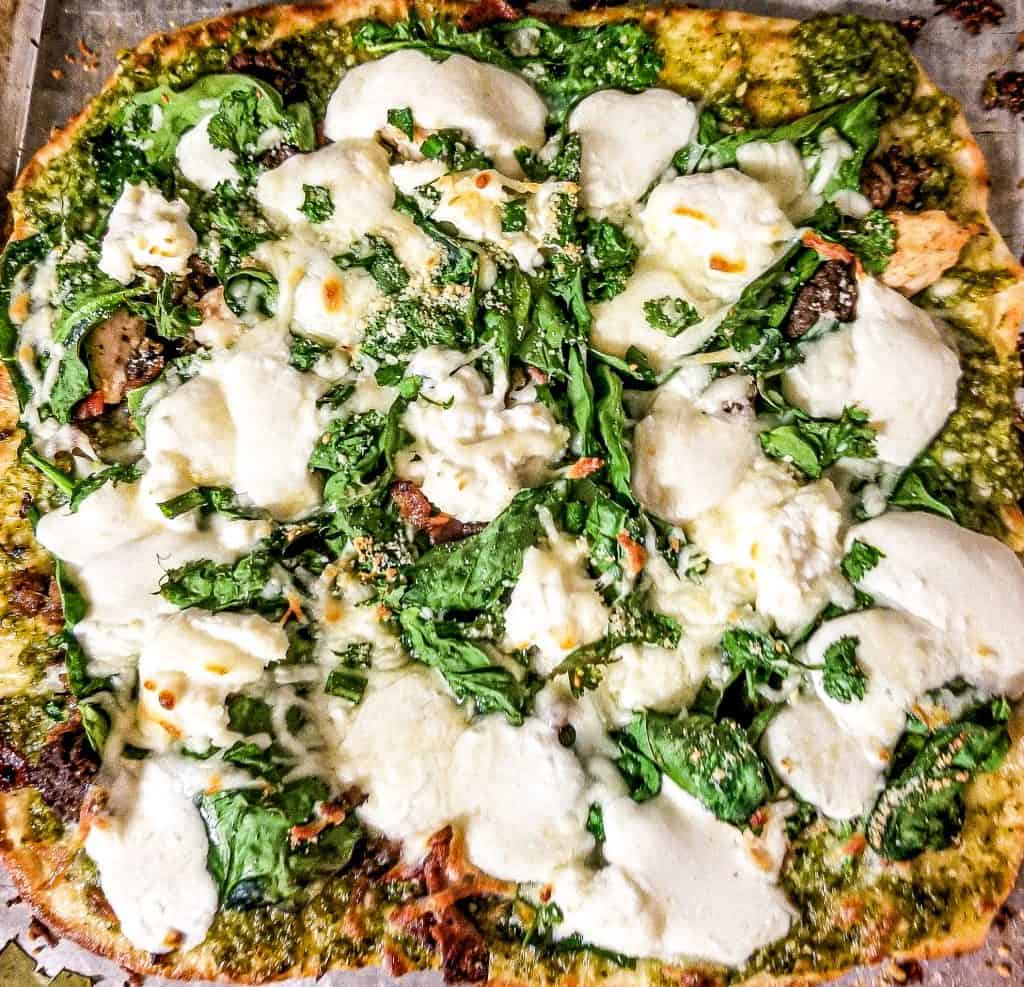 FAQs
How to make naan bread pizza?
To make the naan bread pizza, I prepare the dough the same way. After the dough is all fried, I have every person put sauce and their toppings on the fried dough. Then, I bake them all the pizzas at 400 degrees until the cheese melted.
How to reheat vegan naan bread?
Refry straight from the fridge in garlic butter in a pan over medium heat. If the bread is frozen, reheat in the microwave and then fry for a crispy finish.
What if my yeast doesn't bubble?
If your yeast does not bubble within 5 minutes, you might as well throw out the mixture and restart. The yeast needs to bubble to activate the yeast in order for the dough to rise. Yeast can be temperamental and can expire or be a bad batch. Make sure the water is not too hot either.
How to serve naan bread that is not pizza?
Plain is a great option. Dip in garlic butter and enjoy by itself!
Garlic naan bread also makes a great sandwich or wraps. Top with your favorite sandwich toppings and fold over.
This bread also makes a great scoop for dipping. Dip in red lentil curry, fiesta dip, cheeseball, tiki masala, etc.
How to store dairy free naan:
Fridge - store this Indian bread in an air tight container in the refrigerator. You can store the dough saran wrapped in the fridge if you don't want to make all the bread slices at once. This would stay fresher as well.
Freezer - Place bread in a freezer safe bag. Freeze for up until 3 months
Check out my other bread recipes:
Recipe
Homemade Vegan Naan Bread
Garlic and vegan butter are a great pair in this vegan naan recipe without yogurt! You can use this vegan naan for about anything though! Homemade naan only takes about 1 hour to rise.
Ingredients
1

cup

warm water

1

package active dry yeast

2

teaspoons

sugar

3

tablespoon

almond milk or regular milk if nonvegan

dash of salt

3

cups

flour plus more for kneading

olive oil

1

tablespoon

minced garlic

½

stick melted butter or vegan butter
Instructions
Fill a small bowl with the warm water and dump yeast packet inside of it. Let sit until it gets frothy and bubbly, about 2 minutes. Stir. Dump into a larger bowl and add sugar, milk, salt, and flour, stirring between every ingredient. Keep stirring until a ball has formed. Knead for about 5-7 minutes on a floured surface or until it is soft and smooth and bounces back.

Drizzle bowl in olive oil. Place dough in bowl, and cover with a damp towel and let sit for an hour, or until doubled in size in a warm location.

After dough has doubled in size, punch it down. Divide out dough into servings, I did 5 because I planned on making personal pizzas for my whole family. Can chose as many servings or as little of servings as you want.

Roll out each serving until they are about ¼ of an inch thick.

In a small bowl, combine melted butter and minced garlic. Brush onto one side of a dough serving. Place that side of the dough down in a large fry pan over medium heat. Fry until bubbles form on top. Bush top side with butter/garlic mixture and flip over. When the bottom side gets a little brown, remove from heat. Repeat with remaining dough. Serve your vegan naan bread any way you like. Below are pictures of my naan bread pizzas.
Nutrition
---
All information presented on this site is intended for informational purposes only. Nutritional facts listed are a rough estimate and should only be followed as a general idea.