Air fryer nachos are the best because the chips get crispy as they cook and the cheese is nice and gooey! Learn how to make delicious nachos in an air fryer with this easy-to-follow step-by-step guide. Get the perfect crispy crunch and flavor with all the toppings!
This post may contain affiliate links. This means if you click on a link and purchase something, I may earn a small commission from it. In the footer of this page is my full disclosure policy.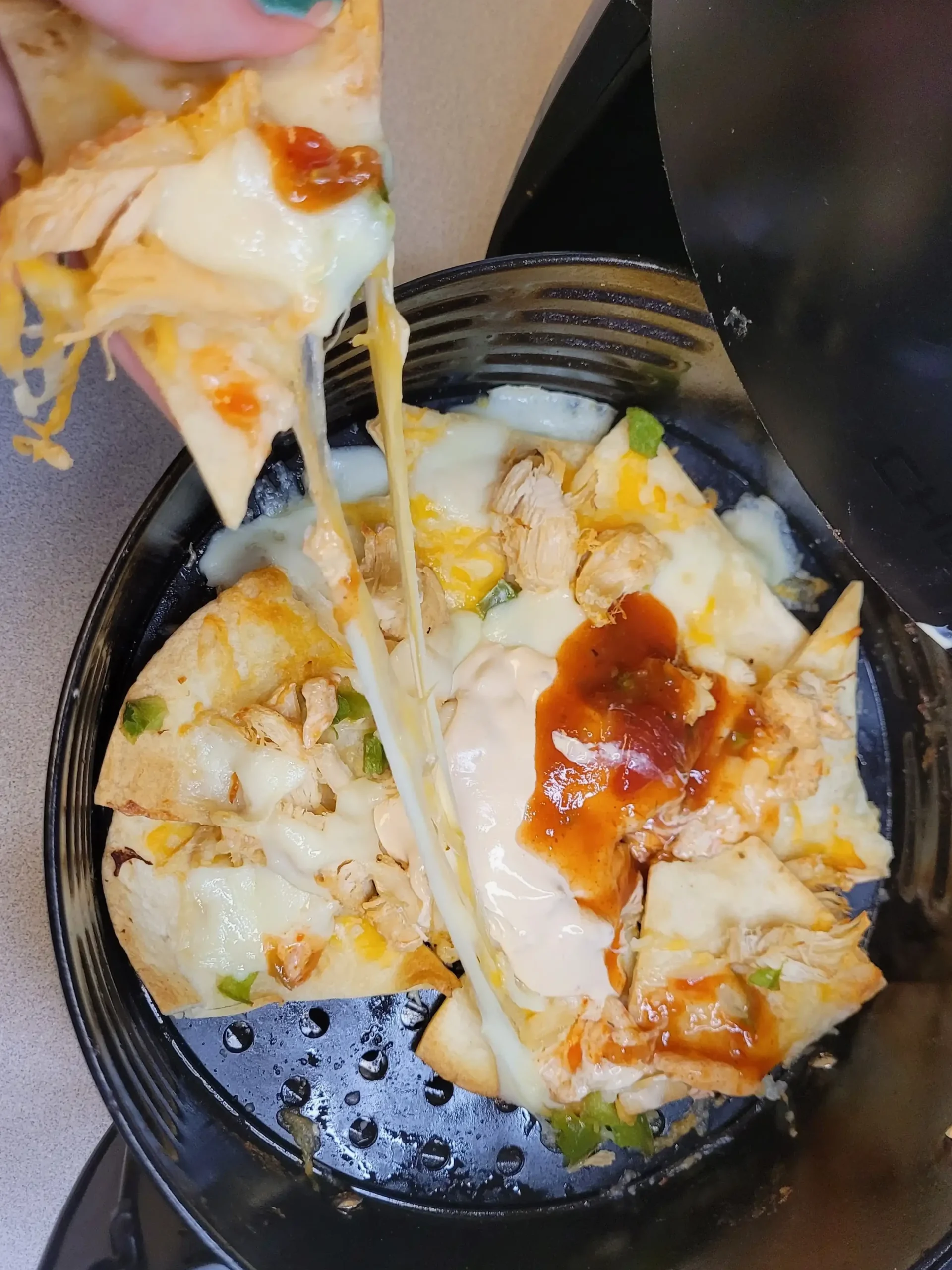 Ingredients for nachos
Tortilla chips - restaurant style tortilla chips would work or you can make homemade air fryer tortilla chips
Cheese - any shredded cheese would work. Freshly shredded is best for melting effect.
Any other toppings - see full idea list of toppings listed below
How to make nachos in the air fryer:
Preheat air fryer - ensure your air fryer is at the 350 temp before adding ingredients so the cheese will start melting right away! Chop any ingredients (chicken, tomato, onion, etc) you need to while you wait.
First layer - layer chips in air fryer basket first. Then adds any meats or cheeses to begin heating since these will take the longest. Air fry for about 5-7 minutes.
Second layer - once the 5-7 minutes is up and cheese is melted, add any additional toppings that do not have to be cooked. Serve!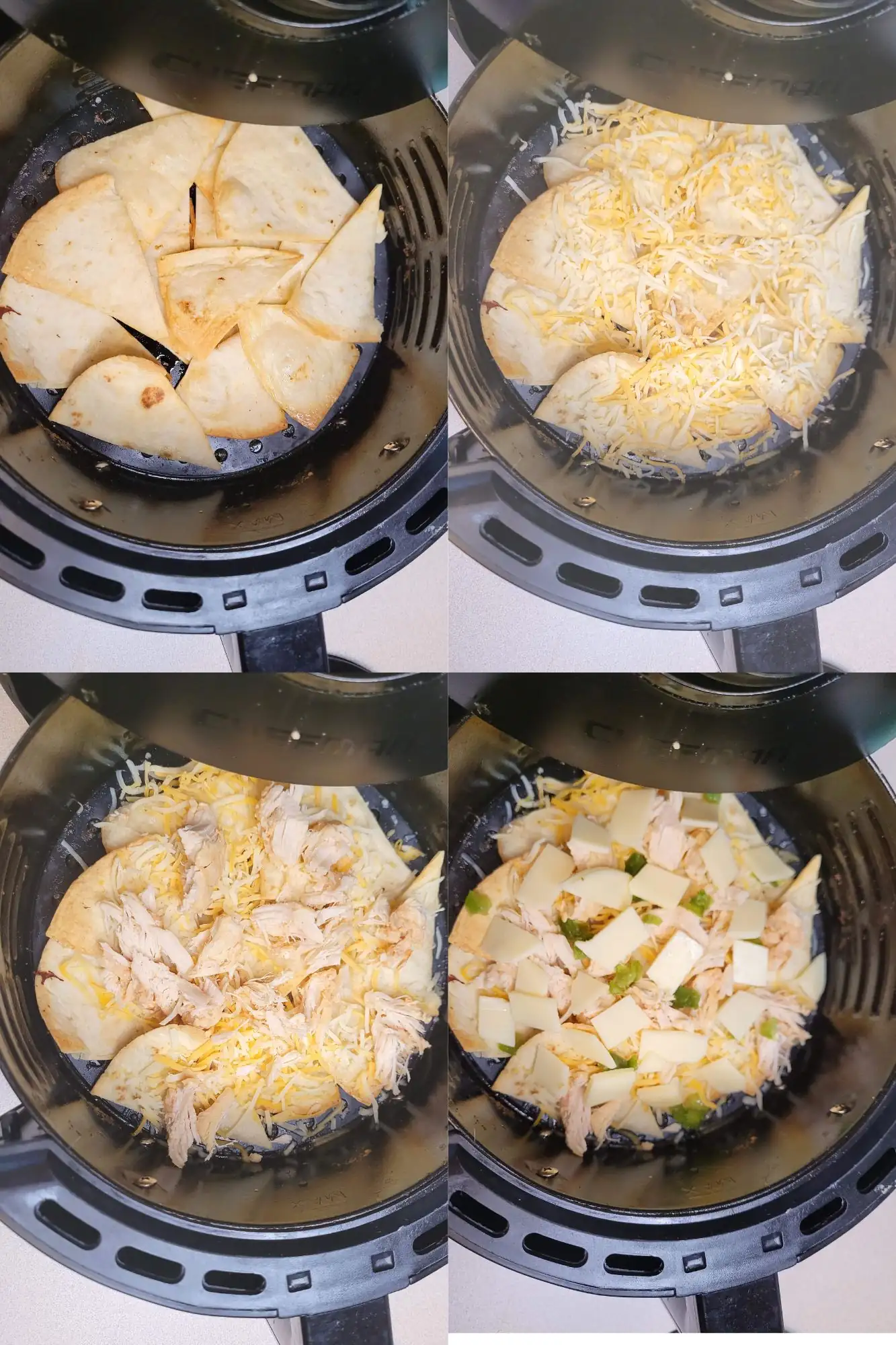 Toppings for air fryer loaded nachos
Black beans
Jalapenos
Salsa
Olives
Green Chilis
Green onions
Tomato
Avocado
Sour Cream
Refried beans
Pinto beans
Tips
Over lap chips - don't have a lot of space between the chips or else the toppings will cook to the basket!
Use restaurant chips - using high qualify chips means that the chips will get crispy and hold up while air frying
Batch cook - you do not want to overload the air fryer with a large stack of chips. Cook in batches to ensure air circulation of the air fryer. Cooking in batches means the chips get more toppings on them so you don't end up with plain chips!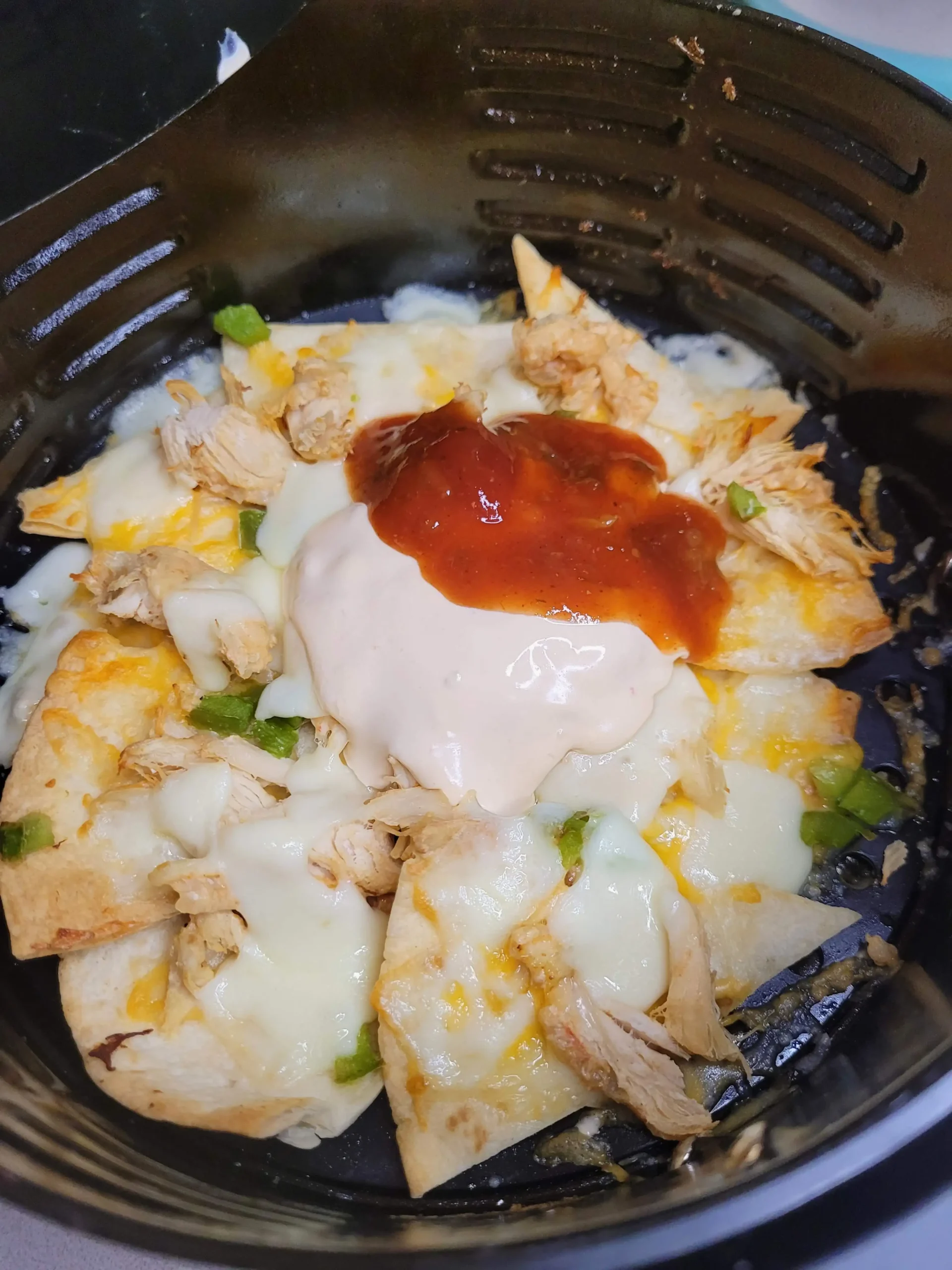 How to make nachos in the oven:
Line a 9 x 13 baking sheet with foil. Place chips in a single layer. Layer with meat and cheese. Bake at 400 degrees for about 8 minutes or until cheese is melted. Layer remaining ingredients on top. Serve!
How to reheat nachos in the air fryer:
Place nachos back in the air fryer and air fry at about 300 degrees for 3-4 minutes. It is best to reheat them at a lower temperature so they do not burn cooking the second time.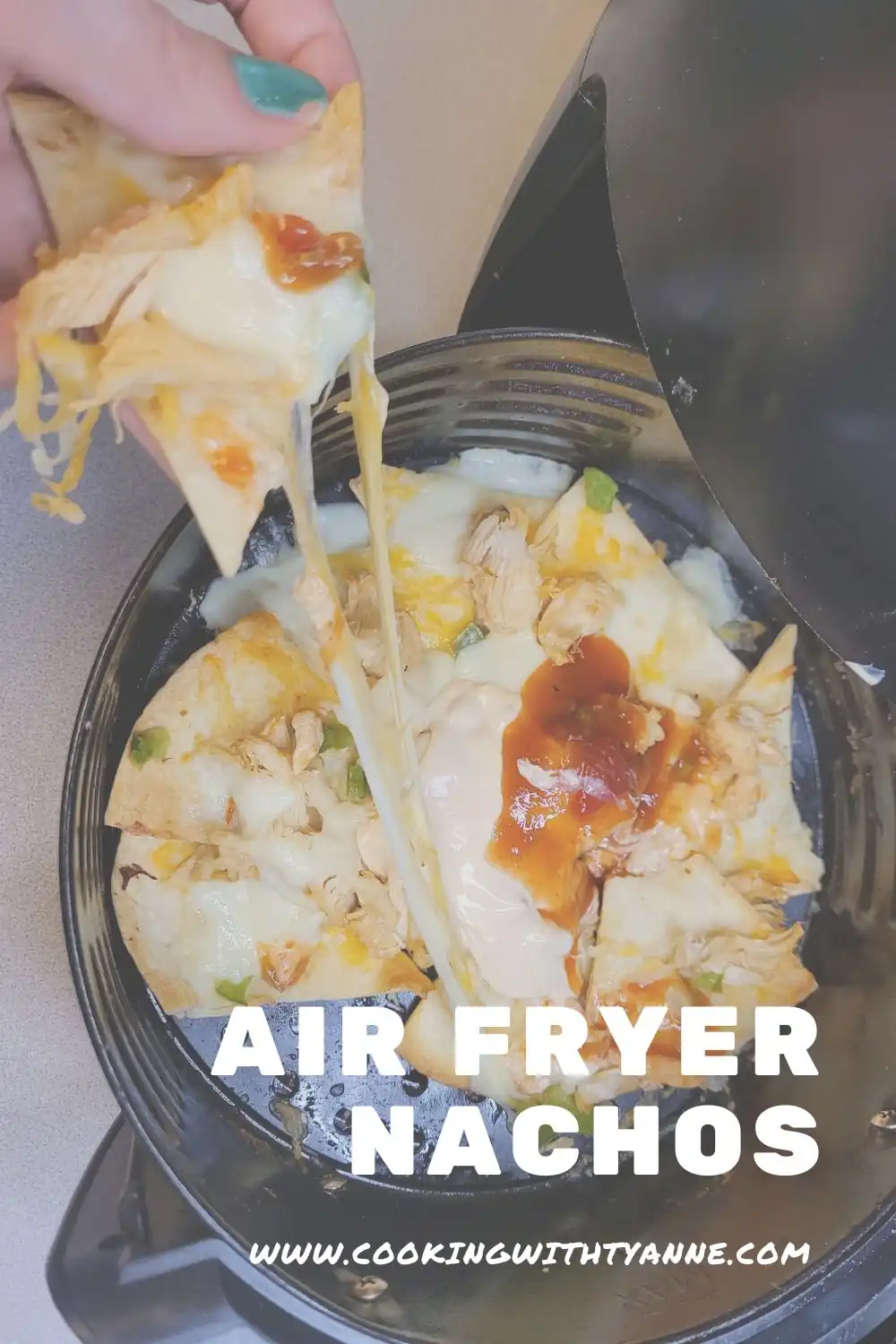 FAQs
How do I double the recipe?
Prepare recipe as normal but cook in batches.
What is the best cheese for nachos?
Any freshly shredded cheese will be tasty on nachos since it will melt better! Monterey jack, pepper jack, mozzarella,
What are loaded nachos?
Loaded nachos just refers to nachos loaded with all the toppings!
How to store:
Store leftovers in an air tight container in the fridge for up to 4 days. Reheat in the air fryer to crisp up the chips.
Recipe
Air Fryer Nachos with Shredded Cheese
Making nachos has never been easier! Crispy, crunchy tortillas with every bite.
Ingredients
tortilla chips

cheese

meat

optional
Instructions
Preheat air fryer to 375 degrees. Once preheated, arrange tortillas in a relatively single layer in the air fryer basket. We don't want the too stacked or they will not cook evenly, and we don't want there to be too many gaps either or the cheese will fall through.

Sprinkle cheese of choice on top of tortillas. Add any cooked meats you want to use.

Air fry for about 5 minutes or until cheese is melted. Add any additional nacho toppings on top!
---
All information presented on this site is intended for informational purposes only. Nutritional facts listed are a rough estimate and should only be followed as a general idea.