This Spinach and Artichoke Lasagna is a vegetarian meal, and it can be gluten free if using gluten free oven ready noodles like I did! Ricotta or cottage cheese can be used interchangeably here for the spinach artichoke dip in between the sauce and gooey cheese layers. . This recipe makes a 9x13 baking dish and feeds about 8 people.
This post may contain affiliate links. This means if you click on a link and purchase something, I may earn a small commission from it.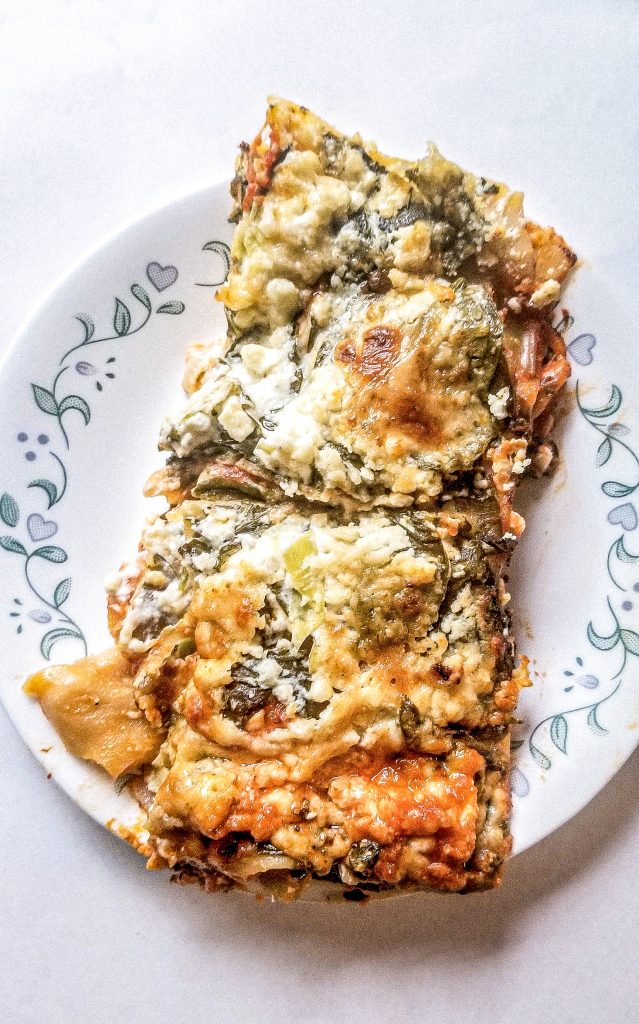 Ingredients for homemade lasagna:
Noodles - provides layers
Ricotta - a nice smooth cheese for the mixture
Cottage cheese - helps add liquid to mixture
Cream cheese - provides creaminess
Artichoke hearts - provides main vegetables
Marinara sauce - a nice sauce for added flavor
Mozzarella cheese - sliced
How to make spinach artichoke lasagna:
Make cheesy artichoke mixture - this will allow all the cheeses to melt together before baking
How to layer lasagna - I put marinara sauce down first, then noodles, spinach, cheese/artichoke mixture, and finally provolone and feta. Then I repeated this process beginning with the marinara sauce until all of the ingredients are used up.
Bake spinach and artichoke lasagna according to noodle box directions!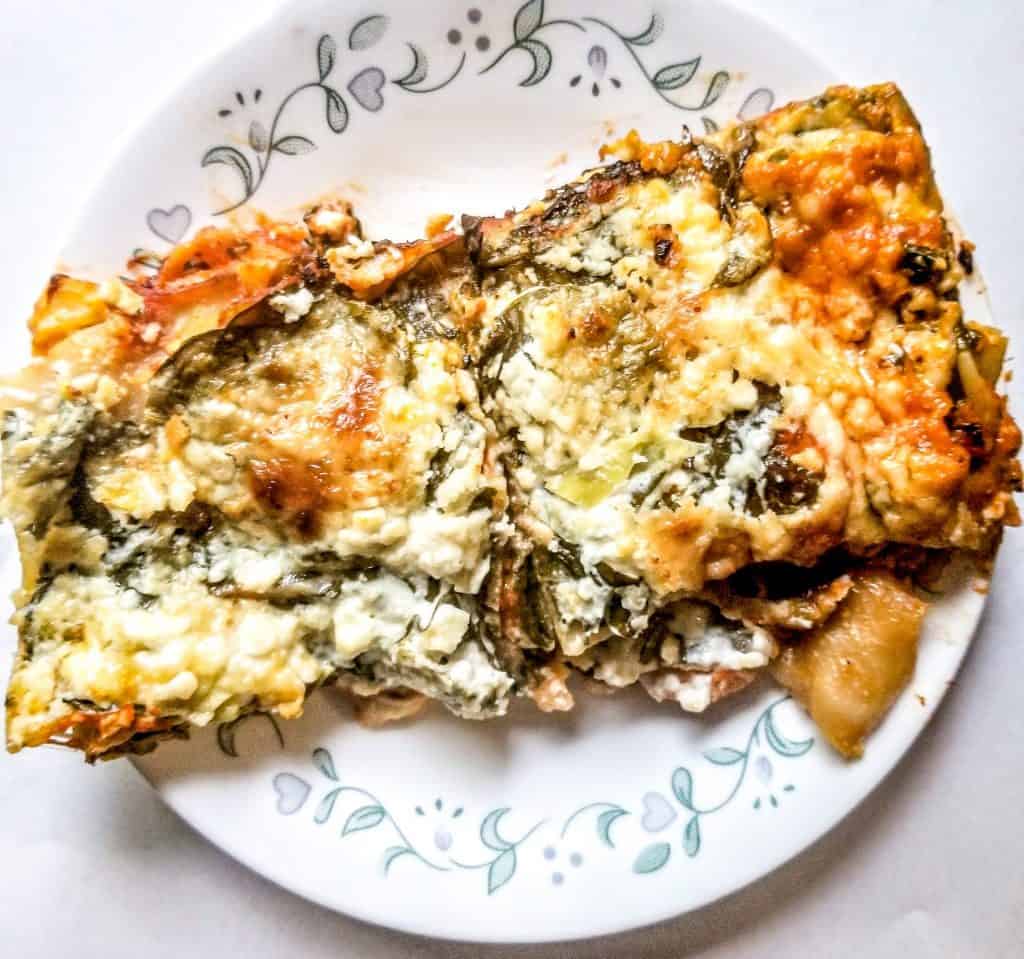 Variations of this spinach and artichoke lasagna recipe:
Add meat - this is a meatless lasagna recipe, but some people prefer meat in theirs! If you or someone you are cooking for desires meat, baked chicken breast, browned hamburger, or cooked sausage would be quite tasty!
Add more veggies - mushrooms would be a great add if you are interested in adding more nutrition to your pasta. Other vegetables you can add are olives, banana peppers, kale, etc.
Different sauce - marinara is what the recipe calls for, but you can also use alfredo sauce if you would like! Pesto can also be a great substitute.
More spinach - in my opinion, you can never have too much spinach!
Extra cheese - you can add more cheese if you would like! I don't like to add too much cheese or it can get kind of expensive. If you wallet allows it, definitely do it!
Omit feta and/or provolone - feta and provolone are not 100% necessary in this recipe! They can be substituted with any other white cheese you have on hand like pepper jack or white cheddar.
Separate artichokes from cheese - you do not have to add artichokes to the cheese mixture if you do not want to. It would taste just as good sprinkling the artichokes on as it would adding them to the cheese mixture.
Omit artichokes - you can omit the artichokes if you wish!
What to serve with:
Garlic herb butter rolls - if you are feeling really adventurous, you can make these herb rolls from scratch! They look just like cinnamon rolls, but they are savory.
Garlic bread - standard garlic bread would also taste amazing with this spinach and artichoke lasagna!
How to store meatless lasagna:
Fridge - store in an air tight container in the refrigerator for up to one week
Freezer - this can be a freezer meal! Make according to directions, and let cool after baking. Once cool, put a lid on it and freeze. To reheat, bake at 400 degrees for about an hour or until heated throughout. You can also put extra sauce on it after baking since sometimes the liquid from the sauce gets evaporated out.
Check out my other pasta recipes:
Recipe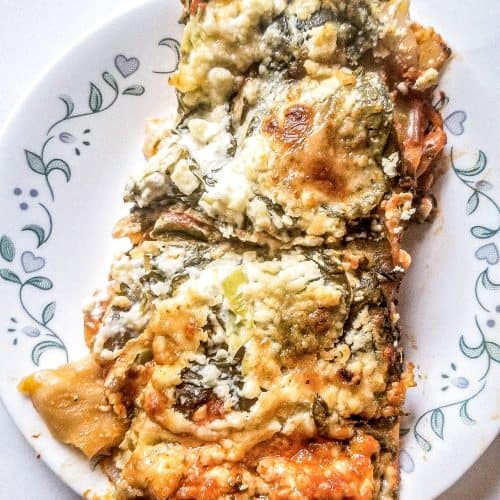 Green Lasagna Recipe with Artichokes
This Spinach and Artichoke Lasagna is a vegetarian meal, and it can be quick and easy using oven ready noodles! Meatless lasagna for supper.
Ingredients
10

oz

box oven ready lasagna noodles

12

oz

ricotta or cottage cheese

8

oz

cream cheese

1

bag spinach

1

jar artichoke hearts

chopped

2

tablespoon

garlic

salt and pepper to season

16

oz

jar marinara sauce

1

package

8 oz provolone cheese slices

8

oz

feta cheese crumbles
Instructions
In a large sauce pan on medium heat, melt ricotta/cottage cheese and cream cheese together. Add in garlic and artichoke hearts. Season with salt and pepper. Let cool a little bit.

In a 9x13 baking dish, spray with nonstick spray. Pour an even layer of marinara sauce into pan. Strategically layer a single layer of lasagna noodles over sauce so that they do not over lap..

Layer spinach over noodles. Spoon a layer of the cheese sauce over spinach. Add 6 mozzarella slices over cheese sauce. Sprinkle with feta. Repeat steps 2-3 starting with marinara sauce.

Bake according to directions on noodle package. My package said bake at 425 for 40 minutes with lasagna covered with foil and then to remove foil and bake for an additional 20 minutes. Remove from oven and cool for 15 mins before serving.
---
All information presented on this site is intended for informational purposes only. Nutritional facts listed are a rough estimate and should only be followed as a general idea.