Mexican rice with salsa is the easiest way to make rice for enchiladas. No cutting tomatoes, buying tomato paste, tomato bouillon, none of that! This vegetarian Mexican rice with salsa recipe is about 6 servings. You can make this rice for tacos, enchiladas, burritos, you name it! It tases good with all Mexican food like refried beans.
This post may contain affiliate links. This means if you click on a link and purchase something, I may earn a small commission from it.

Ingredients to use:
Rice - I usually use long grain rice, but white or brown rice works too.
Picante sauce - store bought. I have not tried this recipe with homemade picante sauce yet. If you chose to do so, let me know how it goes in the comments section below! If you need a picante sauce recipe, click here.
That is all you need besides water to make this Mexican rice without tomato paste. People ask why is Mexican rice orange/red? Well in this case, it is from the salsa! No chicken broth here either which makes it vegetarian rice.
If you want to make a variation of this easy mexican rice recipe with salsa, you can fry the rice first before cooking it. This would make it resemble traditional rice. You could also add chicken buillon cubes to the water.
How to make Mexican rice without tomato sauce:
Making spanish rice with salsa is only 2 steps! No extra chopping vegetables or anything.
boil water-bringing water to a rolling boil is a necessity to make sure the water is a hot enough temperature to cook the rice evenly. A typical water to rice ratio is usually 1:2 but because the picante sauce adds liquid, we cut down on the water amount.
add rice to water-this will allow the rice to cook. When the rice is almost done cooking, add the picante sauce. This will provide the rice with extra moisture it needs to finish cooking.
FAQs
Is this simple Mexican rice with salsa spicy?
I would not say it is too spicy. It has a little kick to it, but is not water-guzzling hot by any means. It is perfect for everyone no matter their spice tolerance. As long as they can handle picante sauce, they can handle this Mexican rice.
Why is my rice sticky?
Rice sticks together because of statch that comes off the rice while it is boiling. You can always rinse the rice with cold water in a strainer to allow some of the statch to rinse off before pouring the rice into the boiling water.
Why is my rice mushy?
Overcooked rice can turn mushy fast. Try to keep an eye on the rice. As soon as there is no water left in the pot and holes in the rice, your rice is done.
How to Reheat and store Mexican rice with salsa:
Fridge - How long will homemade Spanish rice with salsa last in the fridge? Store this rice recipe in an air tight container in the refrigerator for up to one week. Reheat in the microwave.
Freezer - I have not tried freezing this recipe. If you would like to try it, go for it! Let me know how it goes.
What to serve with easy Mexican rice:
Recipe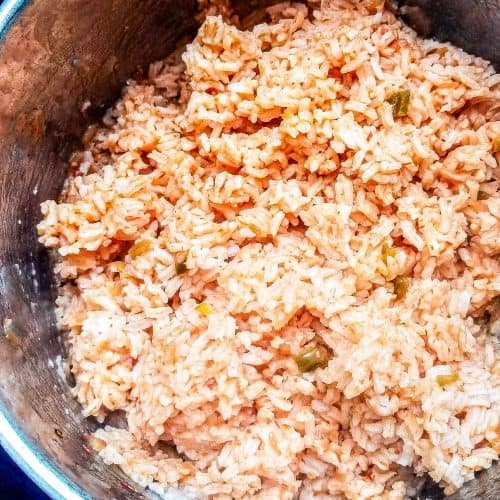 Simple Mexican Rice with Salsa
This easy Mexican rice with salsa is how to make rice without tomato sauce! Since this is cooking rice on the stove, it should take you no longer than 20 minutes to make this vegetarian Mexican rice recipe.
Ingredients
2

cups

water

1 ½

cups

long grain rice

8

oz

picante sauce
Instructions
Bring water to boil in a large sauce pan. Add in rice. Turn down to medium heat and cook for 8 minutes.

After the 8 minutes, stir in the picante sauce. Cook for 10 minutes continuing on medium heat. Serve your Simple Mexican Rice with your favorite Mexican dish!
Nutrition
---
All information presented on this site is intended for informational purposes only. Nutritional facts listed are a rough estimate and should only be followed as a general idea.