Simple Mexican Rice with Salsa
This simple Mexican rice recipe came about by happenstance! Usually I use special rice seasoning, but one day I could not find mine! I tried making Mexican rice with salsa instead and have not gone back to seasoning since. This vegetarian Mexican rice recipe is about 6 servings and 194 kcal per serving.
This post may contain affiliate links. This means if you click on a link and purchase something, I may earn a small commission from it.

Check out my other Mexican main dish recipes to serve this Spanish style rice with:
Favorite ingredient brands to use for this easy Spanish rice recipe:
*rice-Mahatma, I usually use long grain rice, but white rice works too.
*picante sauce-Pace. I have not tried this recipe with homemade picante sauce yet. If you chose to do so, let me know how it goes in the comments section below! If you need a picante sauce recipe, click here.
Is this simple Mexican rice spicy?
I would not say it is too spicy. It has a little kick to it, but is not water-guzzling hot by any means. I am not really the person to ask if a food is hot or not, I drink Diablo hot sauce from taco bell straight, but my family does not think it is hot so I take their word for it.
How to make Mexican rice without tomato sauce:
boil water-brining water to a rolling boil is a necessity to make sure the water is a hot enough temperature to cook the rice evenly.
add rice-this will allow the rice to cook. When the rice is almost done cooking, add the picante sauce. This will provide the rice with extra moisture it needs to finish cooking.
How to store rice:
fridge-store this chicken breast recipe in an air tight container in the refrigerator for up to one week
freezer-I have not tried freezing this recipe. If you would like to try it, go for it! Let me know how it goes.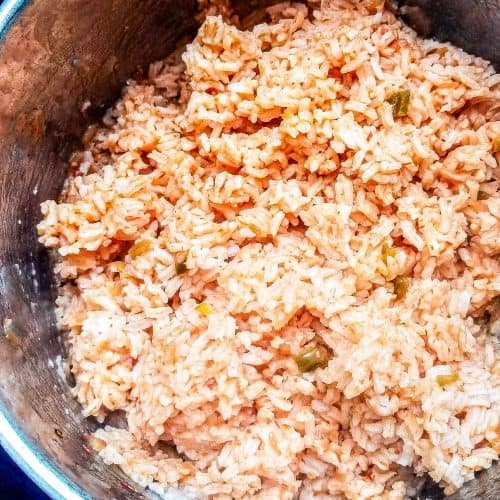 Simple Mexican Rice with Salsa
This easy Mexican rice with salsa is how to make rice without tomato sauce! Since this is cooking rice on the stove, it should take you no longer than 20 minutes to make this vegetarian Mexican rice recipe.
Ingredients
2

cups

water

1 1/2

cups

long grain rice

8

oz

picante sauce
Instructions
Bring water to boil in a large sauce pan. Add in rice. Turn down to medium heat and cook for 8 minutes.

After the 8 minutes, stir in the picante sauce. Cook for 10 minutes continuing on medium heat. Serve your Simple Mexican Rice with your favorite Mexican dish!
Nutrition
---
All information presented on this site is intended for informational purposes only. Nutritional facts listed are a rough estimate and should only be followed as a general idea.