If you like jalapeno poppers, you'll love this jalapeno popper cups recipe! This jalapeno recipe is customizable to all heat levels as well. If you do not want a lot of heat, then just put less jalapenos in! I put about 2 chopped jalapenos in because I like everything spicy. The average person would probably only need 1 chopped jalapeno. This jalapeno popper cups recipe makes 24 normal sized muffin tin cups, which would serve about 12 people.
This post may contain affiliate links. This means if you click on a link and purchase something, I may earn a small commission from it.
Who is this jalapeno popper cup recipe good for?
This jalapeno recipe is good for people who do not like the typical eating a whole jalapeno while eating traditional homemade jalapeno poppers found on recipe sites! These are sliced jalapeno so there is no trying to get down a whole jalapeno if you really do not like jalapenos. 
Do any muffin tins work for jalapeno popper cups?
You can put these popper cups in any size of muffin tin. The mini muffin tins make it easier to eat rapid fire style though.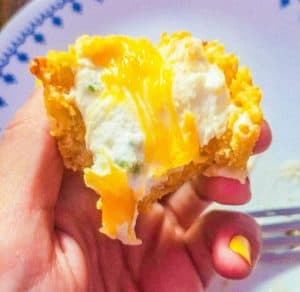 Ingredients to use for this jalapeno poppers recipe:
Cheddar cheese - freshly shredded cheese
Bread crumbs - Italian style bread crumbs work well! Panko is also a good option. I also have used plain saltines for this recipe before and they worked great!
Cream cheese - for the inside
Jalapenos - red or green work here
How to make excellent jalapeno poppers:
Stir together crust ingredients. The crust is the crispy part that holds together the cup or else it would have cream cheese everywhere! Then, pat down crust into the sprayed muffin tins.
Stir together filling ingredients. This is what goes into the crust that is a lot softer. You can spoon it in.
Top off with extra cheese and jalapenos.
Bake until cheese is melted!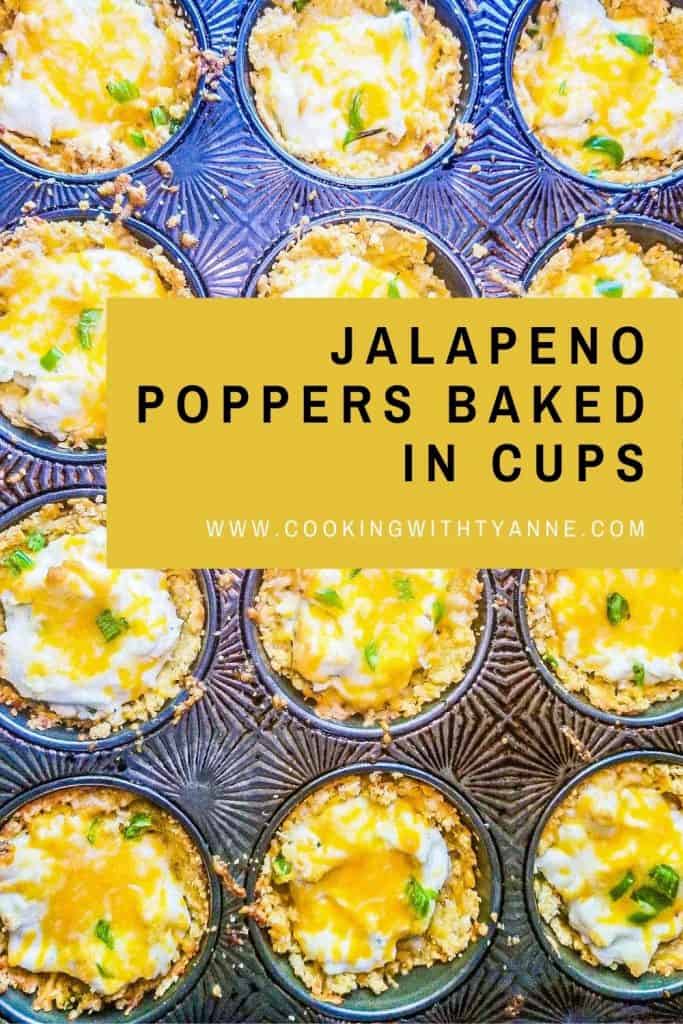 Can I make variations?
Definitely! I always add more jalapenos than the recipe calls for because I like my mouth being on fire. You can add less jalapenos if you want less heat too.
If you want to cut back on spice even more, remove all the seeds from the jalapenos before chopping.
Can I make in advance?
You can make the filling in advance. Store in an air tight container in the fridge for about 3 days before making the rest of the appetizer. Make sure to warm up the filling in the microwave before trying to scoop in the cups. This will make it easier to spread and scoop.
How to store this spicy appetizer:
Store them in an air lock container or in a ziplock bag in the refrigerator for one week. I have not tried freezing them. If you do try freezing them, let me know how it goes!
Check out my other recipes with jalapenos:
Recipe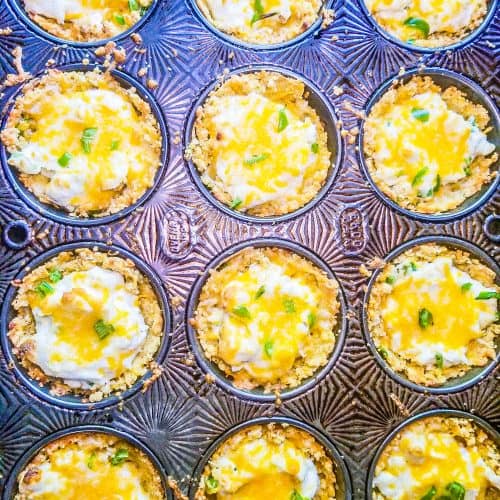 Jalapeno Popper Cups without Wonton Wrappers
This jalapeno popper cup recipe is customizable to all heat levels. The grated cheddar and Philadelphia cream cheese balance out the jalapeno as well, if you aren't into spice. Can adjust the heat with the amount of jalapenos.
Ingredients
1 ½

cups

of cheddar cheese + more for topping

1 ½

cups

of bread crumbs

2

eggs

16

oz

cream cheese

thinly sliced Jalapenos-the amount of heat you want is the amount you put in

I used 2 chopped peppers

seasonings: salt and pepper
Instructions
Mix cheddar cheese, bread crumbs, and eggs together in a large bowl. You can add some chopped jalapenos here if you want extra kick.

Spray 24 muffin tin wells. Pat down the cheese/breadcrumb mixture into these muffin tins like a pie crust. Ensure that the edges have a crust going up to the top.

In a small bowl, stir together cream cheese, jalapenos, and seasonings. Drop a spoonful of this mixture onto the crust in every muffin cup.

Sprinkle each muffin cup with extra cheddar cheese. I placed jalapeno slices in the center of each muffin cup for appearances as well.

Bake at 375 degrees for 10 minutes or until cheese is melted on top. Remove from tin with a fork. Serve these jalapeno popper cups warm.
---
All information presented on this site is intended for informational purposes only. Nutritional facts listed are a rough estimate and should only be followed as a general idea.