How to cook bacon in the air fryer is quick and easy without the air fryer smoking! Crispy bacon cooked to perfection in 7 minutes. Impress your friends with the perfect bacon every time. Learn how to cook bacon in an air fryer quickly and easily. With this method, you will get perfectly crispy bacon without any mess.
Bacon in the air fryer is much better than stove top, microwave, or oven baked bacon because it crisps up more since the grease can drip in the bottom of the air fryer basket.
This post may contain affiliate links. This means if you click on a link and purchase something, I may earn a small commission from it. In the footer of this page is my full disclosure policy.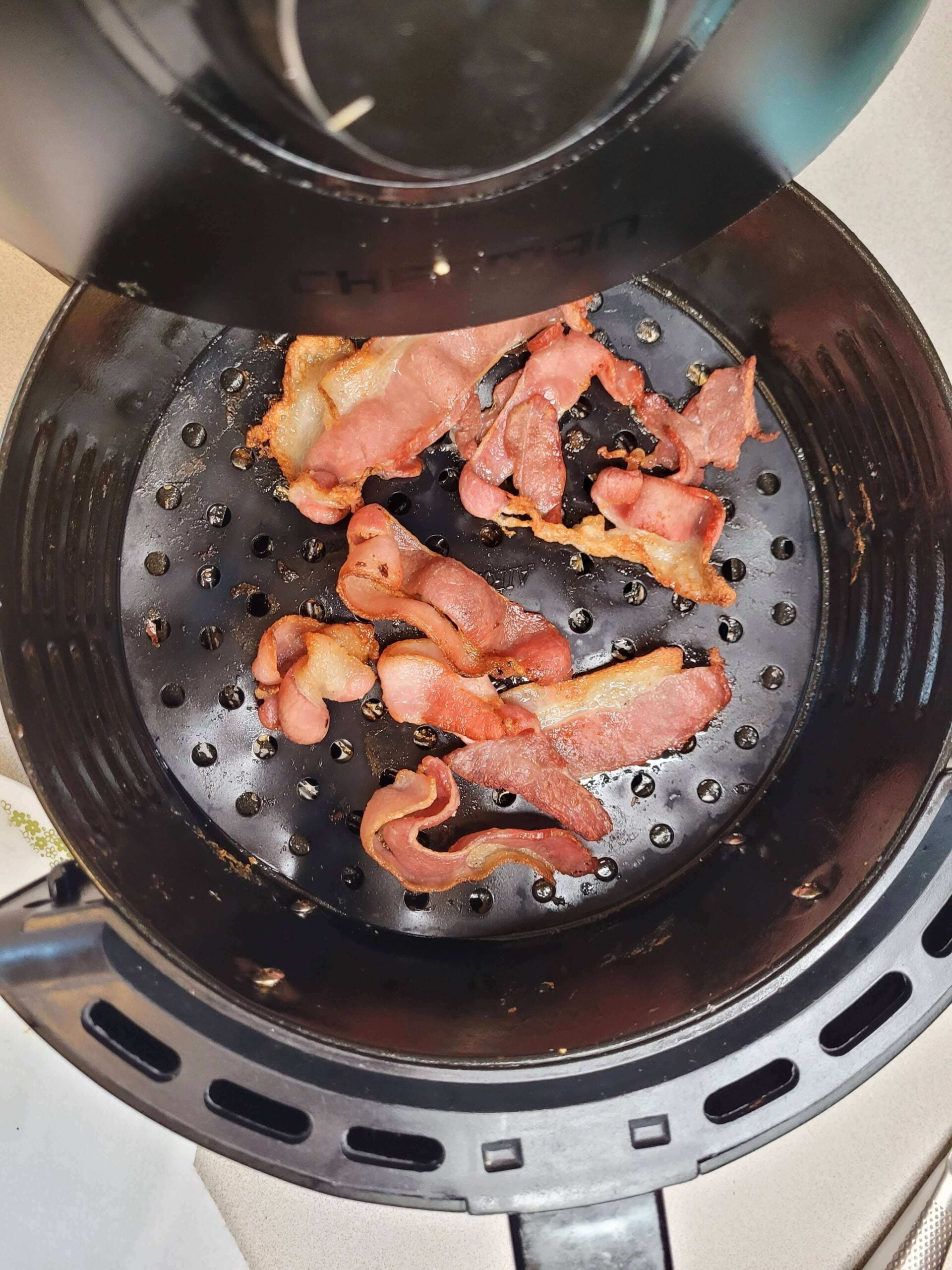 How to cook bacon in the air fryer
Preheat air fryer - you can skip this step if you are short on time, but preheating allows the bacon to start cooking at a high temp right away.
Lay bacon - place bacon in a single layer in the basket. It is okay if there is some overlap.
Air fry - cook for about 7 minutes at 375 degrees. After the 7 minutes, check and see if it is cooked enough to your liking. Add a few extra minutes if you think it needs to crisp up more.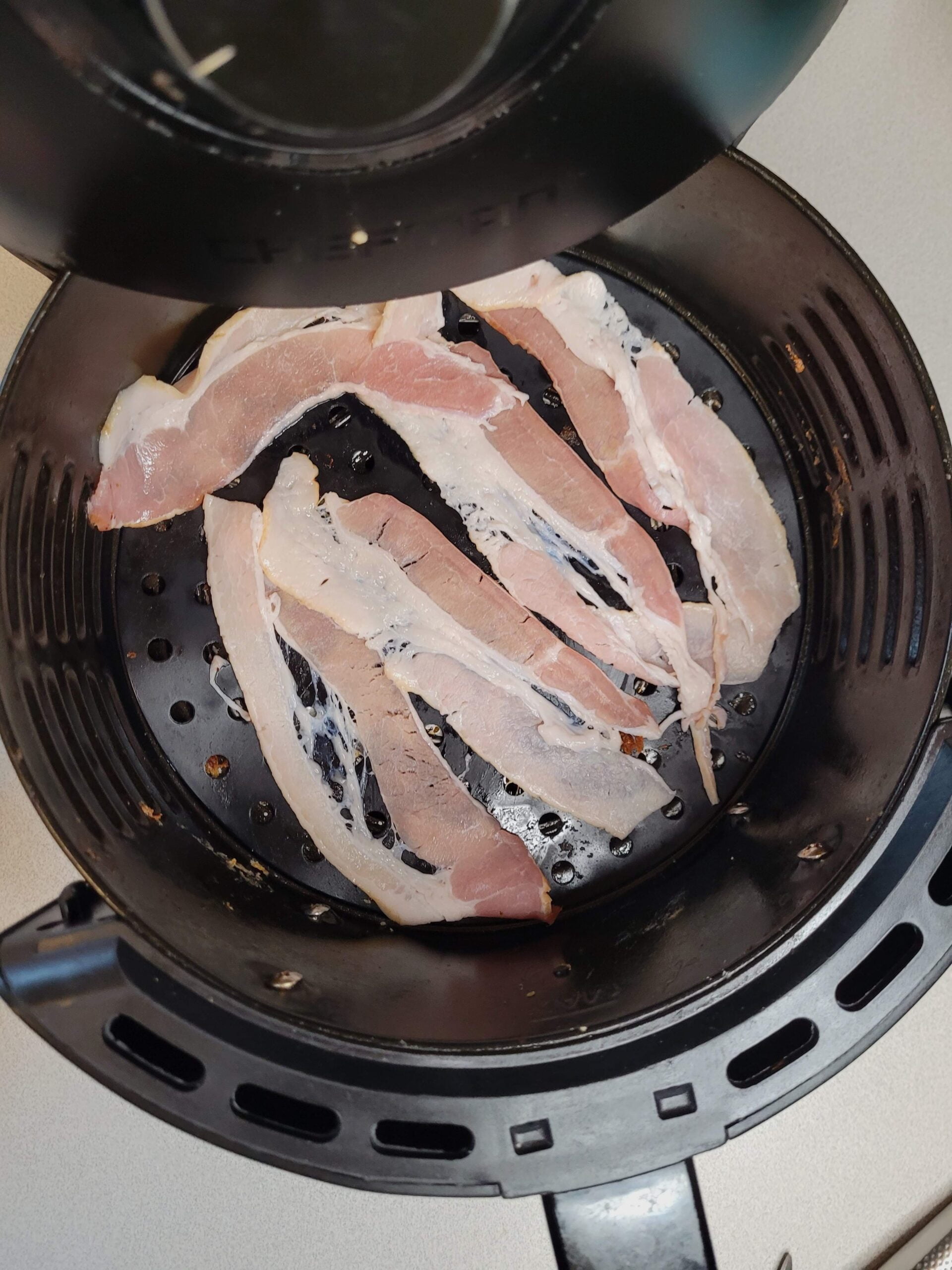 How long to cook:
Temperatures and times may vary depending on the thickness of the bacon. The thicker the bacon, the longer it will take. 375 degrees for about 7 minutes for regular cut and 9 minutes for thick cut bacon. From there you can judge if you want to leave it in the air fryer a few minutes longer for more crispy bacon.
Tips for making bacon crispy
Drain grease - pour out bacon grease in between batches if making a lot of bacon at once.
Clean air fryer - after cooking bacon, be sure to clean out air fryer. Bacon grease does provide a smokey flavor for the next meal you want to cook in the air fryer, but with there being a lot of grease from the bacon, it is best to clean it out.
Cut bacon - cutting bacon to fit air fryer is an option if you bought very long strips of bacon.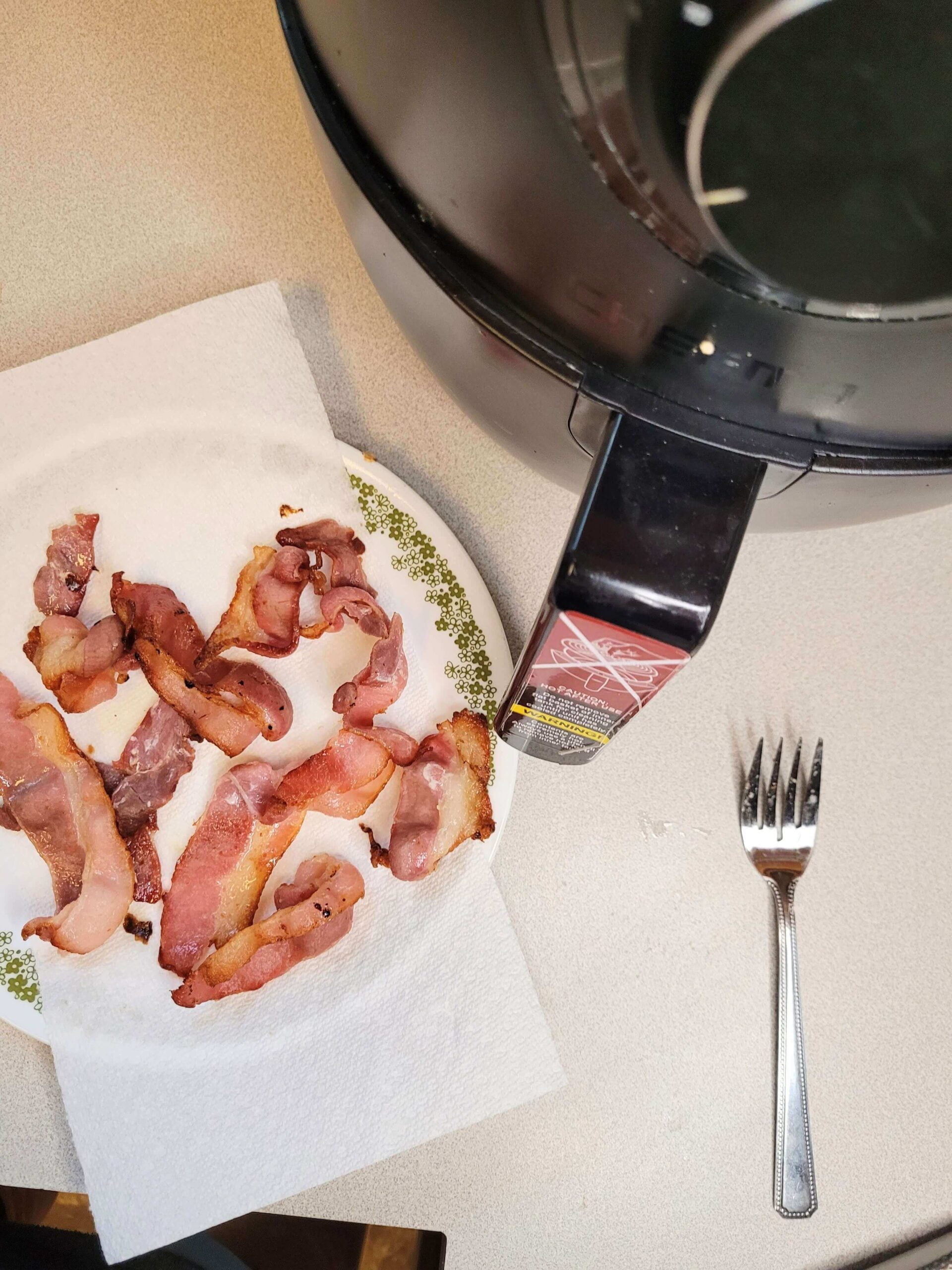 Recipes with bacon
Bacon Lettuce Tomato (BLT) sandwiches are a classic! Any other sandwich would also taste amazing with bacon.
Bacon is known to go with any breakfast. Eggs, toast, and pancakes are a classic!
FAQs
How to prevent air fryer from smoking?
The air fryer can smoke when there is too much grease with nothing to soak it up. A step would be to use less fatty bacon or put a slice of bread on the bottom of the air fryer to soak up the grease before it gets too hot and starts smoking. Turning the air fryer temperature down is also an option.
Can you put raw bacon in air fryer?
Yes, just make sure you cook it until it is fully cooked.
Do I need to preheat air fryer?
Preheating is always a good idea for even cooking time for making batches of bacon. It is not necessary though if you do not have time.
What temperature for air fryer bacon?
375 degrees works best to ensure the bacon does not cook too fast.
Do I need to oil the air fryer for bacon?
No, the bacon has enough grease naturally to lubricate the basket that there is no need to add any more oil.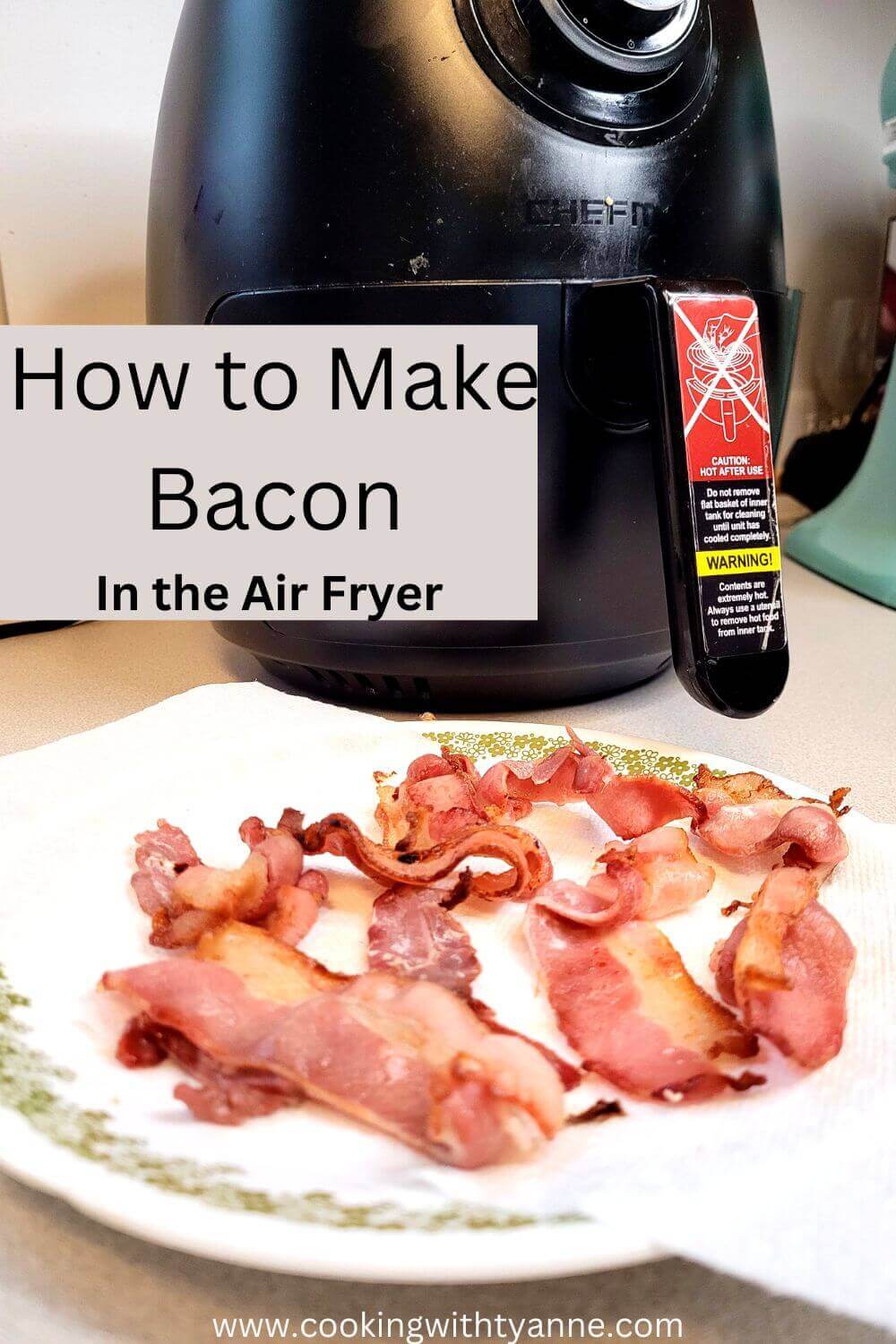 Storing and reheating bacon
Fridge - keep bacon leftovers in the fridge for up to a week.
Reheat - warm up leftovers by putting them in the air fryer again to recrisp them.
Recipe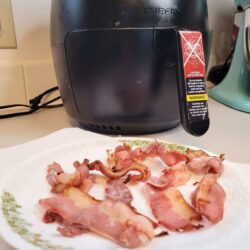 How to cook bacon in the air fryer
Learn how to cook bacon in an air fryer with this easy-to-follow guide. Get crispy, delicious bacon every time with minimal effort and mess. Make perfect bacon in minutes with no added oil or fat.
Instructions
Preheat air fryer to 375 degrees.

Place bacon in a single layer in the air fryer, you may have to cook in batches depending on air fryer size. Air fry for about 7 minutes or until bacon is cooked crispy enough to your liking.
Nutrition
Sodium:
1756
mg
Calories:
444
kcal
Protein:
28.2
g
Carbohydrates:
84
g
---
All information presented on this site is intended for informational purposes only. Nutritional facts listed are a rough estimate and should only be followed as a general idea.