What's the best electric can openers to buy seems to be a question on everyone's mind when their can opener breaks AGAIN. In this post we will cover what the best electric can opener is that fits your needs. Whether it be a can opener for seniors, people with arthrisis, people who want their appliances to match, battery powered or handsfree, this post has all that.
This post may contain affiliate links. This means if you click on a link and purchase something, I may earn a small commission from it. In the footer of this page is my full disclosure policy.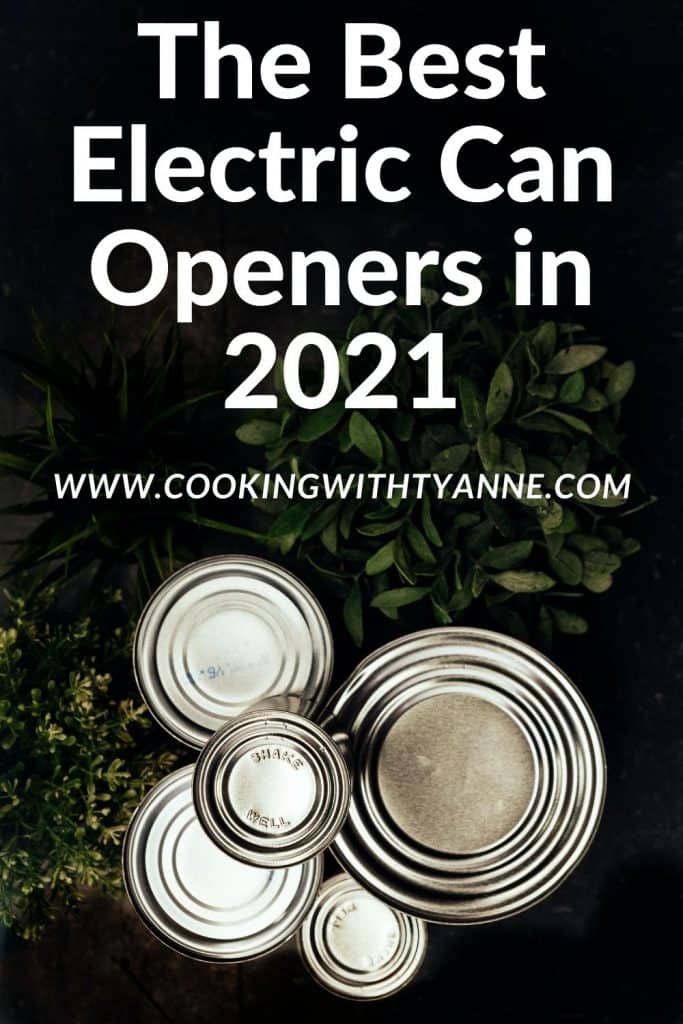 Best Electric Can Openers For Seniors
The best can opener for seniors is one that does not require a lot of force to open. If you are more of a traditional senior, it is estimated that this Hamilton Beach can opener takes less than 2 lbs of force to use, so that is a pretty good deal. Not much grip strength required. You can also use this can opener with pop off can lids if you want to avoid having to pull off the lid of a can with force.
This electic can opener is also best for people who are worried about sharp edges. This can eliminates sharp edges every time with proper use. It is a modern can opener, so it cuts along the side and not on the top of the can where it can be sharp.
The only downside is that it is a bit tall, as it is size extra tall. It is about 10 inches tall, which isn't too tall, but it could be shorter. It is 3.1 pounds so it is easy to carry in the house and lift to set on the counter.
Best Battery Operated Can Opener
Did you know there was such thing as battery powered can openers? I sure didn't until reseraching for this post. I may have to go get one for my 2nd house now. If you are looking for a smaller can opener you can take anywhere with you (such as lunch at work), this Kitchen Mama can opener is for you! This battery operated can opener is good for seniors who want a modern feel to their can openers. If you want to learn more about why you should invest in a battery operated can opener, click here.
The Kitchen Mama requires 2 AA batteries. It can open a can with the touch of a button, so you can save time and do something else in the kitchen while it opens your can without needing to hold it. The Kitchen Mama starts with the click of a button, and stops at the click of a button.
Cuts clean on the edges as well, so no need to worry about sharp edges scraping out the contents of your scan. It is a pretty good deal for under $30!
Best Electric Can Opener with Knife Sharpener
As a kid, we always had a can opener with a knife sharper. I am pretty sure this is the same can opener we had as well! It has the same name brand and functions at least. No need to have an additional knife sharper to take up space when you have this two in one deal with the Proctor Silex Power Electric Automatic Can Opener with Knife Sharpener. 
With the demensions being 7.9" x 4.8" x 5", it is not that tall. You can pretty much store it under any countertop. Some people might not like the size as it probably could not open a super large can. However, if you only open small cans, then this would be perfect!
My favorite feature of this can opener is the cord storage. It can be a pain to have ANOTHER cord on your countertop. This cord stores nicely in the opener so it is not visible when you are not using the device.
You can get this can opener for less than $20 as well, so it is worth your money. One downside is that with the price being so low, it does have a flaw. It does not have clean cut edges everytime. If you do not have any kids to be worried about them being cut on, then it is not the big of deal. I had a similar one when I was a kid, but we were always taught to be scared of the edges of a can no matter what. So I cannot compare the danger of the edges from this can opener to any other can opener I have used. To me, it is pretty standard edges but I am also pretty careful with my can openers.
Best Rechargable Can Opener
I think if more people knew about the rechargable can openers, they would get them. No need for batteries to keep changing either in this Hamilton Beach Walk n Cut can opener. It is also small enough to fit in a drawer, so no need to take up counter top space.
You also do not need to hold down any lever either, it just attatches and move 360 degrees by itself. The opener will shut off when it is finished. It pretty much opens any side cans as well.
What is really neat is that the opener does not drop the lid into your can of soup after it gets done cutting.
The one downside is that you will have to charge this can opener when you get it. So when it arrives and you need a can opener asap, it may be a little longer to use it than you expected. It holds great charge though so no need to worry about it losing charge all the time. Another downside is that the cord is unqiue to the can opener and you may have a hard time finding a new one if you lose it. So keep the cord in a safe place!
This is probably one of the best electric can openers on the market right now for unqiueness and for counter space purposes.

Best Astetically Pleasing Electric Can Opener
One of the top rated electric can openers at 4.5 stars on Amazon is the Cuisinart deluxe stainless steel can opener. It also very pretty to look at! This can opener is partially made out of stainless steal. There are a couple of colors to choose from, one including white. This is perfect if you need a white can opener to match your dishwasher, stove, and fridge! Even if it is white, it is fairly easy to clean.
The Cuisinart deluxe can opener does come with a 3 year warranty. This is good to know if something happens to it you are covered for a limited time. The warranty (like post warranties) does not cover shipping to or from the company. There are some negative reviews, to read the reviews click here, about the can opener saying that it broke after a couple of weeks, so maybe the warranty is a good idea to get for this beautful can opener. Other reviews stated that they had the can opener 2 years with no problems! It really depends on the user.
The can is held in place to the blade by a magnent for this can opener, and it has a wider base than top to provide sturdiness while opening the can. You do have to hold the can opener in place while the machine is running. The part you hold down (the handle) is plastic.
Not a super loud can opener either so you can continue talking on the phone while it is in action.

Conclusion:
What can opener you need depend on your needs. The best electric can openers are ones that fit your needs and your budget. I hope this shopping post covered a variety of can openers that was enough to fit your needs. If you want to read more of my product review posts, click here.