What is Brewing with Brewsy?
Brewsy is a small company that allows you to make 3 gallons wine or hard cider at home using their affordable kit!
Wine or hard cider can be made by adding one of their Brewsy packets to any store bought juice (except for lemon and orange juice) along with some sugar. You also get to decide or sweet or dry you want it! If you want to learn more about how the Brewsy packet and sugar work together to create alcohol, click here.
Brewsy also ships super fast. Once you place an order, you do not have to wait weeks for the kit to come in. This is helpful if you want to use it for a last minute gift idea. Once receiving your kit, you can get the wine or cider made in less than 15 minutes (it only took me 10 though), and be drinking it in 5 days. You are welcome to taste test before then, but I would recommend tasting it on the 5th day. Any taste test before day 5 might have a stronger flavor.
They also have a money back guarantee, so if you do not like it, you will get your money back. You have nothing to lose by brewing with Brewsy!
Brewsy wine or hard cider making is is definitely worth it if you are looking at trying to make homemade wine and do not want to hassle of cooking the juice in a large crock on the stove (my family used to do this previously) and have to wait a long time before drinking it.
This post contains affiliate links. This means if you click on a link and purchase an item, I may earn a small commission from it. All experiences and thoughts are my own though 🙂
Why is buying a Brewsy kit the best way to spend your money?
Cheaper than buying customized wine-if you search for "customized wines", Google pulls up a $30 bottle of wine you can get customized. You can get 3 bottles worth of wine with Brewsy for under $50, which is almost $17 a piece. So you cut the price per bottle in almost half.
Pick out own flavor-You get to pick your flavor of wine or hard cider, and it actually tastes like that flavor it says.

Nothing is worse than reading a wine flavor description and wonder what a "prickly, oakly" wine tastes like before opening it.

So many flavor options-Buying customized wine online for $30 a bottle is not only expensive, but you are typically limited to white or red wines.

When Brewing with Brewsy, I can make Vanilla Bean Cider, Cranberry Apple Wine, and Strawberry Wine using the same box kit.

Sweetness options-You can chose between the sweetness levels and customize it to your taste.

No more trying to hunt down a dry apple cider!

Knowing what is in it-Brewsy can be made with few ingredients, no preservatives necessary!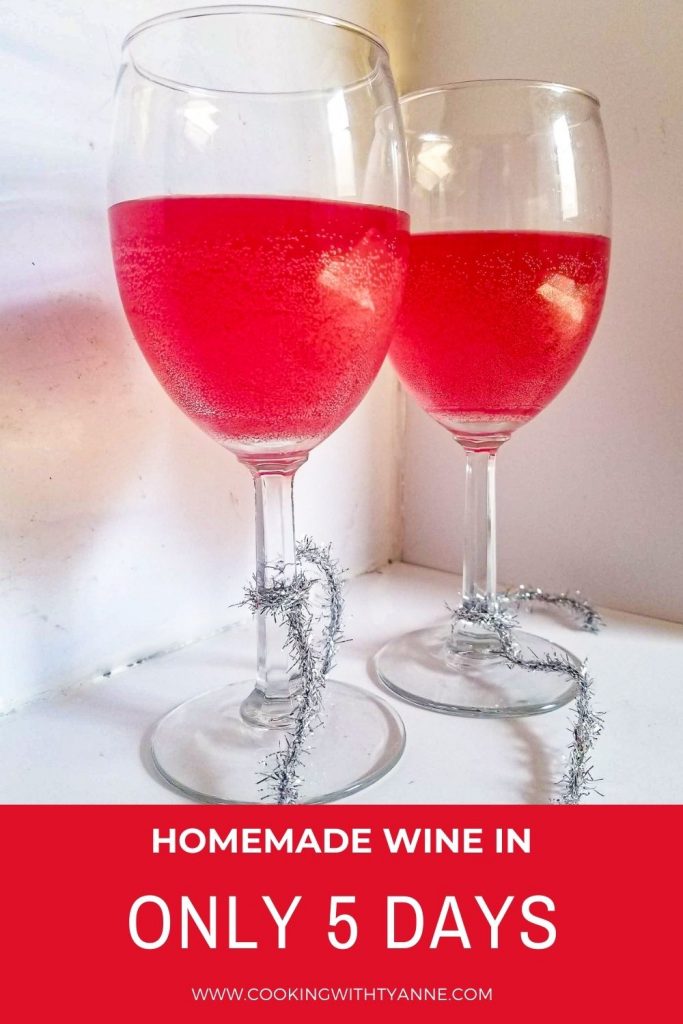 Brewsy Homemade Hard Cider Review
I have made a few batches of of Brewsy hard ciders and wines so far using their welcome kit. They taste better and better every time I drink a glass. Like most alcohol, they do taste better with age!
If you are tired of buying the store wines that all start to taste the same after a while and want to try more flavors, or even if you just cannot afford to try all these exotic wines, then you need to be brewing with Brewsy! You can make any wine or hard cider in just 5 days using one of their kits! They have easy to follow recipes for you.
Making wine and cider at home cuts down on the cost you would pay at the store. Seeing the wine making process at home is also neat because you gather a higher understanding of how alcohol is made.
There is also more customization options when you make alcohol yourself at home. Making a batch yourself also means you know what is in the drink you are making and know there are not any gross preservatives and chemicals like there are in store bought wines.
After you make 3 bottles of wine (I made each bottle a different flavor), you can order more Brewsy bags to brew with Brewsy again! You already have the air locks the starter kit comes with, so you just need the new bags! 3 bags/$20 which is almost $7 for a customized bottle of wine. Places on google make you pay $30 for a customized bottle of wine. It is quite the deal.
Brewing with Brewsy is perfect for you if you are:
New to wine, and not sure what you like

When looking at wines on a menu at a restaurant, it can be difficult to know what to order when the descriptions are full of words with very little context on what they mean! When you are making wine at home using Brewsy, the recipe description is pretty straight forward, and there is no guessing the flavor outcome!

A wine connoisseur

A wine expert knows what wine flavors taste well together without needing to follow a recipe. There are all sorts of concoctions you can create if you know what flavors blend well.

Wanting to make a homemade wine or hard cider in 5 days! 

 20 years ago, my grandparents made wine. It took 3 months to ferment. With modern technology, you can have your wine ready to be drinking in 5 days. That means it takes less than 5% of the time it used to take when you Brew with Brewsy!

Like to cook

Obviously, you are on www.cookingwithtyanne.com now, so I do like to cook and create my own recipes. This kit is perfect for those who like to cook as it involves following or creating your own recipes, and using kitchen ingredients and supplies, which the home chefs have on hand.

On a budget

Wines can be expensive, especially decent wines. You can make 3 gallons of wine or hard cider using Brewsy for under $50! You save money by making it at home, and you are also getting a great learning experience of the creation of wine by doing so.

Wanting to experiment

You do not have to follow the recipes the website tells you to, you can create your own wine or hard cider experiment!
If any of those types of people listed accurately describe you, then click here to claim your hard cider and wine making kit for 15% off using the code "tyanne15". Get started Brewing with Brewsy today!
How to do the hard cider or wine making process using the kit:
First, order the wine and hard cider making kit on getbrewsy.com!
You can use the code "tyanne15" at checkout for 15% off your order. Another option would be to click my referral link for an automatic discount. If you want to see what comes in the kit in a video, click here.
Second, decide the flavors you want to make.
You could make all 3 batches of wine in one shot, or you could make one at a time.
For the first batch, I decided I was going to make Vanilla Bean Cider. Click here for the hard apple cider recipe I used. The website has so many recipes, the options are endless! I followed the recipe I chose exactly. Vanilla pods were not in stock at my grocery store at the time, so I used vanilla extract instead. This was a substitute the recipe recommended.
For my second batch, I made Cranberry Apple Wine. Click here for the homemade wine recipe I used. Super easy wine recipe to follow! I found this recipe a lot faster to make than the Vanilla Bean Cider. It could have also have been faster since it was my second time making it as well.
Since I just made my second batch, I have not made my 3rd batch yet to pick the next flavor.
Next, gather wine making supplies.
The ingredients you need for any recipe you chose, you can probably find in your regular grocery store. If you watch my Instagram tv video (click here), I explain how I could not find a 1 gallon jug of apple juice for the vanilla. If that happens to you as well, you can just cut the recipe in half, and pour one half into each jug when you start putting the ingredients together.
I could not find a 1 gallon jug of Ocean Spray cranberry apple juice either for my second batch, so I made my 1 bottle in 2 jugs again.
Then, calculate sugar content.
Click here to use the sugar calculator. You have to make sugar calculations to see how much sugar you should use based upon your desired sweetness level. Your sweetness options are dry, semi-dry, semi-sweet, sweet, extra-sweet, and dessert. I chose semi-sweet because this was my first time making wine, and I did not want to end up with it too sweet or dry.
I chose chose extra sweet for my cran apple wine. It is a learning curve if you are not used to drinking wine as to what sweetness to chose. If you know which types of sweetness you already like, this will not be a hard step for you!
Finally, assemble wine or hard cider according to recipe, and wait!
The recipes are pretty self explanatory to follow, no matter which one you chose while brewing with Brewsy. The website also has a video on how to put the air lock on properly if you are unsure. If you want to watch that video, click here. The air lock is probably the more scary part, but once it is on, you are good to go!
If you want to watch a video of me assembling my vanilla bean hard cider, click here.
After finishing recipe, make sure to put jug in a temperature controlled area for 3 days for the hard cider or wine fermentation process to begin. I made a mistake the 1st time putting mine by the furnace, more on that below.
After 3 days, remove air lock and transfer to the fridge. Lightly place the cap back on the jug during this time period, do not screw it on.
After 2 days, you can drink your creation!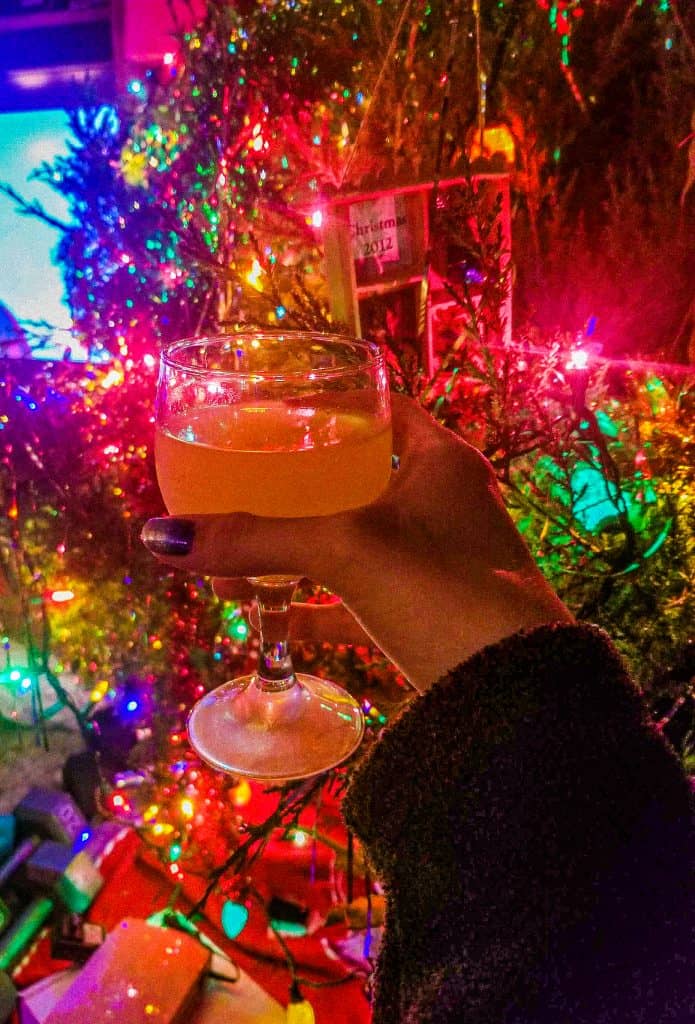 Here are some frequently asked questions about Brewing with Brewsy:
What kind of jugs do I use?
The common thought when it comes to making alcohol at home, is that you need special jugs. This is completely not the case. 
I literally made Vanilla Bean Cider and Cran Apple Wine in two half gallon jugs of apple juice and cran apple juice.
The air stoppers fit on the jugs just fine, and I think it tasted just fine not being made in glass!
Any food safe container is safe to use for making alcoholic beverages using this kit. Just make sure the openings to the container work with your Brewsy air locks.
How do I store my wine creation during brewing?
Ideally, during the fermentation process of brewing with Brewsy, you are supposed to keep your jug of fermenting juice in a warm, dark place. The ideal temperature is supposed to be above 75 degrees Fahrenheit. There was not a spot in my house that warm, so I wrapped it in a towel. Warm air also rises. If your house does not get up to 75 degrees, keeping your jug on top of a shelf that is higher up, may also help.
The mistake I made, was that I kept mine by the furnace the first time I made my hard cider. I found out after transferring it to the fridge, that it was supposed to be kept in a temperate controlled area. My cider did taste just fine, but I would recommend not keeping it where it is not supposed to be. It tasted much better the 2nd time I used the kit as I kept it on a high up surface, in a temperature controlled area.
After the 5 days, feel free to keep it in the fridge!
Juice jug cap question:
Whatever you do, do not throw away the juice jug cap if you are making your wine or hard cider in the jug it came in. It can be easy to put the air lock on, let it sit 3 days, then lose the cap. However, do not forget that after 3 days, the air lock comes off and the cap has to be placed on top before putting it in the fridge.
After replacing air lock with cap, do not leave cap screwed on. The cap is meant to lightly be placed on top of your jug while it goes in the fridge for an additional 2 days before drinking. Screwing the cap on can sometimes make your creation smell and/or taste kind of like beer due to the fermentation. While traveling with your newly created hard cider or wine to your next family holiday, you can and should screw the cap on to prevent spillage. Just make sure that when you arrive and put the bottle in the fridge, to unscrew it.
After the additional 2 days of leaving the cap lightly on, you can screw it shut to seal it, but only after it has sat in the fridge for one week without any sediment getting stuck to the bottom. When there is still sediment at the bottom, that means the drink needs to be racked.
What is racking?
When I first looked at the bottom of my jug in 5 days, I was surprised to see some sediment at the bottom of the jug. After reading the instructions in my Brewsy kit box, it says this is totally normal, and there is a way to get rid of it called racking.
The process of racking:
dump out your newly created wine or cider into a different container-Be sure to leave the sediment that is in the bottom in the container though.
rinse out the jug-rinsing the sediment out will get rid of the beer smell and taste that your cider or wine may have.
pour your juice back into the original bottle-you may have to use a funnel to pour it back in.
You can repeat the racking process (I did this twice) to remove the sediment from the bottom of your jug. The sediment is not harmful, and not everyone takes it out because it does not bother everyone. If it bothers you though, there is no harm in removing it.
Conclusion of this Brewsy review:
I think Brewing with Brewsy is a good experience for almost everyone! From someone who just turned 21 and does not know much about wines to someone who is a wine expert would enjoy this kit. The wine expert might have more fun in developing their own concoctions of flavor combos. However, even if you are just starting out, Brewsy has some great recipes for you.
If you liked this post and want to buy a Brewsy Starter Kit for yourself now, click here to get a discount using my referral link!