A round up of 7 best kitchen gifts the women in your life need! All of these gives were under $30 at the time this post was published.
This post may contain affiliate links. This means if you click on a link and purchase something, I may earn a small commission from it. In the footer of this page is my full disclosure policy.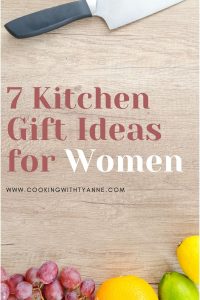 #1 Kitchen rug
Let's start off with a no so obvious gift. Rugs are a necessity in the kitchen, especially while doing dishes. Rugs prevent slips on that hardwood kitchen floor. This MontVoo Front of Sink Non-skid Rug prevents slips with its rubber grain backing, if you have a hardwood floor. It is also machine washable and can be put in the dryer! Rugs commonly wear with time, but this rug is made with higher quality of materials that do not flatten with time. It also comes in two different sizes, so you can decide if she needs a bigger one, or a smaller one for the size of her kitchen.
#2 Vegetable Chopper
Does the women in your life spend quite a deal of time chopping vegetables for supper? Or is a frequent salsa maker? If so, then you need to get the best kitchen gift for her: Fullstar Vegetable Chopper. This chopper comes with 7 easy to insert blades, that are all able to go in the top rack of the dish washer! It also comes with a blade organizer, so there is no issue in trying to go through all the drawers trying to find that specific blade that always goes missing. The whole machine can also go on the top rack of the dish washer as well. This device will help speed up time while making deviled egg salad, as it cuts the hard boiled eggs and the potatoes easily, or while making salsa as it can cut the onion and tomatoes up in record time! If she does a lot of cutting, this taking minutes off of her time in the kitchen.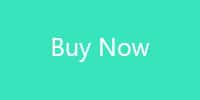 #3 Kitchen Sink Caddy
There is just never a perfect place to put those brushes and sponges for doing dishes. You can put them in a glass jar, but those can easily tip over. That is why the Kitchen Sink Caddy is the best kitchen gift for the women in your life. It comes in two colors, silver and black, and is made out of rust free stainless steel. It is roughly 25 cm x 15 cm, so it has the ability to easily fit on the counter next to the sink without taking up too much space, but still large enough to hold a few brushes and not tip over. There are almost 3,000 ratings for this best kitchen gift for women that you can view here.
#4 Cutting Boards
Every women needs an updated cutting board! These HOMWE Cutting Boards with Juice Grooves  are perfect no matter what you are trying to cut up. They are stain free as well! I personally use these cutting boards for chicken since the juice grooves hold the juices from going all over the counter. This set comes in 3 different sizes, so she can pick the size she needs, and put it in the dishwasher when she is done using it. This allows her to still have 2 cutting boards to use while the other one is dirty. Each cutting board also has nonslip handles, so the board is not sliding all over the counter while cutting chicken. If you can get the set for under $20, it is a steal!
#5 Preseasoned Cast Iron Skillet
People are either into cast iron or they are not. Cast iron does not leach chemicals into your food like nonstick pans do. If your lucky lady in your life loves cast iron, get her a set of Preseasoned Cast Iron Skillets! Cast iron skillets usually unseasoned, so the buyer has to season them. These skillets already come preseasoned though, so there is no need to spend time seasoning it. If she wanted to re-season it to ensure it is non-stick or season so it would be the same as her other cast iron skillets, she can do that as well. You never have to use soap on your cast iron skillet, so it will save her some dish soap! These skillets have over 6,000 reviews and almost 5 stars!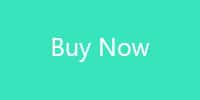 #6 Stainless Steel Measuring Cups and Spoons
Plastic measuring cups and spoons start to show wear with time. Sometimes to the point where you cannot read it if says ¼ cup or ⅓ cup. Stainless Steel Measurements are engraved, so the numbers do not wear away with time! Stainless steel also does not leech chemicals into your food like plastics would. This set is also dishwasher safe, so no need to spend a bunch of time handwashing each piece. Stainless steel is also very sturdy, so the handles will not break off over time. Silver also goes with any color as well, so whether her mixing bowls are silver or if they are blue, the measuring cups and spoons will still match.
#7 Air Fryer
If she doesn't have an air fryer already, you should get her one because it would be the best kitchen gifts for her. This Chefman Air Fryer is under $50, so it is pretty affordable. It does most of the same things as the $100 ones do, this one just does not have a screen. The dial works just as well though! This will make crispy onion rings, hot dogs taste straight off the grill, and even heat garlic bread. You can see all the oil it saved you from eating in the bottom of the basket. No need to preheat the oven when you have an air fryer! This helps the house not feel so hot in the summer. You can even make cookies in an air fryer. The tray and basket are both dishwasher safe, so no need to spend hours scrubbing the excess oil off of them.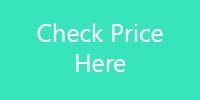 Conclusion of Best Kitchen Gifts
I hope this gave you some ideas as to what the cooking lady in your life needs! Best kitchen gifts are hard to find, especially finding something she doesn't already have if she is a master chef. If you need more ideas for someone who likes to cook, click here to go to all the remaining kitchen equipment I use personally to make the 110 recipes on this site.