Air fried chicken legs are great any time of year! They are easy to make, only require ingredients you most likely already have at home, and are easy to reheat in the air fryer! No buttermilk required. This recipe does require about 10 minutes of letting the flour soak into the chicken. Do not skip the 10 minutes of resting time! It is necessary.
This post may contain affiliate links. This means if you click on a link and purchase something, I may earn a small commission from it. In the footer of this page is my full disclosure policy.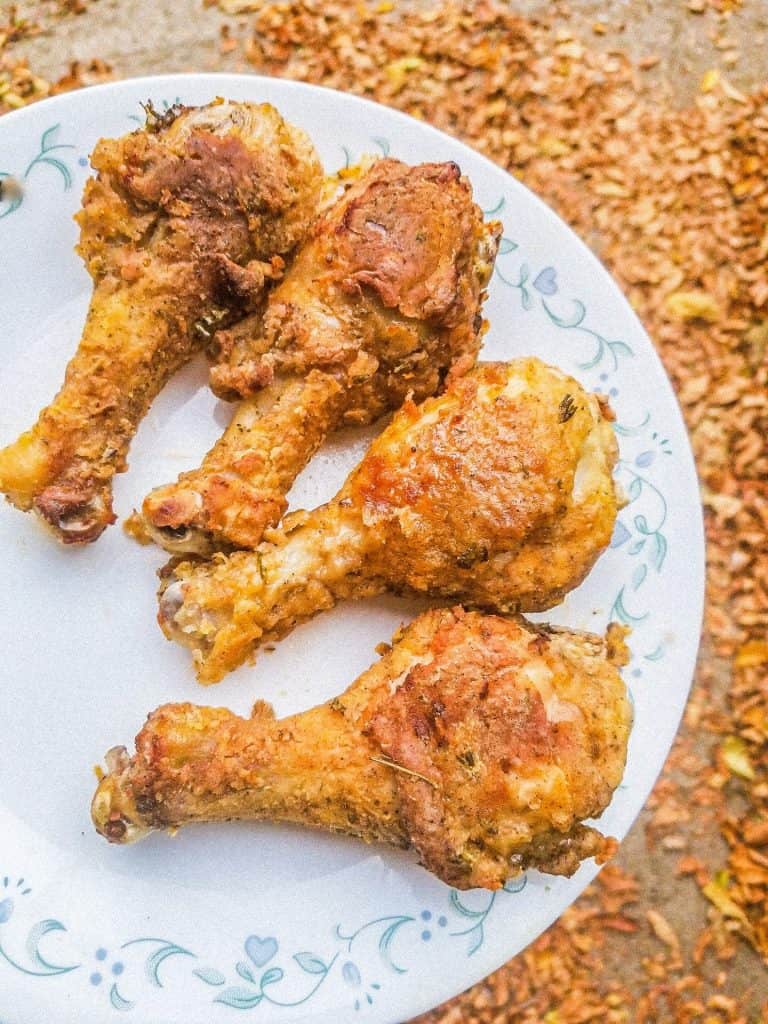 What do I need to make this recipe?
Chicken legs - you could probably use this recipe for wings as well to make air fried chicken legs and wings in the same basket, just maybe decrease the amount of cook time for the wings
Flour - this helps the chicken become crispy and delicious
Seasonings - this helps enhance the flavor. To me, the more seasonings, the better!
Cooking spray - adds enough oil for the flour to become crispy
How to make Air Fryer Fried Chicken:
Season chicken - the initial seasoning on the chicken adds flavor
Flour chicken - this will soak up the oils on the chicken and help final coating stick. Let chicken relax on a plate allowing flour mixture to be absorbed. This will help chicken become more crispy.
Egg mixture - helps the final flour mixture stick
Relax - after placing in egg and back in flour, let chicken relax on a plate again to get flour absorbed.
Air fry - air fry your fried chicken until internal temp reaches at least 165 and outside is nice and crispy.
Helpful tips:
Let the chicken soak up flour - this step is necessary. Do not skip this step. It really helps create a nice crispy coating. I highly recommend doing this with any flour coating mixture
Use enough cooking spray, but be careful - I cannot tell you the amount of times I have sprayed cooking spray to make chicken crispy and end up in a coughing attack because of the aresol. Spray it, close basket, and leave the room if you need to.
Batch cook - don't be afraid to batch cook. It is worth spending the extra time getting the chicken evenly crispy and crunchy than to have some chicken legs more crispy than others.
FAQs
Can I stack chicken legs in the air fryer?
No, place drumsticks in a single layer to cook. Try not to have them touching or else the coating doesn't stay as nice.
Why is there flour on top my cooked chicken?
This often happens when the chicken wasn't sprayed on all sides enough. Just put more cooking spray on top and heat up again. It should crisp up after a few minutes.
Can I use skinless chicken?
You could, but it won't be as crispy.
Do I need to preheat the air fryer?
You can for a few minutes to get the heat going. You can do this when the drumsticks are relaxing after the flour mixture for the second time.
How to tell when chicken legs are fully cooked:
To tell if the chicken is fully cooked, can be done in the following ways:
Temp - With a meat thermometer (click here to see the one I recommend), you can remove a piece of chicken from heat and insert the meat thermometer. If the chicken temps above 165 degrees Fahrenheit, it is done.
Cutting it open - Without a meat thermometer (I did not have one for years) you can cut a slice of chicken open to see if it is done. If it is white on the inside, it is done. If the chicken is still slightly pink, let cook a bit longer. Since this is chicken legs, sometimes I cut the chicken away from the bone and see if the meat closest to the bone is cold. If it is scorching hot, then I consider my chicken leg done.
If you want to learn more about chicken time and temp, click here.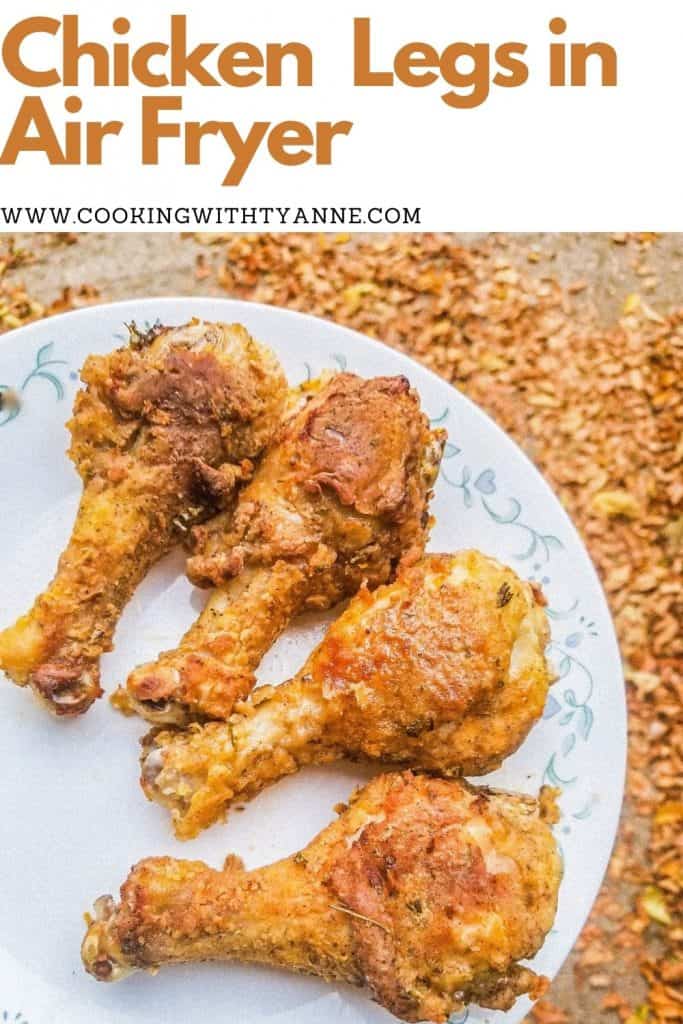 What to serve with:
Extra crispy air fryer chicken drumsticks remind me of picnics! With picnics, it makes me think that potato salad, egg salad, potato chips, green beans, and homemade rolls would be great sides!
Variations of crispy air fried chicken legs:
More or less seasoning - you can use seasoning amounts of your choice!
Use breadcrumbs - mixing bread crumbs in the flour mixture can be an option if you would like!
Buttermilk instead of egg - you can use buttermilk instead of egg if you are low on eggs
Olive oil instead of cooking spray-as I said earlier, cooking spray from an aresol can may result in you coughing if you spray a lot of it. If you want to brush olive oil on your chicken you can do that as well.
How to store:
Fridge - store your meal in an air tight container in the refrigerator for up to one week. Air fry for about 5 minutes to reheat.
Freezer - this recipe can be a freezer meal! Just bake as usual, and let cool. Then, place in a freezer safe container. Thaw out in the fridge before reheating in the air fryer.
If you like this recipe, check out my other related chicken recipes:
Oh I also wrote a cookbook! That has an air fried buffalo chicken leg recipe in it. If you want to learn more about my cookbook, click here.
Recipe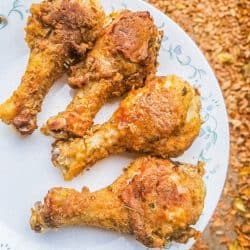 Crispy Air Fryer Fried Chicken Legs
Best air fried chicken legs with flour you are going to find! Super easy to reheat leftovers in the air fryer as well. Reheat instructions are above.
Ingredients
6

chicken legs

1

cup

flour

2

eggs

1

tablespoon

of each

basil, parsley, salt, pepper, garlic powder, paprika,
Instructions
Pat chicken dry if it is not dry already. Stir together seasonings in a small bowl. Sprinkle ¼ of the seasoning mixture on each side of the chicken and rub in mixture. Let chicken relax.

While chicken is relaxing, in the seasoning bowl, add flour. Stir. In another small bowl, crack eggs and beat them.

Roll chicken in flour mixture and set on a plate. Let chicken relax for 5 minutes to soak up flour.

Roll chicken in the egg mixture and then roll back in the flour mixture. Let chicken relax another 5 minutes (yes, this step is necessary).

When chicken is done relaxing, spray bottom of air fryer with cooking spray and place chicken legs in the air fryer. Spray chicken with cooking spray (this will create a nice crunch). Air fry both sides of chicken at 400 degrees for 10 minutes each side. Repeat with remaining batches of chicken.
---
All information presented on this site is intended for informational purposes only. Nutritional facts listed are a rough estimate and should only be followed as a general idea.