Some people eat egg salad on bread to make a sandwich, however, I typically eat it plain. I just scoop some on a plate and eat it with a spoon without anything extra. This egg salad recipe is great for lunch. Can make it ahead of time and take it out and eat it in a hurry! For me, celery salt really makes the flavor pop! This egg sandwich recipe serves about 6-8 people.
This post may contain affiliate links. This means if you click on a link and purchase something, I may earn a small commission from it.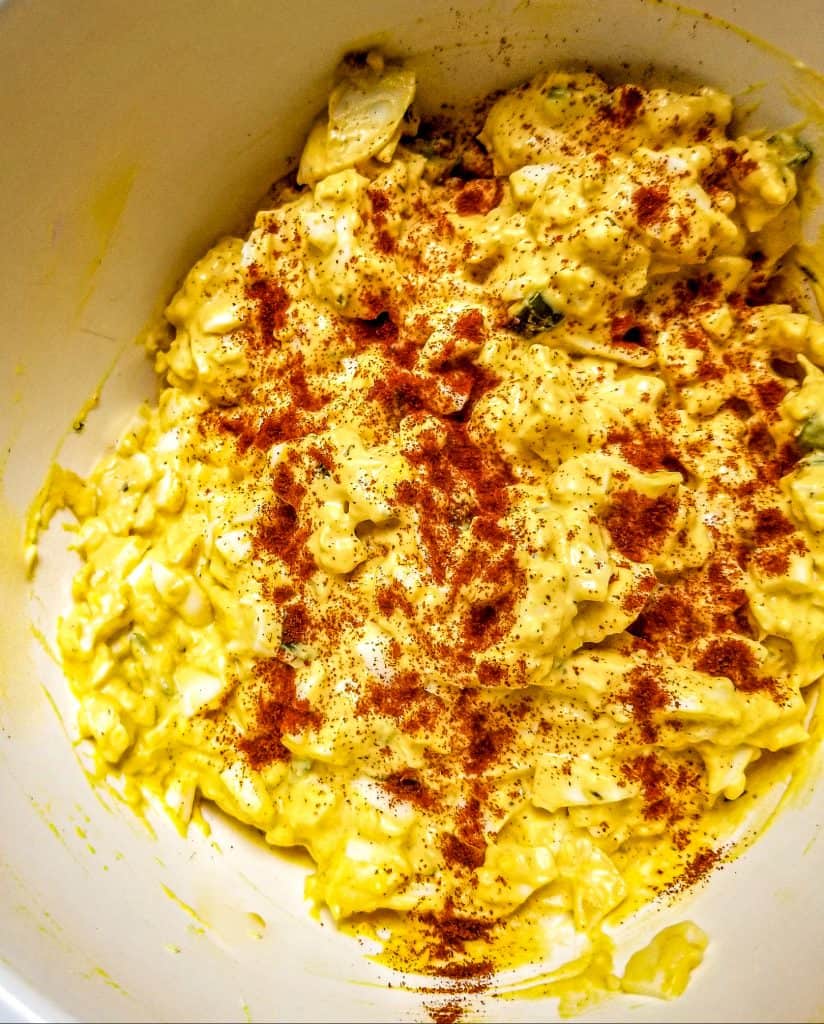 Tip for people who do not like the egg white part of egg salad
:
Cut the whites up very small! I know, as a kid, I did not like egg salad because of the egg whites. I only ate egg yolks back then until I learned to cut the whites up smaller to gradually learn to like the flavor. Now I can eat a whole egg white!
Favorite brands to use for this easy egg salad recipe:
eggs-out of my chickens. Can use store bought eggs as well. The baking soda part would be optional if going that route since town eggs seem to peel better. If wanting to know why some eggs peel better than others,

click here

. Or you could also use eggs that are already hard boiled from the store. 

scallions-out of my garden

celery salt, paprika, cajun, dill weed, cardamom-McCormick

red pepper flakes-the sample packets from Pizza Hut seem to be working just fine!
Check out my other salad recipes:
Can I make the salad in advance?
Definitely! You can make the egg salad and store it in the fridge until ready to eat. You can also boil the eggs, and then put them in the fridge until ready to cut them up and make the rest of the recipe.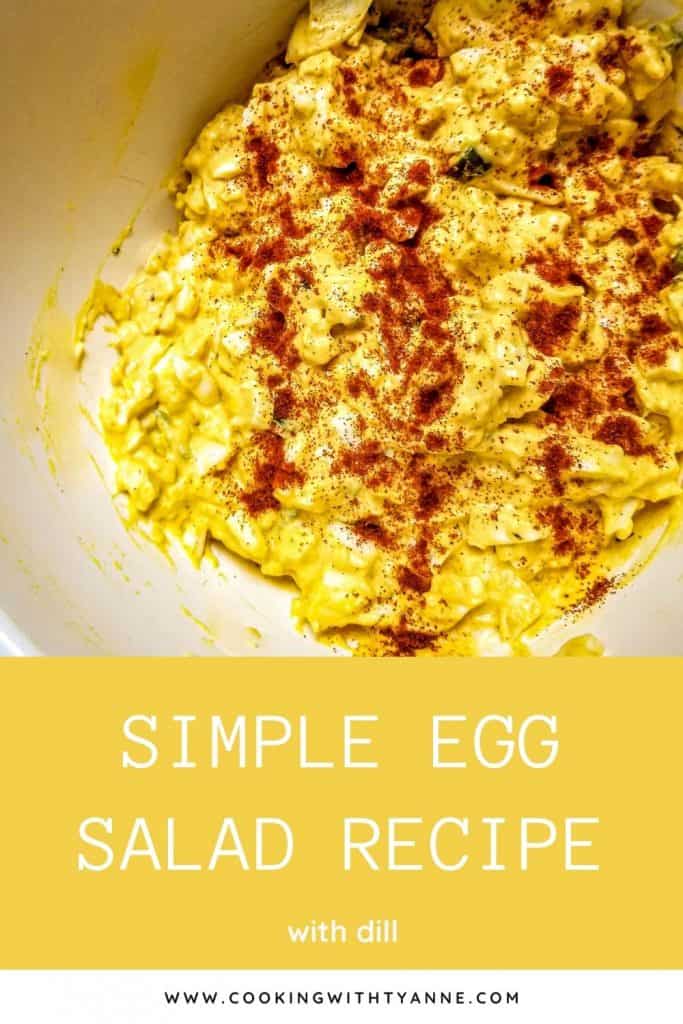 Overview of easy egg salad:
boil the eggs-I used farm eggs so boiling them in baking soda to get them to peel better is a must. You can just boil them in plain water if you are using store bought eggs though.
peel the eggs-After eggs are boiled and cooled, begin peeling them. Then, chop the boiled eggs into tiny pieces. Place into a large bowl.
add remaining ingredients
How to store classic egg salad:
fridge-store this egg recipe in an air tight container in the refrigerator for up to one week
freezer-I have not tried freezing this recipe. If you would like to try it, go for it! Let me know how it goes. I do not know how it would work though because it would chopped up boiled eggs in the freezer.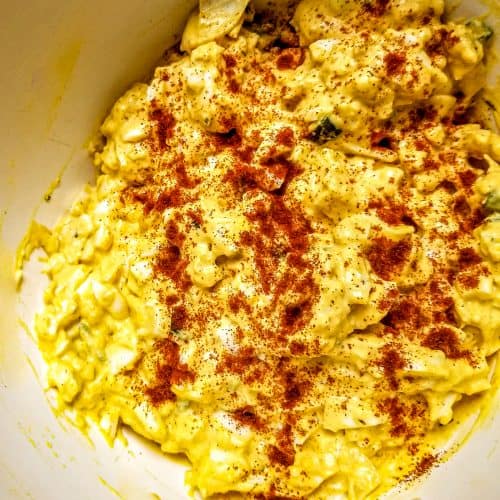 Egg Salad
An egg salad recipe that is great for lunch. This egg salad sandwich recipe can be made ahead of time. Farm fresh eggs work great for this egg salad with dill.
Ingredients
12

eggs

farm fresh, see above note if using store bought

¼

white onion

chopped finely

¾

cup

mayo

3

tablespoon

mustard

2

scallions

chopped

Seasonings to use at your own amount: Celery salt, ground red pepper, paprika, cajun, dill weed, cardamom
Instructions
Place eggs in a large pot with enough water to cover the eggs. Add ½ teaspoon baking soda to make eggs peel better. Bring pot to a boil. Boil the eggs for 15 mins. Remove from heat. Dump out water, and replace with cold water to cool eggs. Peel eggs when cooled.

Chop boiled eggs length and width wise into little pieces. Place in a medium sized bowl. Add remaining ingredients and stir. Refrigerate for about a half hour before serving to let flavors marinate. Can serve your Egg Salad as an egg salad sandwich or eat plain!
Nutrition
---
All information presented on this site is intended for informational purposes only. Nutritional facts listed are a rough estimate and should only be followed as a general idea.