Learn how to make a savory, delicious and fluffy omelette with this quick and easy Spinach Cheese Omelete recipe. You can add any additional favorite fillings you choose. This step-by-step guide will show you how to make the perfect omelette every time.
This post may contain affiliate links. This means if you click on a link and purchase something, I may earn a small commission from it. In the footer of this page is my full disclosure policy.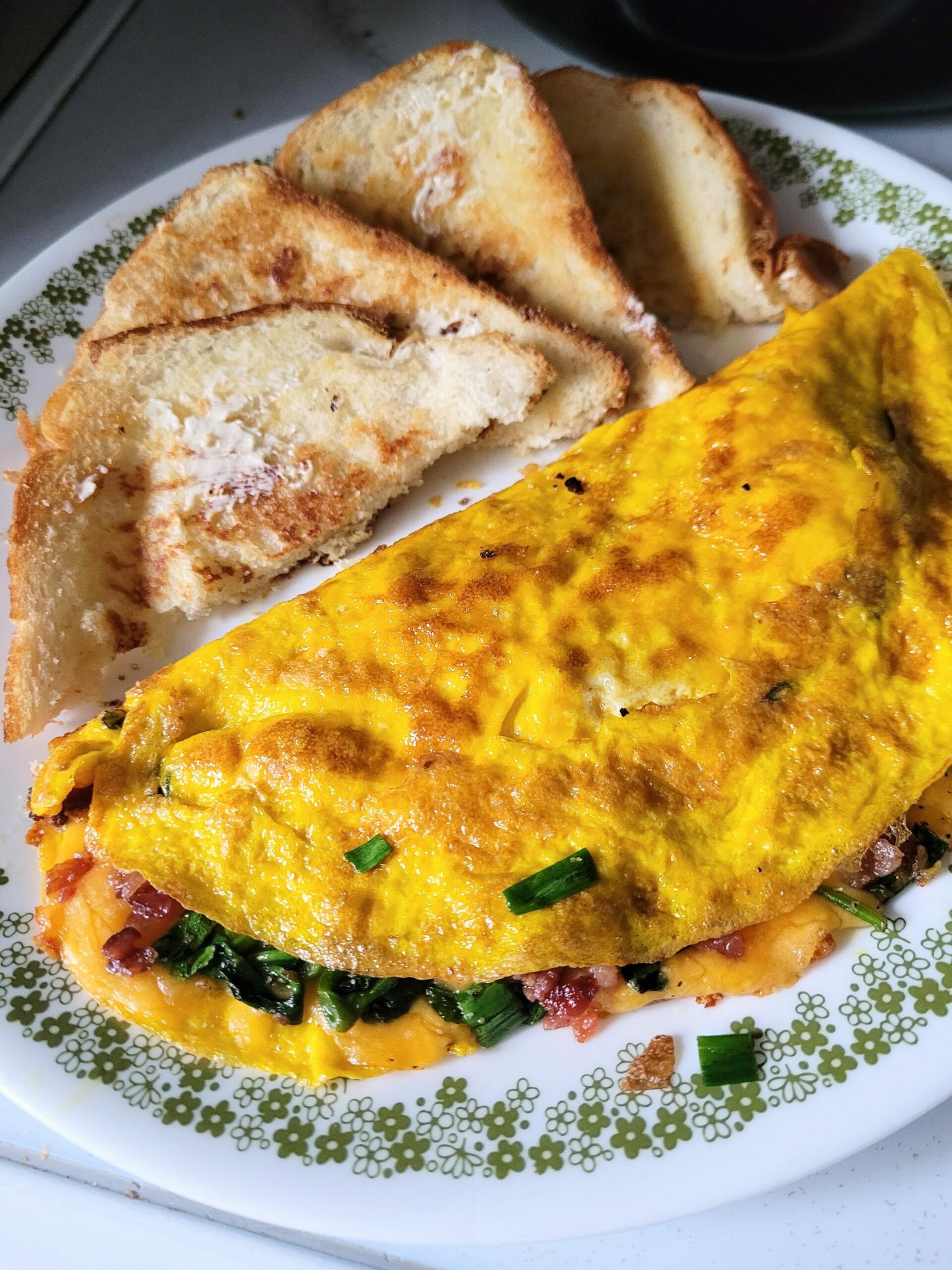 Why You'll Love This Recipe
Quick and easy - An omelette is a quick and easy meal to make. It takes only a few minutes to whip up an omelette, making it a great option for school day breakfasts or a weeknight meal.
Delicious - Omelets are a delicious food that can be made for breakfast, brunch, lunch, or even dinner. They are a great way to use up leftover ingredients like spinach in your fridge. You can add a carb on the side like toast to get all the food groups in.
Cheese Omelet Ingredients
Room temperature eggs - the main part of the omelet
Shredded cheese - you can use any cheese of your choosing
Water - helps eggs steam and become more fluffy
Vegetables - this recipe only requires spinach, but mushrooms, onion, and bell pepper are amazing options if you are looking at adding nutritional value
How to Make a Cheese Omelet
Fry spinach - fry spinach and any other vegetable you are using before adding to the egg. This cooks the water out and does not leave the omelet feeling soggy.
Beat egg - the egg must be fully beat or some parts will end up white and others yellow.
Cook egg - frying the egg in a single layer by itself ensure the egg is cooked fully.
Add cheese - when egg is no longer runny, add vegetables and cheese to one side. Flip other side over to cover the cheese/vegetables. Serve hot!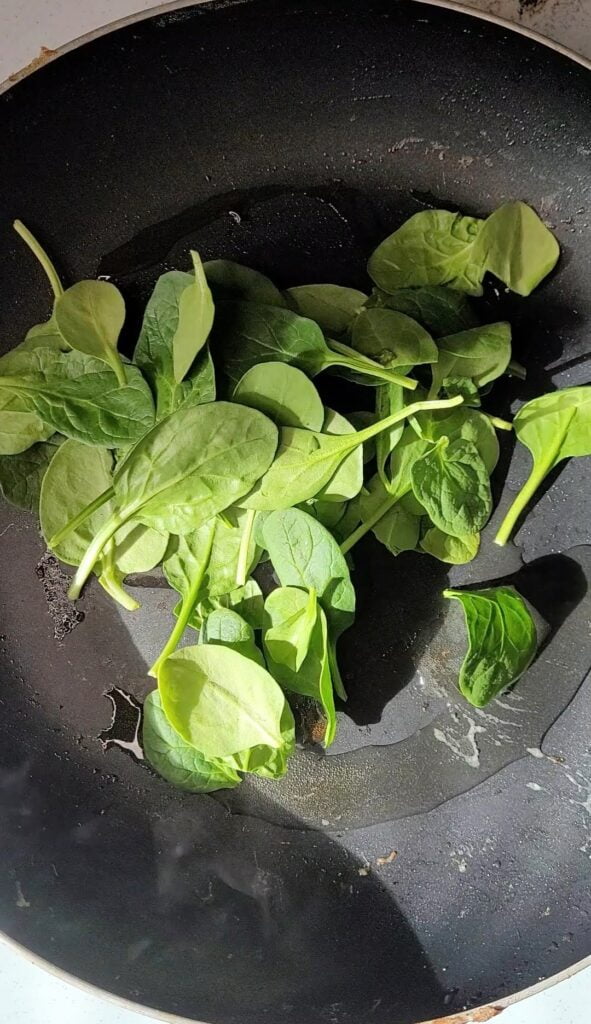 Variations
Egg white - you could use egg whites instead of a whole egg here for health benefits.
Add meat - you can add sausage, ham, bacon etc for additional protein.
Add vegetables - you can add mushrooms, peppers, artichokes, olives, etc to add more flavor
Tips
How to make an omelette without browning:
The second your egg is no longer runny when tilting the pan, add your vegetables and cheese, and finish by folding over the omelette. Remove from heat and place a lid over top the pan. This will help the cheese melt and still keep your omelette from browning since it is off the heat.
Do not leave pan unattended as omelette may start to brown faster than expected.
How to make omelet without butter:
You can use a cooking spray or olive oil instead of butter for this recipe.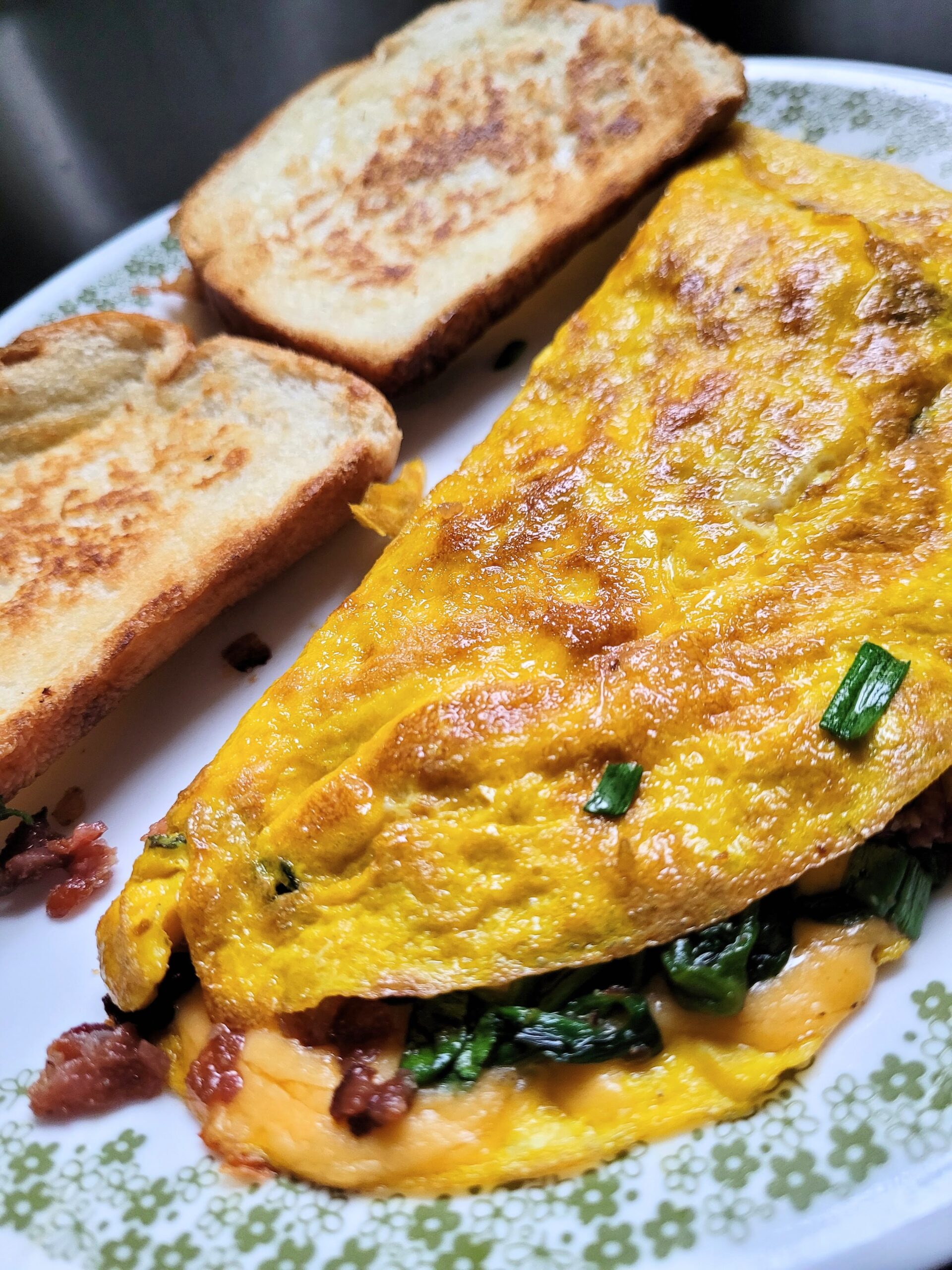 FAQs
Can I add water to eggs?
Yes, you can add water to eggs. It also makes the eggs easier to whisk and creates more steam during cooking, which can help prevent the eggs from sticking to the pan. Whisk in about 1 tablespoon of water per egg. Some people use milk over water, which can result in a rubbery texture.
How do I make an omelet fluffy?
Whisk whites and yokes separately then gently stir them back together. Pour in skillet and fry omelete like normal.
What cheese do I use in a cheese omelet?
The right cheese to use is your favorite shredded/sliced cheese. I thought cheddar always tasted best, but then I tried mozzarella. It just depends on the flavor you are wanting.
Does skillet size matter when making omelette?
Skillet size does matter. If the skillet is too small, the omelets may end up difficult to flip or fold if there is not enough room to put the spatula under the egg. If the skillet is too large, the omelet may spread out too thinly and might not be enough egg to cover the whole skillet. 8 inches is the perfect skillet size for making an omelette.
Do I need to cook vegetables first?
Cooking vegetables such as spinach first before putting in your omelete helps keep the egg from becoming too watery. Vegetables release water when they cook, so by cooking them before putting them in the omelette, helps prevent a watery omelette.
How to Serve
There are a few different side options for eggs:
Add a side salad - Serve your omelette with a side salad of lettuce, kale, spinach, tomatoes, and/or croutons with a flavorful dressing for a light and healthy meal.
Serve with toast or bread - Omelettes pair well with toast or a bagel.
Top with salsa or hot sauce - top off with your favorite salsa or hot sauce to add flavor.
Pair with a fruit smoothie - For a complete breakfast, pair your omelette with a delicious fruit smoothie or yogurt parfait.
Storage and Reheating
Omelettes are best served fresh right off the stove. However, if you have leftovers, you can store them in the refrigerator for later. Let omelette cool down to room temp, and place in a air tight container to protect it from absorbing any odors from the fridge. Store in the fridge for about 2-3 days. Reheating omelettes can change the consistency and taste, so it is best to eat right away.
Other Egg Breakfast Recipes You May Like:
Recipe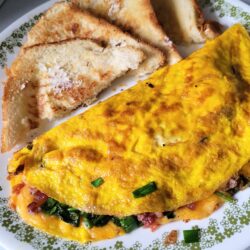 Spinach Egg and Cheese Omelette
Learn how to make a savory, delicious and fluffy omelette with this quick and easy Spinach Cheese Omelete recipe. You can add any addtional favorite fillings you choose. This step-by-step guide will show you how to make the perfect omelette every time.
Ingredients
2

eggs

1

tablespoon

butter

1

cup

spinach

¼

cup

shredded cheese of choice

salt and pepper to season
Instructions
Place ½ tablespoon spinach in a 8 inch skillet over medium heat. When spinach is wilted, remove from pan.

Crack the eggs into a bowl and whisk them together until the yolks and whites are well combined. Add salt and pepper to taste.

Heat the remaining butter in same pan over medium heat. Once the butter has melted or the oil is hot, pour the egg mixture into the pan.

As the eggs begin to set, use a spatula to lift the edges of the omelette and let the uncooked egg mixture run underneath. Do this a few times to ensure that the omelette cooks evenly.

When egg is no longer runny, on one side of the omelette, spread cooked spinach (or any other veggies you are using), and cheese. Use the spatula to fold the other half of the omelette over the cheese/veggies and cook for another minute or so until the cheese has melted. Serve your cheese omelette hot!
Nutrition
Sodium:
404
mg
Calories:
348
kcal
Fat:
28.9
g
Carbohydrates:
2.1
g
---
All information presented on this site is intended for informational purposes only. Nutritional facts listed are a rough estimate and should only be followed as a general idea.