This crack chicken is the slow cooker chicken recipe I make before I leave to go back to college. This way my family has something to eat for supper after I leave! That is why it is called Farewell Chicken. I think the technical term for the recipe is crack chicken though. Since I made it before leaving, it took me almost a year to try this myself. My parents just kept saying they liked it so much every time I made it. Once I did try it myself, I knew what they were talking about. The crock pot makes the chicken moist and very soft. The bacon adds a hint of smokey-ness to creamy white sauce. It is a very nice combination of flavors. This easy slow cooker recipe serves about 8 people.
This post may contain affiliate links. This means if you click on a link and purchase something, I may earn a small commission from it.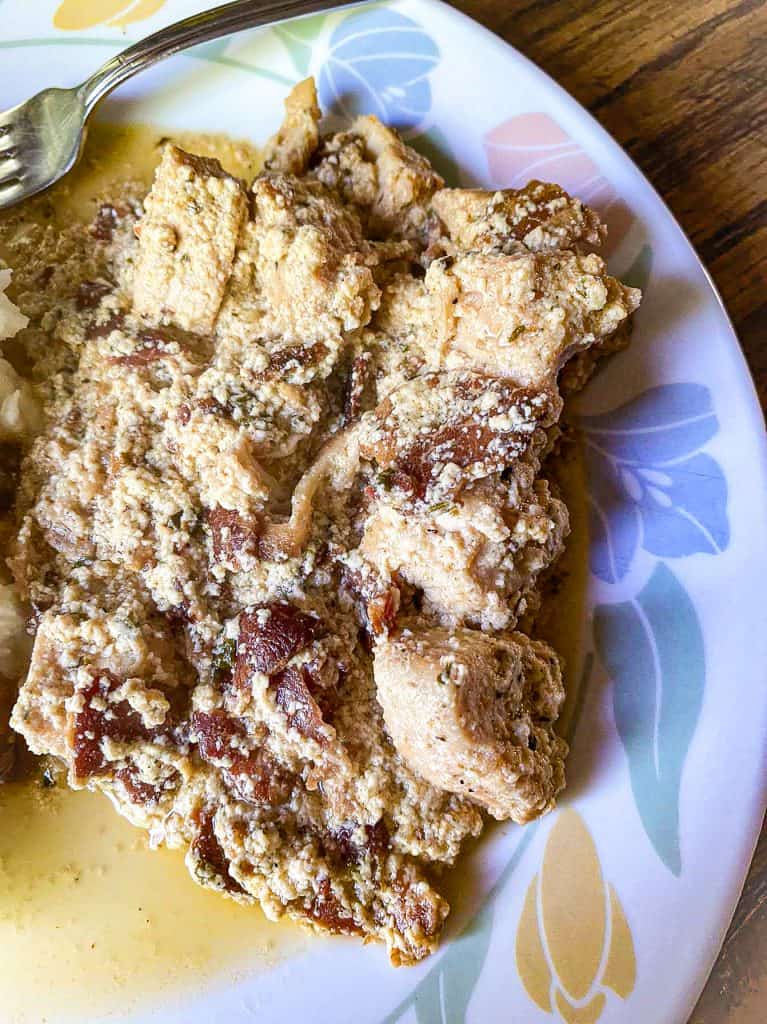 Favorite ingredients to use for this crockpot crack chicken recipe:
chicken breast-we normally get the Tyson brand that comes in a bag, however, we have been buying locally recently and saving money by doing so!

mayo-helps with creaminess

ranch seasoning-Hidden Valley. If you want to make your own ranch dressing mix,

click here

.

bacon-provides smokey flavor
Overview of this crock pot meal:
fry bacon-first you must fry the bacon before putting it in the crock pot. This will make the bacon crispy and ensure the bacon will become fully cooked.
add remaining ingredients to sprayed crock pot.
cook for 4-6 hours. Serve!
Crack ranch chicken variations:
more bacon-the most obvious variation to me is more bacon. Sometimes I add up to an entire package. All depends on how smoky you want the flavor.
shredded cheese-I have seen a few other recipes that put shredded cheddar cheese in their crack chicken. This would give it more of a cheese flavor.
omit mayo-there are some recipes that add cream cheese instead of mayo
pan fry chicken-this recipe does not require the chicken to be cooked before putting it in the crock pot, but some people find that meats precooked before going in the crock pot taste better. The reasoning behind this is because the meat would be more crisp on the edges when it is precooked.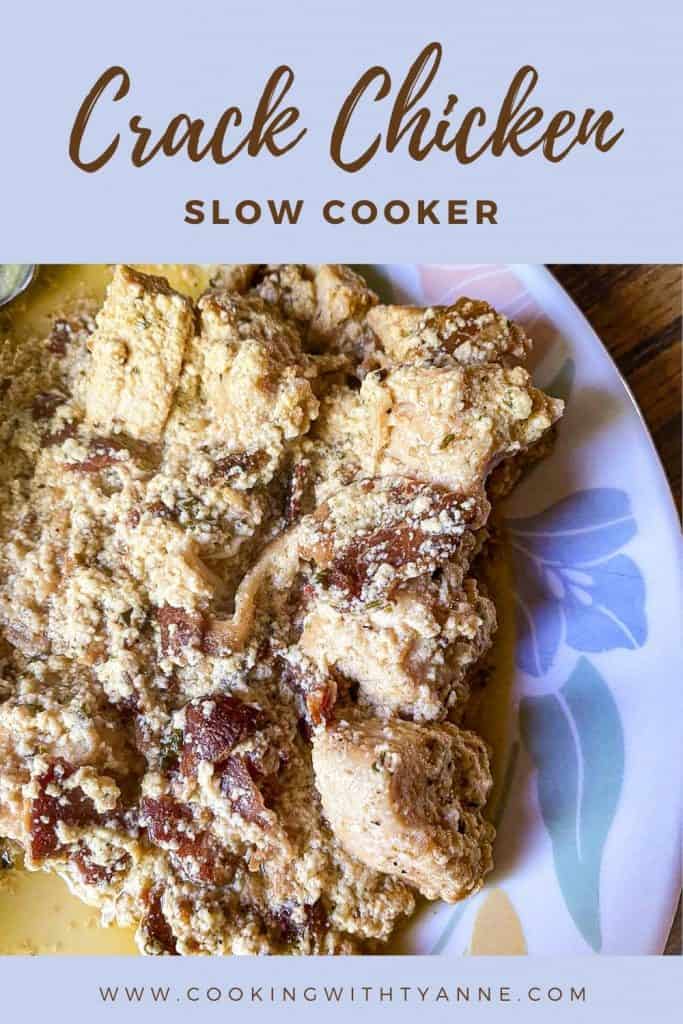 What to serve with ranch chicken:
potatoes-this chicken breast recipe tastes amazing over top a bed of mashed potatoes
rice-a bed of white rice served underneath this moist chicken is incredible
Check out my other best crock pot recipes:
How to store slow cooker crack chicken:
fridge-store this chicken breast recipe in an air tight container in the refrigerator for up to one week.
freezer-I have not tried freezing this recipe. If you would like to try it, go for it! Let me know how it goes.
Recipe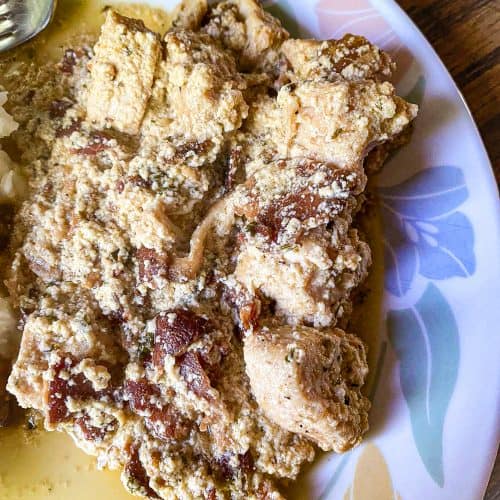 Farewell Chicken
If you need a slow cooker chicken recipe the whole family will enjoy, make Farewell Chicken. Easy slow cooker recipe to make that has chicken and bacon in it.
Ingredients
3

lbs

cubed chicken breast

uncooked

1 ½

cups

milk

1

cup

mayo

1

packet of ranch seasoning

1

cup

cooked, crumbled bacon

Seasonings to add at your own accord: garlic salt, Cajun seasoning, salt, pepper, oregano, basil, paprika
Instructions
Start cooking bacon in a large skillet on medium heat until it is brown on both sides. This will make it easier to crumble. When it is done, place on a plate with a paper towel to absorb the grease.

Spray crock pot with nonstick spray. Turn crock pot to low heat. Add chicken, milk, mayo, ranch seasoning, and the rest of the seasonings.

Once bacon has cooled off, crumble it in the crock pot with the rest of the ingredients. Cook on low for about 4-6 hours. Serve your Farewell Chicken with mashed potatoes!
Nutrition
---
All information presented on this site is intended for informational purposes only. Nutritional facts listed are a rough estimate and should only be followed as a general idea.