Crock Pot Loaded Potatoes
This crock pot loaded potato recipe is ideal if making loaded potatoes for a group of people! My favorite part of the recipe is the softness of the potatoes from the crock pot. Spraying the slow cooker is important, so do not forget to do that. This cheesy potato recipe serves about 6 people.
To see what slow cooker I used, click here. Not sponsored, but this is what crock pot I like.
This post may contain affiliate links. This means if you click on a link and purchase something, I may earn a small commission from it.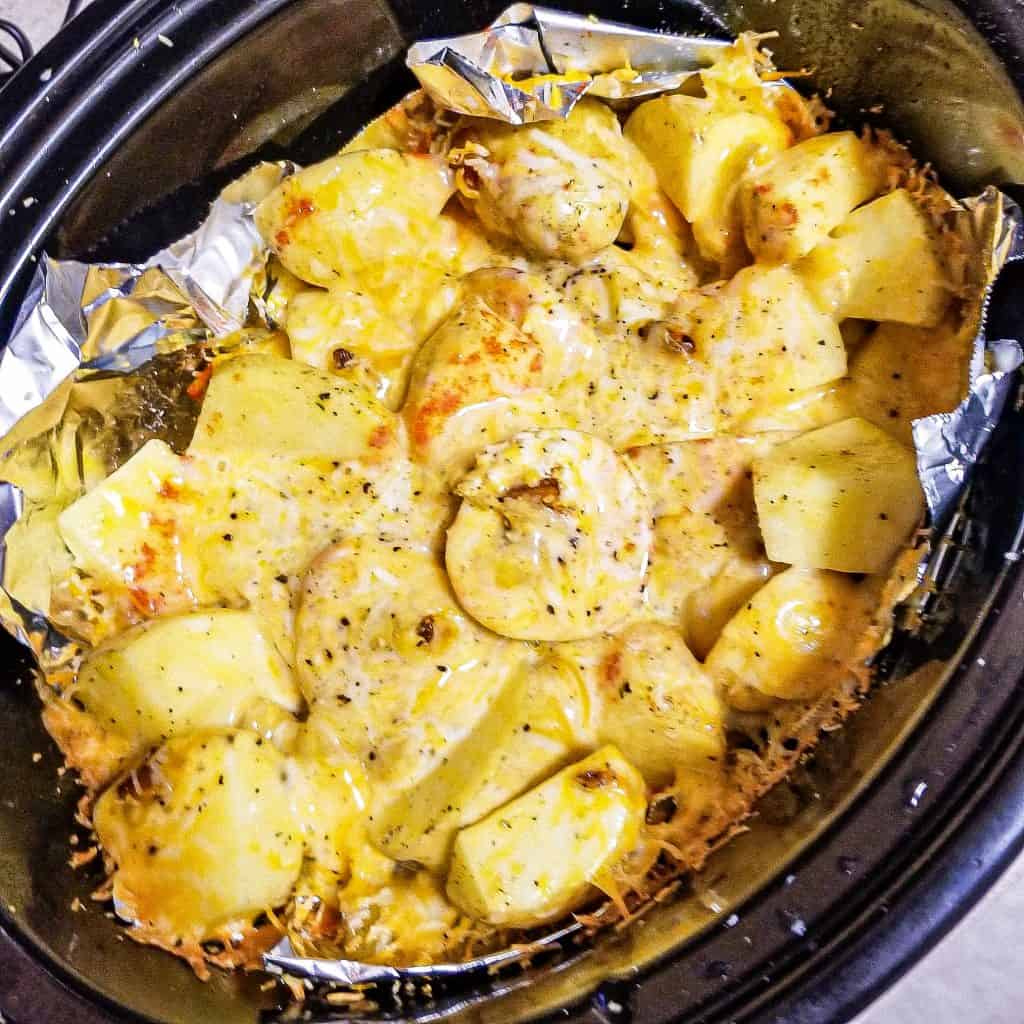 Check out my other delicious potato recipes here:
Favorite ingredient brands to use for this slow cooker recipe:
potatoes-Best Choice yellow, however, russet works too.
cheese-Crystal Farms
bacon-Best Choice, it was on sale and quite tasty.
seasonings-McCormick
What to serve with loaded potatoes:
protein-meat would go excellent! Steak or hamburgers would go great with this crock pot side dish.
vegetable-corn or green beans would also pair very well.
Crock pot loaded potatoes variations:
jalapeno-adding chopped jalapenos can make this recipe spicy!
potatoes-instead of using yellow potatoes, russet also can be used.
cheese-you can add more or less cheese depending on if you want your loaded potatoes more or less cheesy.

Overview of bacon cheesy potatoes recipe:
prep potatoes-make sure your potatoes do not have any peelings on them, and are properly washed with water so that there is no surprise dirt on them.
layer ingredients-place half the potatoes, and half of all the other ingredients in a layer in the crock pot. It really does not matter the layer order, as long as the potatoes are on the bottom. Then, finish putting the remaining ingredients in a second later. Again, order does not matter as long as you start with potatoes.
cook potatoes on low in the crock pot for 4-6 hours.
How to store this crock pot side dish recipe:
fridge-store this side dish in an air tight container in the refrigerator for up to one week.
freezer-I have not tried freezing this recipe. If you would like to try it, go for it! Let me know how it goes. I would not see why it would not freeze well though.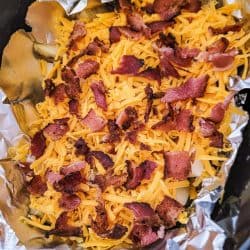 Crock Pot Loaded Potatoes
This crock pot loaded potato recipe is ideal if making loaded potatoes for a group of people! Very soft potatoes coming out of this crock pot recipe.
Ingredients
2.5

lbs

of yellow potatoes

rinsed, and quartered

2

cups

of cheddar cheese

1/2

package of cooked bacon

crumbled

2

green onions or 1/4 cup white onion

Seasonings to add at own desire: garlic salt

paprika, pepper
Instructions
Line crock pot with tin foil. Spray with cooking spray.

Place half the potatoes in the crock pot. Add half the cheese, half the bacon, half the onions, and half the amount of seasonings you want to use. This will be the first layer.

Add the remaining halves of the ingredients on top the first layer to make the second layer.

Cook on high for 4 hours. Serve your Crock Pot Loaded Potatoes with sour cream.
---
All information presented on this site is intended for informational purposes only. Nutritional facts listed are a rough estimate and should only be followed as a general idea.