This slow cooker chicken enchilada dip is not too spicy! It is perfect for all spice levels. I wanted to make enchiladas in a slow cooker, however, I decided to skip the tortillas and do a dip. I did not want the tortillas to get soggy for being in the slow cooker for that many hours! This slow cooker meal does have corn in it, so that is a way to get your veggies in! I did not flavor the rice since it would be mixed around with the other flavors in the crock pot. This slow cooker chicken enchilada dip serves 10 people. You can always cut the recipe in half!
This post may contain affiliate links. This means if you click on a link and purchase something, I may earn a small commission from it.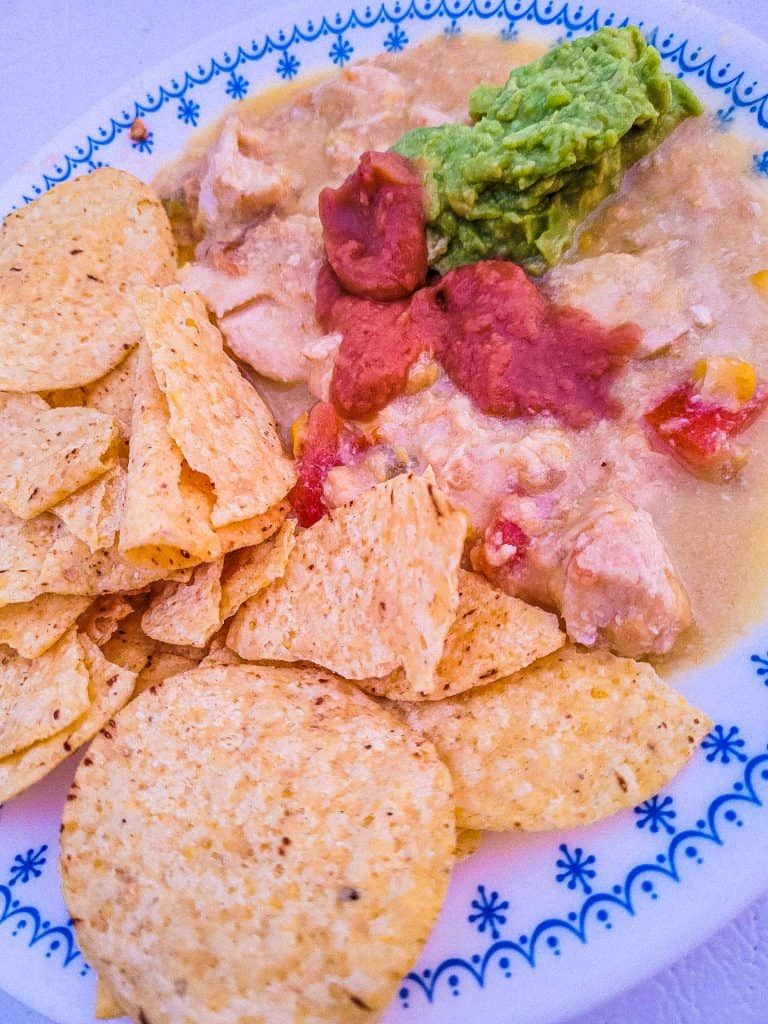 Favorite ingredient brand's for this slow cooker chicken enchilada dip recipe:
chicken-we have been buying from a local butcher and saving money by doing so! Any chicken breast works in this recipe though.
corn-adds hidden vegetables
mozzarella and cheddar cheese-I shred mine at home because it melts better
rotel-name-brand
enchilada sauce-El Paso, I do homemake mine at times too, click here for my homemade enchilada sauce recipe
rice-whatever is on sale. I just made my rice according to the instructions on the bag. I did not add any special seasonings to it!
Slow cooker chicken enchilada dip variations:
omit rice-if you want to cut down on carbs, you can take out the rice. This will just affect the texture and it will be more runny, which is how traditional dip is.
cut down on cheese-this recipe uses a lot of cheese (4 cups or more). That can add up to a lot of money. You can cut down on the cost to make this recipe by cutting back on the amount of cheese.
fry chicken first-some people like to pan fry their chicken before putting it in the crock pot. You can do this if you really want to.
switch proteins-you can add beef or pork instead of chicken. If you wanted to make this vegetarian, you can omit the protein entirely. If omitting the protein, you can add black beans or pinto beans instead if you would like.
too thick-if your dip ends up being too thick for your liking, you can thin it down with more water.
too thin-if you want to make the dip thicker, add more cream cheese.
Check out my other best slow cooker recipes:
What to serve with this chicken slow cooker recipe:
I like to serve my chicken enchilada dip over a bed of chips! I also top mine off with salsa, sour cream, guacamole, refried beans, and extra cheese. You can use any toppings you want though.
How to store chicken enchilada dip:
fridge-store this green chicken enchilada dip in an air tight container in the refrigerator for up to one week
freezer-I have not tried freezing this recipe. If you would like to try it, go for it! Let me know how it goes.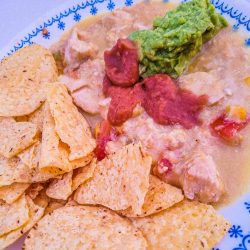 Slow Cooker Chicken Enchilada Dip
This slow cooker chicken enchilada dip is not too spicy! It is perfect for all spice levels. This chicken breast crock pot recipe does have corn in it, so it is a way to get your veggies in!
Ingredients
2.5

lbs

of thawed chopped chicken breast

1 14.5

oz

can of corn

2

cups

mozzarella cheese

1 10

oz

can Rotel tomatoes

½

small chopped onion

½

chopped green pepper

20

oz

of red or green enchilada sauce

4

cups

cheddar cheese

1

tablespoon

Chile powder

1 ½

cups

of jasmine rice

3

cups

water
Instructions
Spray crock pot with nonstick spray. Dump chicken, corn, mozzarella cheese, Rotel, onion, green pepper, and enchilada sauce into slow cooker. Stir. Cook on low for 4 hours.

After 4 hours is up, in a pot, boil water. When water is boiling, add rice. Simmer on low for about 15-18 minutes. While rice is cooking, remove chicken from crock pot and shred it. Return chicken to crock pot and add in cheddar cheese and Chile powder to crock pot. Stir.

After rice is done cooking, add it to the slow cooker. Stir. Let cook an 5 minutes to blend out flavors. Serve your slow cooker chicken enchilada dip on a bed of chips with guacamole, sour cream, and salsa or with any other toppings you desire.
Nutrition
---
All information presented on this site is intended for informational purposes only. Nutritional facts listed are a rough estimate and should only be followed as a general idea.